Every year I try out a new way of decorating pumpkins. Painting different designs, carving something fun, whatever. I have pumpkins I do with the kids, and then pumpkins that I do on my own.
Although my house is filled with lots of neutrals and a major love of white, I have a soft spot for pastels. So this year I broke out my pastel paints and decided to do some sweet pastel pumpkins for Halloween.
I'm obsessed with how they turned out (and totally wish I had made them on faux pumpkins so I could keep them for next year!)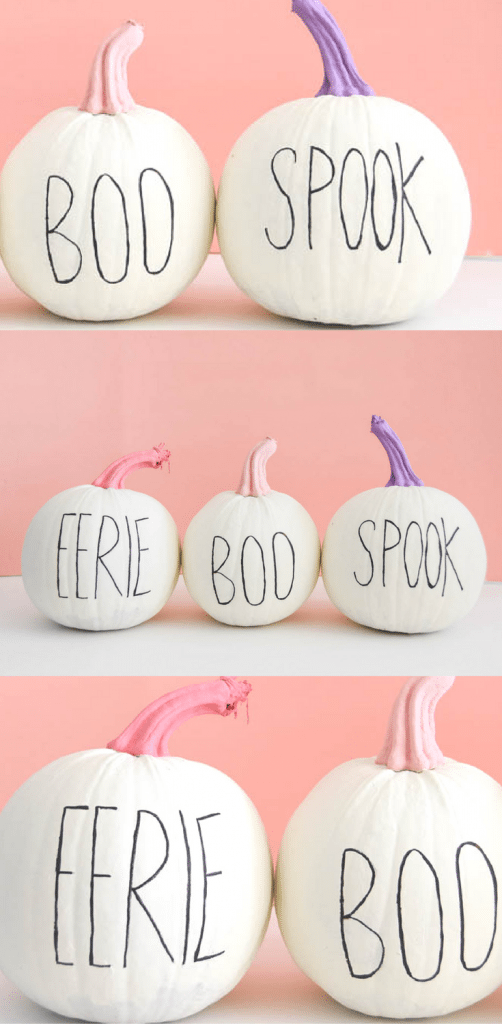 DIY Pastel Pumpkin Supplies:
1. Pumpkins. Get fresh ones from your local grocery store or farmer's market! I haven't tried making these with fake pumpkins, but they would probably work just fine! Here are a bunch of faux pumpkins. I did mine with medium size, but if you wanted to go mini, these ones seem like a really good deal.
2. Pastel Paint: I have this big paint set that has lasted me AGES (just mix in some white if you want to dull down the pink/purple colors), or you could buy individual pastel colours like this sweet pink or this minty blue
3. White Chalk Paint – I love the way this gives a matte look to the pumpkins.
4. Black Sharpie Markers – The fine tipped ones are best.
No-Carve Pastel Pumpkins Tutorial:
These pumpkins are super easy to do!
Let's dive in….
Step 1: Paint Pumpkins White
Get out your white chalk paint and give your pumpkins two coats. Don't worry about painting the stems at this point, just the orange part of the pumpkin. I liked going with the chalk paint as it gave the pumpkins that nice matte finish, which looked really cute.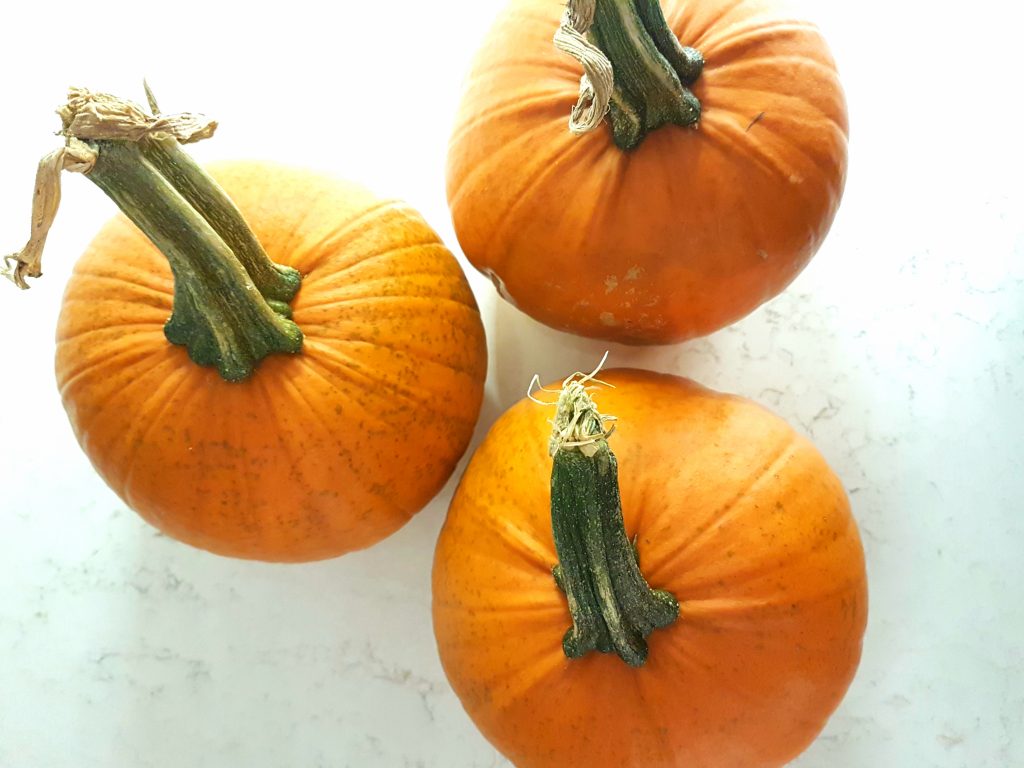 Step 2: Paint Stems
This is where you can have fun with your pastel colours. My daughter Maya is obsessed with all things pink and purple, so I went with those two shades for her.
If you have a set of paints like this (like I do!), just mix in a bit of white paint if you want to mute the pink or purple tone.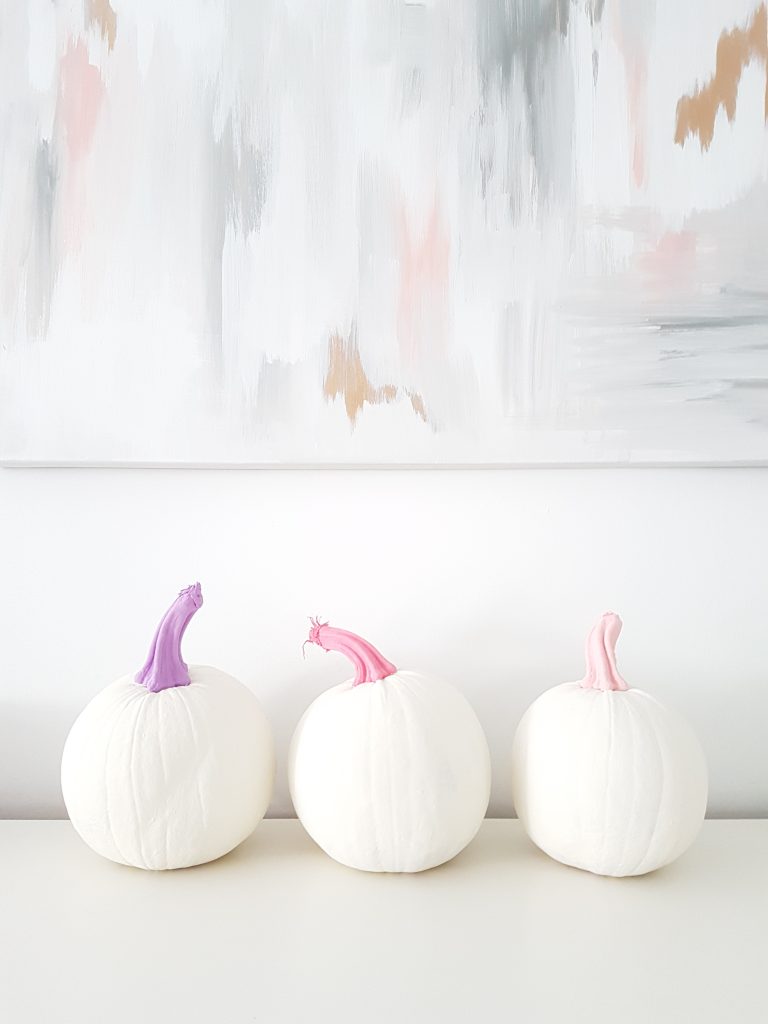 Like the abstract painting in the pic above? It was totally a DIY! Check it out here: DIY Abstract Painting.
Step 3: Write out Sayings (and channel your inner Rae Dunn)
Have you seen the super popular Rae Dunn products? I wanted to get that same long lettering like she does on her stuff. I wrote out my sayings very lightly with a pencil on my pumpkin, just to make sure I liked the placement.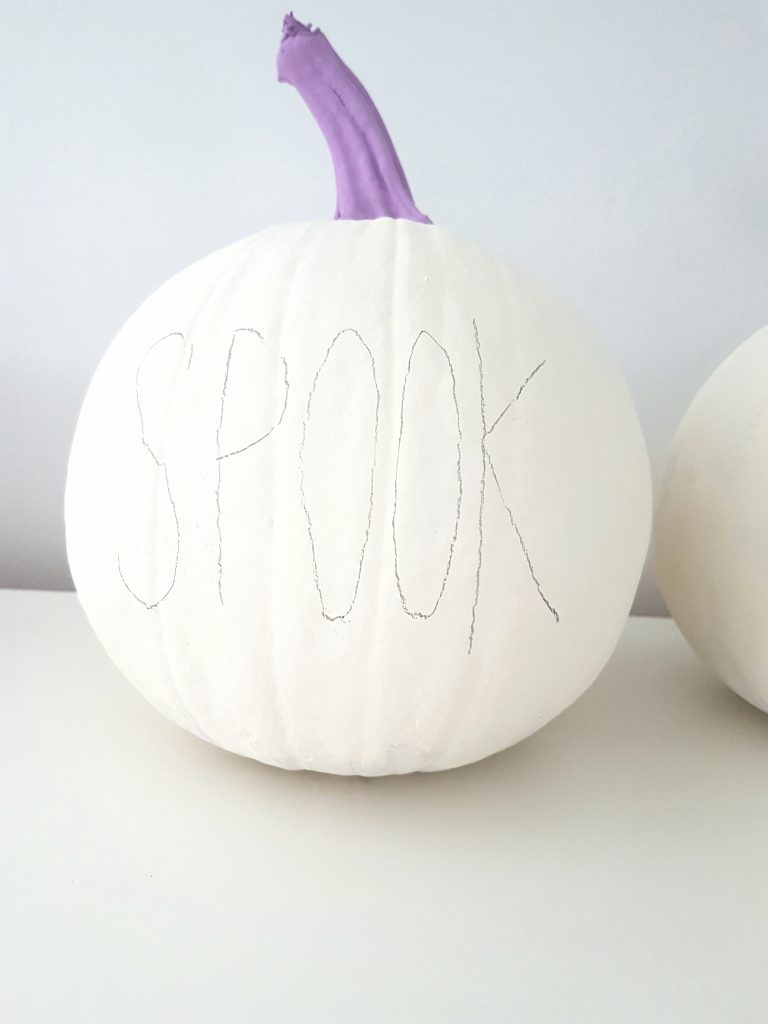 Then I went over the pencil with a black sharpie marker. You need to make sure the white paint has fully dried before you tackle this part. You could potentially use black paint, but you have more control with a sharpie. Just don't press too hard, as you'll take off the chalk paint in the process.
And that's it! Cute, right?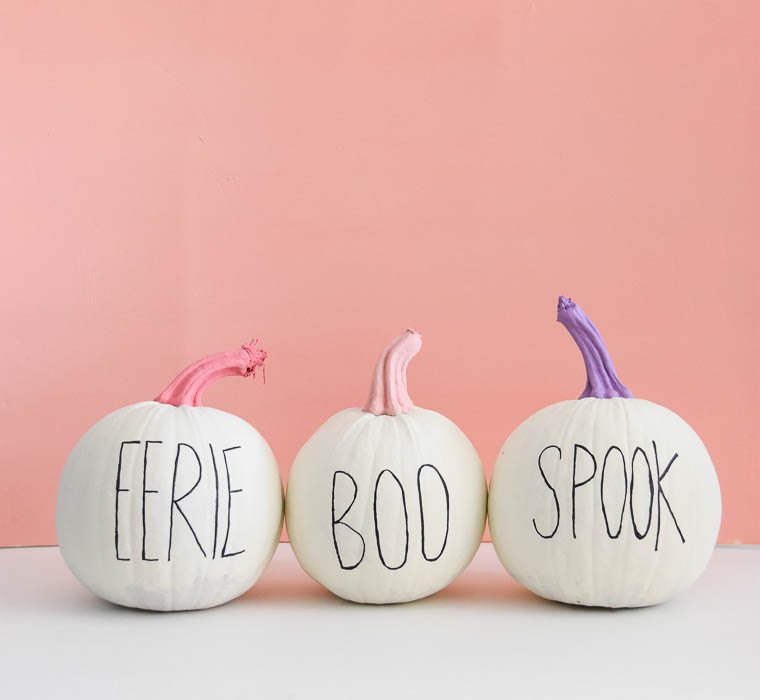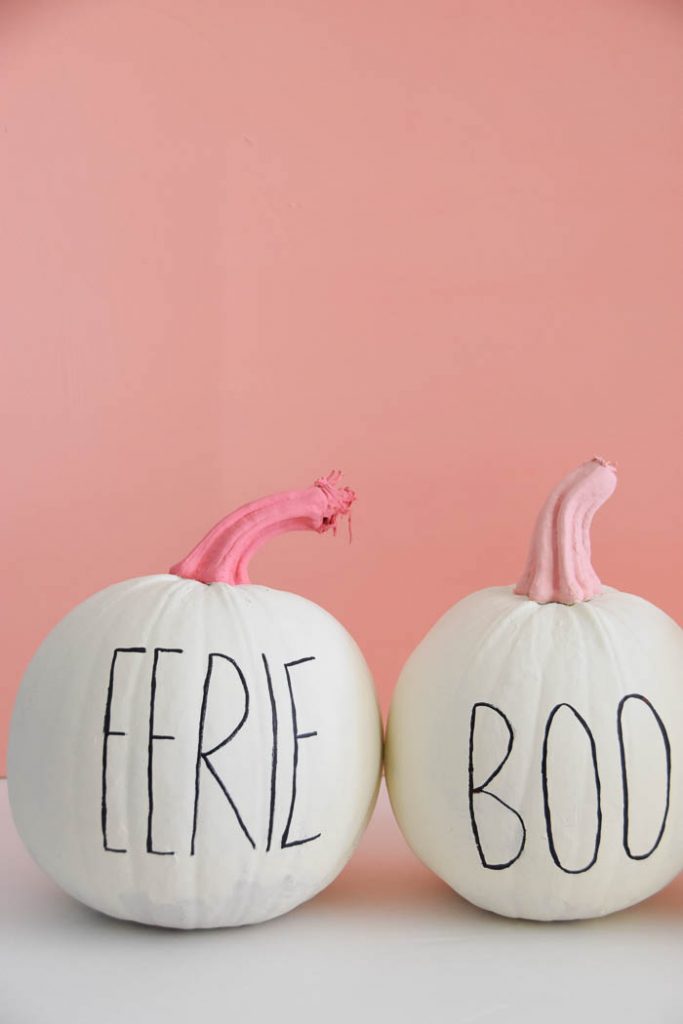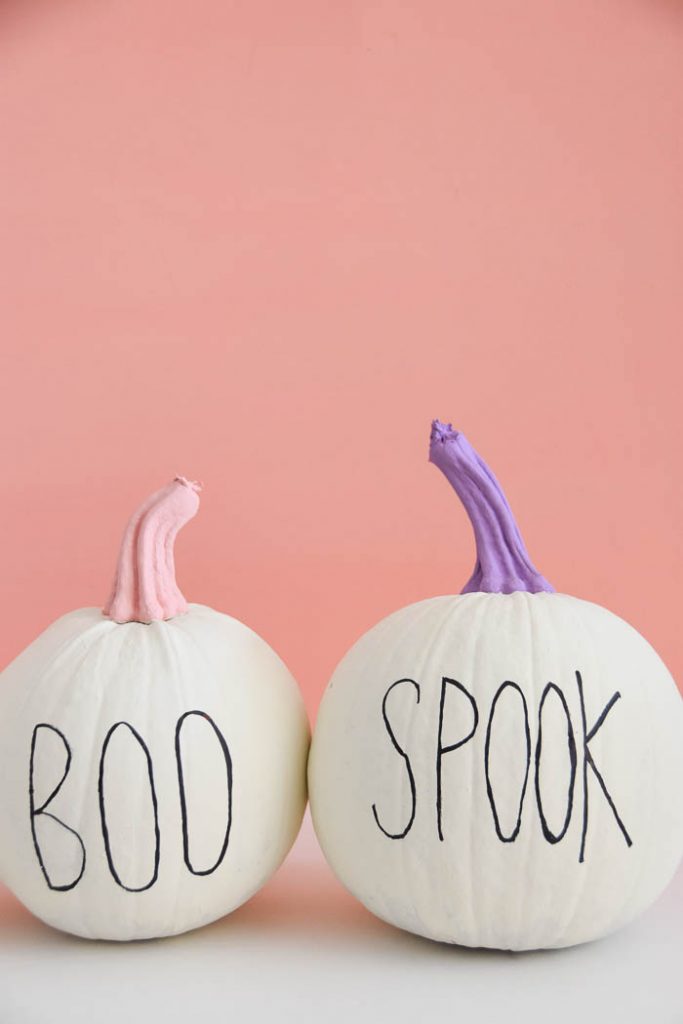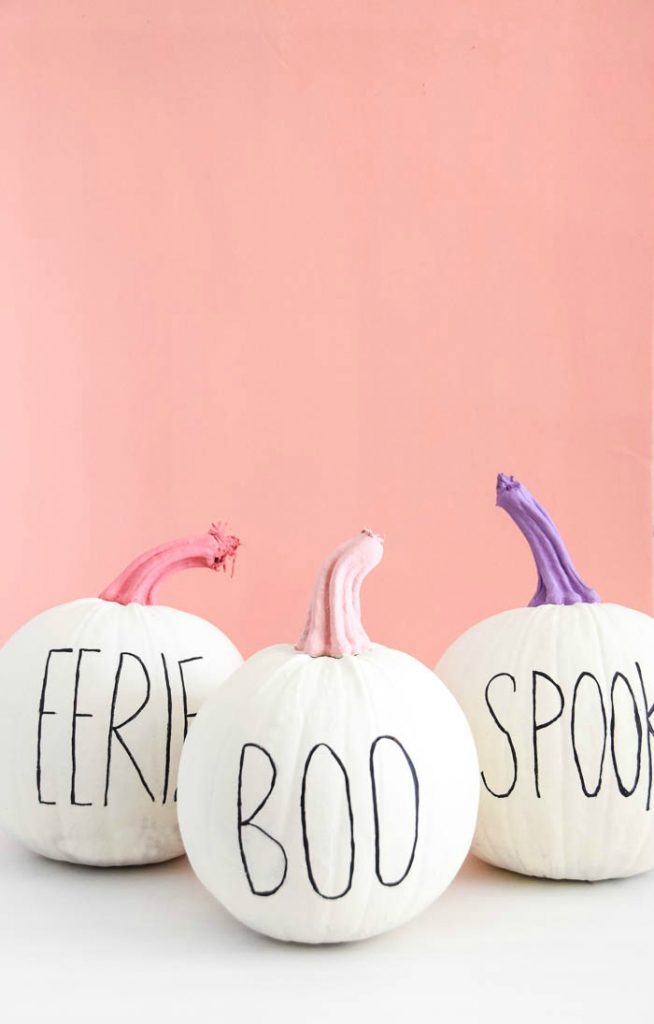 Do you try out new pumpkin designs every year? What's been your fave?
You might also like…
–Cute Halloween Decorations from Amazon