Stenciling A Wall: Tips and Tricks – One room that we have neglected up until now has been our office-slash-guest-bedroom. Our house is 3-bed/2-bath, but since we rent out the basement as a 1-bedroom apartment, that second bedroom upstairs has to do double duty.
Here's the room (sorry- ultra messy) pre-makeover. It had been the place for all of our old furniture and a too-bright turquoise paint colour.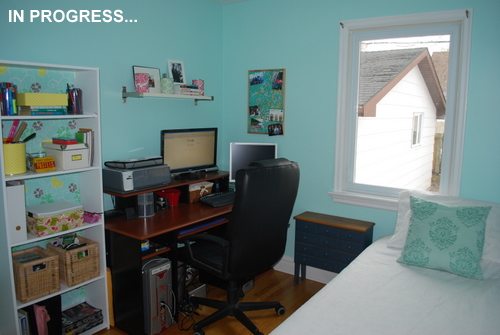 Stenciling A Wall: Tips and Tricks – Wallpaper look without the price!
I wanted to do some wallpaper in this room and started looking through tons online. I did find some that I liked, but they were super expensive. Once I realized that it was going to be $150+ just to do one wall in the wallpaper I liked, I started thinking about other options.
When I stumbled upon Cutting Edge Stencils, I was sold. And was double-sold when I found their trellis stencil, which totally channeled Moroccan design elements that we loved when we were there earlier this year (see the deets on that trip here and here).
We decided that we wanted this room to be fun and playful. Lime green is one of my favourite colours and works well with our general house palette– full of blues, turquoises, and grays — so it was the winner. The first step was to paint the room a basic white.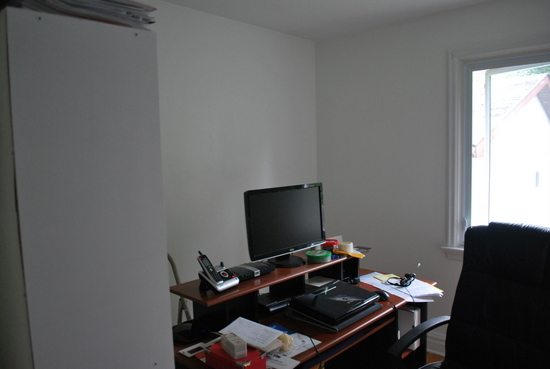 Stenciling A Wall: Tips and Tricks – home depot paints
Once the white was done, I got out the green paint. I was in love as soon as I pried open the lid. The colour is Grape Green by Behr (available at Home Depot).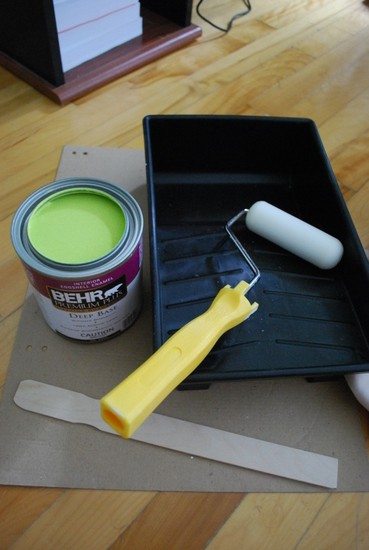 Then came the stencil. Yikes! I was pretty nervous since I had never done any stenciling before, so I started in a corner that I knew would be covered up by our desk. They recommend that you use an adhesive spray on the back of the stencil to keep it in place. That probably would've been a good idea. I just winged it and used tape since I didn't have any of the spray with me and was over-excited to get started (but of course you can't use all that tape as you move the stencil along cause you don't want to put tape on top of your fresh paint).
Basically you just get the stencil in place, paint with a small foam roller (and don't put too much paint on your roller – you don't want any seeping through), and then take off the stencil and move over to the next side (with your stencil overlapping what you have just painted, so it all stays connected).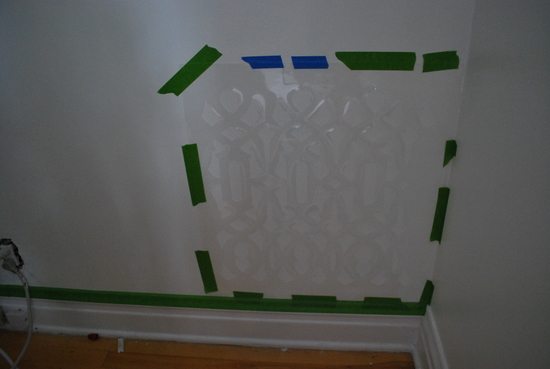 I wouldn't really call it a fun job — it was tiring, made my hands cramp up, and I felt pretty drained by the end of it all. However, when it was done (more than a few hours later), I was so pleased. It looks pretty seamless, especially for a novice stenciler.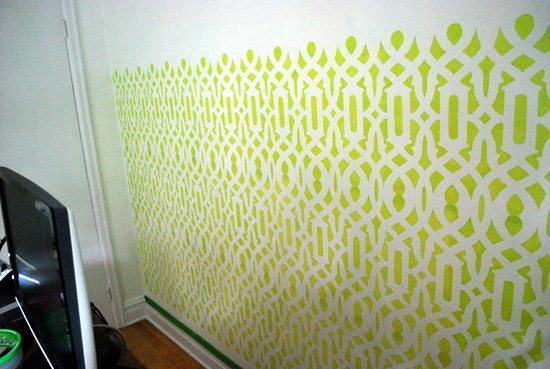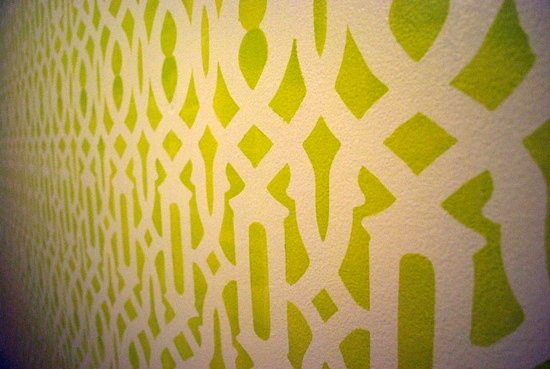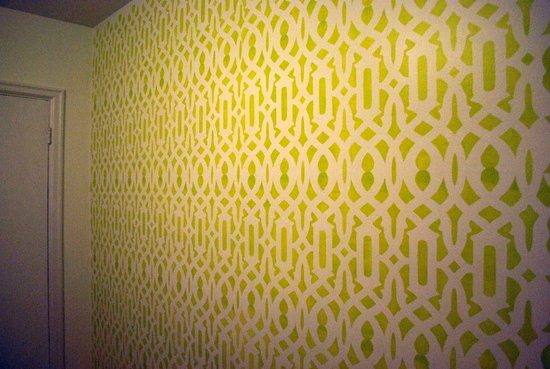 Kinda looks like wallpaper, huh?! We're pretty thrilled. Stay tuned for more pics of our whole room makeover. We've got a DIY desk and lots of other little projects up our sleeve to transform this room!
What about you guys?! Done any stenciling recently? It seems to be super popular these days!