The Fullproof Guide to Painting Window and Door Trim – This is a sponsored post written by me on behalf of Painter's Mate Green® painter's tape. All opinions are 100% mine.
If you've been following along with our bathroom renovation, you will have seen the before pictures, the floor tiles we chose, and the gorgeous vanity we installed.
What I skipped over was actually finishing painting the room!
When we did our major house renovation and addition a few years ago, we tackled ALL of the painting ourselves. Every single room. Every single door. Every single piece of trim. And when I say "we", I mean me :) Dan does lots of other things around the house, but painting falls in my domain. And if you've ever painted a whole house, you'll know how easy it is to run out of painting-steam after doing it for weeks on end.
So, it meant that our master bathroom, which sat unfinished for the last few years, still needed to be painted.
It was easy to give the walls a quick couple coats of the same white that we had used elsewhere in the house, but the door and window trim was the more time-consuming element to get done. I couldn't put it off any longer, as we are finishing up this gorgeous bathroom, so time to tackle it!
When we did our addition, we had our contractor custom cut all the trim from MDF as it was a much more budget-friendly option when doing it in mass quantity (as opposed to using the pre-made trim). The downside to that though, has been that I have had to go around and finish all the trim myself from raw wood (nothing was pre-primed or filled).
Guide To Painting Window and Door Trim
After finishing hundreds of feet of raw trim in every single room of this house, here is what I suggest if you have to tackle any trim in your own pad.
#1: Fill Holes and Sand – The Fullproof Guide To Painting Window and Door Trim
When you install trim, whether it's raw wood or the primed stuff, there are going to be a number of nail holes to fill. Use a little tub of spackling and nail hole filler from your local hardware store. I found the easiest thing was to apply it with my finger, over each nail hole. You basically just scoop a little bit out, and rub it over the hole so that it fills it entirely. If you need to fill the edges of your trim as well, then you will want to use a caulking gun, and then run your finger along your line of caulk to smooth it out.
One word of warning: Your fingers will get rough. I developed the craziest callouses on my index fingers when doing all of this work, as the raw wood was giving me some major burn! Maybe don't get a manicure the week you're going to do all this work ;)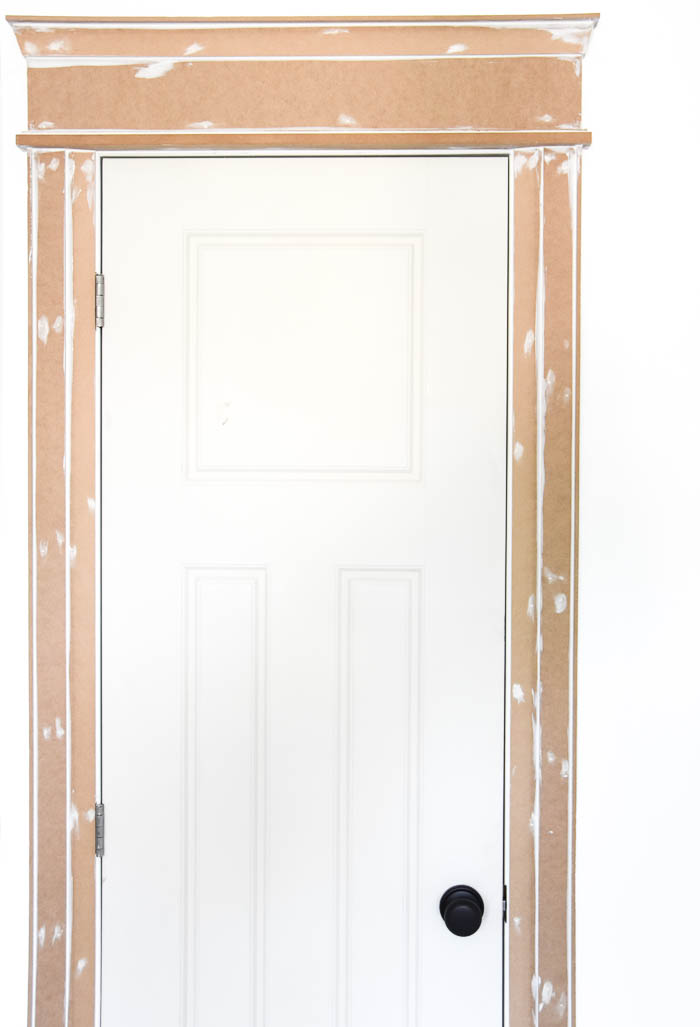 Once all your filler is dry, go over your trim with a sanding block. You want to smooth out any filler and rough bits of wood before you start painting. Having a smooth surface is going to make your paint job look way better. Rough patches get accentuated once painted, and you really don't want to have to tackle that after you've already put a coat of paint on.
If you are doing a lot of sanding in a room, you might even want to put some plastic dropcloths over the doorways so it doesn't invade the rest of your house. If you are doing any kind of drywall sanding, then this is a must as that stuff gets everywhere. The easiest way to do this is to use a double-sided tape, like Painter's Mate® Double Sided Poly-Hanging Tape, to put up your sheet of plastic over the doorway. The great thing about that tape is that it is all-in-one double-sided tape solution for hanging poly-sheeting that is cost – and time – efficient., plus it won't remove the paint finish from your walls.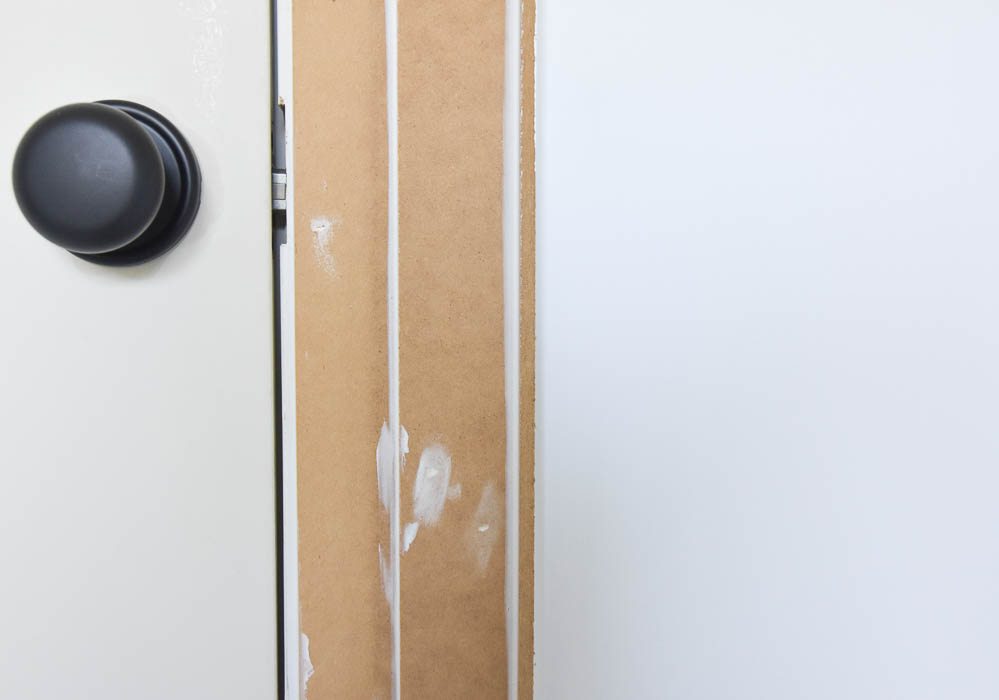 #2: Use Good Quality Painter's Tape to Prep – The Fullproof Guide To Painting Window and Door Trim
Once everything is smooth and ready to go with your trim, then it's time to tape it out.
I will admit, that I have been really lazy when it comes to taping out spaces for painting in the past. And once I get started, I always regret not having taken the time to tape it out. I end up dripping paint on the floor or my hand will lose it's steadiness for a moment and I'll go off-course. Then it's a huge pain to try to clean off the paint, or have to do touch ups after the fact.
Taking the 10 minutes to tape out the project ahead of time is SO worth it.
For the trim in our bathroom I used Painter's Mate Green® painter's tape. This tape is really versatile and can be used on drywall, wood, metal, glass, windows, and trim.
It only took me a few minutes to tape off the key spots around my door and window trim: door hardware, the floor tiles, baseboard, and walls.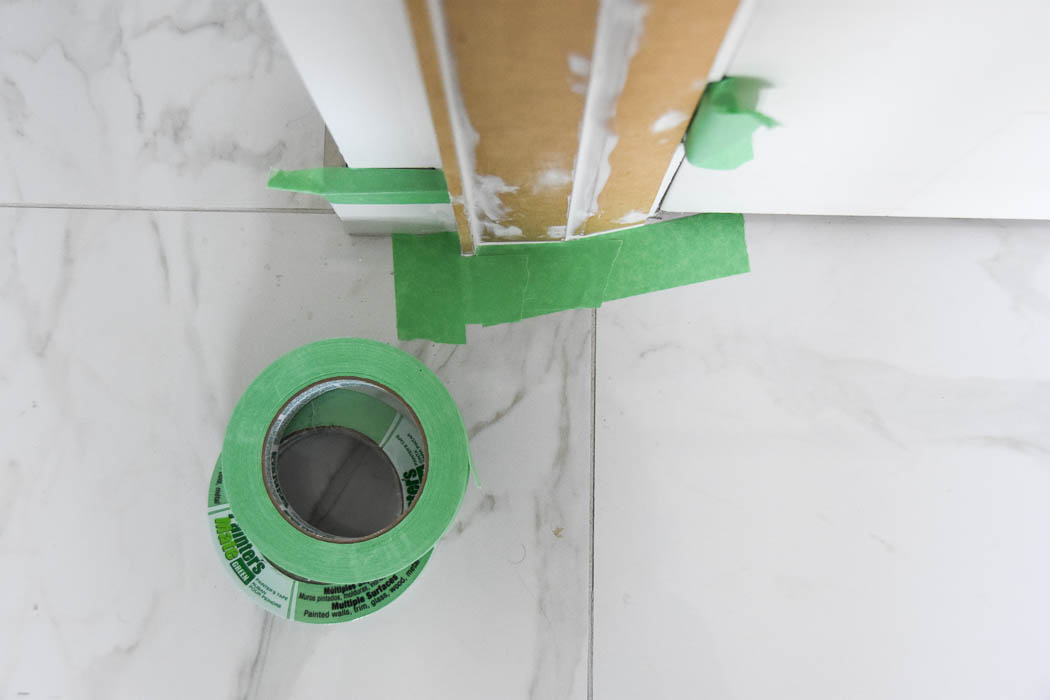 #3: Paint – The Fullproof Guide To Painting Window and Door Trim
Now it's time to paint!
The amazing thing about taking the time to prep your trim well is that if you have done that, the actual painting part takes so little time. You don't need to be so careful at each edge, because you know that the tape is there as a back-up. Just slap on however many coats you need, giving a few hours of drying time in between each.
Want my secret tip for making painting more enjoyable? I bring my laptop in the room and stream the latest Real Housewives episode while I paint. Totally makes the whole thing more fun!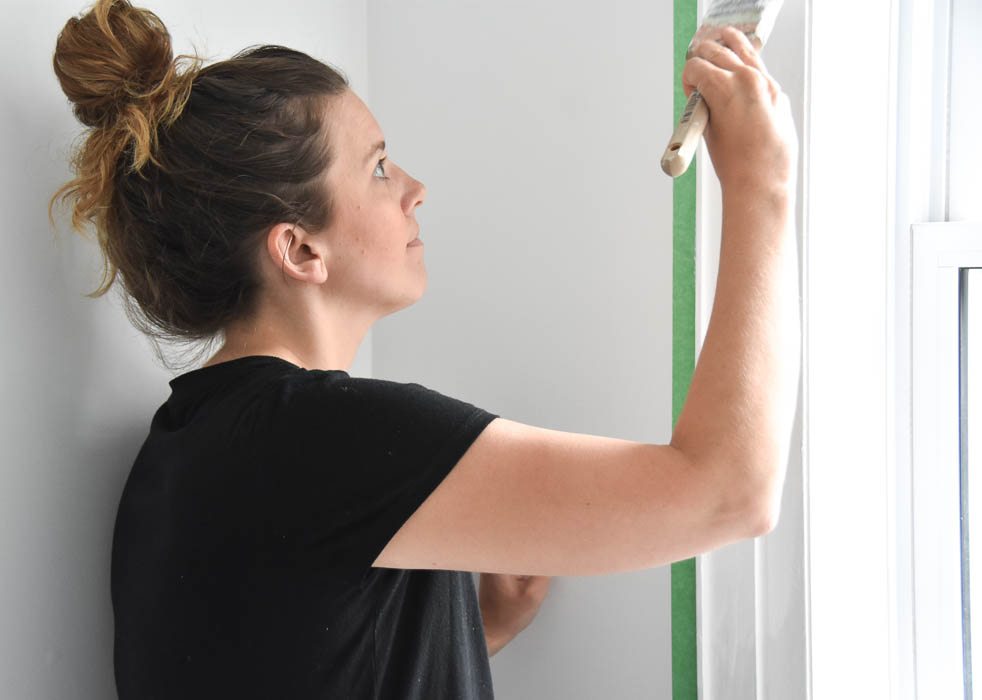 #4: Remove Tape
Once your paint has dried, remove the painter's tape gently. I found the Painter's Mate Green® painter's tape came off really well.
Totally protected the floor and edges, with no splatters or imperfect edges in sight.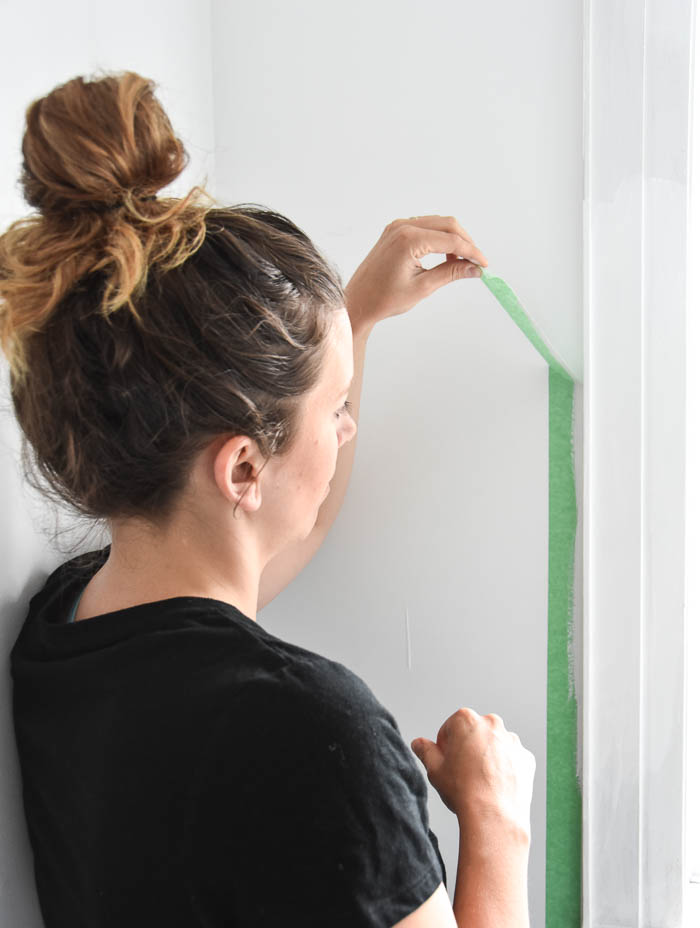 The moral of the story? Put some time and effort into the prep before you pick up your paintbrush, and the whole thing will actually end up going faster and your results will look better.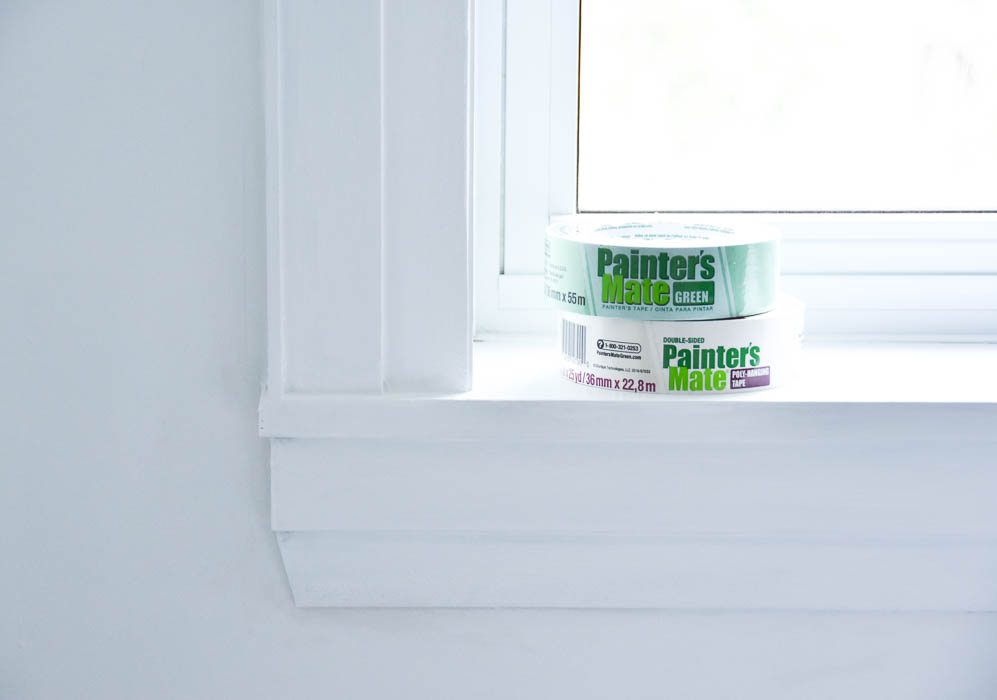 I'm pumped to finally have gotten the window trim, and trim around two doorways FINALLY painted in this room! Now if only my hunt for the perfect light fixture for above our bathtub was as easy…