It's spring! Which means some fun holidays, like Easter and Mother's Day. In my house, this means craft time! I love to come up with crafts that my kids can help with and that I can have fun with. One fave is this paper bag craft for spring, because we always seem to have these supplies around the house.
The gift bags are cute as can be and made with supplies you probably already have around the house. They come together quickly and are just plain fun to give!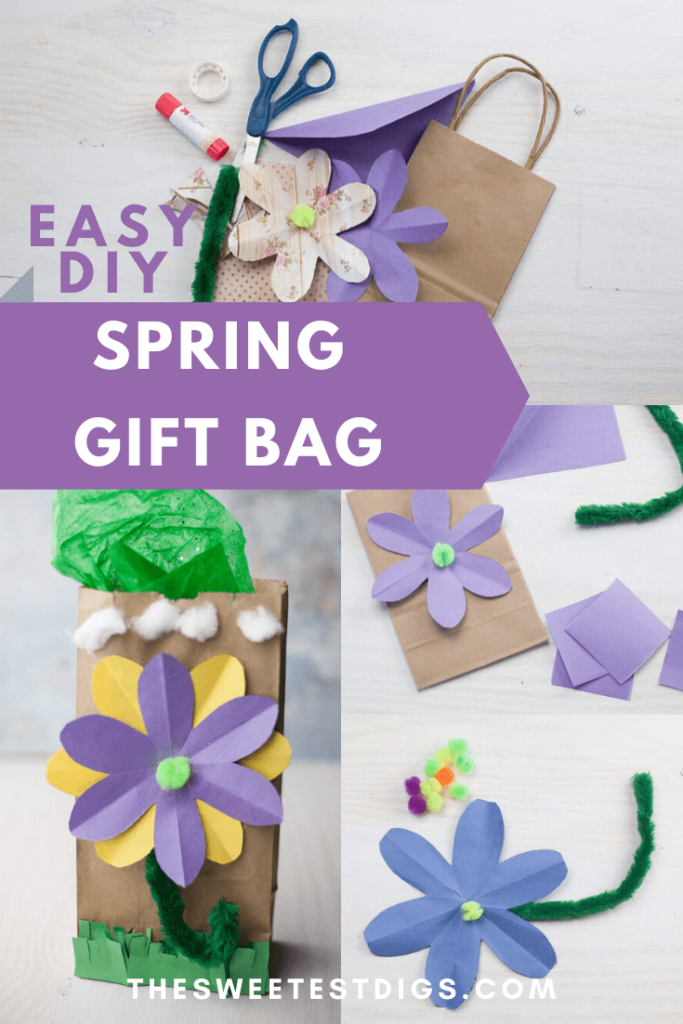 *Affiliate links may appear on this page. See my disclosure for details.
Paper Bag Craft Spring Supplies:
To make your DIY spring gift bags, you'll need the following supplies:
How to Make Spring Gift Bags:
#1 – Make sure all of your supplies are handy. You don't want to have to go searching for things! Fold a piece of colored or patterned paper into a square, then into a triangle as shown in the picture below.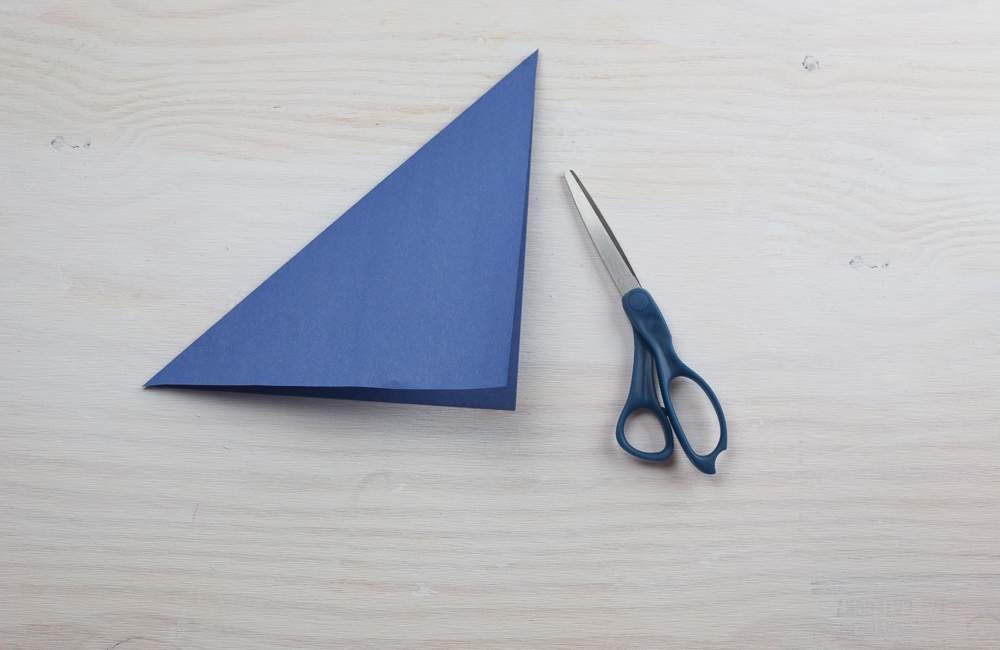 #2 – Using a ruler or protractor and pencil, divide the triangle into three sections.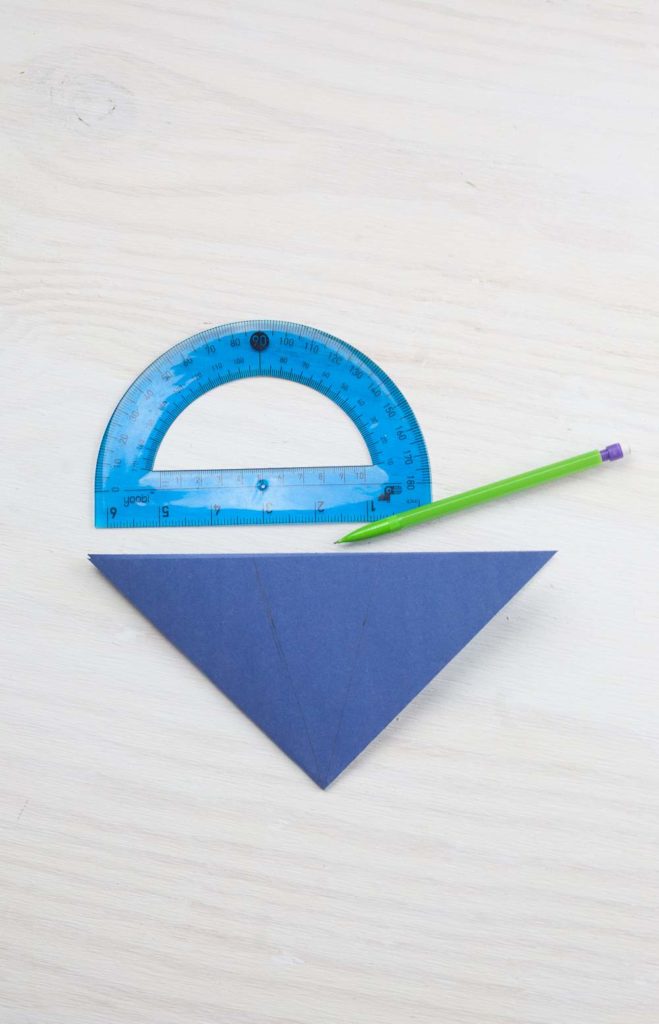 #3 – Fold the sides of the triangle over each other so that they overlap. The points will stick out. That's ok, because you're going to cut them off.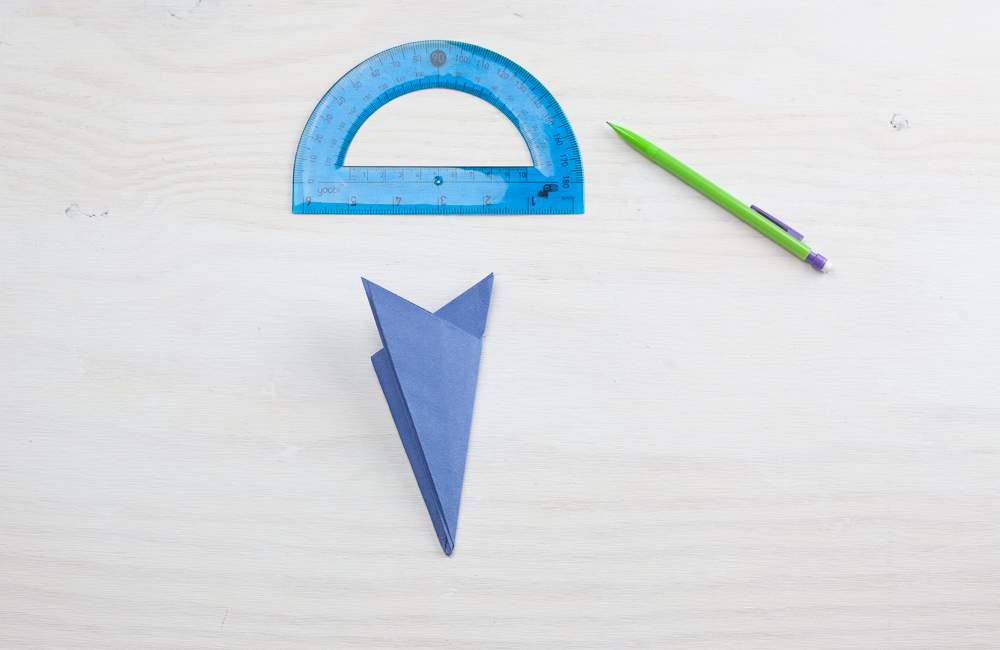 #4 – Cut off the points so that the base of the triangle is straight.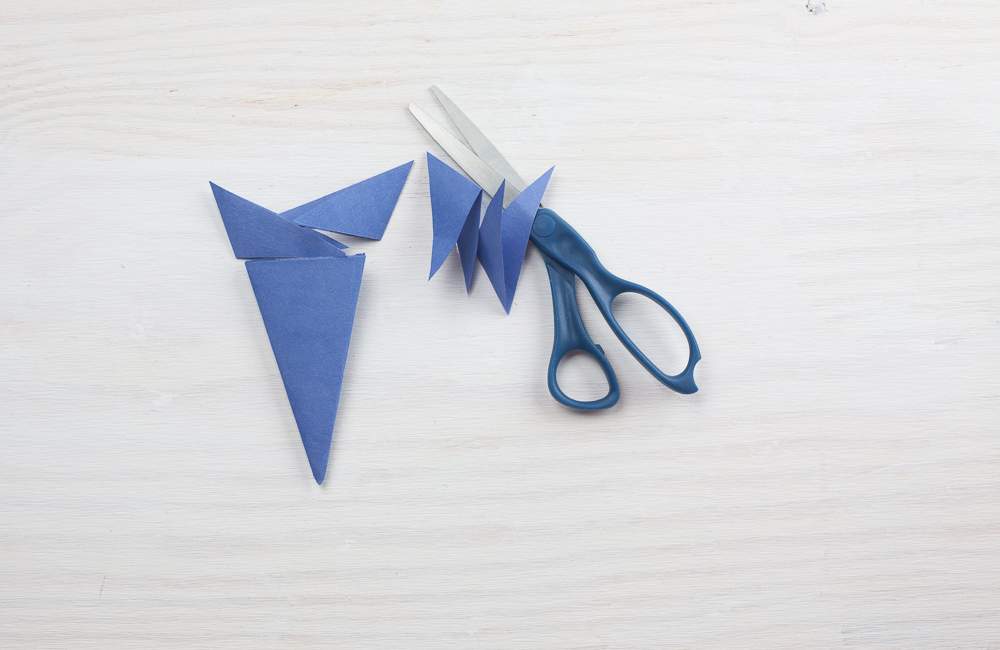 #5 – Draw a curved line from the top point to one of the base points, like a flower petal. (The protractor is a great tool for this if you have one handy!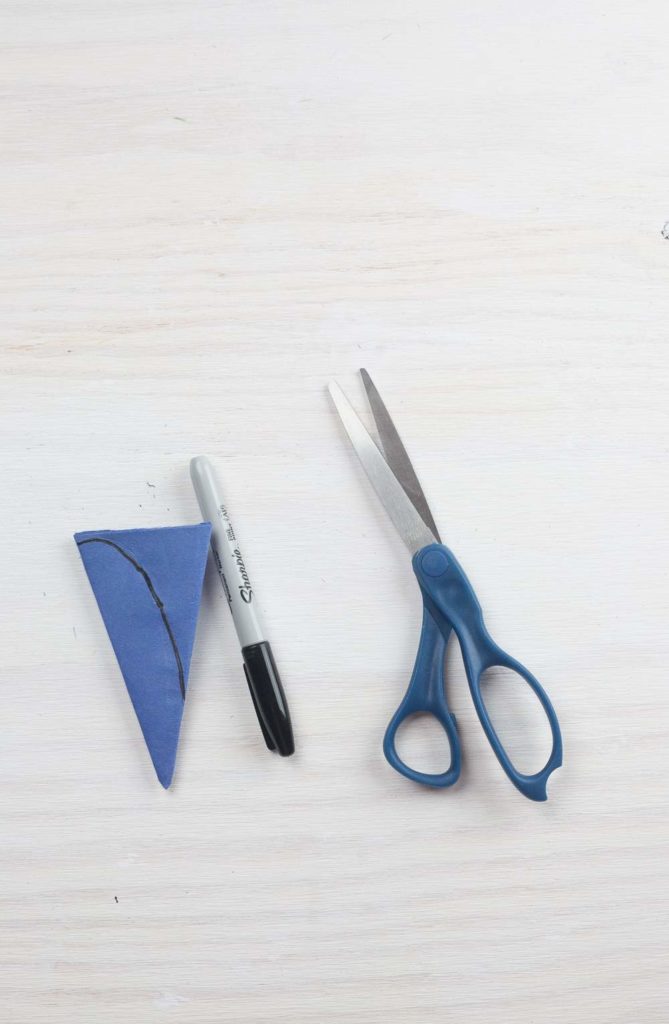 #6 – Cut on the curved line you drew. When you unfold the piece, you'll have a flower!
#7 – Repeat this process with one or two other pieces of colored paper. Stack the flowers together, alternating the petals so that each color shows through.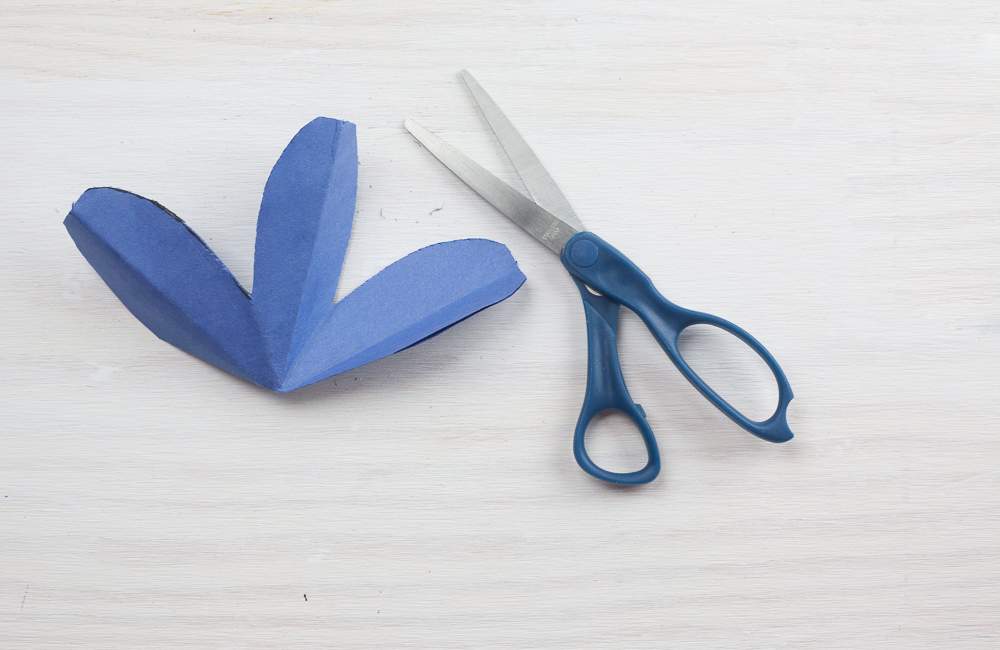 #8 – Glue a chenille stem to the back of the flower and a contrasting pom pom to the center.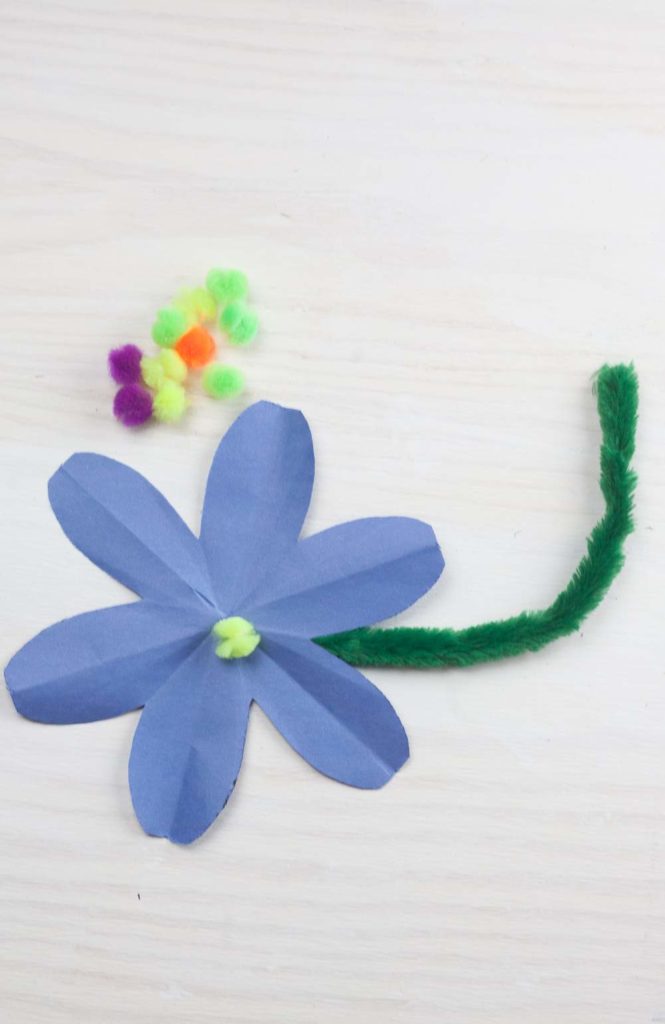 #9 – Glue the finished flower to the front of the gift bag. Add embellishments like cotton balls for clouds and fringed green paper for grass. If you would like to add additional fun things like washi tape or stickers, feel free!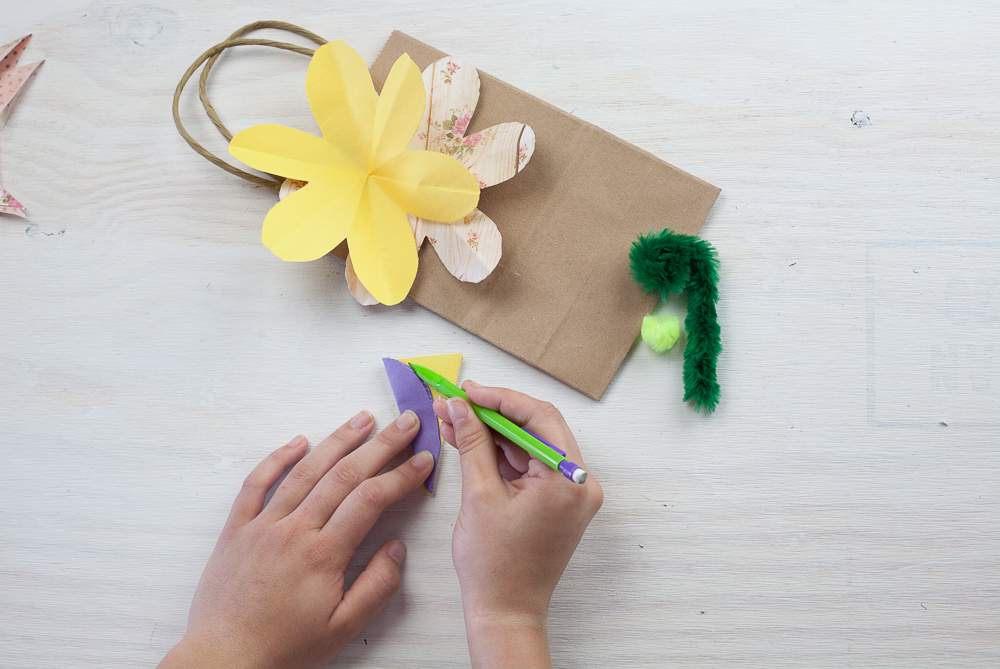 This is your creation – have fun with it!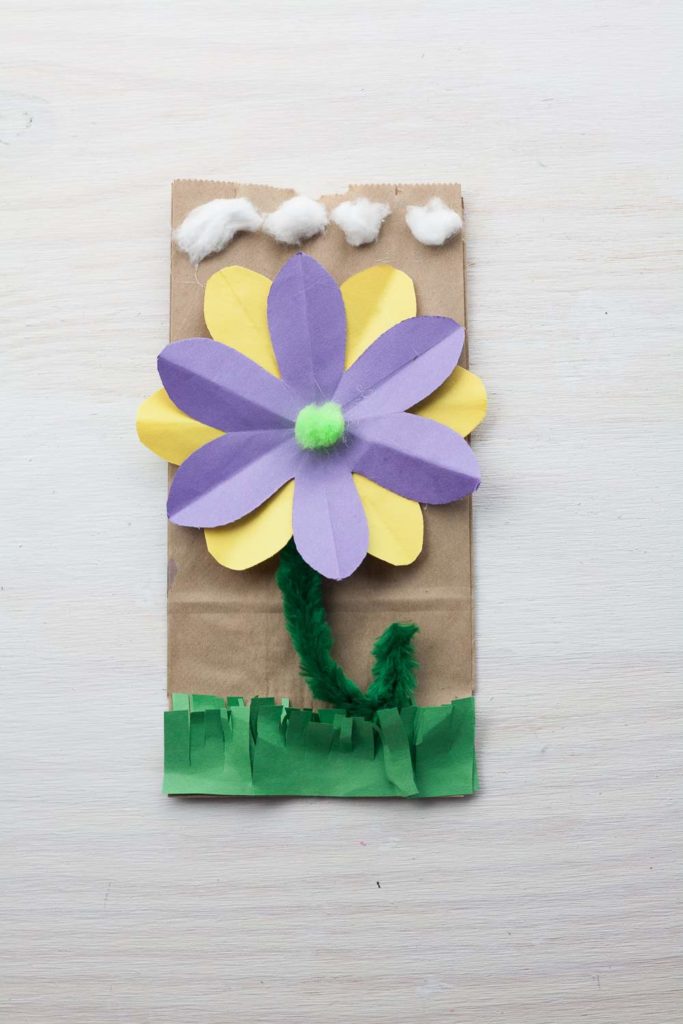 Gift Giving Fun
These DIY flower gift bags are so fun for Easter, Mother's Day, or just to brighten someone's day. Add a bit of colored tissue paper and your gift. You can even finish it off with a homemade card!
The fun thing about these bags is that you and your kids can embellish them however you like. Play with different colors and patterned papers, add in colored pom poms and other additions, and create special gift bags to celebrate your favorite people.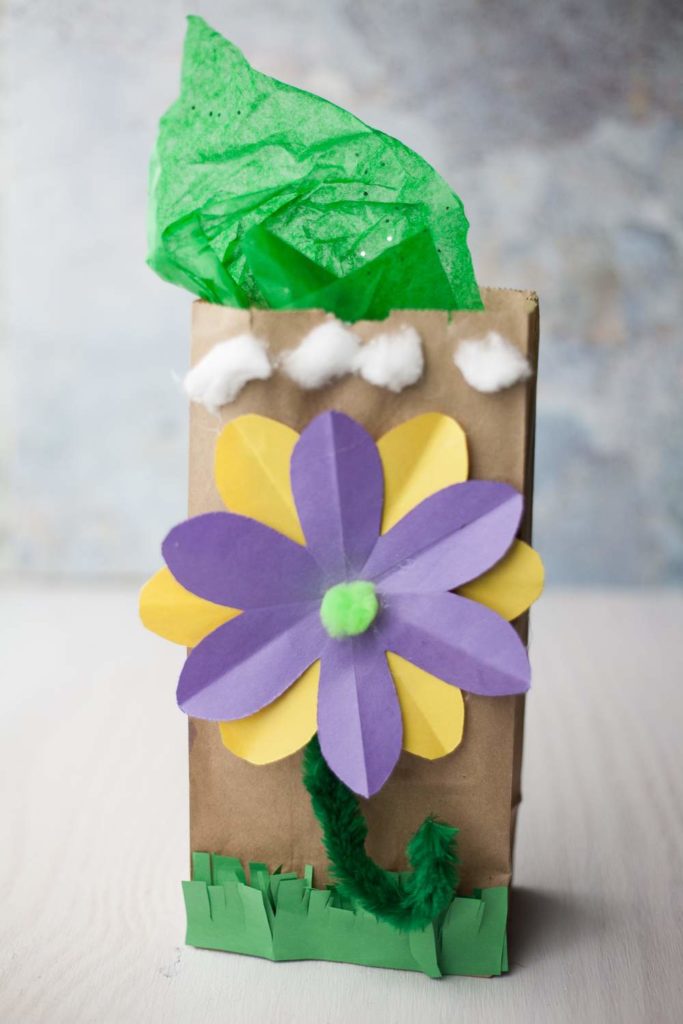 Who can you bless with your diy skills? I'd love to hear all about it – feel free to comment below.
Be sure to pin this post so it's easy to find – this diy gift bag craft is fun to do any time!