So after demo'ing the bathroom and installing the tub, next up was tiling the tub surround.
Like all of the projects in our casa, we are doing this on a budget. We looked around a bunch at different tile options. I knew carrera marble somewhere in the room (a girl can have a bit of luxury, right?). So after humming and hawing at many different options and laying all kinds of tile out on the floor at Home Depot (we now know the tile guys on a first name basis), the hubs and I decided to do marble floors. The actual amount of floor space is so small that it made sense to splurge there.
Once that decision was made, it was a pretty clear choice for the bathtub surround: subway tile. White, classic, pretty. I wanted a little bit of embellishment, so we also grabbed some ultra pretty aqua blue glass tile as an accent band. I almost went with an accent tile in marble, but it was pricier and I thought the blue would add a nice pop of colour and contrast to the room. So we grabbed boxes and boxes of tiles and headed back to get to work.
Before we could tile anything though, DIY Dan needed to re-drywall part of the surround that had been demo'd.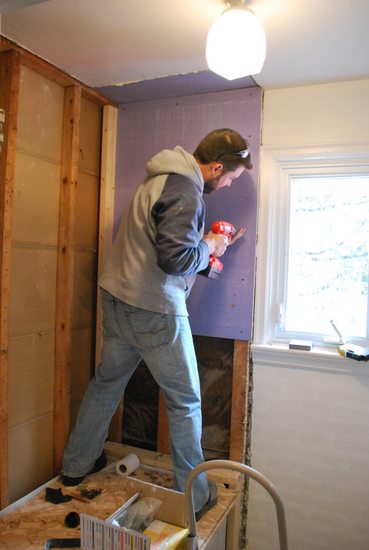 Here was the space now prepped and ready to go. See that triangular box we have in the corner? Well, we had a space on the ceiling where the old drywall and new drywall met up. But they didn't really meet properly and no matter how much we mudded/sanded, we knew you would be able to see some imperfections. So, we added this little triangular box to cover it up. Let's call it a "design feature"…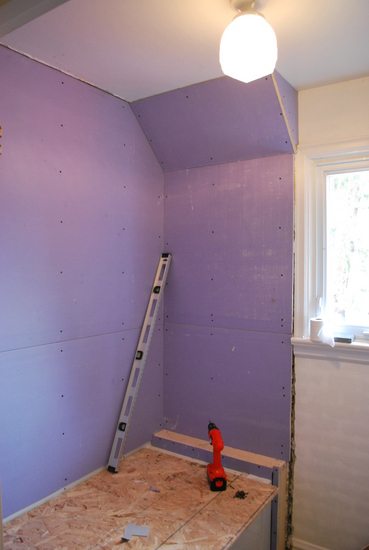 Now came the fun part. Supplies needed: a trowel that is meant for tile adhesive (it has two spikey sides), the tile adhesive (also called mortar), a damp cloth to wipe away any stray adhesive, spacers, and the tile (duh).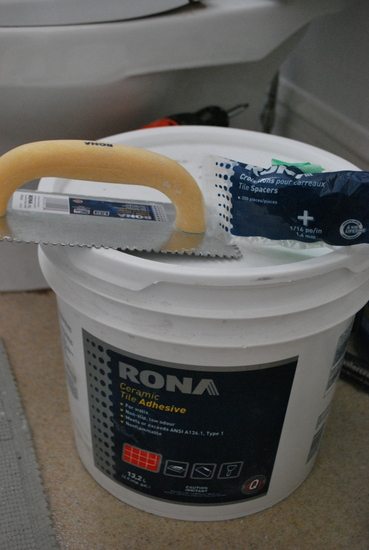 I was pretty excited. I have never done tiling before, so I was chomping at the bit to get going.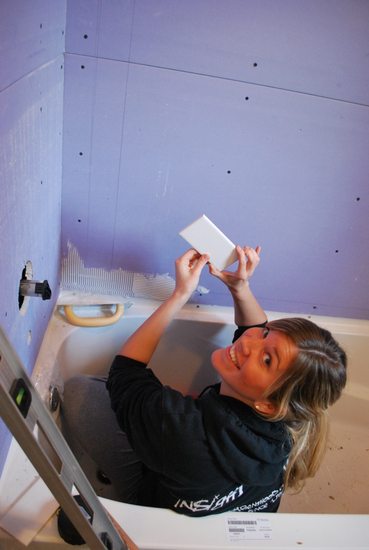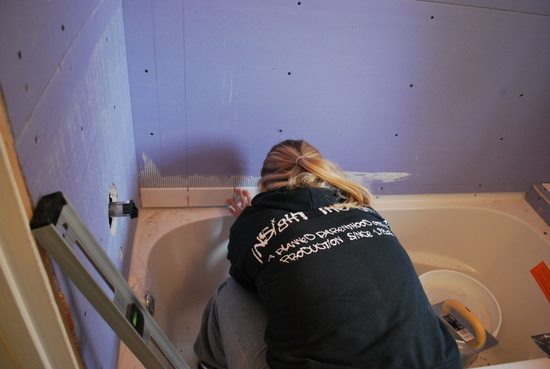 In terms of the process, there are a few things to take note of. The first is that you can pretty much guarantee that your bathtub and walls aren't going to be perfectly level. So what you want to do is rest your level on the edge of the bathtub, and then adjust it until it's level. Draw the level line on your wall. That way you can lay your first row of tiles along that line so as you move upwards it's all level. You may have a bit of a gap at the bottom, but you will be caulking around the tub and won't really be able to notice any differences.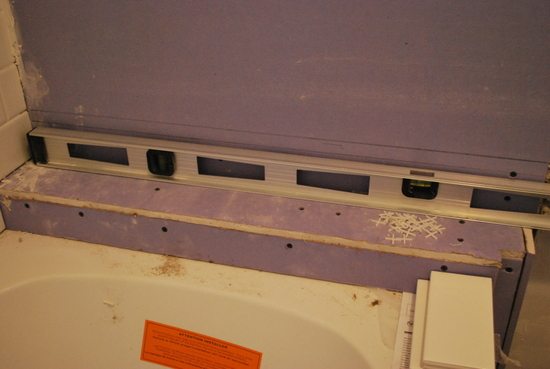 Then to apply the tile. You want to spread your adhesive on thickly, like DIY Dan is below…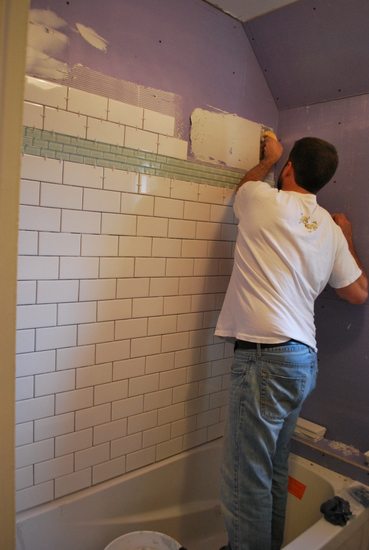 …and then go over it with the spikey part of the trowel (called v-notch). You're left with these ridges in the adhesive which is the golden ticket for getting your tiles to stick well. Then place your tiles on one-by-one, put in the spacers, and push the tiles down so that they are nice and stuck.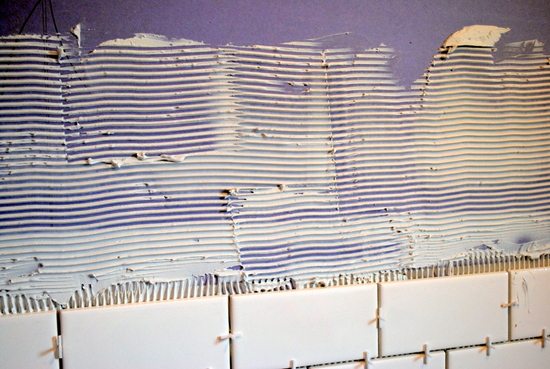 There are lots of videos on YouTube about how to apply tile, so if you're a novice like I was, I would definitely watch a few of those before getting started.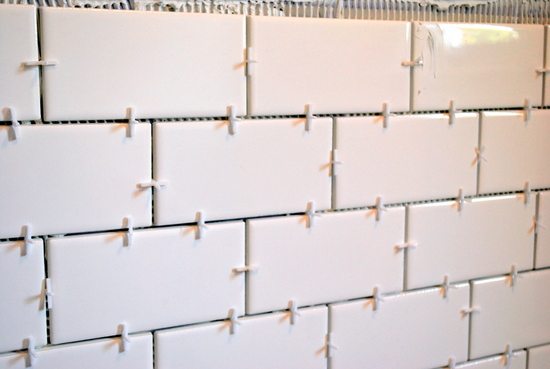 I laid the tile in a brick pattern. We cut a bunch of the tiles into halves so that along the corner in the wall I would switch between a full and a half tile all the way up. Luckily we borrowed a tile cutter from a friend, so we were able to cut all the half pieces and the rest of the custom pieces we needed. As I worked my way up the wall I would just take a step back every so often to re-check with the level and make sure that everything was lining up well.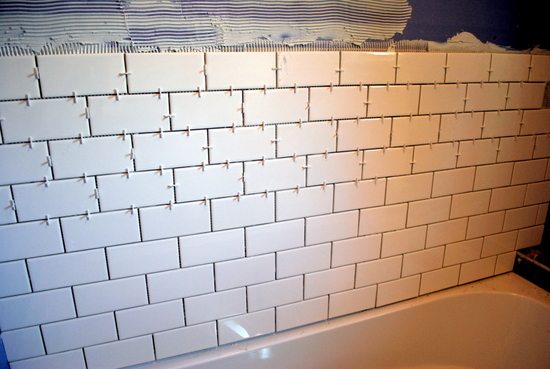 Oh, and the person actually cutting the tile? Yeah, they tend to get covered with water, tile shards, and dust. I like to leave the really messy jobs up to the hubs.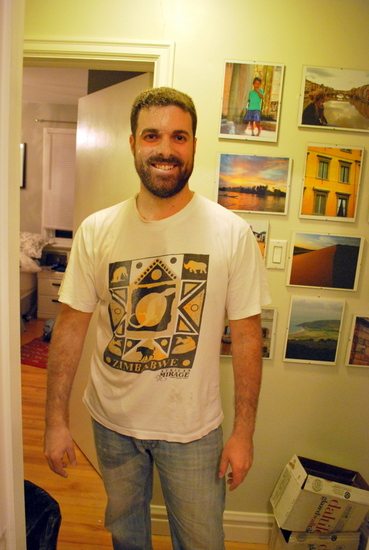 So here she was after about 4 hours of tiling. We had to shut 'er down with the third wall still to do, as the sun going down (we were cutting the tile outside).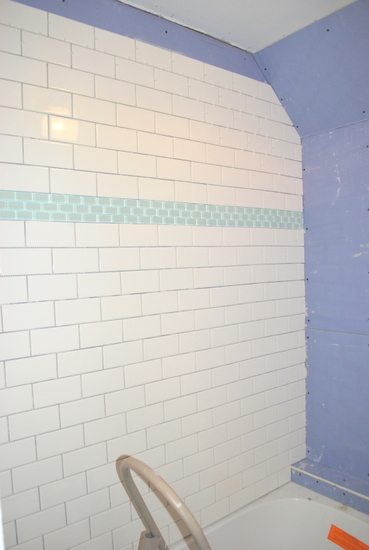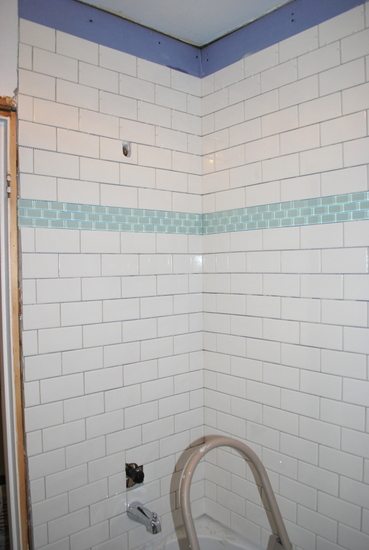 Finishing the tile, grouting and adding in our shower fixtures are next up on the to-do list, and this gal is getting excited! We're not even close to being done the bathroom, but to have the tub part done will be a big sign of relief (and will mean we can shower here again!). Happy Friday, folks!
What about you? Tweaking your bathrooms lately? Or any big plans for the weekend? Do tell.