Now that you have seen how we re-worked the space in our new open concept main floor, let's get to that living room. We knew we wanted a fireplace, and I had always dreamed of having some kind of mantle and fireplace built ins to help anchor the room and give it some classic charm. When you are building a house from scratch, you need to add in and layer in that character.
Because we had so much going on in our whole-house renovation/build, we didn't actually tackle these built ins as a DIY  project. There were too many other competing projects to do at the same time (we were on a deadline to move back into our home!). BUT we did design the built ins ourselves, source out the materials, and then hired a handyman/contractor to build them for us.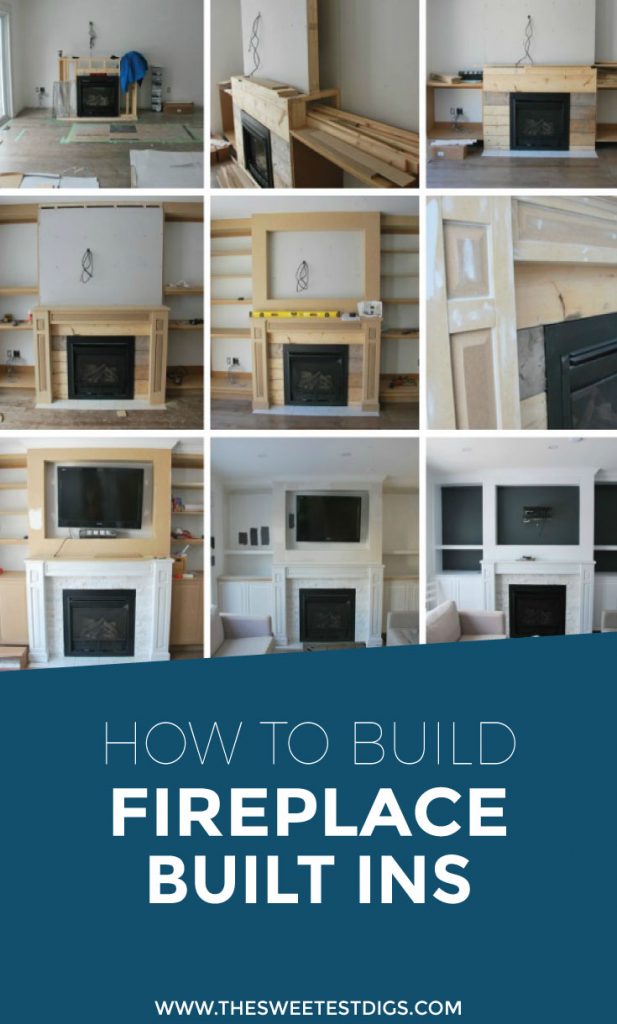 Research and Sketch Fireplace Built Ins
Our first step was to purchase our natural gas fireplace. After that, I started browsing Pinterest (you can follow me here), and drew out a basic sketch for our contractor based on the inspiration photos I had found. I knew I wanted a symmetrical look, with room for a tile or stone around the fireplace, a traditional mantle, and closed cabinets at the bottom with shelving in the top two thirds.
Here is the play-by-play in photographs of how it all came together and the general steps….
Step 1: The Build – Fireplace Built Ins
The fireplace was installed (by the fireplace manufacturers) in a basic wood frame that our contractor put up ahead of time.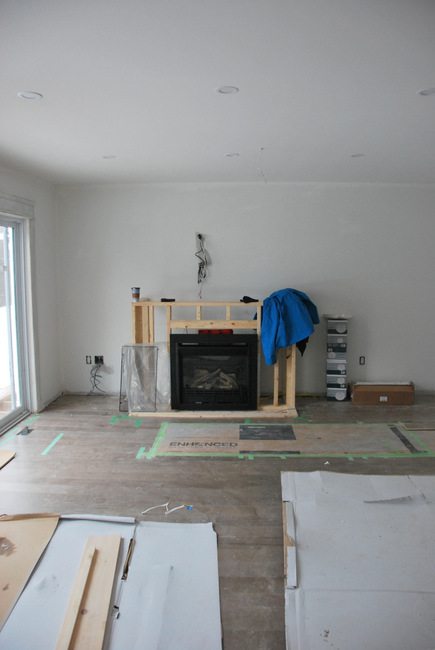 Next, you can see the cabinets starting to take shape here, and the back of the wall that would run up from the mantle.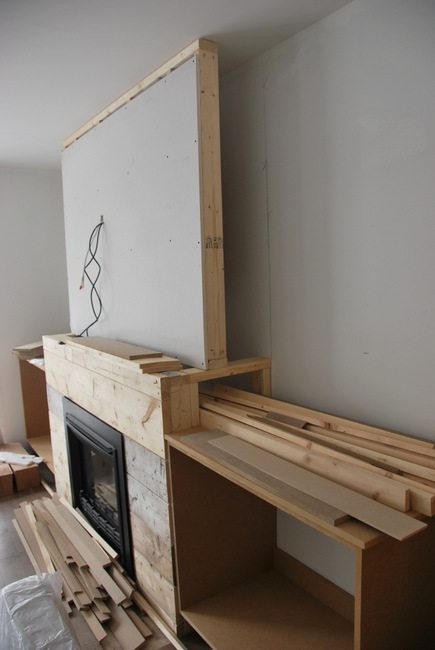 I know that TVs over the fireplace can be a design no-no, but I don't love the look of them off to the side of a built in (the symmetry just isn't right for me), and there was literally no other wall to put a TV against in this room. I'd love to say that we just don't watch TV, but we do. This is a real life room!
That's why you see the cords running through that wall – so that we could mount the TV and not have any wires showing.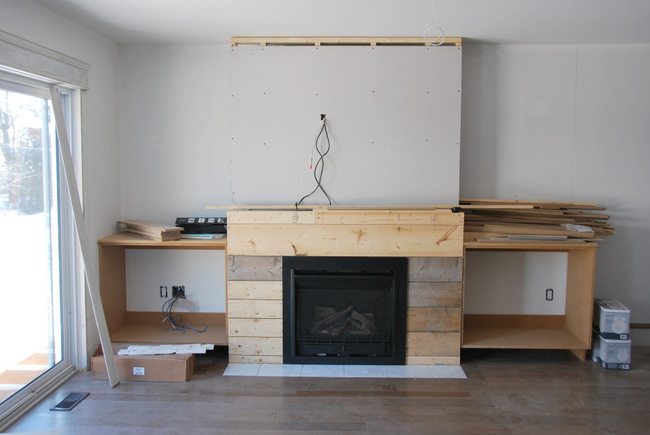 Here is when the detail work started to take shape.
I had sketched out this a square design with in-lays, and our contractor built it out of MDF (medium density fiberboard – a cheaper alternative to wood).  He beveled the in-lays to give them a traditional look, and copied the lines where two pieces of wood meet to mimic our kitchen cabinets.
Our tiler had laid the tile for the hearth by this point too. I grabbed some basic 12×12 Carrara Marble Tile – a classic look – for this.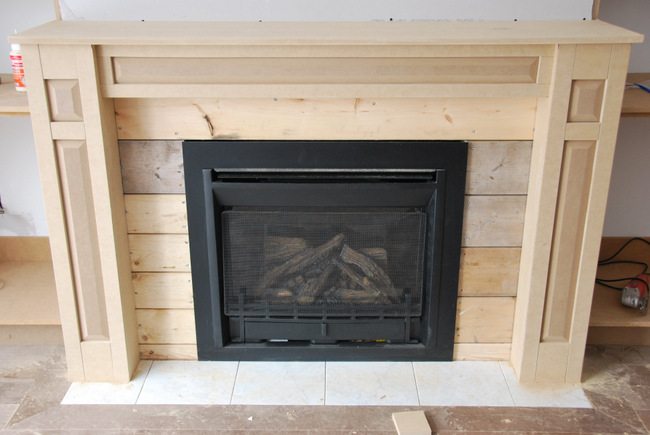 I wanted the built-ins to go all the way to the ceiling to really make the most of the height and bring the eye up. When they stop a foot or two short of the ceiling, it really doesn't take advantage of the space as well as it could.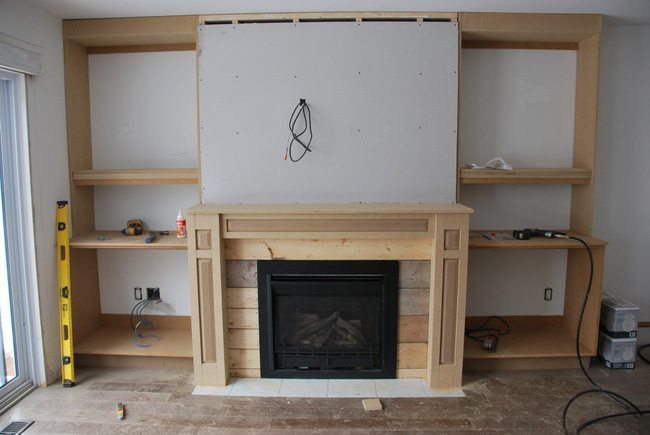 Now you can see how the box was built for the TV.
Our contractor built the box to leave enough room for our TV and sound bar – but this way it would be inset. I wanted to tuck the TV in as much as we could so as to not draw attention to it.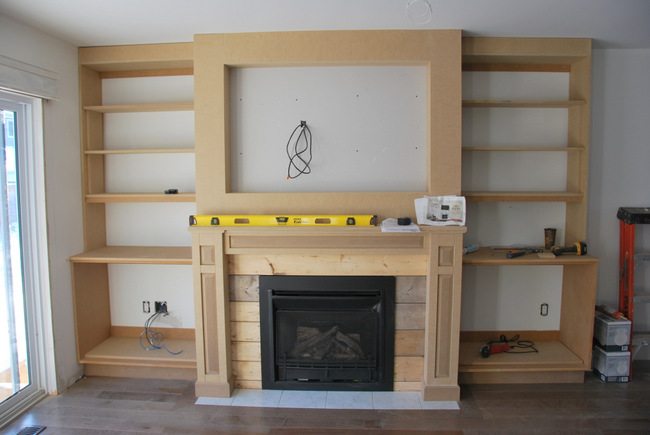 Filling – Fireplace Built Ins:
Once the structure was in place, then I took over the reigns. All told it was about 2 days of labour from our contractor to build this, so it really didn't cost all that much.
From here, I grabbed some Dap filler (this kind), and filled in all the nail holes.
Then I smoothed them all down with some sanding blocks (I like this brand). Be warned.. your hands will need some TLC after all this!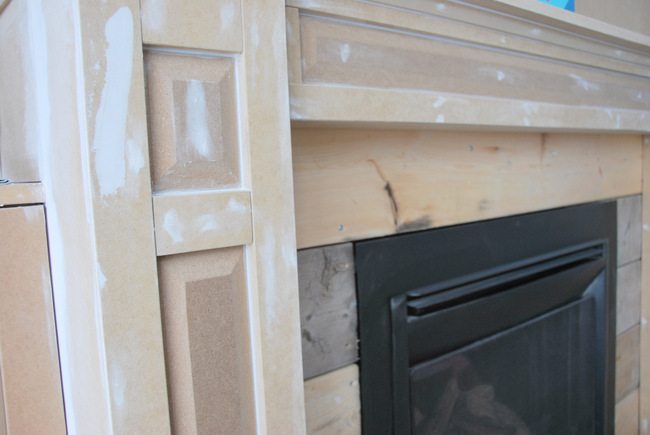 Tiling – Fireplace Built Ins:
Tiling the surround was up next.
I went with a 6×24 ledgestone that we found at a local tile store (Ottawa's Euro Tile & Stone). It's mostly white with a mixture of greys and beiges. I wanted something with a bit of texture but nothing too busy. This was perfect.
(FYI: I couldn't find my exact stone online but if you're interested, you can order this sample ledgestone piece that looks extremely similar to what I used)
Of course Maya had to be on hand to supervise the work….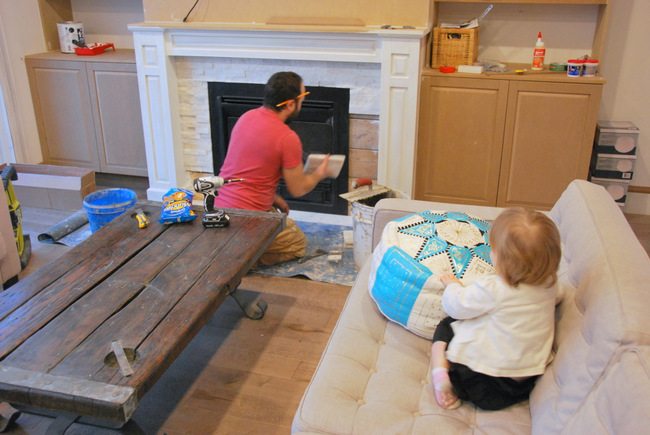 Quick tip –> Paint anywhere that your tile will be butting up next to before the tile goes on. I didn't want to have to tape out the tile or be super careful cutting in, so I gave the mantle area a couple coats of primer and then the final white beforehand.
You can also see here that we put the TV up to make sure it was all fitting appropriately, and crown moulding went up around the top of the built-ins.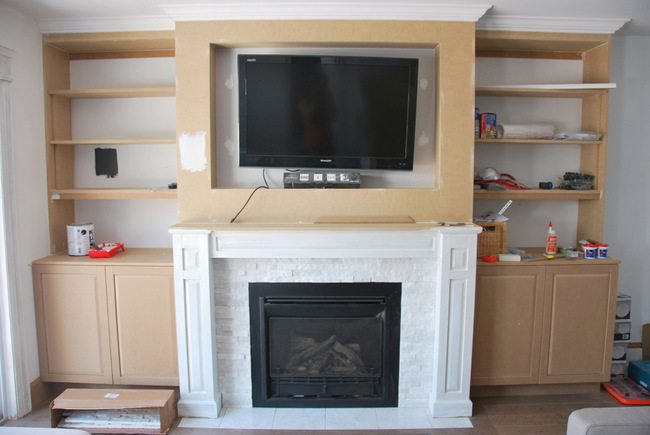 Painting – Fireplace Built Ins:
Then it was my turn to get painting.
MDF is a great budget-friendly choice, but I find that it takes soooo many coats of paint (and sanding in between) to get good coverage.
I gave the built ins two coats of primer, and then two coats of the top coat. The top coat I used was PARA paint's off the shelf white in their door & trim paint in a semi-gloss finish. I wanted to be able to wipe the whole built-in down easily, so the semi-gloss is great for that.
Then I tested out a few different colours for the back wall – I wanted something dark. I almost went with flat black, but then decided on a slightly warmer grey/navy.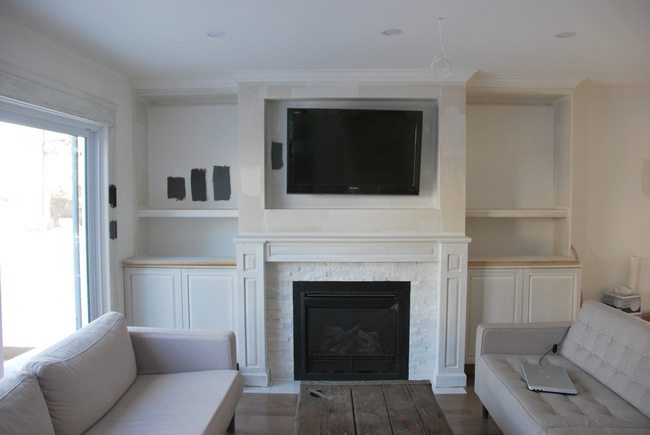 Doesn't the dark colour add so much more dimension and contrast to the built-in?! I love it. The colour is PARA paint's "Weathervane" in an eggshell finish. I painted behind where the TV will go as well – again to try and distract from the big black box of a TV.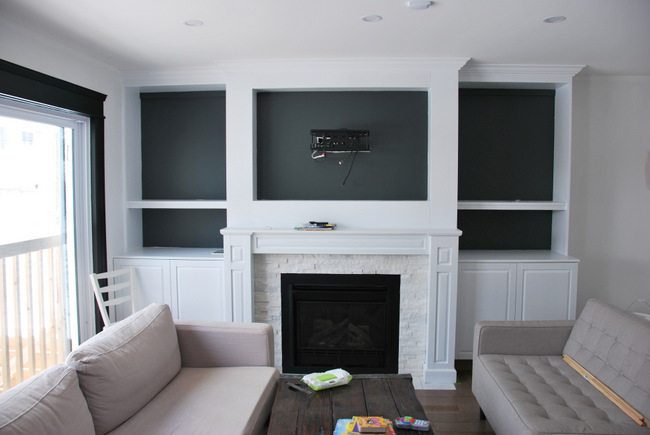 You can see Dan in this pic getting the shelves up. Again with a little supervisor watching every move from her chair!
Just like the rest of the built-ins, the shelves were made from basic MDF and then painted white.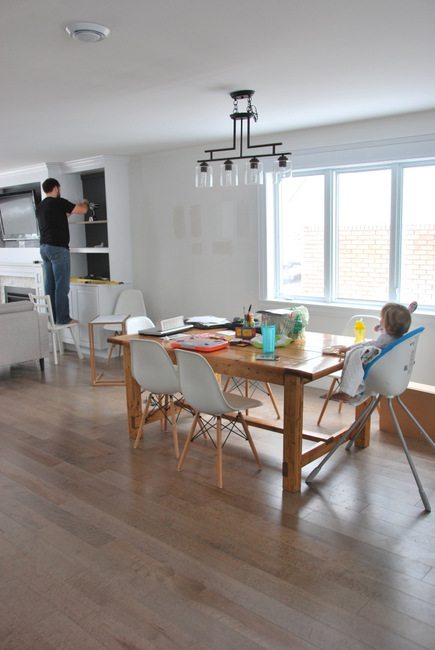 Adding Hardware
For the hardware handles on the cabinet doors, we went with a simple elongated gold (brass) pull.
The exact ones we chose aren't available online anymore, but there are some amazing gold hardware options here. Lots to choose from!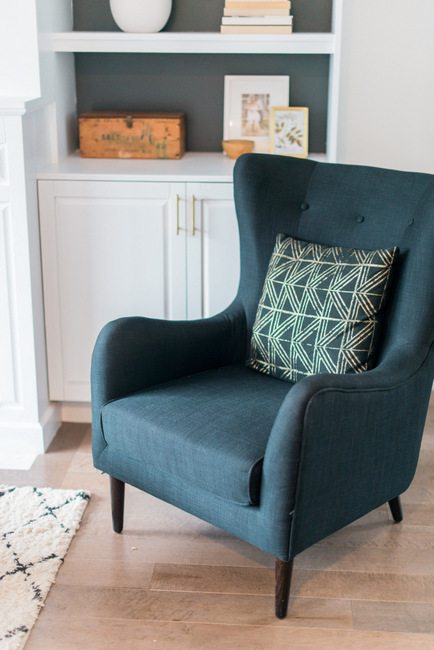 Style Your Fireplace Built Ins:
Want to style your fireplace built in's and living room? Shop my house below!

What does it look like now?
Want to see how the fireplace looks now, along with the rest of our living room?
Head on over to our House Tour page to have a look!