I love to have people over and host a great party, but I also hate the stress of doing anything formal or fancy.
So, I have a go-to list of things I do to throwing a Christmas party at home that feels totally low-key and easy to pull off. If I know it's not going to be a big deal, then I'm waaaaay more likely to want to host.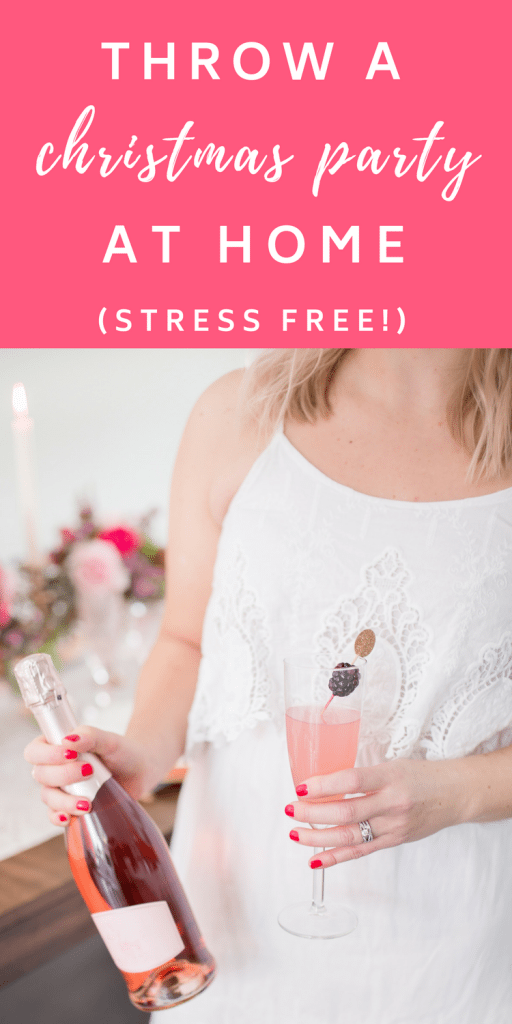 5 Tips for Throwing a Christmas Party at Home (stress-free!):
#1 // Easy Appetizers
We don't do formal sit-down dinners for holiday parties. It's all about finger foods that are easy to eat, easy to prep, and stuff that I can throw together ahead of time. You never want to be stuck in the kitchen when you have people over.
Have you seen the PC® Holiday Insiders Collection? They have seriously made it SO easy to put together an amazing spread, but with very little effort.
I grabbed a few of their products from Loblaws to try out, and they were seriously stellar.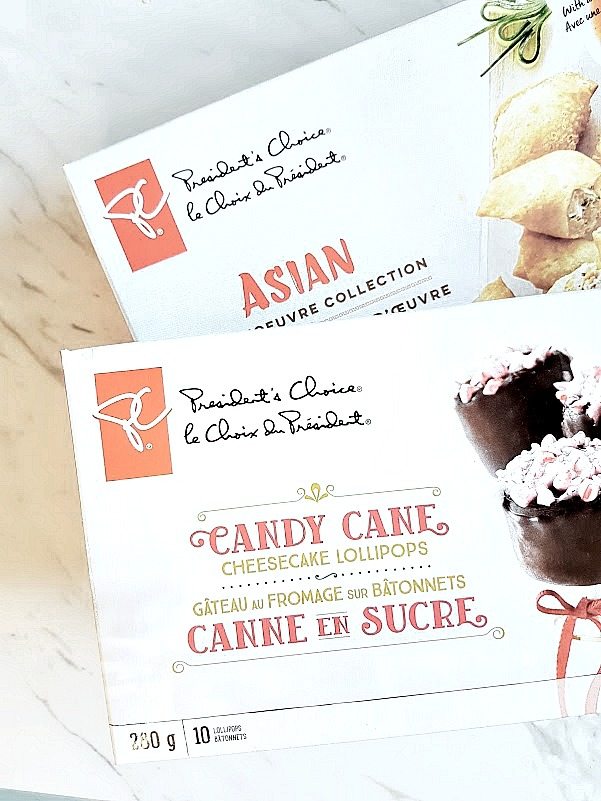 These PC® Asian Hors D'oeuvres collection was an easy choice. 36 pieces of spring rolls, dumplings, and wontons. Super easy to heat up in the oven just before people come over, and such a hit!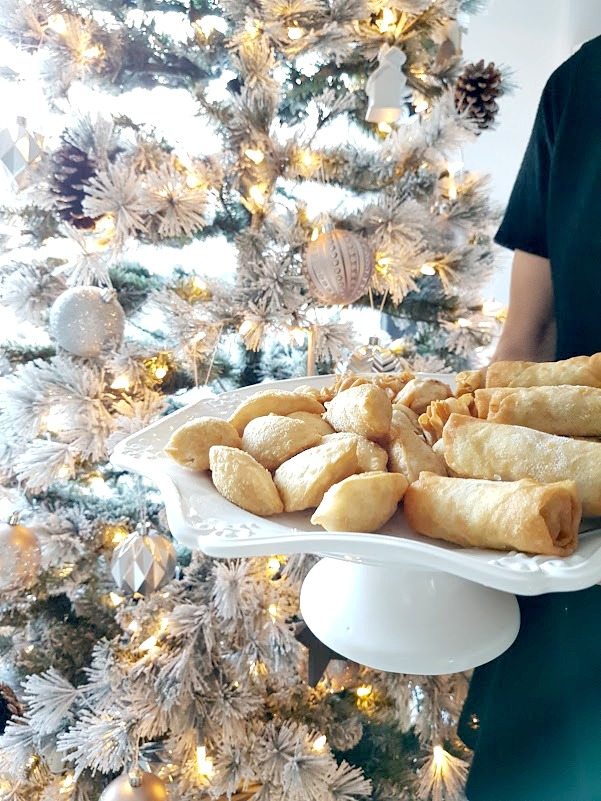 Having a charcuterie plate is always a go-to. You can put it all together way ahead of time, so it's totally no-stress. The PC®Aged 5 Years Canadian Cheddar Cheese and the PC® Splendido® Antipasto Misto (which comes with prosciutto, Coppa di Parma and mild Genoa salami), is perfect for this.
Just place it all on a wooden cutting or serving board, and it looks so profesh. Totally like you know what you're doing. Along with the meat and cheese, just add berries, figs, mixed nuts, dried fruit, olives, and crackers.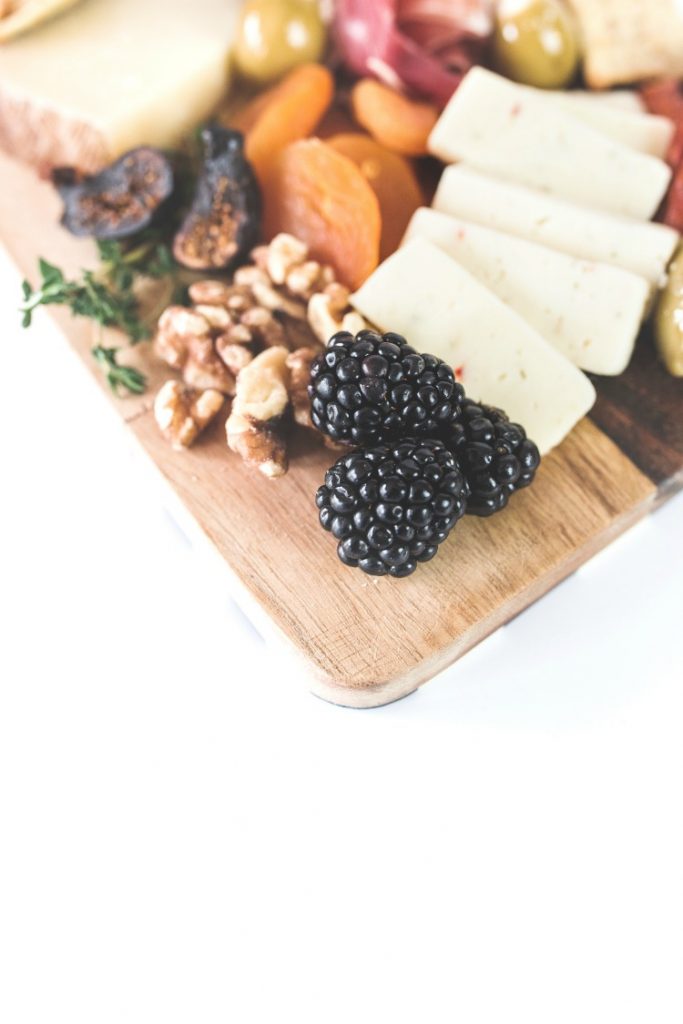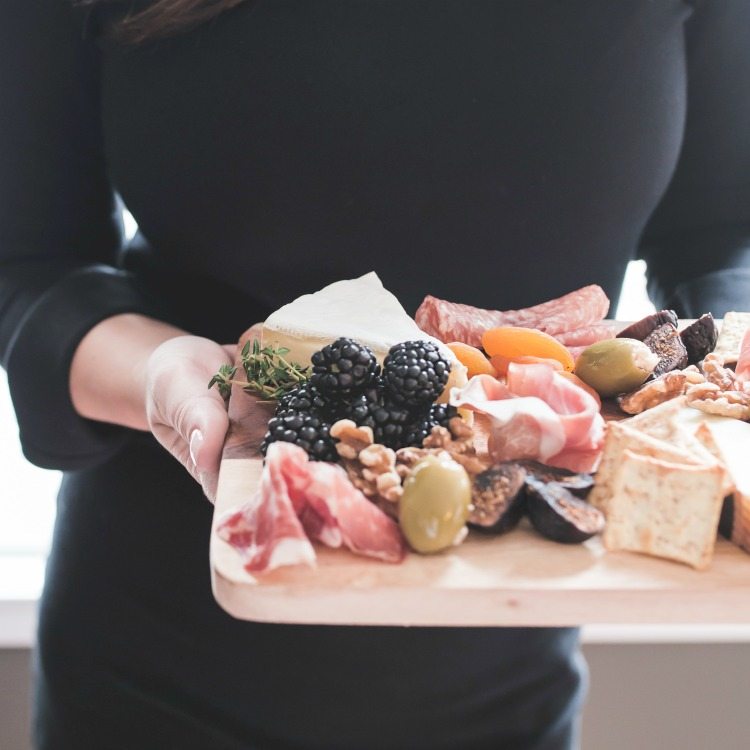 And what's a Christmas party without some sweets, right?
I died when I saw these PC® Candy Cane Cheesecake Lollipops. They look cute just sitting out in a glass, and are so good… You guys, I ate 3 before we even had guests over. Whoops ;)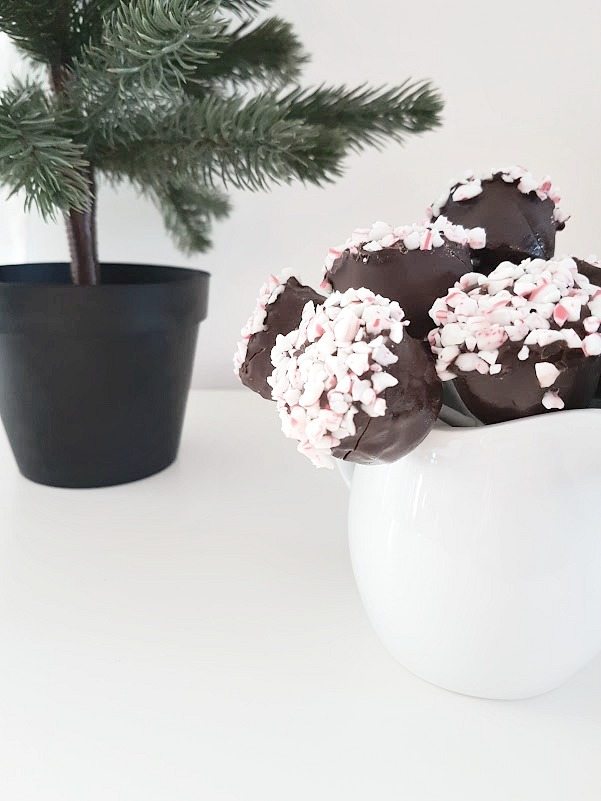 #2 // Make Your Own Cocktail Bar
The last thing I want to be doing when I have people over is constantly making drinks. We keep it easy by having only a few options, and putting it all out (drinks, glasses, everything) onto a "make your own" table. That way people can come over and grab their own drink themselves, throughout the evening.
I usually have a few jugs of water, some kind of non-alcoholic option like the PC® de-alcoholized wine that has blackcurrant and blackberry (so yummy!), and a few bottles of wine.
If you wanted to do cocktails, I would just make a "signature cocktail" for the evening and have it pre-made and already poured into glasses. That way it's an easy grab for everyone as they walk into the party.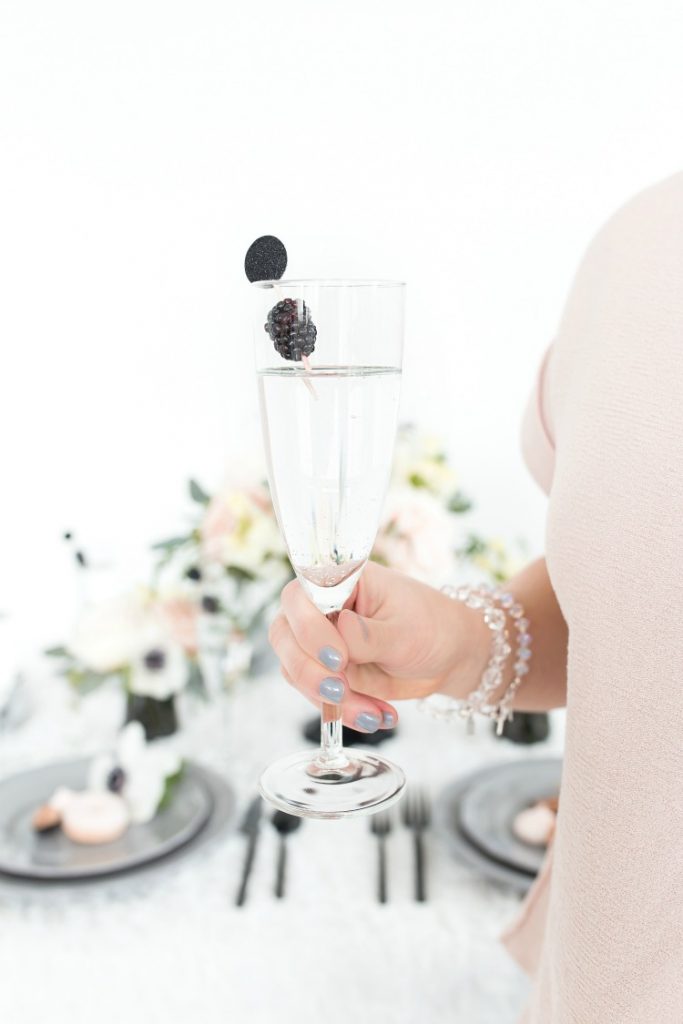 #3 // Simple Decorations
Your house doesn't have to be totally decked out, but a few little decorations here and there will set the scene for a festive party.
Put up your Christmas tree (you can see mine here), put a wreath on the front door, and throw some Christmas greens on your dining room table. Instant christmas vibe.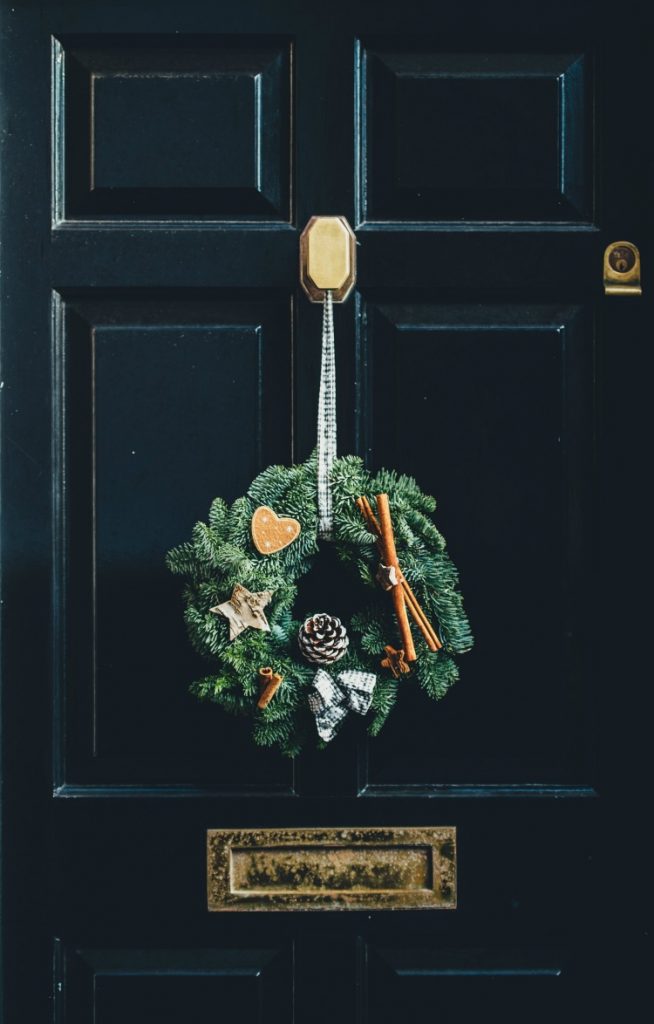 #4 // Tidy Up
Listen up: Your house does NOT have to be spic and span to host a party. I feel like people always get put off hosting because they think their place needs to be spotless. Let me tell you, no one is going to notice if your floor isn't sparkling or your shelves aren't dusted.
You do, however, want to tidy up to some degree, so that your house feels welcoming. Just get rid of the clutter! Make a big pile of everything you have to go through (for me, it's always the stack of paper in the kitchen!), and shove it into an un-used room and close the door. No one will ever know ;)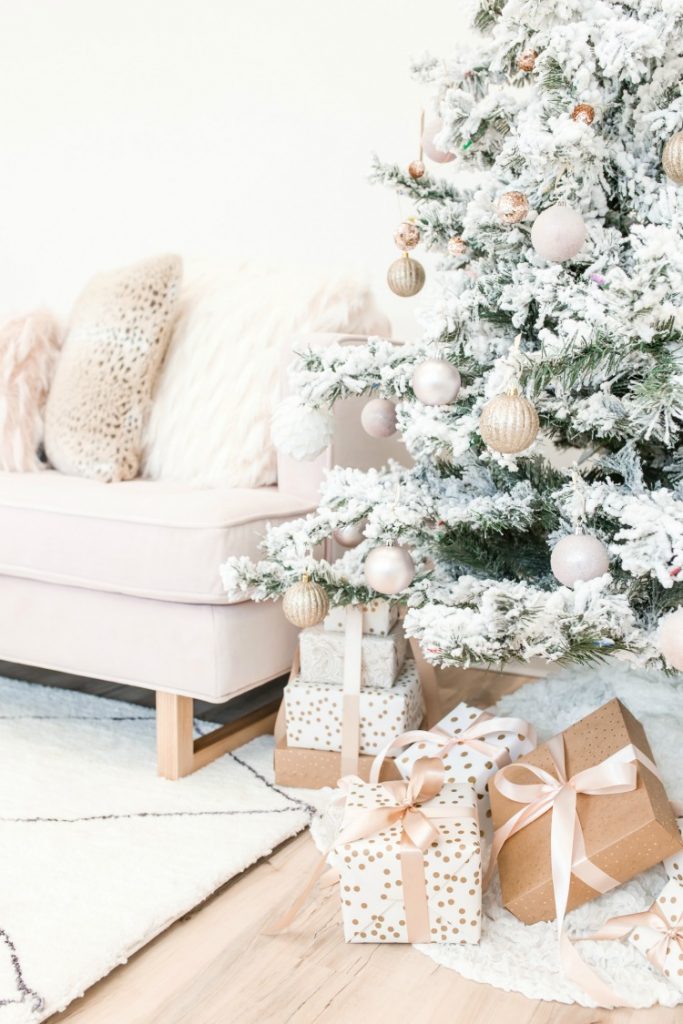 #5 // Use a Playlist
No one has time to make a custom playlist anymore, but that's what makes Spotify so great.
We have a monthly subscription and it means we can play music so easily, anytime. I have to admit, our usual tunes are some kind of Disney movie soundtrack (life with two kids, right?!), but for a christmas party? They have so many ready to go playlists. I love the ones that feature the old-time crooners like Bing Crosby, Nat King Cole, Frank Sinatra, Louis Armstrong, Dean Martin… so good!
You can have it playing on whatever speaker system you have in your pad. We have this bluetooth speaker that is such great quality at a crazy good price.
Extra tip!
OK so this doesn't fit into my "5 tips", but an extra one is to have a diffuser going in your home with some essential oils to create an amazing smell. Everyone loves to walk into a house that smells good!
My faves? Young Living's Christmas Spirit, Pine, Northern Lights Black Spruce, and Rosemary. Each have that woodsy, holiday smell.
Head here for more info on the essential oils I use.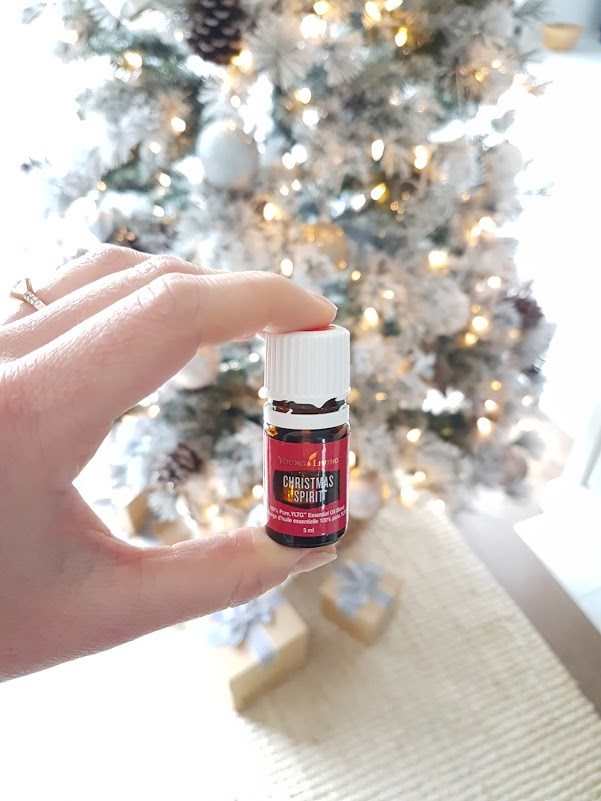 Are you throwing a holiday bash this year?
Have any go-to tips for keeping it low key and stress free?
This was the last week of our Modern Holiday Home series!! Go see what the other ladies did this week, working with the PC Insiders Collection. Anyone else hungry right about now? ;)
Lemon Thistle / Love Create Celebrate / Learner Observer / Harlow & Thistle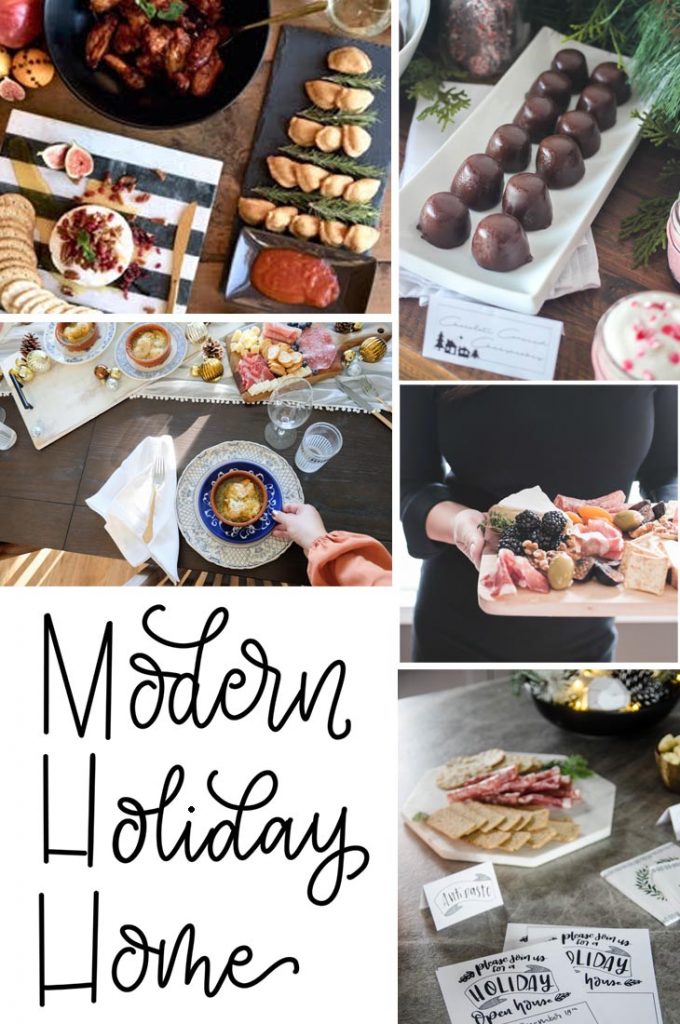 Disclosure: This post was created in collaboration with Presidents Choice. Go check out their PC® Holiday Collection for tons of great party go-to's!