In follow-up to the post I wrote the other week with tips on flying with a baby, I thought I would give you the scoop on what we packed. Having done two trips with the bambino now, us newbie parents have learned a couple of things!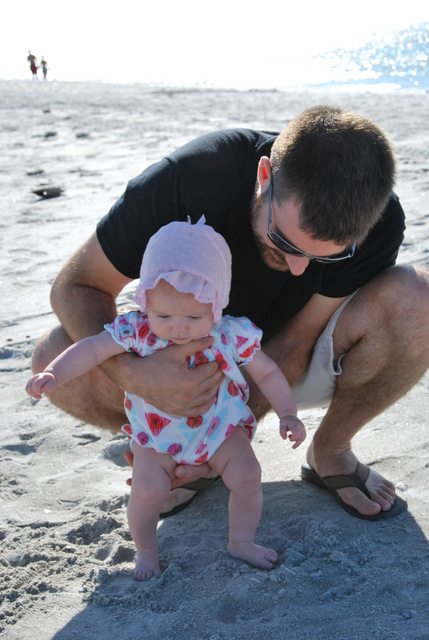 What to Bring when Travelling with Baby:
For Sleeping:
A surprising number of hotels or apartment rentals actually have pack and plays available, so it's definitely worth asking ahead of time as you might not have to figure out what to bring for sleeping. Even if wherever you are staying doesn't have one available, it is also worth checking around to see if you can rent one from somewhere nearby. A girlfriend of mine did this in Florida and it only cost about $20 for a month long rental (and often you can rent things like exersaucers and high chairs too!).
Ultimately though, you are likely going to need a pack and play at some stage for travelling around – even if it's just to grandparents. There are some great affordable options (Graco, etc), but we decided to pay a little extra for one that is really meant for travel. Light, easy to carry, easy to setup, etc. I looked at the Bjorn travel crib, the Phil & Ted's Traveller, the JourneyBee, and others. In the end, I ordered the Guava Lotus travel crib
, which had all of the features we wanted and was a good price. We haven't gotten it yet, but we'll be using it for our trip to England this summer so I'll keep you posted on how we like it!
We have a fairly portable sound machine (it's this one from First Years
), so we brought it with us and also brought the lovey (small blanket) that Maya sleeps with. This helped us create a similar sleeping atmosphere in the new place, and I think it helped her feel comfortable. She didn't seem to have any issues with sleeping in the new spaces.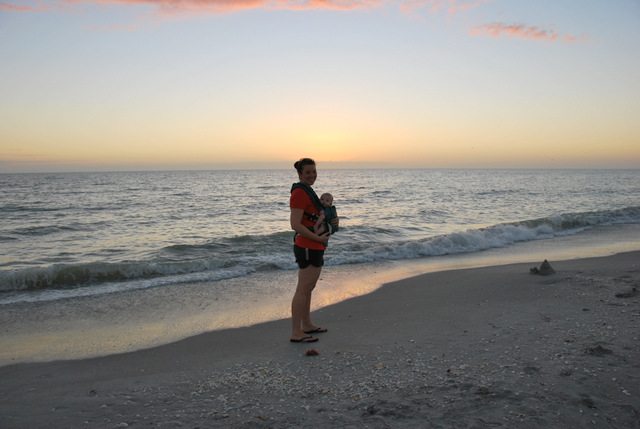 For Walking + Driving:
For our trips we have brought both the carrier (we have a Manduca) and a stroller, and have used them both a bunch. The carrier is great for the plane and to walk along the beach, but Dan and I both find that our backs get sore after wearing Maya for too long on regular walks — enter the stroller! We purchased the UPPAbaby 2013 G-Luxe Stroller
, which is one of the higher end "umbrella" strollers. The price point is high, but oh my god I love it. It is crazy light, folds up like a dream, can be carried over your shoulder (there is a strap), has a good basket underneath, a cup holder, and the seat reclines – making it good for naps. We use it for travel, but it's also the stroller that I keep in the back of our car for when we go on outings (mall, etc). Oh and it even comes with a travel bag that you can pack the stroller into when gate-checking it at the airport. If any damage happens during travel and it is in the bag, UppaBaby provides a full warranty!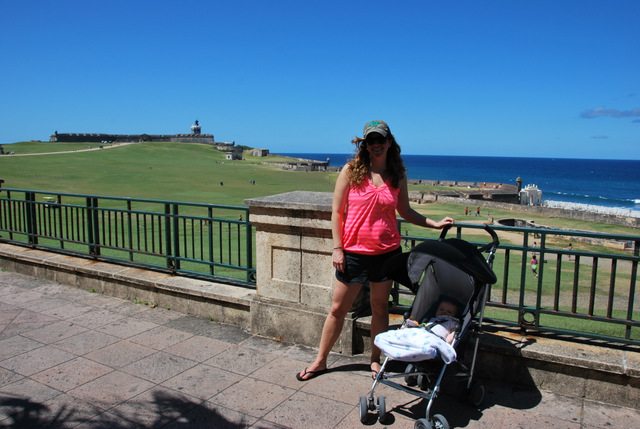 One extra thing that we purchased was a sun shade for the stroller. Although the G-luxe has one of the best sun shades going, we found that it didn't provide enough protection in the hot sun. Since we were in tropical locations with such crazy sun, I was super paranoid about Maya's skin being exposed. We bought this Diono sun canopy
and it worked like a treat. It attaches easily to any stroller (you secure it to the bars), and gives a much wider shaded area. And when Maya would fall asleep on a longer walk, we would pull the shade down to cover the whole front of the stroller. It packs up lightly too, which is great.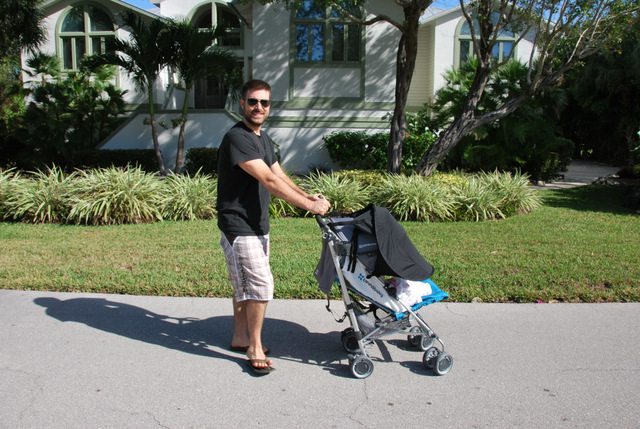 As for driving, we have always brought our carseat with us. You can rent them from car rental agencies, but the per day rate can be high if you are staying somewhere for quite a while. I actually didn't know this, but a friend told me before our first trip that a lot of the "bucket" style carseats can be fixed into cars using a seatbelt – meaning you don't need to bring along the base. We have a Graco seat, and luckily this was the case. Yay for one less thing to have to bring! Once your kiddo has graduated to the bigger carseats though, I think you need to lug the whole thing with you. One good thing is that the carseat will be checked along with your suitcase(s), so you don't need to carry it around the airport or anything. We used a large duffle bag to zip our carseat into, to help minimize any possible damage.
For Play:
We don't have too many toys for Maya to begin with, but we have brought her favourite 2-3 toys with us on our trips to help create a play space wherever we are. At home we have those rubber tiles and blankets on the floor where she plays, but of course you don't have that stuff when you travel. What we would do instead was to grab a few of the towels that were provided where we were staying, and then lay them out onto the floor to create a Maya-space. That way she wasn't roaming around on the floor (dirty, etc) and if she spat up or whatever, we could easily clean the towels (no staining a rug!).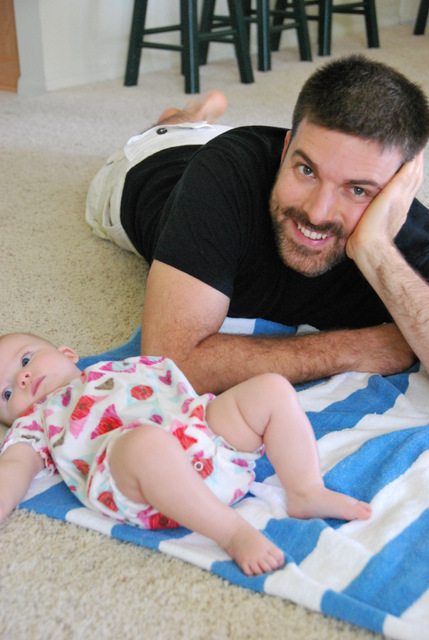 Because our girl loves to jump around, we also picked up a jolly jumper (got ours for $10 off Kijiji) that you attach to a doorway, as they are relatively easy to put into a suitcase. Just remember though, that you need to make sure that there will be a doorway with crown molding where you are headed — that was a boo boo on our part! We got to our apartment in Puerto Rico and there was nowhere to attach it. Wop wop. Luckily they had an exersaucer that we were able to borrow, so our girl got had plenty of places to play!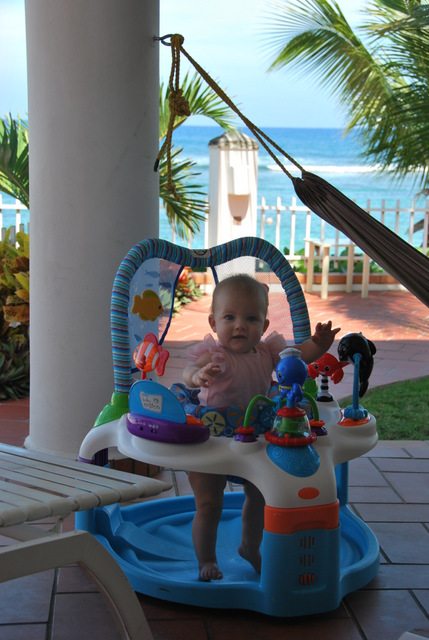 For Eating:
In terms of formula and baby food when travelling, how much you bring sort of depends on where you're going. If you're not sure, best to bring everything you might need. We use a specific formula and don't like changing it, so have always brought enough to keep us going for our whole trip. In Puerto Rico, when Maya was starting to eat some pureed foods, we brought about 6 jars with us, and then were able to buy the rest when we got there (just make sure to read that ingredient list if the brands are different!). At home I make my own baby food, but when you're travelling, it is really convenient to go with the jars.
Like with pack and plays, ask around for high chairs. We were lucky in Puerto Rico and the place we were staying was able to provide one. We do, however, have this travel "my little seat"
that is fabric and packs up to be really small. We haven't had to put it to use yet though, so I can't really vouch for it.
Other:
For diapers and wipes, we brought enough to last us through our air travel and a first day, but then always made a trip to the local drug store to buy some packs when we got there. It's just not worth taking up all that room in your suitcase for something that you can buy everywhere. I have never brought our cloth diapers with us — too much to pack and having to rely on good laundry facilities made it too tricky for us.
On our first trip I way over-packed the amount of clothes I would need for Maya. This was partly because I was so excited to use her summer clothes, and also because I just had no idea how much I would need. If you know there is going to be laundry available where you are staying, you really don't need to go overboard – just a few of every type of item (short sleeve onesie, long sleeve onesie, sleepers, pants/shorts, sweatshirt, etc). Like with adults, having layers is handy.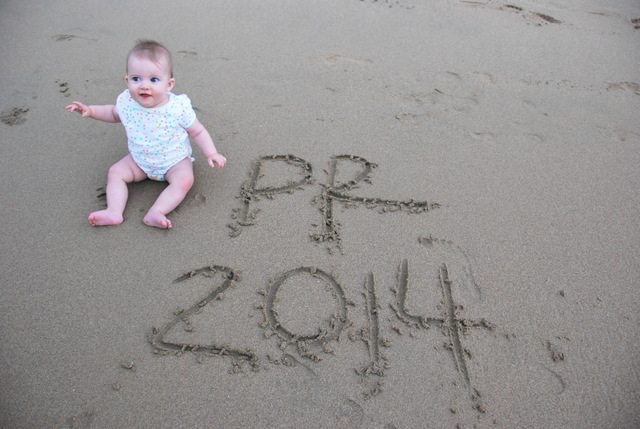 Well, I think that's about it! Hopefully that will be at least a little bit helpful to any of you families out there? Do you guys have any great travelling-with-baby tips and tricks? Man, when Dan and I went away for a weekend by ourselves recently and we only had to bring one tiny little bag for the two of us, it was such a dream. It seems that the smaller the person, the more you have to pack!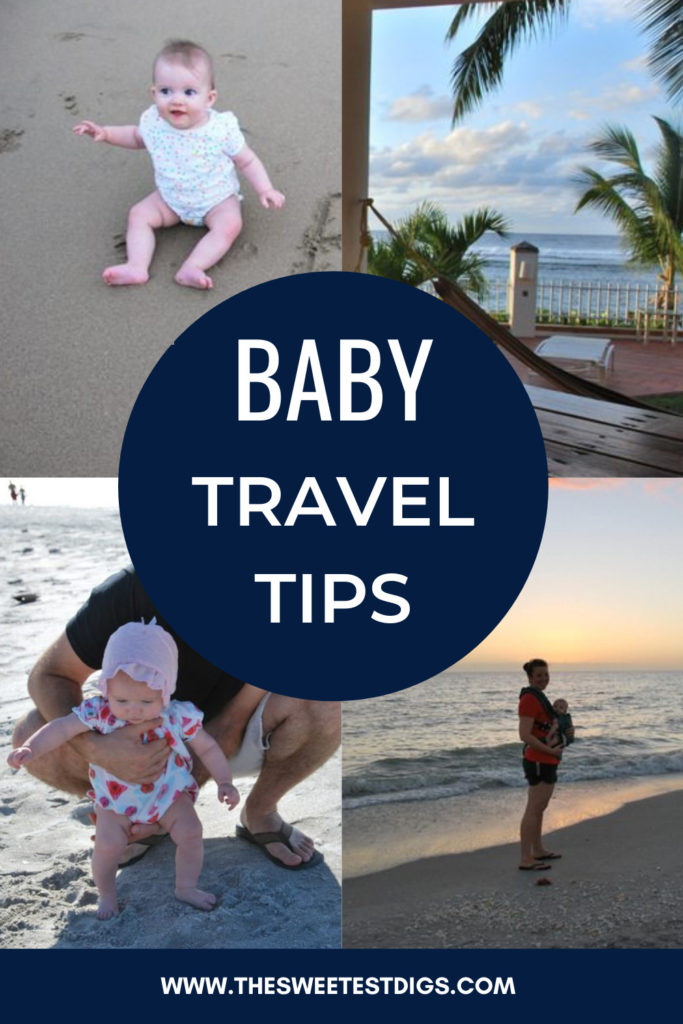 *Affiliate links were used in this post.