Since we moved out to my parents' place, I don't have my jewellery bulletin board to hang up all of my necklaces, and I threw out the tray that held my bracelets and earrings as it was toast. I needed something to put my jewellery on – otherwise it was all going to be staying in ziploc bags for the foreseeable future. Not good. Enter some gold and white jewellery stands with a sweet plus sign pattern.
I grabbed two white ceramic plates from the dollar store, had a third smaller white plate on hand (not shown), a couple of candlesticks from the thrift store (50 cents), and my gold Sharpie paint pen.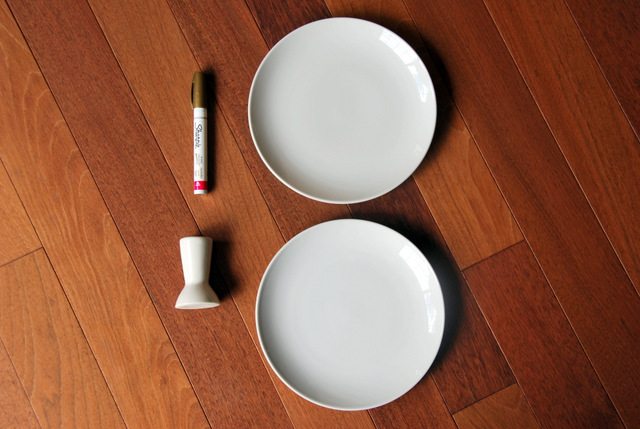 I debated a few different designs, but ultimately settled on a simple plus sign, repeated. I free-handed a line of them down the center of the plate, and then worked my way to the edges. Nothing too precise or math-y here – imperfection is fine by me. Since this is a paint pen rather than a regular Sharpie, I read that you don't need to bake it to keep the finish on. I'll keep you posted on whether it starts to wipe off. So far, so good.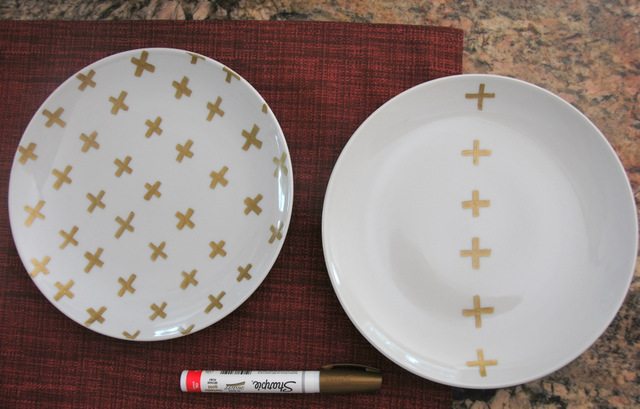 Then I took those candlesticks and gave them a coat of gold spray paint.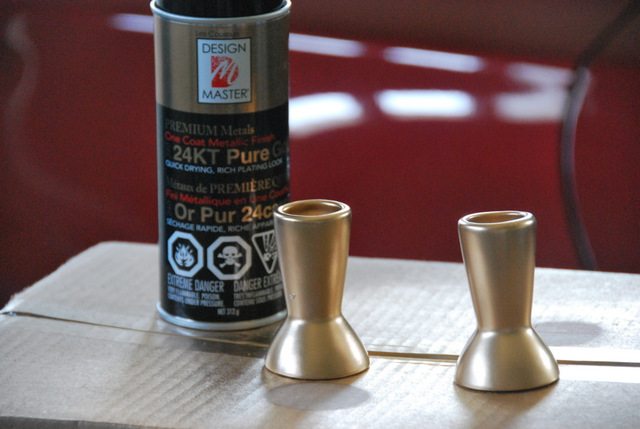 But sadly, when I tried to stack them, the candlesticks were slightly askew (which I hadn't initially realized), and my stand was looking Leaning Tower of Pisa – esque. Not good. Plus the candlesticks looked chunkier than I wanted and stole the show a little (not in a good way). Woop Woop.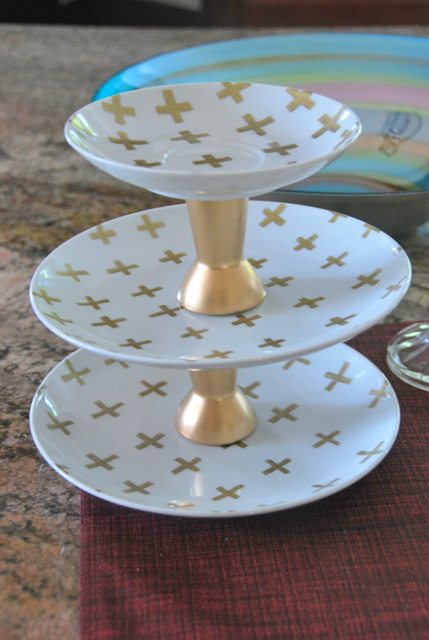 However, I happily realized that I had some cheap glass candlesticks on hand (again, from the thrift store – surprised!?). I brought them out and they were perfect. The 3-tier was too high – you can see it in the photo below – so I ended up doing the small plate on one candlestick, and the two bigger plates in a 2-tier.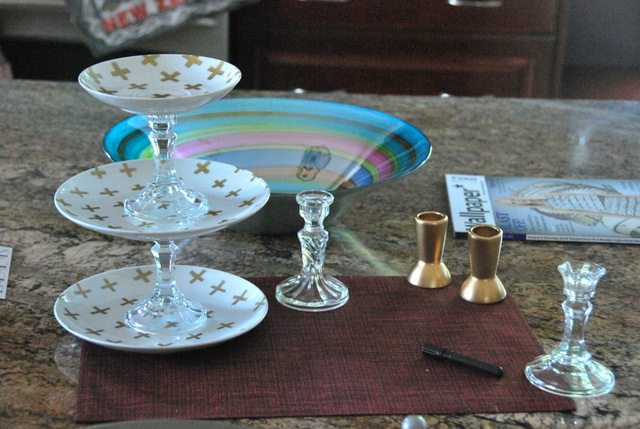 I forgot to take a picture of this step, but I just used some gorilla glue to glue the candlestick to the plate. You just line the rim of the candlestick with glue, press into place, and leave to set for a few hours. I then applied a bit of extra glue around the seam where the two pieces meet for extra security. That gorilla glue is fabulous stuff though – these puppies aren't going anywhere.
Here is the small guy. Cute, right?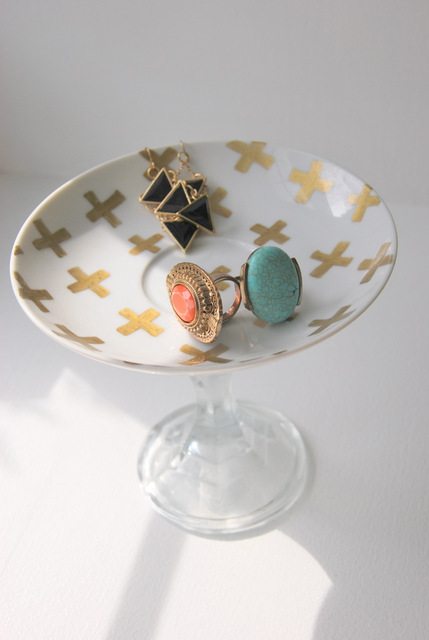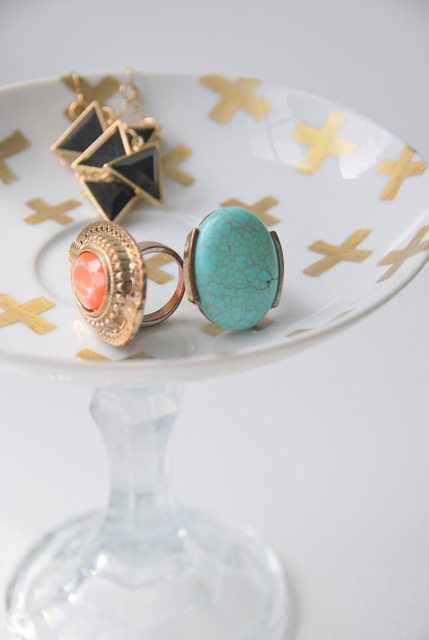 And the two-tier. Perfect for bigger items like necklaces or bracelets.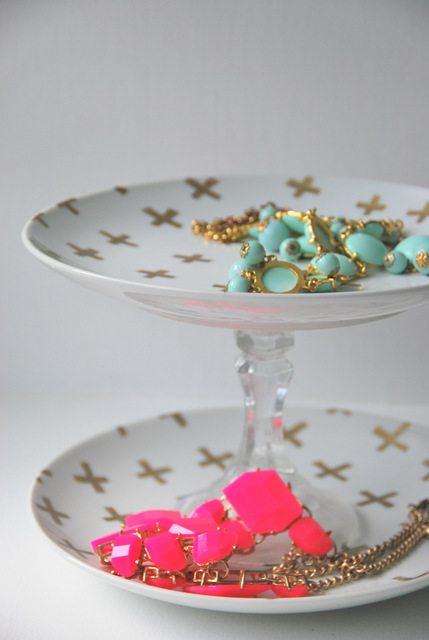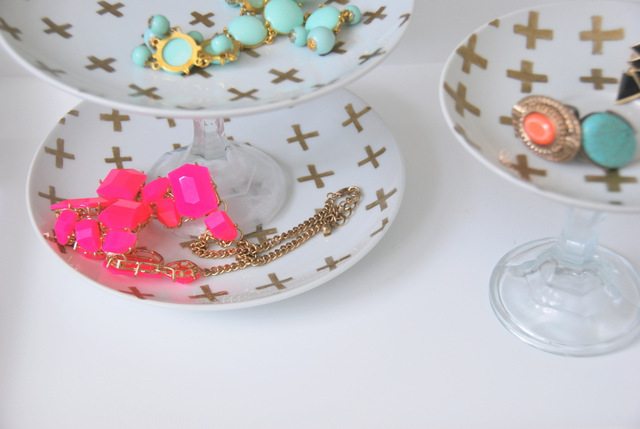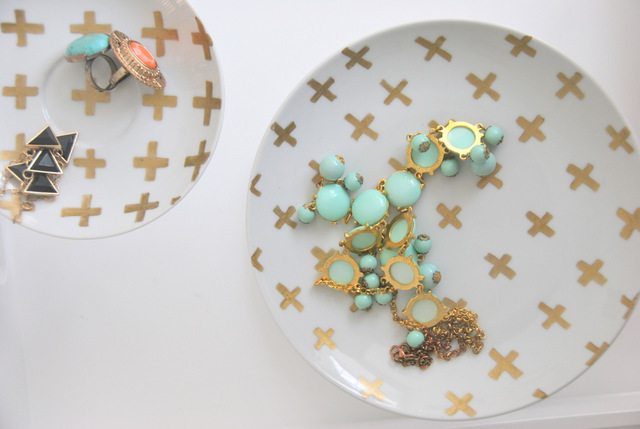 Obviously you could also use these for cupcakes or other little treats on a dessert table. You would want the desserts to be wrapped though – I wouldn't put food straight onto the painted surface. It would be super sweet for a gold themed bash! I might be having visions of Maya's 1st birthday party…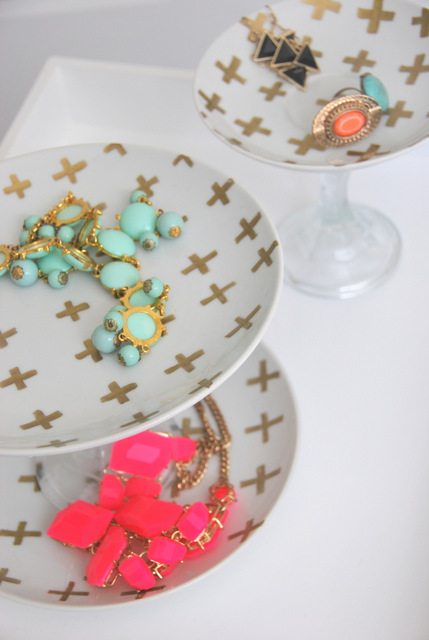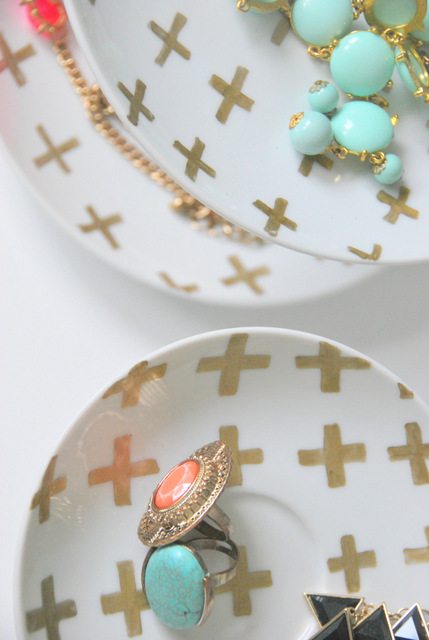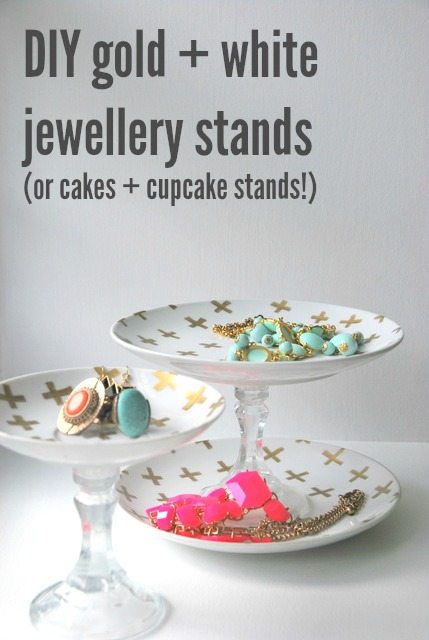 An easy project with such a sweet result. Plus it's nice to have my jewellery back on display again and not jumbled in a ziploc.
How do you store your jewellery? Have it up on the wall or displayed on a shelf? I am dreaming about my future closet in our house and planning a serious accessories area. Can't. wait. 
*Linked up to Monday Funday, #BeAwesome, and Motivational Monday.
Want to create a blogging biz?
Sign up for my FREE 7-day email course to get action-packed lessons delivered straight to your inbox. We'll get your blog and biz up and running in no time!