After our labour-intensive bathroom renovation (see the final reveal of that here), I was in the mood for an easy, high-impact project. A "quick win", you know? I have had 'make a headboard' on the to-do list ever since we moved into our pad in 2009, so I figured the time had come. Here is how I made our new DIY an upholstered headboard for less than $100.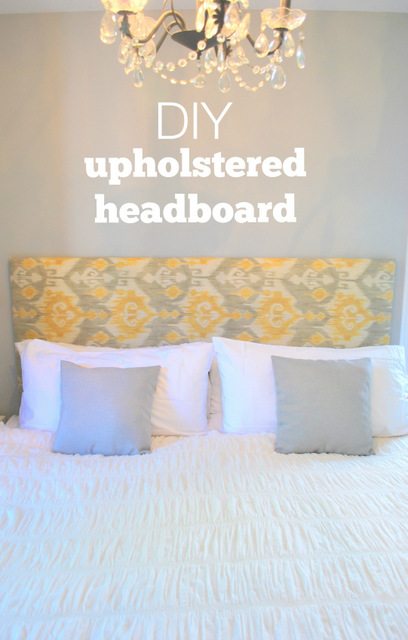 Here was our bedroom before, looking pretty sad. ?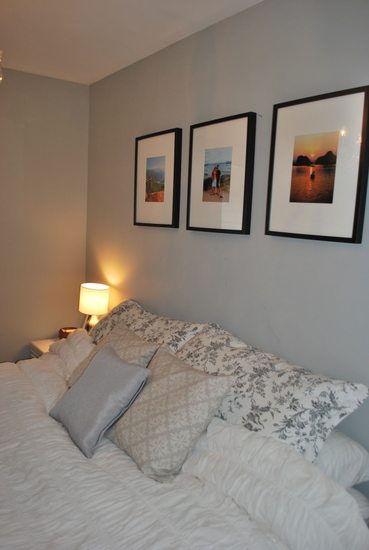 After humming and hawing for way too long about what the accent colour in our gray bedroom should be, I have finally decided on yellow. Such a happy colour that pairs nicely with gray.
I knew I wanted to do a basic upholstered headboard, so I waited for a sale day at my local fabric store, and went on the hunt for some yellow fabric. Sometimes I have no luck, and then other times I hit the jackpot. This was one of those jackpot moments. I came across this pretty gray and yellow ikat fabric by Richloom. The original price tag was just over $25/meter, but sale day meant 40% off. Everything was comin' up Gemma!
I thought I had seen the fabric somewhere before, and realized when I got home that Sherry and John posted about on Young House Love quite a while ago…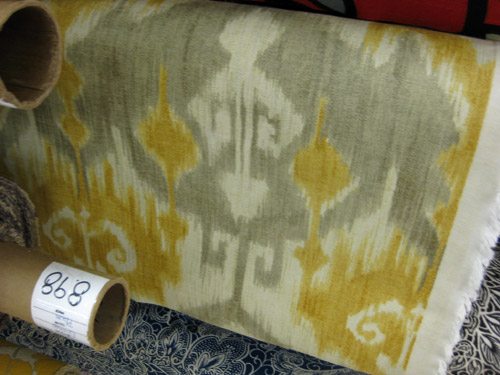 I couldn't find the exact gray and yellow fabric on Amazon to link to here, but I found other fabrics by Richloom that are similar (I LOVE the quality of the Richloom fabric we got – heavy weight and gorgeous… highly recommended!).
Here is the orange version (Richloom Ikat Marlena Orange Home Decor Fabric
):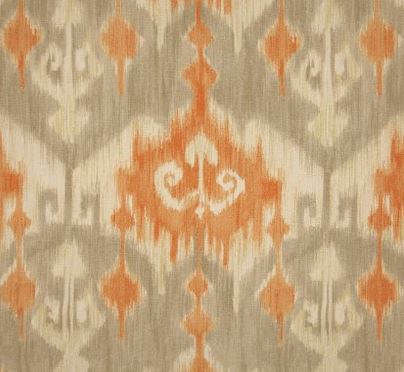 Another style in gray and yellow (Richloom Kashan Lemongrass Home Decor Fabric
):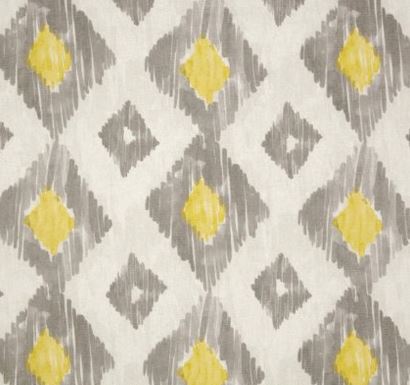 And this other beauty in blues (Richloom Ikat Django Turquoise Home Decor Fabric
):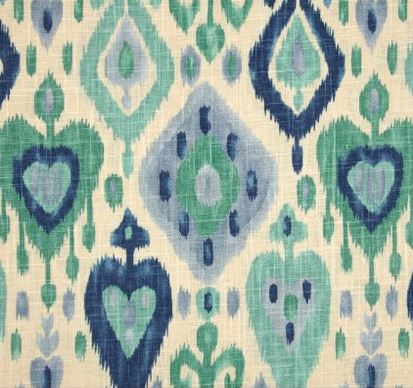 While at the fabric store, I also grabbed some hypo-allergenic extra thick batting. I didn't want to shell out for foam AND batting (some people use both for upholstery projects), so I made sure to grab the really thick double-ply stuff.
For the actual headboard, I went to Home Depot and got some 1/4 inch plywood. They are able to cut it to size in the shop, so we brought our measurements with us and walked away with a piece ready to go. Definitely do it this way – saves a lot of time and hassle. Plus, it means you don't need any special power tools.
First step was to lay the batting out.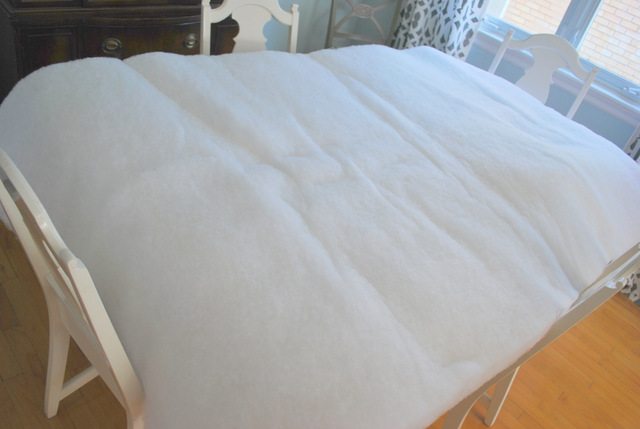 Then I put my sheet of plywood on top and started stapling. Make sure to check the depth of your staples before you start. You don't want to use ones that are too deep and stick out the other side of the headboard.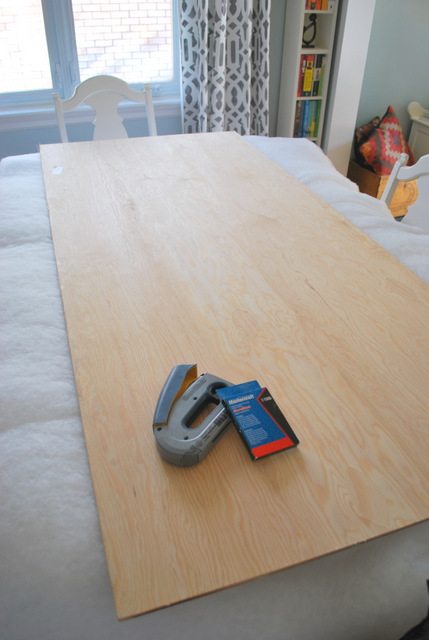 Just staple your way all around the board. Super easy.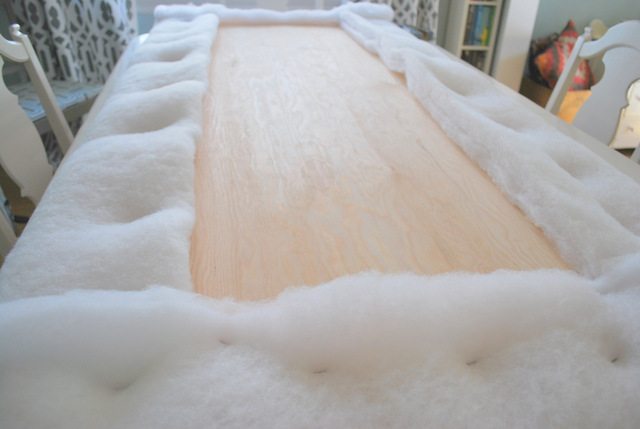 Once the batting was all secured, I laid out the fabric with the patterned side down. I gave it a quick ironing to get out any wrinkles before starting.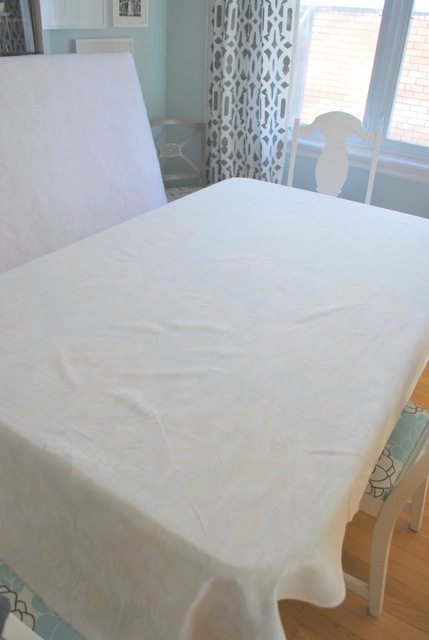 Now it was time to start stapling the fabric. I started off by doing the two long sides. I made sure to pull it tightly as I was going so that it wouldn't be too loosey-goosey in the front.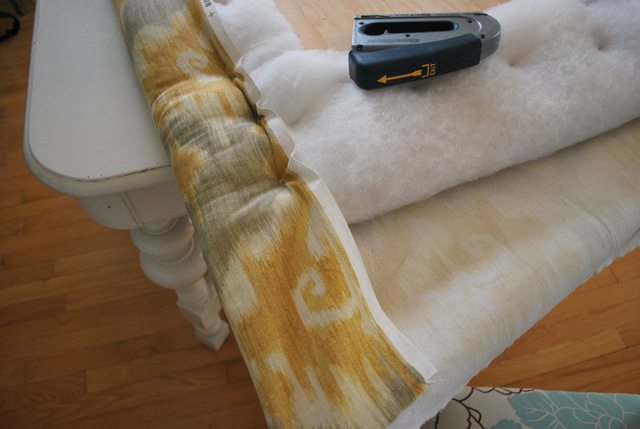 The corners are the part you want to be careful with. My technique (and I'm not sure if this is the "right" way or not, but it worked) is to approach it like I was wrapping a present. I get one side stapled, and then fold it in to the un-stapled side. Then I bring that piece up and pull it really tightly and staple along the seam. It takes a bit of practice, but I would just do it a few times until I got the perfect seam and then staple 'er down.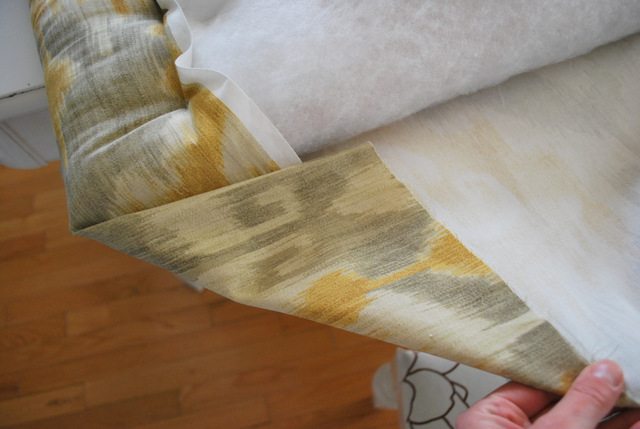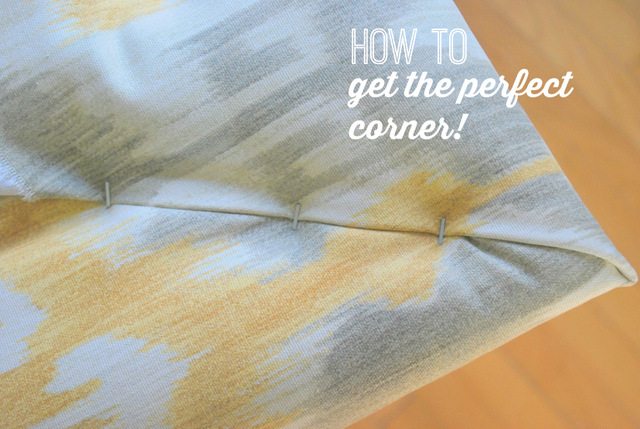 Here she was all stapled and ready to go.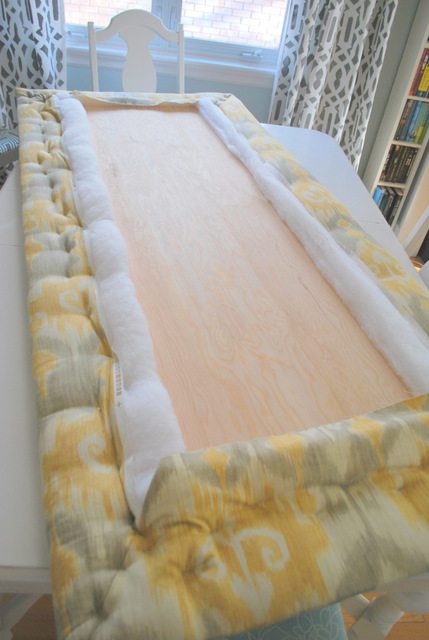 Now came the tricky part of actually hanging it. We wanted to attach it directly to the wall rather than to our bed, so we went through a few different options. We could have hung it using heavy-duty picture hangers, but we worried about it being wobbly and un-level. So we searched around and finally came across this heavy duty E-Z Ancor french cleat. It's 18 inch and holds up to 200 pounds. I couldn't find the same brand on Amazon, but this OOK Hangman French Cleat is the exact same in terms of dimensions and weight as the one we used.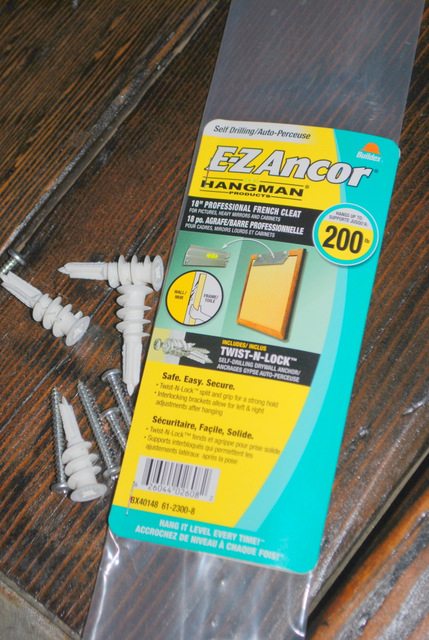 You attach one piece of the cleat onto the back of the headboard, and one piece onto the wall. Then you slide them in together – they have grooves that fit into each other and snap in firmly.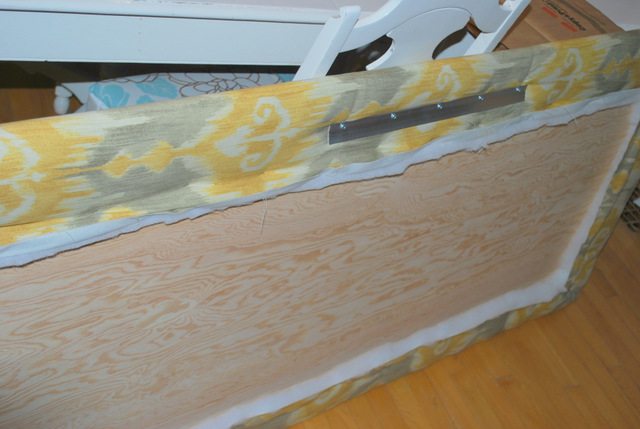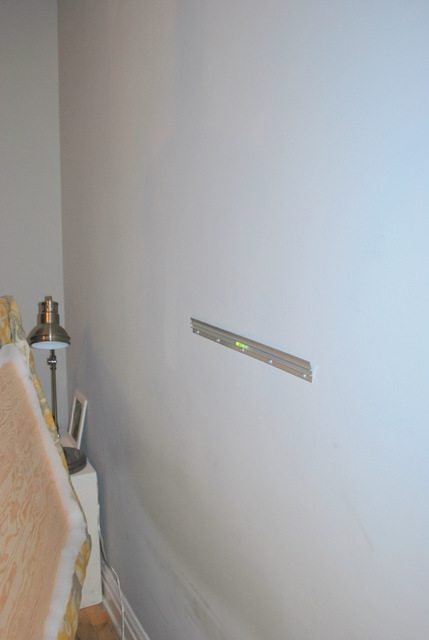 Level and snug on the wall, that baby isn't going anywhere.
We're really happy with how it turned out. The colours are just right and it's nice to bring another textile into the room. Now I'm on the hunt for some zippy yellow throw pillows to tie it all together!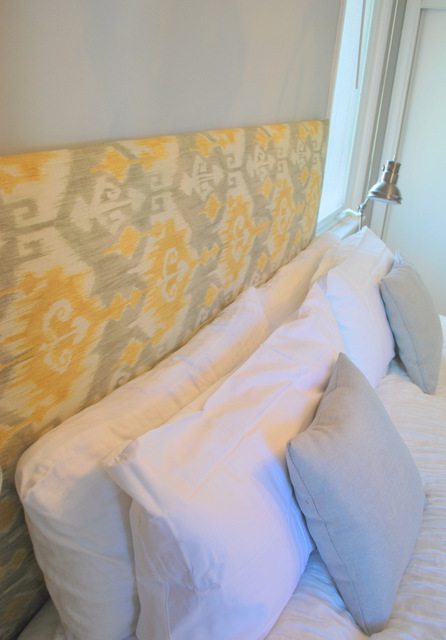 The headboard itself is really soft and a nice spot to rest your head against while reading. We couldn't be more pleased with how it turned out!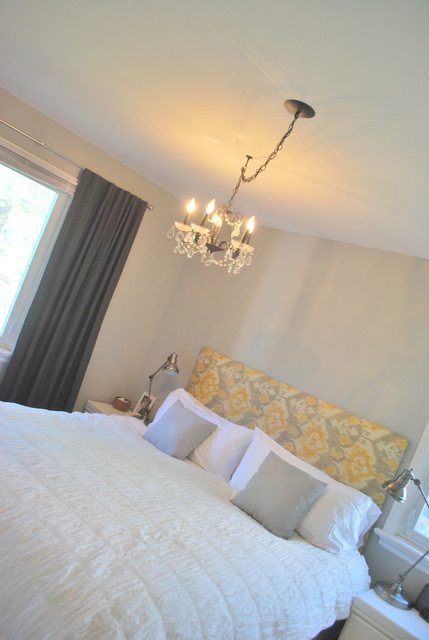 And the budget breakdown? Not crazy cheap, but considering upholstered headboards usually run a couple hundred dollars, this DIY version definitely saves a bundle of moola by coming in at under 100 bones.
3 meters of fabric + batting: $70
plywood: $15
staple gun, staples: $0 already owned
French cleat for hanging: $13
Grand Total: $98
What about you guys? Any DIY headboards under your belt? Or any other upholstery projects? I think the best part is picking out the fabric. I'm like a kid in a candy store at the fabric shop. 
Want to create a blogging biz?
Sign up for my FREE 7-day email course to get action-packed lessons delivered straight to your inbox. We'll get your blog and biz up and running in no time!