So remember how we gave our bedroom a little upgrade with our new DIY upholstered headboard?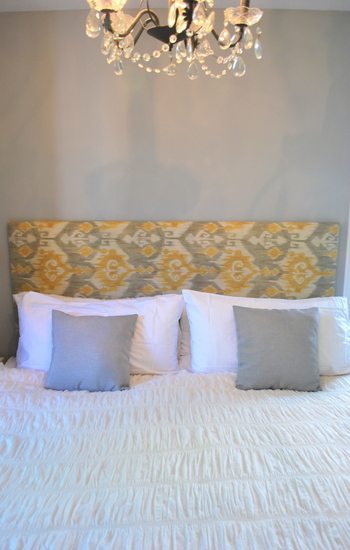 Well, the other side of the room was crying out for an update. It was just feeling very ugly-duckling across from the snazzy headboard. Cluttered shelves, knick knacks, and random artwork just wasn't cutting it.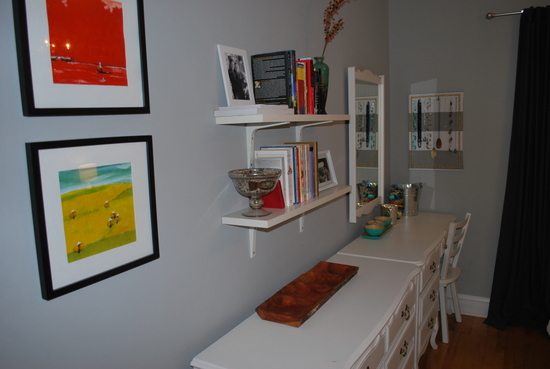 So we decided to do something about it. Part of the reason for the overhaul was also because we were gifted a new TV. I love, love, love watching movies in bed (there isn't anything cozier!), so we asked our families to pool together for both of our birthdays (back in March) and get us this TV. First up was to take the two bookshelves down and decide where the TV should be mounted. As usual, I taped it out to be sure before knocking any holes into the walls.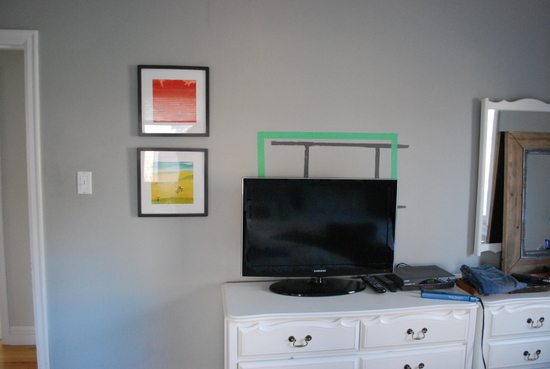 Then DIY Dan did his thing and figured out the technical stuff. Oh and those darker gray outlines from where the shelves were had to be painted over. I was too lazy to take the shelves down when I originally re-painted the room a while back.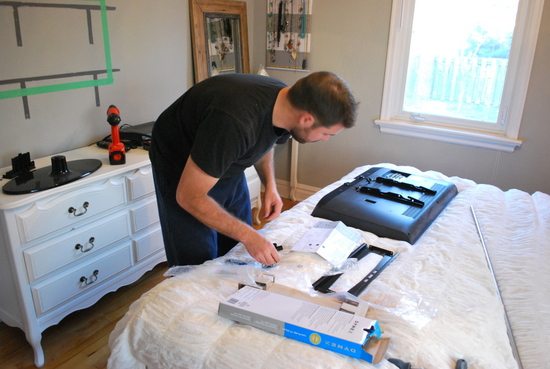 Once we had the TV up, I grabbed some lone black frames (these used to be hung above our bed) and got the placement of them just right around the TV. Please don't mind the sideways photo – I hadn't put in the new artwork yet! You'll also notice the new mirror in my vanity area, to the right of the gallery. I was never very fond of the frilly white mirror that was there before, which came with the dresser. If you don't recognize the new mirror, it was the bathroom reject (remember how we went with a slimmer dark wood mirror instead?). Well, I was so in love with this rustic beauty and couldn't bear returning it, so I found a new home for it here. I like the juxtoposition against the glossy white dresser, and it just feels a lot more like me.
Once I switched out the artwork to a more cohesive set of prints, and we tucked away the wires in one of those plastic tubes (which I painted the same colour as the wall), this is how it turned out. So much better, right?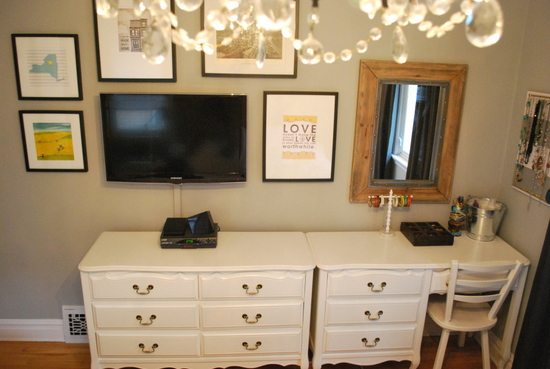 The TV doesn't exactly "disappear" in the gallery of frames, but the artwork definitely distracts from the big black box and doesn't make it feel so out of place. Oh, and the hubs is going to throw together a little box out of scrap wood (which I will paint white) to hide the cable box sitting on the dresser.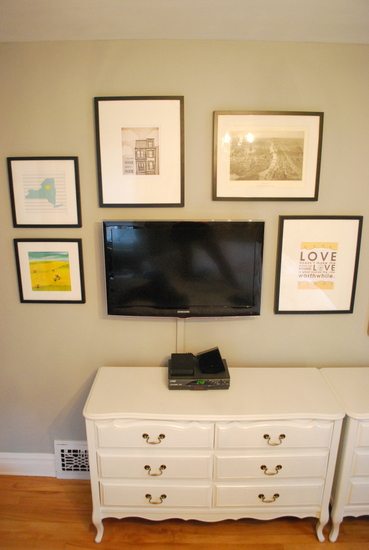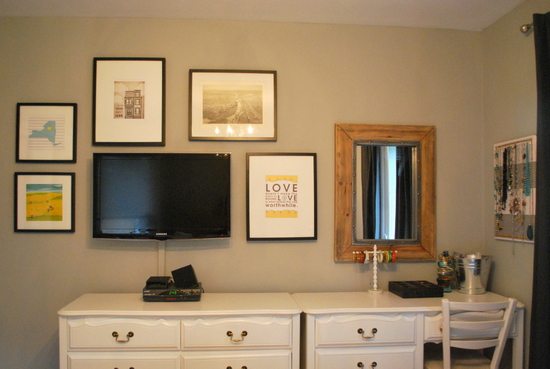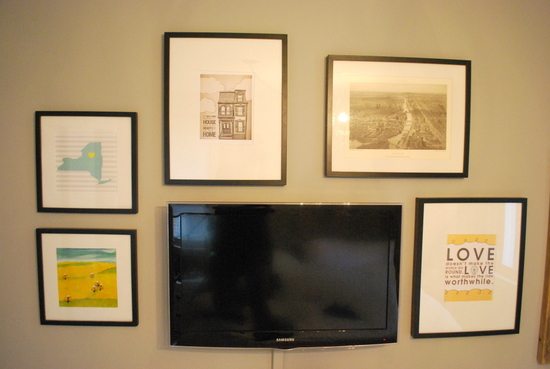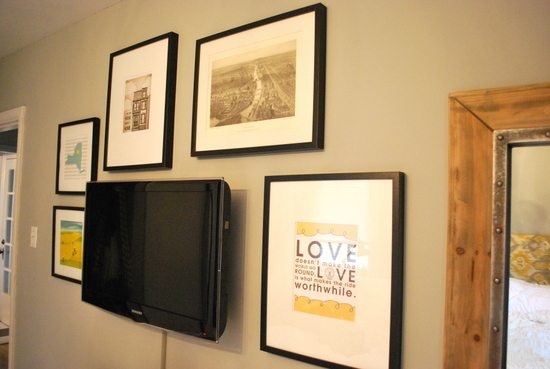 The artwork was really fun to pull together. I wanted to make sure that it felt cohesive, so tried to stick with the grey and yellow theme (a little turquoise snuck in there too… whoops!). The top two are a print from vol. 25 which a friend gave to me, and a vintage Paris map we picked up when we were there last year.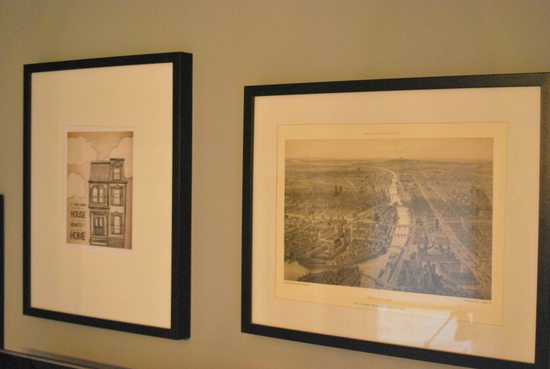 I downloaded this New York state outline from The Vintage Lemon and added a heart over the spot in the Adirondack Mountains where the hubs and I tied the knot last summer.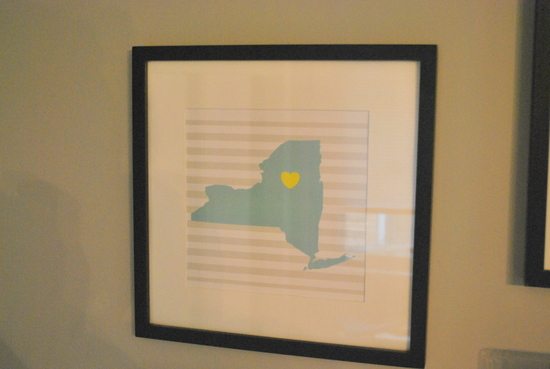 This oil painting came back with us from our travels in Vietnam in 2007, and is a great reminder of a spectacular trip we had through South East Asia.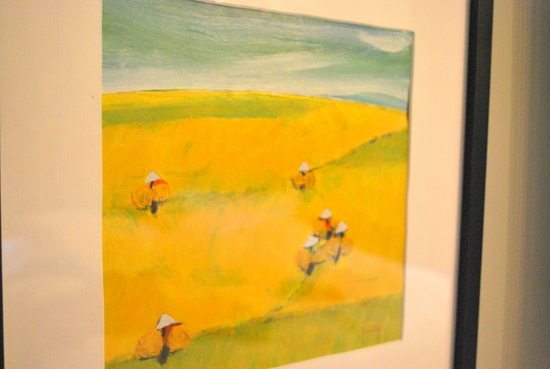 And lastly, this sweet little love print is a freebie printable from superstar blogger Mrs. Limestone (download it from Brooklyn Limestone here). I printed it at our local Staples on 100 lbs. cardstock for around a buck.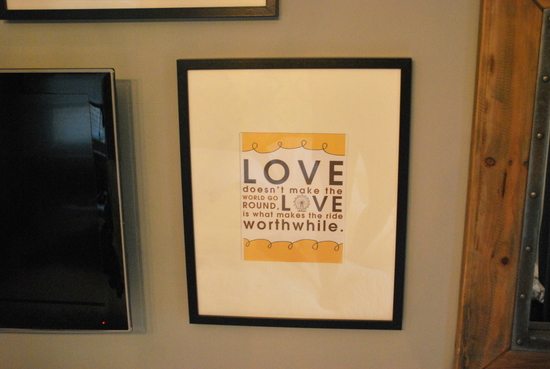 It's now a really nice sight to wake up to and makes that side of the room feel really pulled together and so much bigger. We still have other projects we eventually want to tackle in this room (artwork above the bed, crown molding, something with our plain closet sliding doors, etc) but it's getting closer and closer to the finish line. Or whatever kind finish line a constant house-tweaker like me can handle.
What about you guys? Ever wall mounted a TV? Or put up a photo gallery lately? Any other tricks to try and disguise those big black boxes? Do tell.