We hadn't spent much time decorating our bedroom, and after renovating our bathroom I was in the mood for an easy, high-impact project – meet the DIY headboard!
I had "make a headboard" on the to-do list ever since we moved into our house a year ago, so I finally got my butt in action. My two requirements? I wanted this DIY headboard to be upholstered and cost less than $100.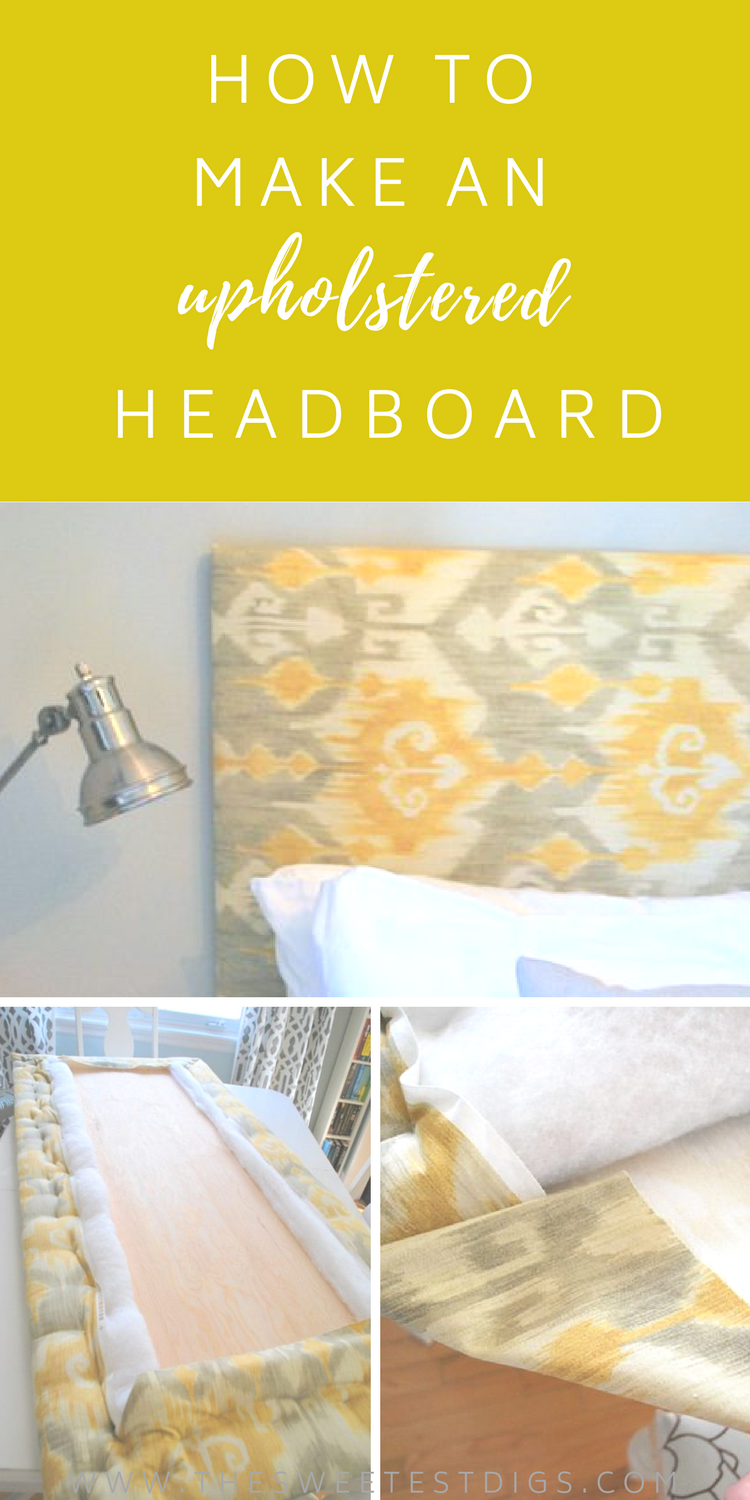 DIY Headboard Supplies You'll Need:
Upholstery weight fabric

Mine was from the Richloom fabric line here, which are nice heavy upholstery-weight fabrics. Amazon has a great selection! Just make sure you choose something "upholstery weight".

Batting

I used an extra thick batting that I purchased from my local fabric store. I have read a lot of good reviews about Dracon Batting – just be sure to get the width you need to cover your plywood.

1/4 inch Plywood

I got my piece of plywood from The Home Depot. They can cut it to size for you in the store, so make sure you go to the store with your measurements in hand. It saves a lot of time and hassle (and the need for power tools)!

A Staple Gun and corresponding staples
French Cleat for hanging your headboard on the wall (<— This is the most important thing you'll need for mounting your new headboard!)
(*Some links may be affiliate)
How To Make Your Headboard:
Step 1 //
After laying the batting out on my tabletop, I put my sheet of plywood on top. The size of your plywood will depend on the size of your bed.
Wrap the batting around the plywood and start stapling it down with a staple gun.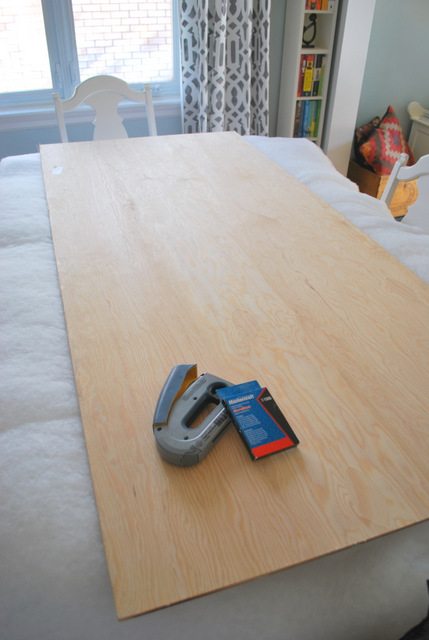 Just staple your way all around the board. Super easy.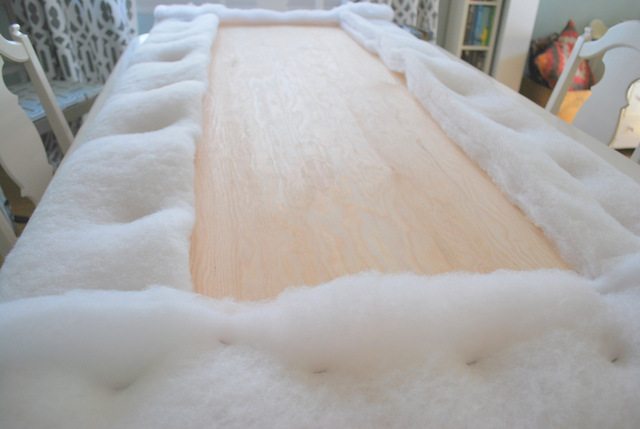 Step 2 //
Once the batting was secured, I laid out the fabric with the patterned side down. I gave it a quick ironing to get out any wrinkles before starting.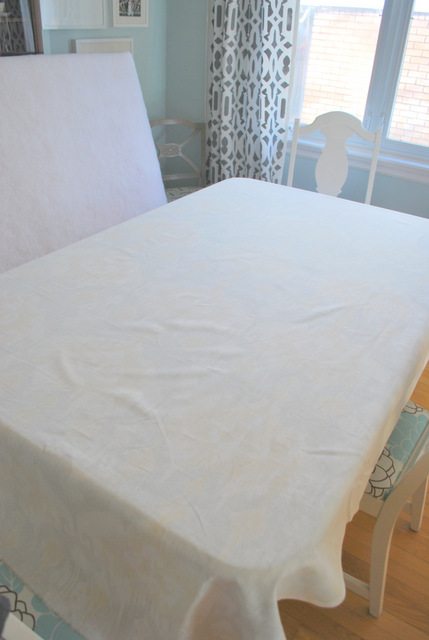 After placing my plywood on top of the fabric, it was time to start stapling the fabric. I started off by doing the two long sides. I made sure to pull it tightly as I was going so that it wouldn't be too loose in the front.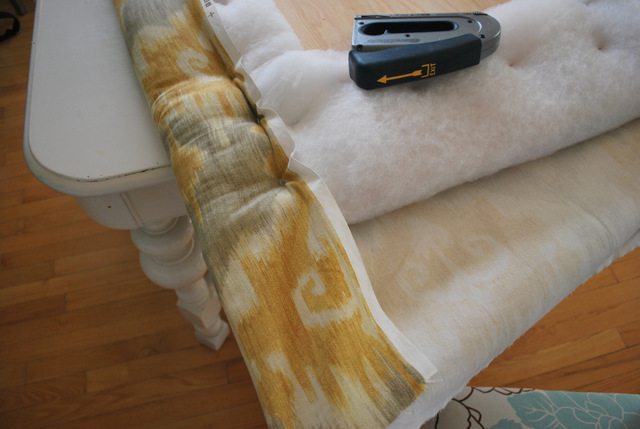 The corners are the part you want to be careful with. My technique (and I'm not sure if this is the "right" way or not, but it worked) is to approach it like I was wrapping a present. I get one side stapled, and then fold it in to the un-stapled side. Then I bring that piece up and pull it really tightly and staple along the seam.
It takes a bit of practice, but I would just do it a few times until I got the perfect seam and then staple 'er down.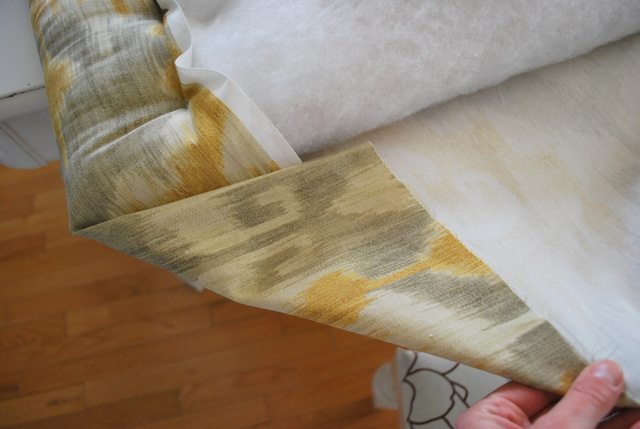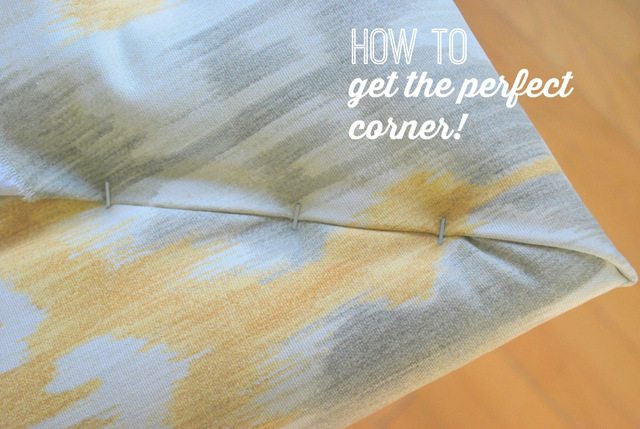 Here she was all stapled and ready to go.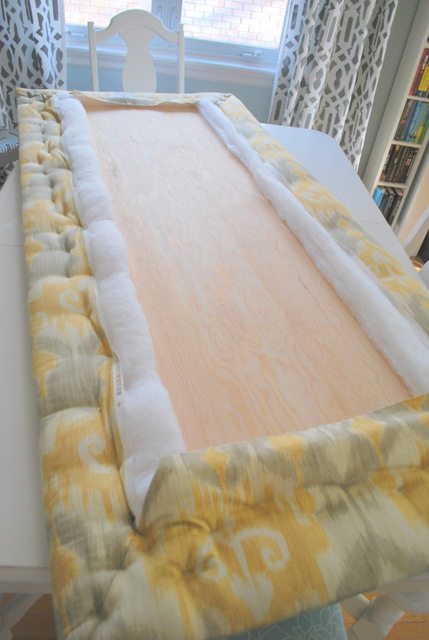 Step 3 //
Now came the tricky part of actually hanging it.
We wanted to attach it directly to the wall rather than to our bed.
We searched around and finally came across a heavy duty E-Z Ancor french cleat. It's 18 inch and holds up to 200 pounds. I couldn't find the same brand on Amazon, but this OOK Hangman French Cleat is the exact same in terms of dimensions and weight as the one we used (just a different brand).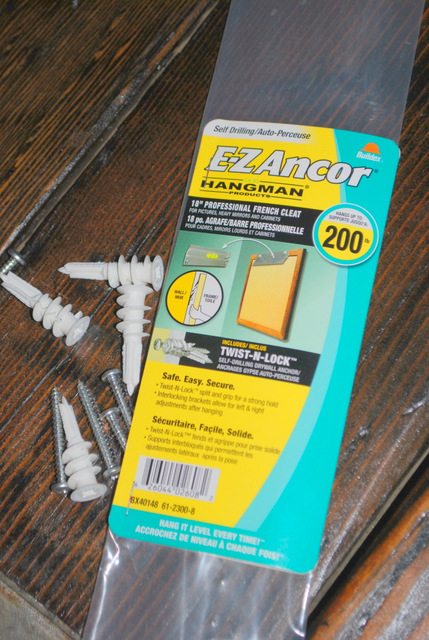 You attach one piece of the cleat onto the back of the headboard, and one piece onto the wall. Then you slide them in together – they have grooves that fit into each other and snap in firmly.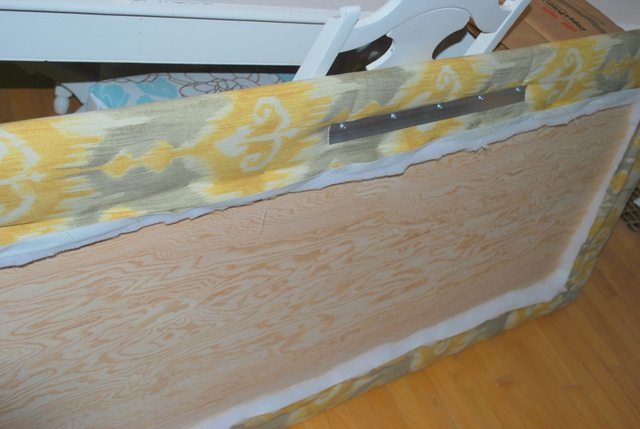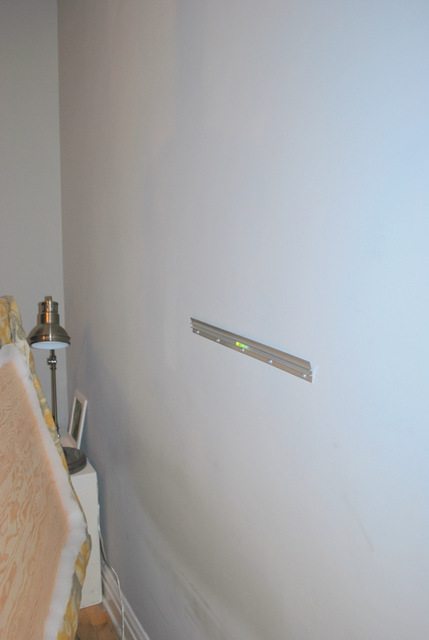 Level and snug on the wall, that baby isn't going anywhere.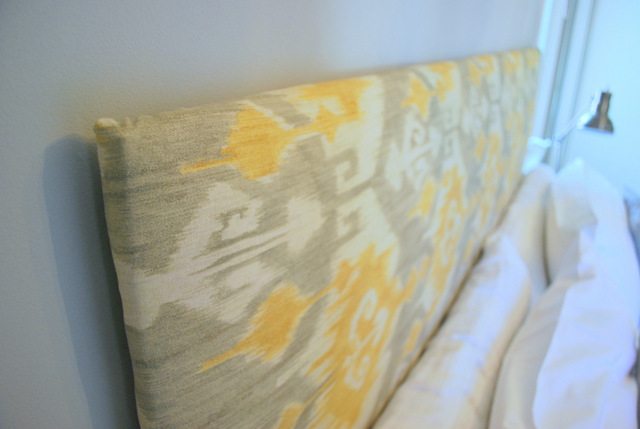 We're really happy with how it turned out. The colours are just right and it's nice to bring another textile into the room. Plus, it makes our basic bed look about a million times nicer and more expensive.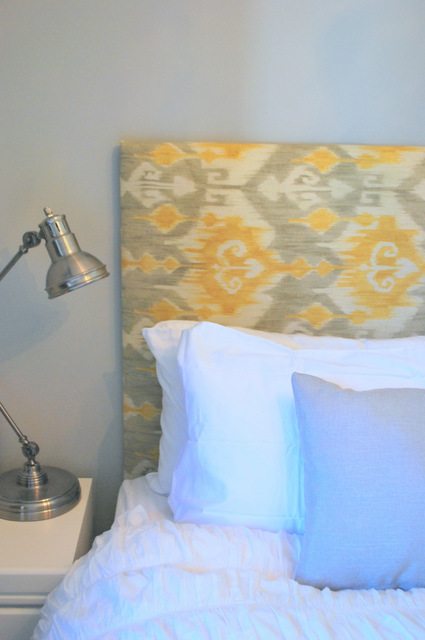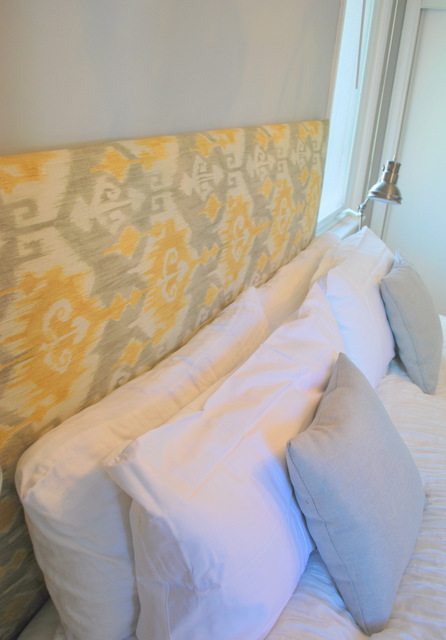 Budget breakdown:
Considering upholstered headboards usually run a couple hundred dollars, this DIY version definitely saves a bundle of moola by coming in at under 100 bucks.
3 meters of fabric + batting: $70
plywood: $15
staple gun, staples: $0 (already owned)
Grand Total: $98
You might also like:
–Our Before + After Master Bedroom Makeover!
–Get Big Art on a Budget (engineer prints!)