I was recently in touch with the folks over at 3M who make ScotchBlue painter's tape. They wanted to send me a few rolls and see what kind of projects I could get up to. Well, I thought it would be fun to do a week of DIY artwork using the tape. It's always nice to add original artwork to your home, right? And using painter's tape? How easy-peasy is that? The three projects I'm going to share this week all require only tape like ScotchBlue Painter's Tape, a canvas, and paint, and are totally do-able for anyone (no special artsy talent required!). First up? A little buck and doe inspiration – a DIY deer silhouette canvas.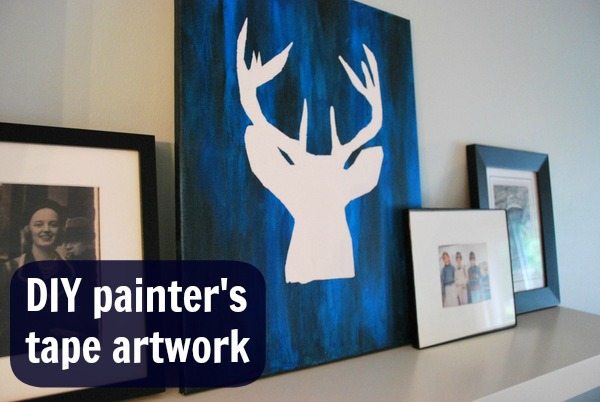 Step 1 was to draw the outline of the deer onto the canvas. I did it pretty lightly with pencil so that I wouldn't be left with marks.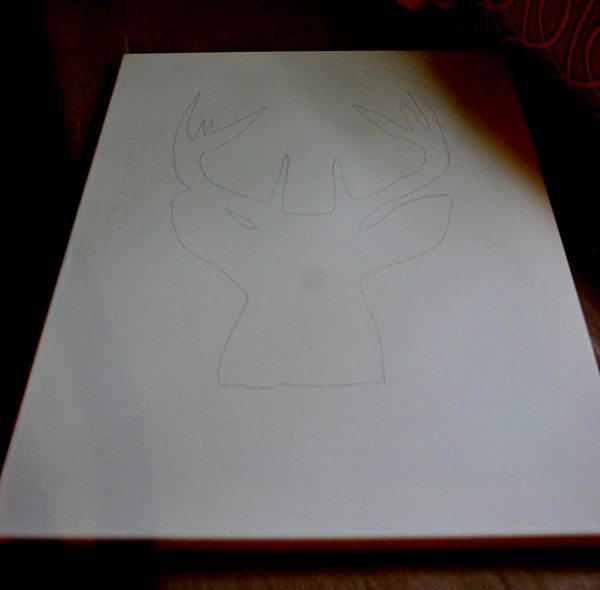 Then came filling the shape with the ScotchBlue painter's tape. This is slightly tricky, but as long as you go section-by-section with small pieces of tape, you just work away at it until it's all full. Some of the pieces I cut to shape precisely (especially for the small antler sections), but most of the time I just ripped the tape in small pieces and worked into the shape.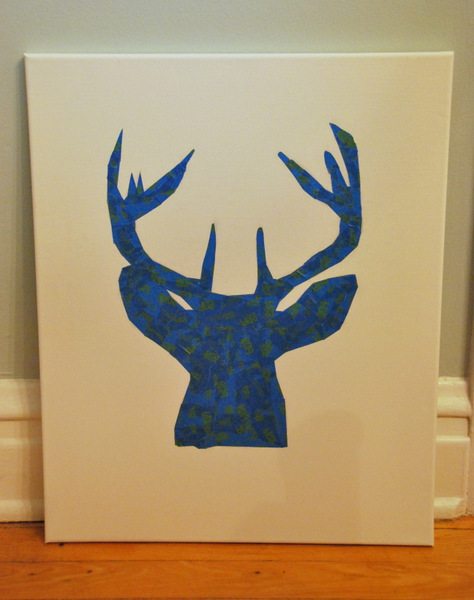 Then it was time to paint the canvas. I was after a more moody look, so I used an electric blue paint and mixed in quite a bit of black.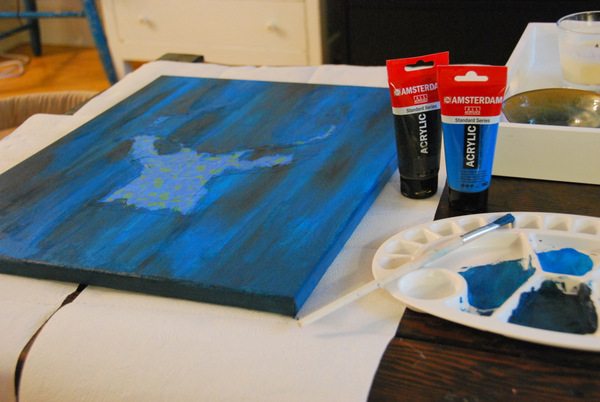 I dragged the paint across the canvas to create some dimension with the various shades.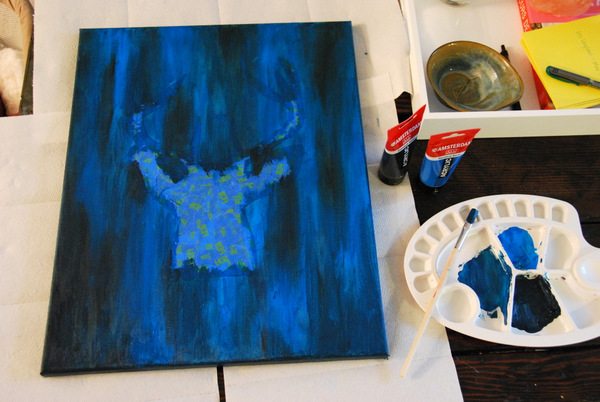 After waiting about 2 hours to dry, I started to peel the tape. I was a little worried about paint seeping through since the tape was in such small bits and pieced together, but luckily the lines were still really crisp.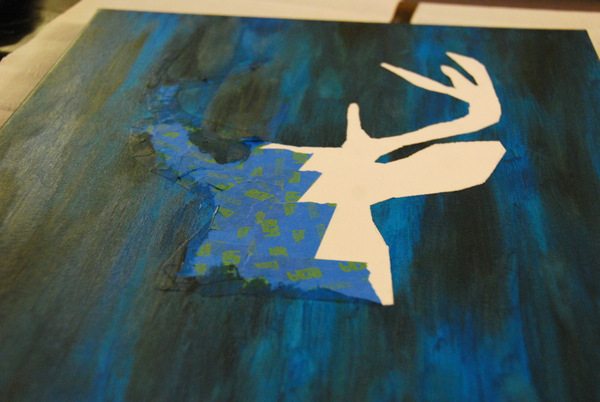 Doesn't the white look nice and bright next to the moody blues?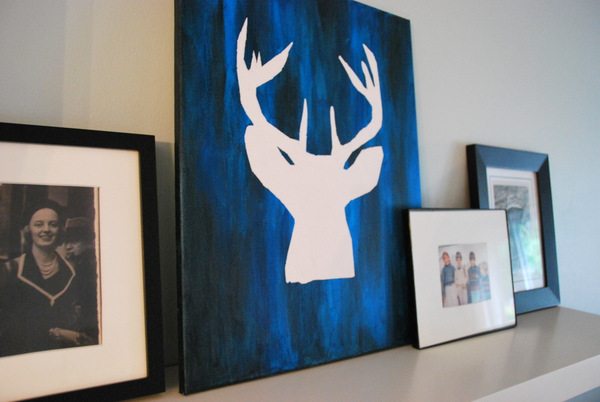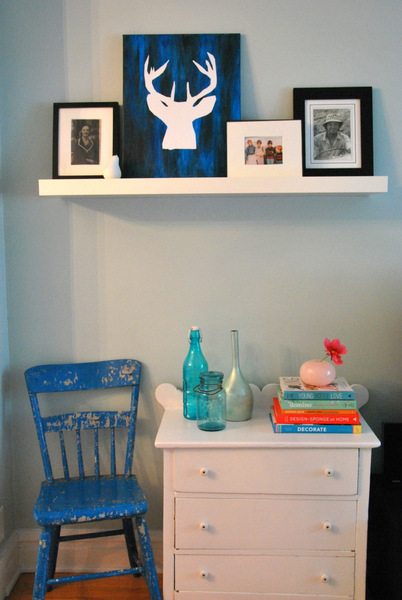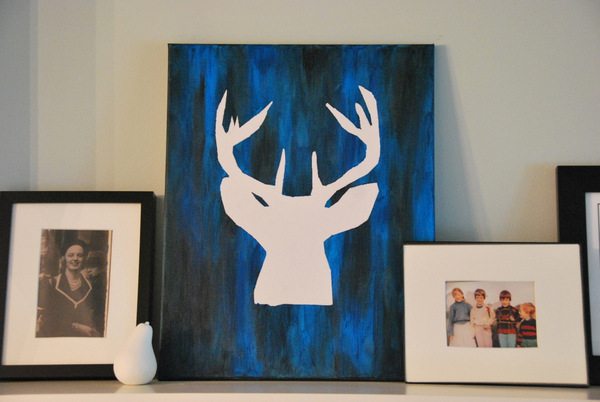 I love the way the whole piece really pops, you know? I put it up temporarily in the living room, but I think this guy will eventually end up in the bunkie that my parents' are building at their cottage.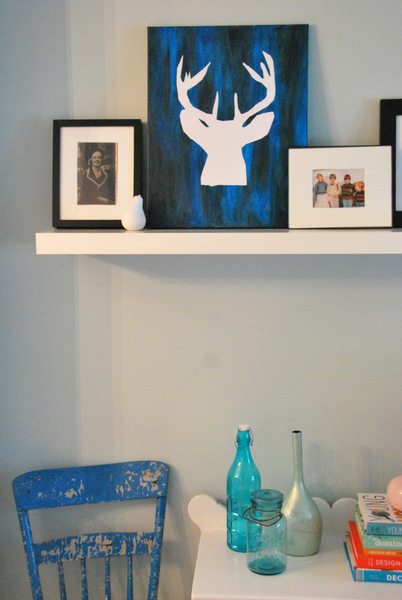 So there is art project number one. Fun, right? I could totally see the same technique working with a one-colour background like a fuchsia, forest green, or any colour really! Stay tuned for art projects numeros dos and tres later this week.
This post is a collaboration with ScotchBlue™ Painter's Tape. To join the creative community, visit ScotchBlue™ Painter's Tape Facebook Page, ScotchBlue™ Painter's Tape Twitter Page, ScotchBlue™ Painter's Tape Pinterest Page or visit scotchblue.com to learn more.
**Note: This post has been sponsored by 3M, but opinions of their product is all me!**