Since we are mid-build on our house, I thought it was the perfect time for a last look at the bungalow. It's definitely bitter sweet – I really loved our little house, and we put a lot of effort into making it a home that was suited perfectly to us.
The turquoise front door was always a happy way to enter the house. I liked the way the colour played off the red brick, with black accents.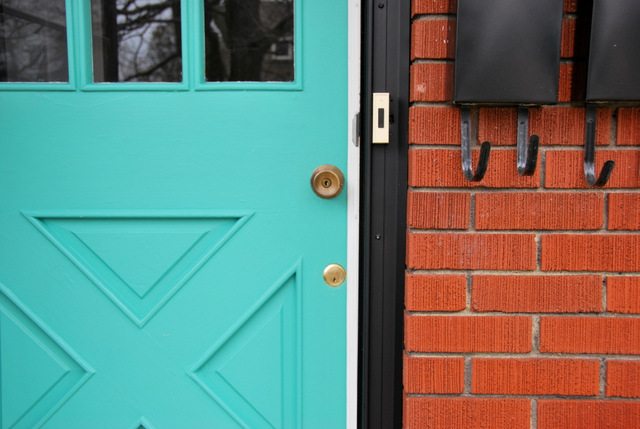 Here was the entryway. It certainly wasn't big, but we had some fun with it by adding that DIY floating shelf, hanging a minty green mirror, and painting the ceiling chevron.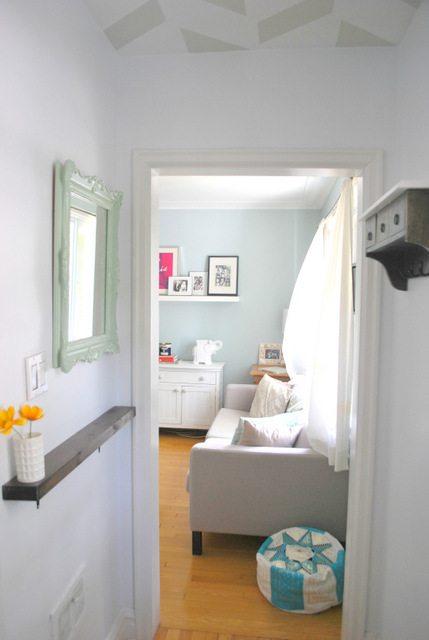 Although it needed a bit of touching up, I was sad to see this little bit of ceiling get torn up during the reno.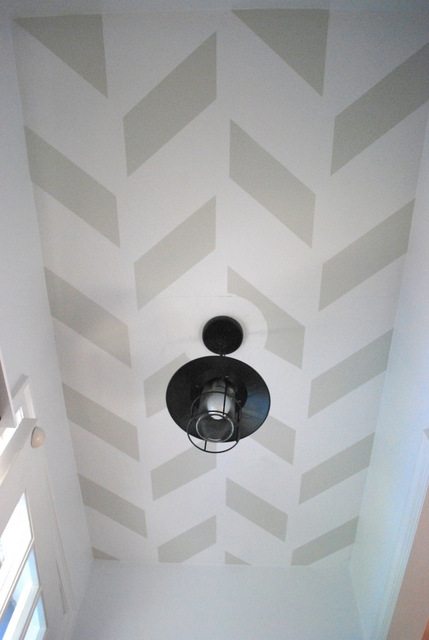 Here was the living room, in its last iteration. Over the 4+ years we lived in the bungalow this room changed a bunch, but I was happy with the light, fresh, and colourful vibe of how it ended up. I have plans for a pretty different living room scheme in the renovated house. I'm thinking mostly black and white and wood, but still with touches of my first love – minty turquoise.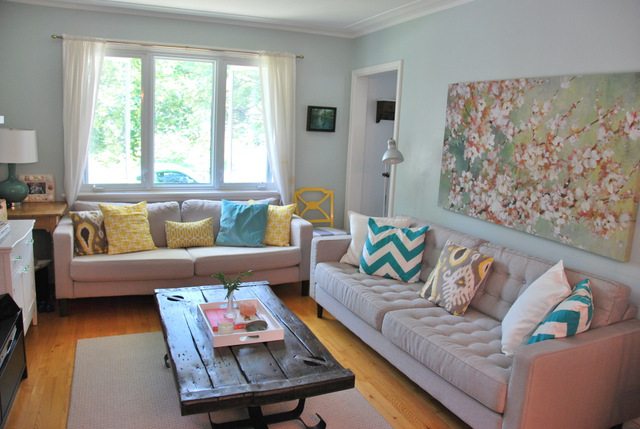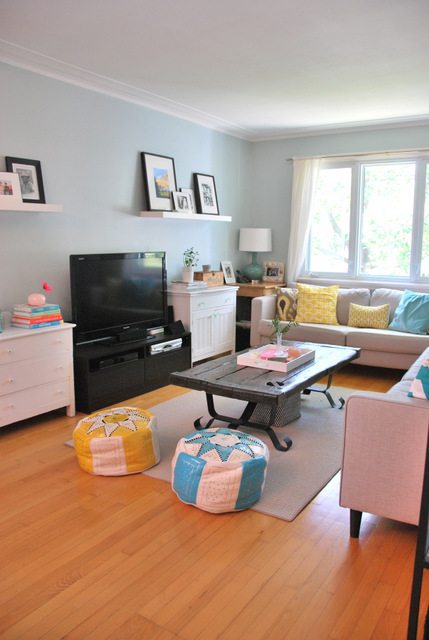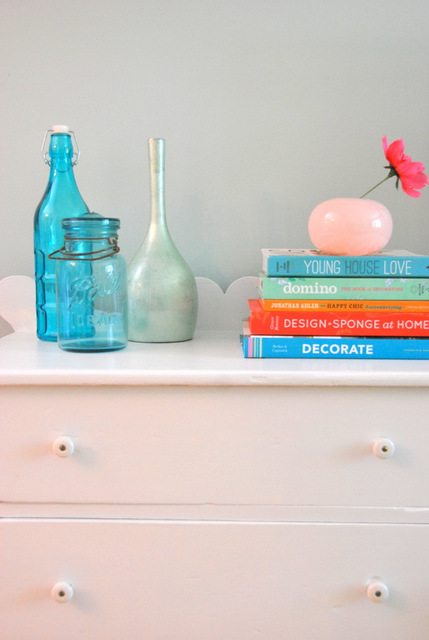 The adjoining dining room had a similar vibe, with the harvest table that I built with my Dad, two-tone buffet, and old pine chest (where I kept all my craft supplies – needed the storage space!).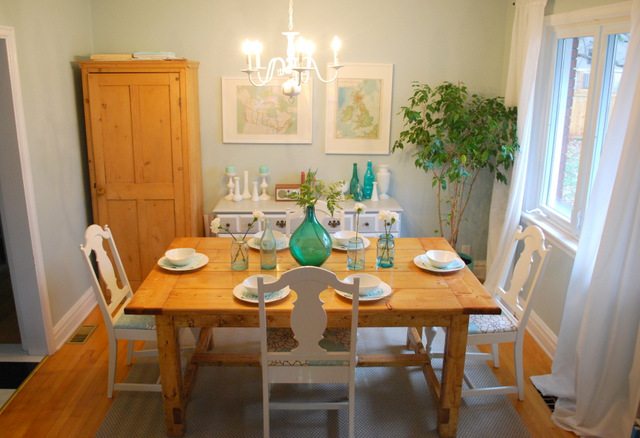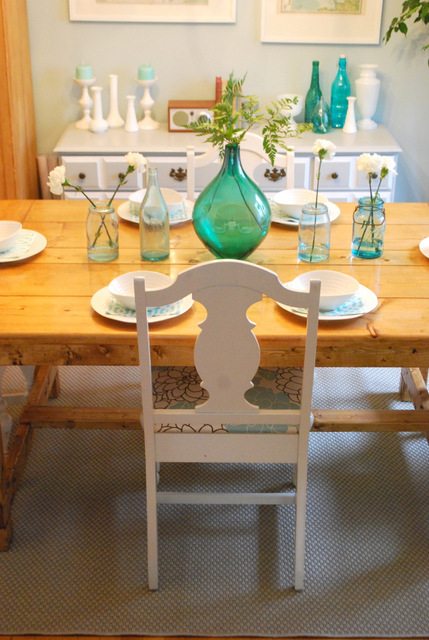 We gave the kitchen a facelift by painting out the oak strip cabinetry, adding hardware, and adding the vinyl peel and stick striped tile. Even though it still eventually needed an overhaul (cabinets were old, appliances were seriously vintage, layout wasn't great, etc), this kitchen suited us just fine for the years we were in it.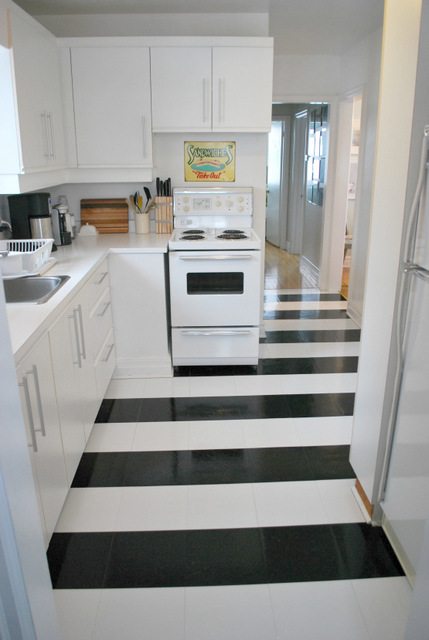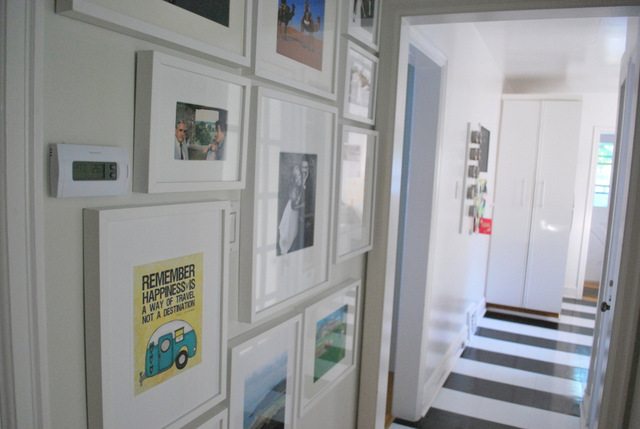 Down the hall came our one bathroom, which we renovated a few years ago. Luckily this bathroom has stayed fairly untouched during our demo, so it will remain as our main floor bathroom post-reno.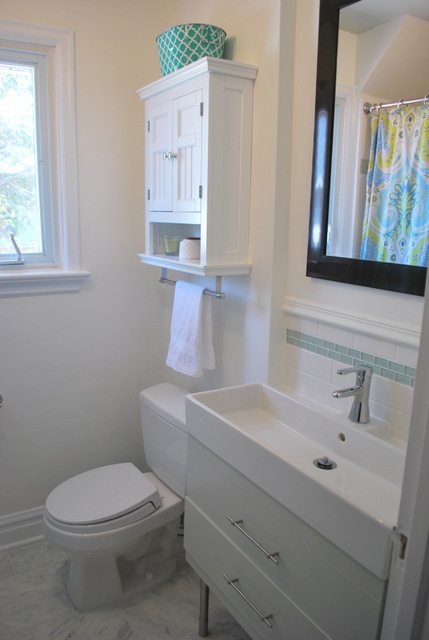 I never felt like I got the master bedroom to look how I had envisioned it, but there were a few projects that I liked. One was this headboard, which I think we'll use again in our new bedroom (maybe with a few fabric?) …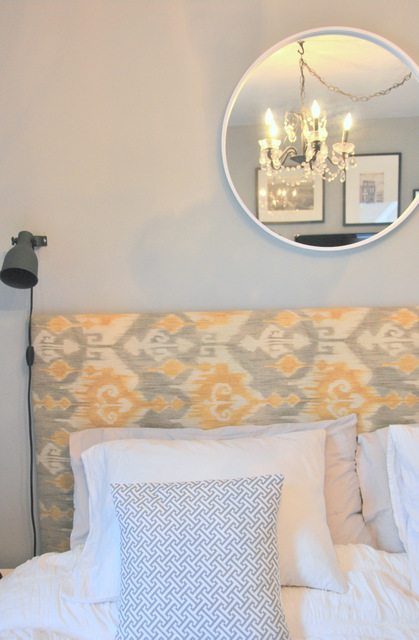 And the other were those painted closet doors. I loved that something so simple – paint and some tape – totally transformed those ugly ducklings.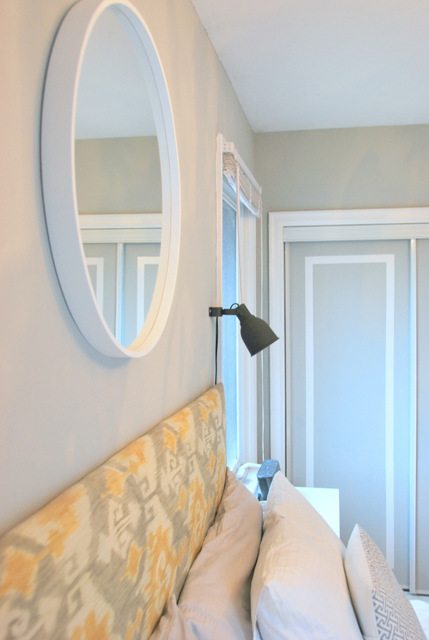 Hands down my favourite room in the house was Maya's nursery (slash mini office in the corner). It was so cheery and had so many handmade touches, that we will bring into Maya's room in the newly built house.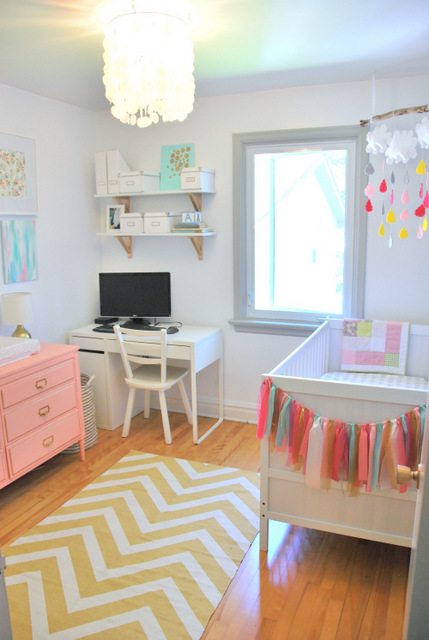 I loved making the raindrop mobile and ribbon garland while I was pregnant and waiting for my little girl to arrive.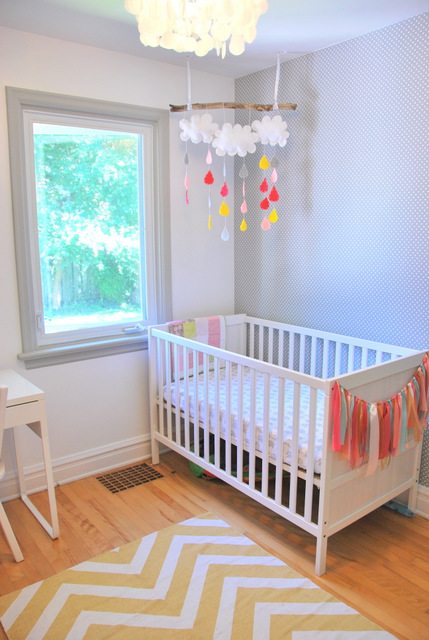 And the pink + gold dresser came out just as I had hoped, so this guy will definitely be moving into Maya's future room with her.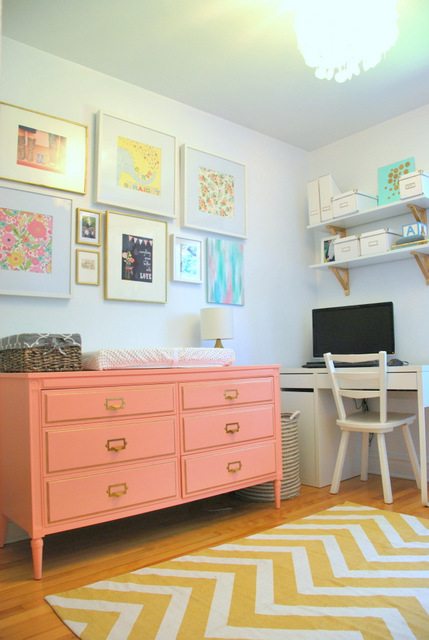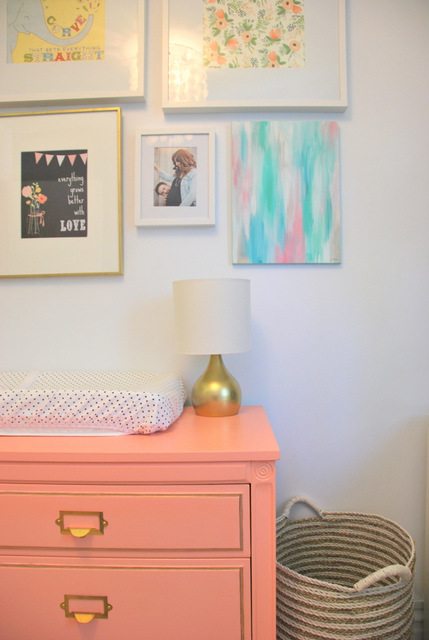 The best part about the room? This girl!!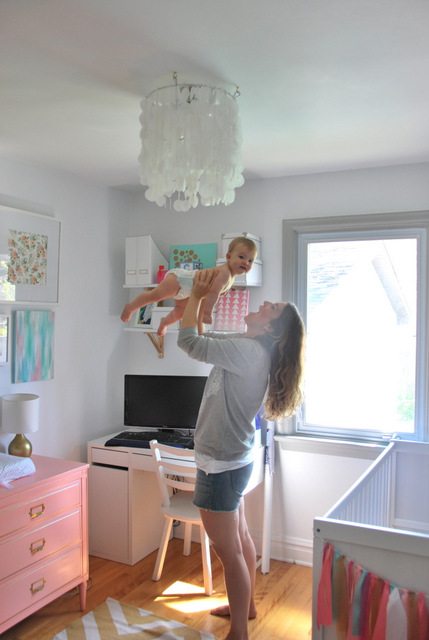 Luckily our basement will remain pretty much the same after the renovation (we are trying hard not to damage it too much) but the stairwell down to it will look pretty different. The few things we did here – artwork, yellow door, and stair runner – all made the space feel pretty fun.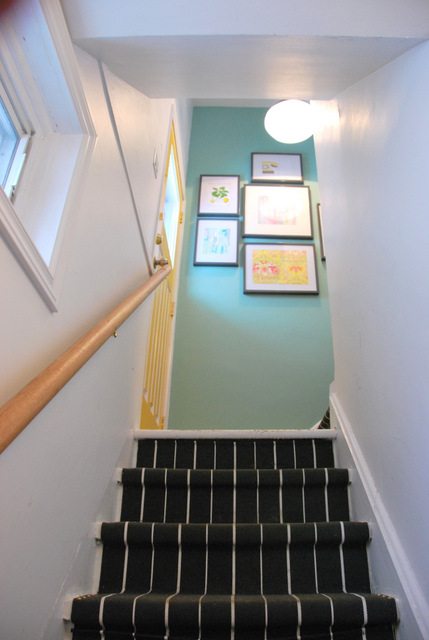 This was us on our moving day! We gave the little bungalow a kiss and although are sad to say goodbye to it as-it-is, we couldn't be more excited about the larger family home that it is becoming. I'm giddy just thinking about all of the new spaces that I have to decorate. Confession? I think about each room and how I want to decorate it pretty much every night as I'm falling to sleep. #Obsessed.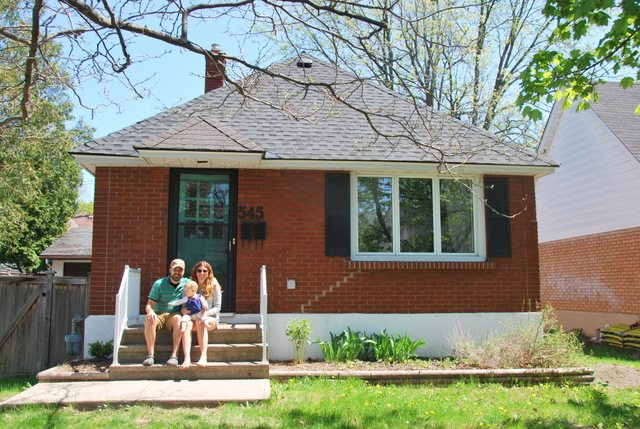 Okay now for the fun part. This home tour is a part of the Canadian Bloggers Home Tour that is going on this week! Be sure to check out these other bloggers for their fabulous homes. Seriously, there is so much good eye candy in here, and lots of project ideas.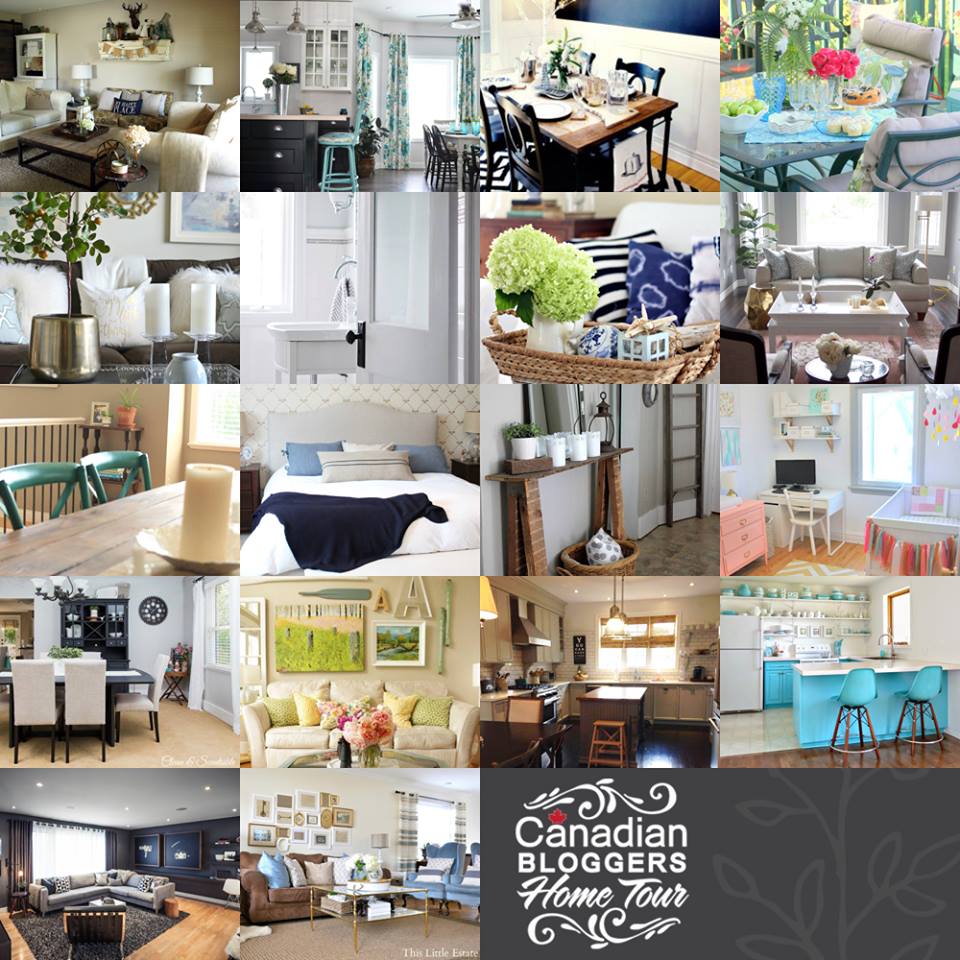 Monday
Tuesday
Wednesday
Thursday
Friday