This past weekend we celebrated Maya's very first birthday. It was a pretty exciting and emotional day – probably more for us than for our little girl! We survived our first year of parenthood! You know I couldn't help myself, and of course had to throw her a first birthday party, right?
I didn't have any real "theme", but decided to stick with the colours that were in her nursery – pink, turquoise, and gold. We had the party outside on Dan's parents' farm.
I pulled out our old dining room table (it's being stored in the barn there anyway – easy!) and used it as the main dessert table. I also put up a chalkboard easel to write a little birthday message.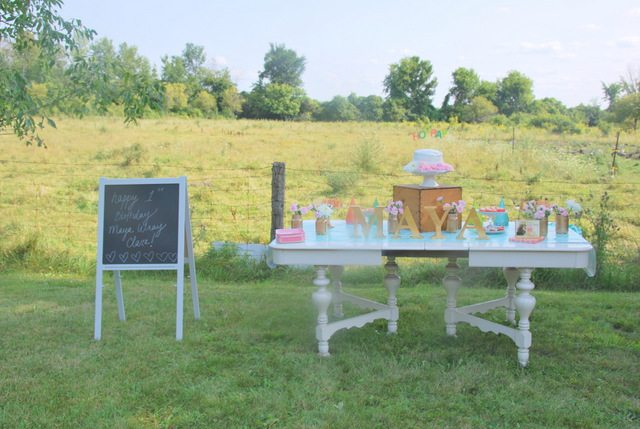 A great trick is to get some wrapping paper in the colours of the party, and then use it as a table runner, like I did here. I used some double sided tape to keep it down, but as long as you have some heavier items on the table, it won't go anywhere.
I put out my cake stands with goodies on them, and then dotted some flowers around in my gold-sprayed mason jars.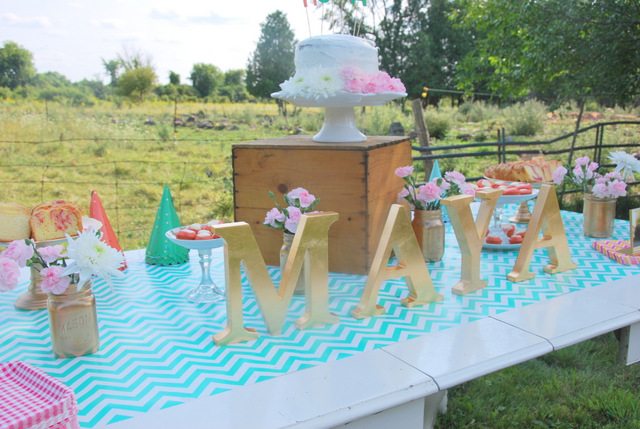 The gold letters are from Chapters (LOVE them!), and the rest of the party supplies were either from my existing stash or Target. I find Target has great party stuff – various colour options and patterns.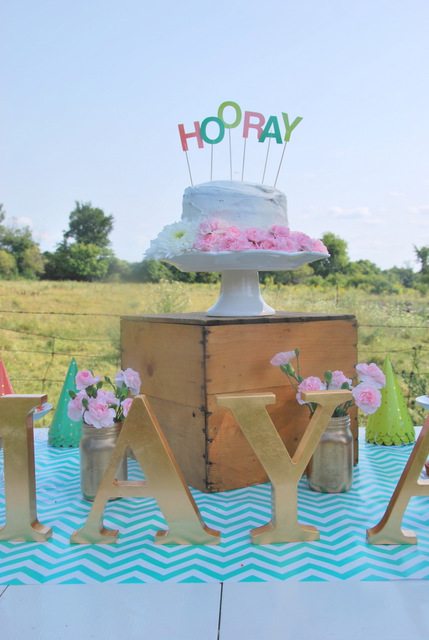 Here is my "make a cake look good" secret…
These were plain vanilla cakes that I baked from boxed (thank you, Duncan Hines!) – 4 layers. Then I just put them on top of one another using some icing as the "glue" (again, store bought icing), and layered the icing over the whole cake.
It was looking like a lopsided mess by that point. Not pretty. But how to save it? Stick it on a pretty cake plate, pop in a topper, and put some flower buds along the bottom. I promise – it'll look pin worthy.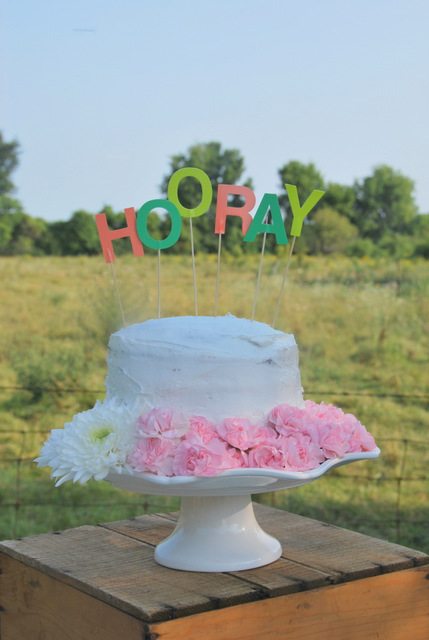 For drinks, I decided to do a little drinks station.
I found a card table in the barn, and so again covered it in wrapping paper.
We did two different fruit punches – one berry, one orange/mango – in the dispensers. Then I set out a bunch of different fruit (blueberries, rasberries, sliced peaches, strawberries, etc), some club soda, and wine (white + rose), so that people could make their own cocktails. With a bunch of kiddos and breastfeeding mamas in the group, I wanted to have fun non-alcoholic options.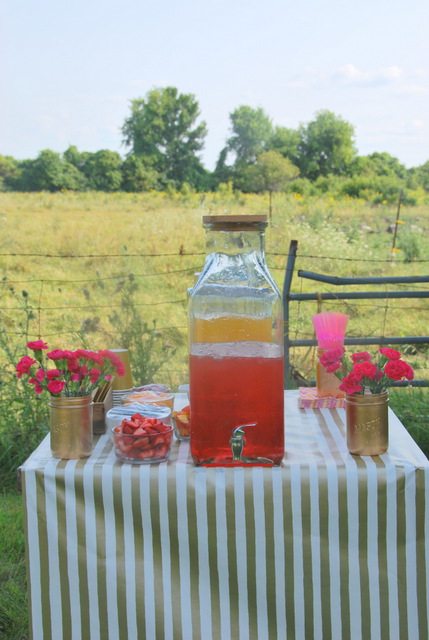 The wine and beer was kept on ice in some fun, vintage buckets.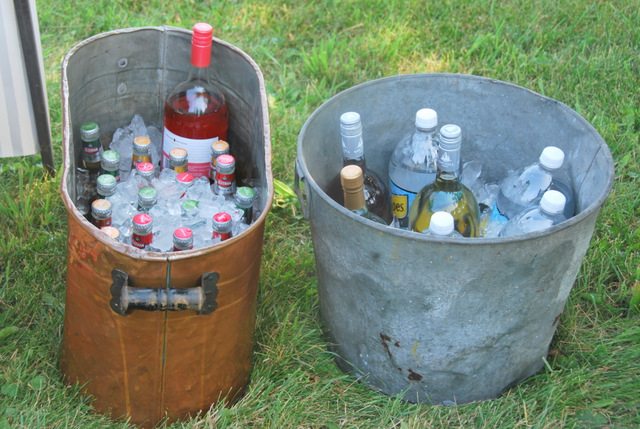 I had looked up different games and activities for a first birthday party and the only thing that really caught my eye was a time capsule. I loved that idea, and paired it with a polaroid wall.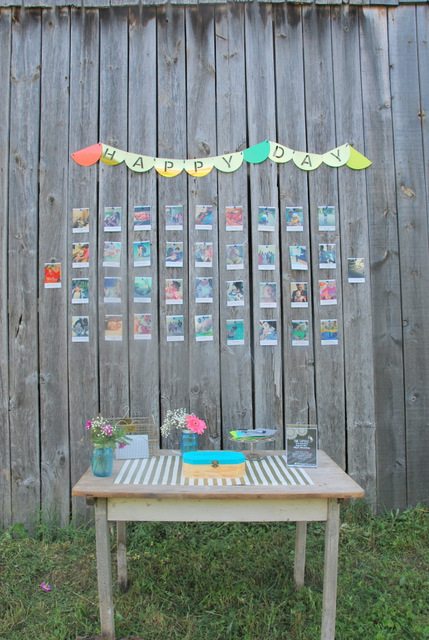 For the time capsule, I grabbed a wood box from the dollar store and painted the top turquoise and wrote "Maya's Time Capsule" with sharpie marker.
Then I had small cards and pens ready for the party guests to all write down a little note to put into the capsule.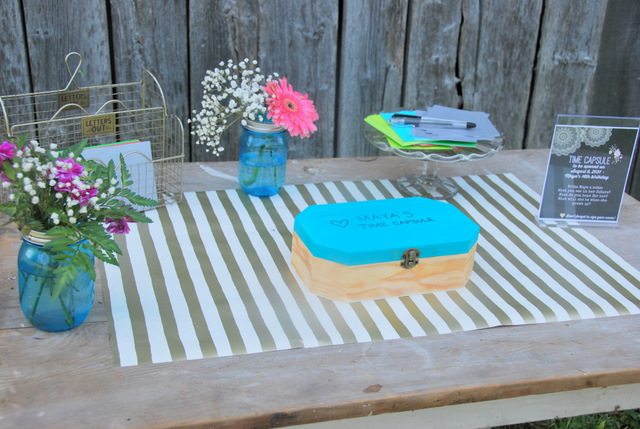 We sealed it shut, and Maya will get to open it on her 18th birthday. It's hard to even imagine that birthday in 2031!
After the party, I also added in some of the trinkets from the day and the front page of the newspaper.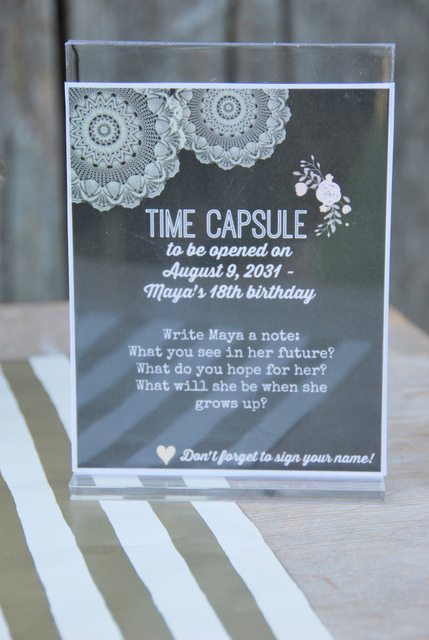 Behind the time capsule table was the polaroid wall.
I went through our photos of Maya from this past year, and pulled out the ones that demonstrated "firsts" of some kind. Then I used PicMonkey to put a polaroid lens on them and add the text, describing what that first was. I had them printed in 4×6, and just tacked them up onto the wall.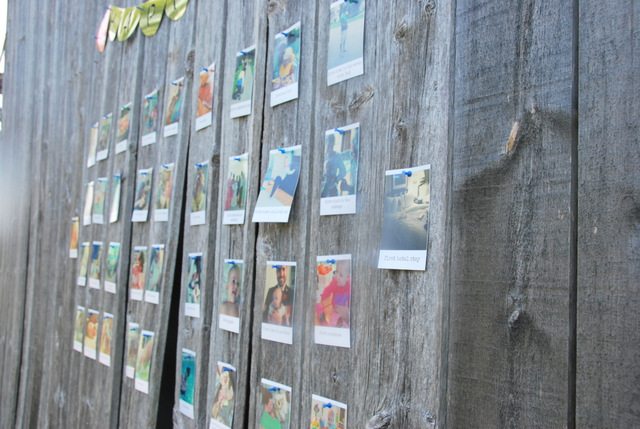 They ranged from first steps, to first swim, to first hotel stay, to first time having a diaper change in the trunk of the car. It was so fun to do! I think I'll include these into some kind of book for her down the road.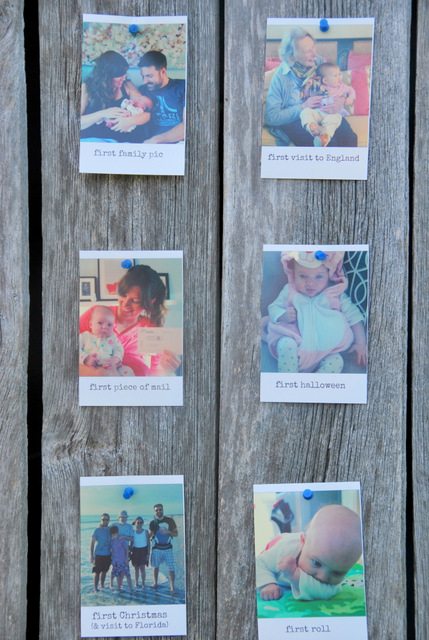 As for the party itself, it was low key and fun. We did the usual activities – like birthday cake!
Here we are bringing out Maya's personal cake. She was standing up in her high chair with excitement. Ha!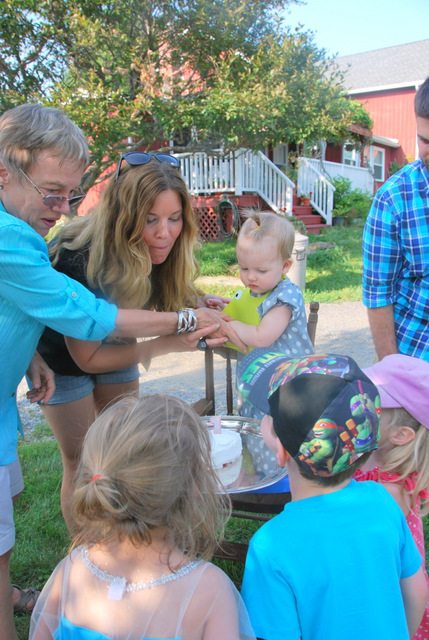 It was her first time having cake, so after some curious looks as to what this big thing was, the girl didn't hold back. It was HILARIOUS.
She, plus the high chair, needed a serious hose down afterwards (cue the outfit change!).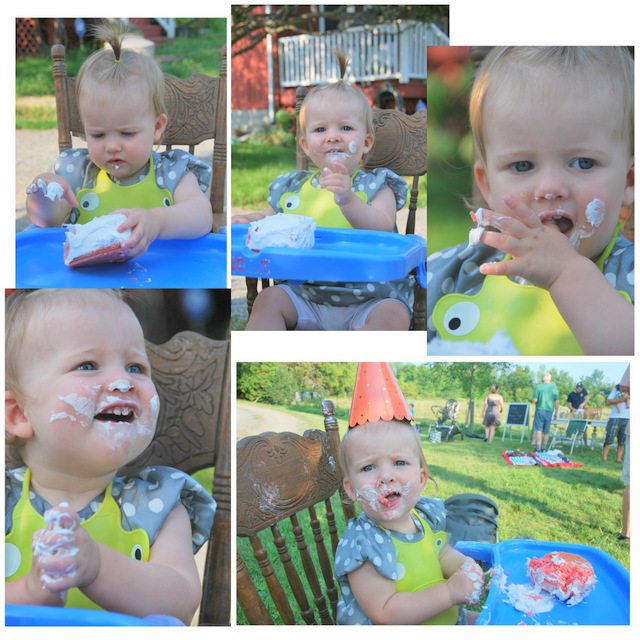 Everybody was so generous and brought some lovely gifts. Taking the paper out of the bag was of course the highlight for her.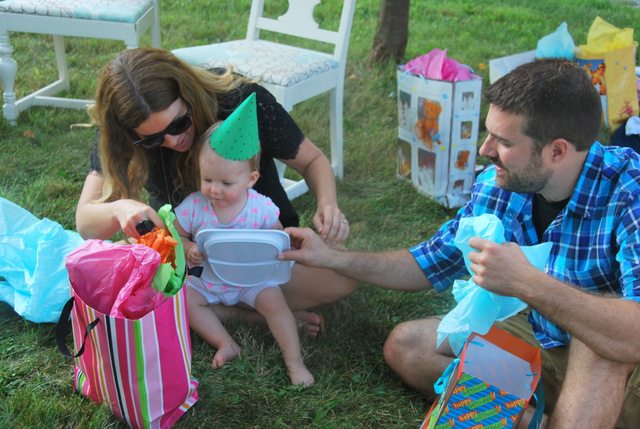 It was just so nice to sit and relax on a perfect, sunny day with so many of our friends and family.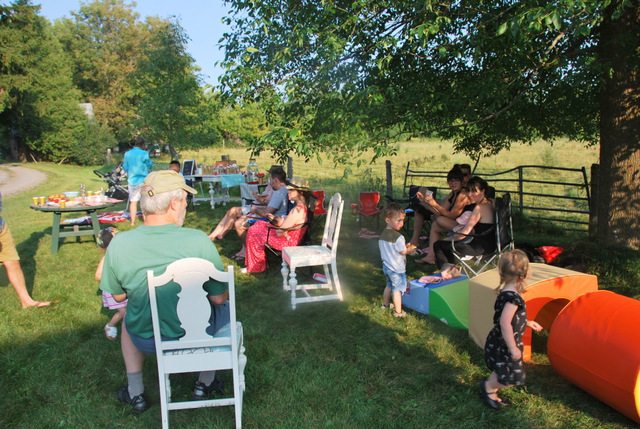 Couldn't have been better!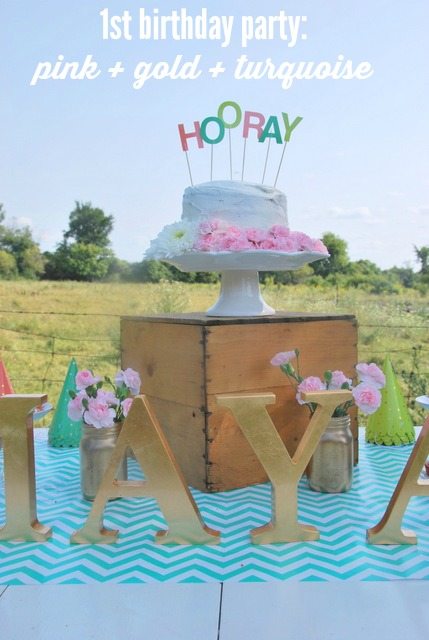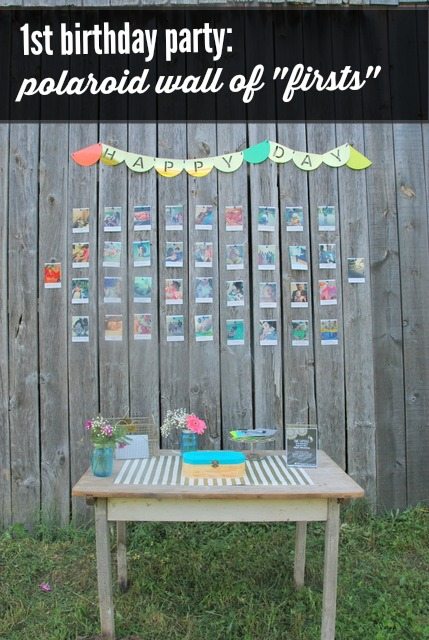 Happy first birthday, my darling girl! We are so lucky to have you. This year has been full of joy, laughs, goofy grins, and adventures as a family of three. You sure do keep us on our toes! We love you.