I have been meaning to write this post forever, but somehow it kept slipping. Since Maya is almost a year old (!!), it was about time I got around to it. After having Maya, and having such amazing friends and family around, I definitely learned a thing or two about how best to support new parent. These are my top 10 tips to support a new mom.
Oh – If you're not a super good friend of this new Mum then you might not feel comfortable with all of these (laundry, cleaning house, etc), but if this is your good gal pal, know that she will REALLY appreciate it, AND will return the favour when you are the one with spit up on your shirt and have been up all night.
Also an acknowledgement >> This was written from MY perspective: as a new mum, having given birth, and with a partner who went back to work when the baby was a few weeks old. Most of this advice can also be applied to new Dads, adoptive parents, or families of any variety – but I just wanted to acknowledge the lens with which this post was written.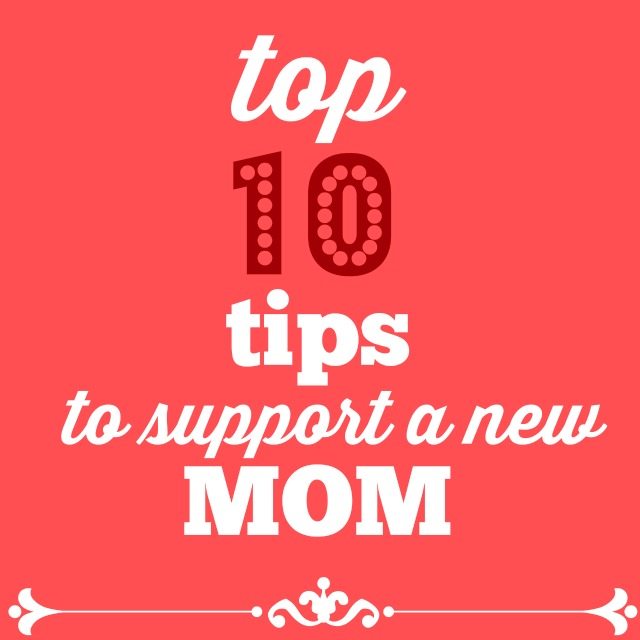 1 >> Bring a meal for the fridge/freezer
If you think it's a pain to cook dinner for yourself, just imagine what it's like to cook when you have just become a parent and have this new little being around who needs attention 24/7. It basically falls to the bottom of the priority list. Dan and I received some delicious meals from friends and family during those first 6 or 8 weeks that made SUCH a difference. Finding time to cook (or even grocery shop) in those early days is really tricky, and you basically just want to plop down on the couch whenever you have some downtime anyway, so having ready-to-go meals is a lifesaver. And you can freeze pretty much anything (burritos, stir frys, cooked rice, pasta sauces, etc). So if you are going over to meet a new baby for the first time, bring a balanced meal. My go-to is often a couple of quiche that the parents can stick in the oven and pair with some salad or fresh veggies for a nutritious meal.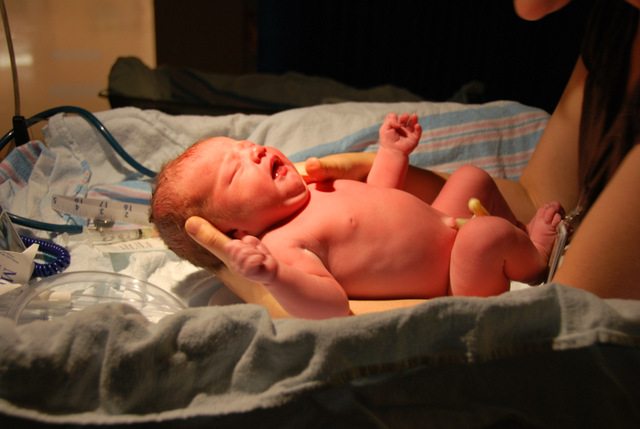 < Maya getting her first checkup, the night of her birth >  
2 >> Wait to be asked, and don't stay for longer than 2 hours
As a new parent, you are exhausted, and visiting with people is tiring too. Even though you (the friend) might want to dash over the second the baby is born to get a peek, don't. Just wait until the parent(s) have had a second to settle in and have invited you over. I know for us, with the challenging breastfeeding/pumping stuff that was going on, I just wasn't in a headspace to invite anyone over for the first 10 days or so.
Once you do go over for a visit, even though you are probably just sitting on the couch chatting and coo'ing over the baby, anything past 2 hours can feel long. Make sure you don't overstay your welcome – you don't want your visit to have caused your mummy friend to feel even more tired than she already is.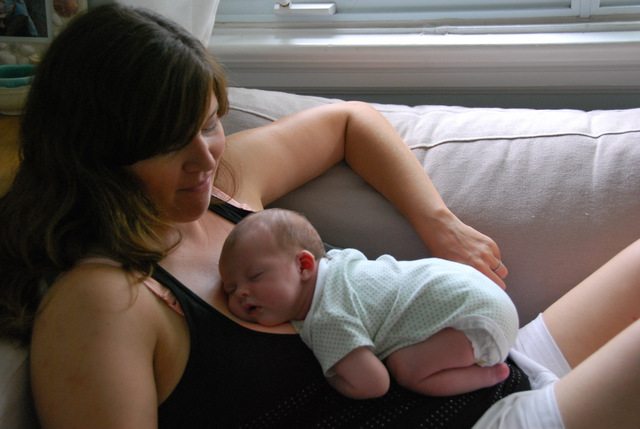 < A moment of peace in the midst of a day of breastfeeding and pumping struggles > 
3 >> Hold the baby and let her take a shower
So when you're a new mum and often at home by yourself with the baby, there tend to be very few opportunities to shower. If your baby sleeps well in a crib, then maybe you can squeeze one in during a nap, but you might also be totally exhausted and just want to rest while baby sleeps. And often newborns like to be held or worn (ie. baby carrier) when they are snoozing, so you can't really hop in the shower then. During those first weeks with Maya, I basically only ever showered when someone else was there – usually Dan or my Mum. Eventually I showered when she was sitting in her bouncy chair (in the bathroom so I could glance at her every now and then!) and later got into the habit of showering during one of her morning naps once she was cool to be solo in her bassinet. If you're visiting a friend with a new baby, offer to hold them and let the Mum have a decadent 20 minute shower all on her own. Even if the baby is crying – just deal. Your pal will thank you for the total luxury you bestowed on her – believe me.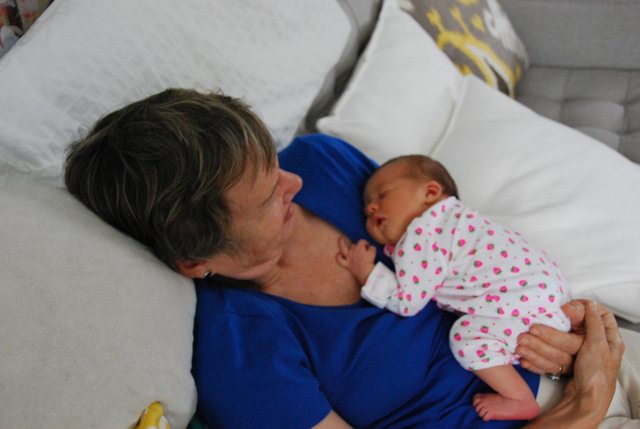 < Nana and a sleepy Maya > 
4 >> Tell her how great she looks
After going through labour, getting used to my body post-baby, and only getting sleep in small spurts, I was not feeling all that awesome about my appearance. I know it really doesn't matter (everyone is going to be looking at the new, sweet baby anyway!), but it does take a toll on your confidence. So even if your friend has huge bags under her eyes and spit-up in her hair, tell her just how great she looks.  She'll probably laugh it off, but it will make her feel good. Promise.
5 >> Make the tea

Don't expect that your new mama friend is necessarily going to think of offering you a drink or snack when you get there. If she remembered to brush her hair, that'll be plenty. So put on the kettle for you both or pour some juice, and maybe bring a snack to share.
6 >> Throw the laundry in
Carrying a laundry basket up and down stairs and throwing the laundry in isn't really top priority for a new mum, and can be tricky if there has been a c-section, a babe who likes to be held all the time, etc. If you're going to be there for an hour or two, why not throw in a load when you arrive and go change it over part-way through your visit? It seems like a small thing, but it might be that chore on her "to do" list that has been nagging her. My mum seemed to do all of our laundry every time she would come over for like the first two months – it was so luxurious not to have to think about it!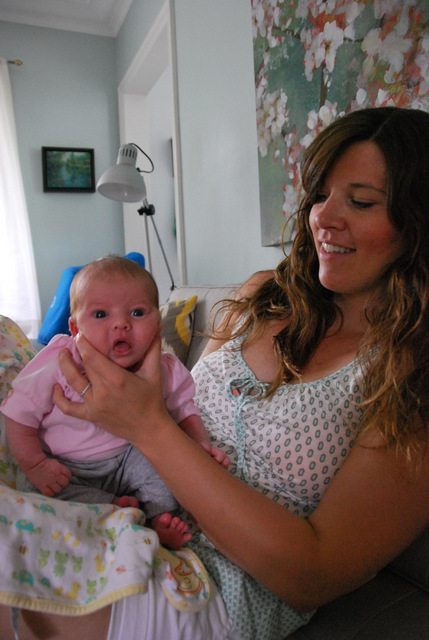 < spending time on the couch – what I did most during those first weeks > 
7 >> Tidy up
I'm not talking about doing a big deep clean on your pal's whole house, but if you notice that the dishes have piled up, or the bathroom could just use a wipe-down, why not take 10 or 15 minutes out of your visit and do it for her? She will be hugely grateful. I remember feeling way too tired and overwhelmed to clean the house, but it totally bothered me when it was untidy or dirty. We brought dinner over to some new parent friends the other day and made sure to do the dishes afterwards, wipe down the kitchen, and take the garbage and recycling out.
8 >> Leave the house
This one isn't going to be for every situation, perhaps the new Mum is rocking her PJs and just wants to hang at home, but sometimes new mums can be having serious cabin fever but are a bit anxious about going out with the baby alone. Help her pack the baby up into the stroller or even in the car for a big outing (!), and go out with her. She'll feel great after doing it, and will feel more confident with you there to help her. Even just a trip to the local mall or park is a big deal.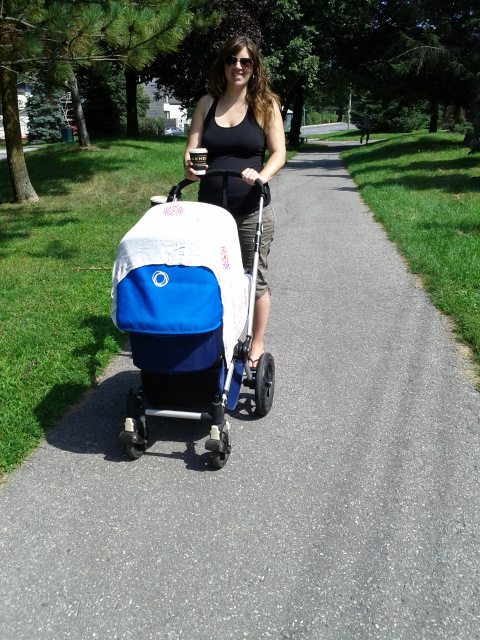 < my first post baby walk to the coffee shop >
9 >> Be understanding of your new friendship
Having a baby means that the dynamics of your relationships change. When you may have been able to go out easily for dinner and drinks, or to a workout class, or whatever, it's more tricky when baby comes along. Just be understanding that she may need to schedule dates with you around naptimes, or that she might need to cancel at the last minute if she's having a tough day with baby. It's frustrating, but just be understanding. If you are a friend from out of town and you used to chat on the phone on a regular basis, understand that even if you don't have that regular phone date like you used to, your pal still loves you! Even though she cares about you and really does want to know what's going on in your life, talking on the phone during that fairly brief naptime or after the kiddo has finally gone to bed can feel exhausting. Maybe text or email with her instead in the meantime – that way she can answer at her own pace (like at the 4am feed).
< one of my best girlfriends coming over for some auntie snuggles > 
10 >> Tell your friend what an amazing parent they are
When you are a new parent, it is overwhelming and you really don't feel like you know what you are doing. I'm someone that has grown up with children all around me, and have always been really maternal, and I felt so ridiculously anxious when Maya was first born. Like had no appetite, knots in my stomach, and felt nauseous with anxiety. I thought I would be cool as a cucumber and instead I worried that I was doing everything wrong and just felt like a fish out of water. Tell your friend what a wonderful parent they are. I promise they will appreciate it.
So that's it! I guess the most important thing of all is just to be there for your friend – however she may need you. Becoming a mum is such a life-altering thing and to have support around you, particularly in those early days, is huge.
Do you mums (and Dads?) agree with this list? Anything you would add? Anything anyone ever did for you that was particularly helpful?