Time for a little announcement!! In case you missed Friday's post, Friday was the day we were getting to find out the sex of Baby Sprout.
This little envelope had been taunting me on the fridge for 36 hours and I was dyyyyyying to open it..!!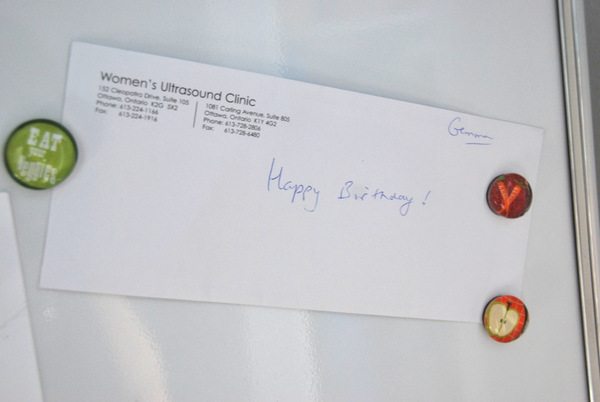 So finally on Friday night, we put on some nice outfits and got ready to go out for dinner to celebrate Dan's birthday. We decided that it might be best to open the envelope just before leaving instead of actually at the restaurant, in case I turned into a blubbering mess. Can you tell I was excited? Ha.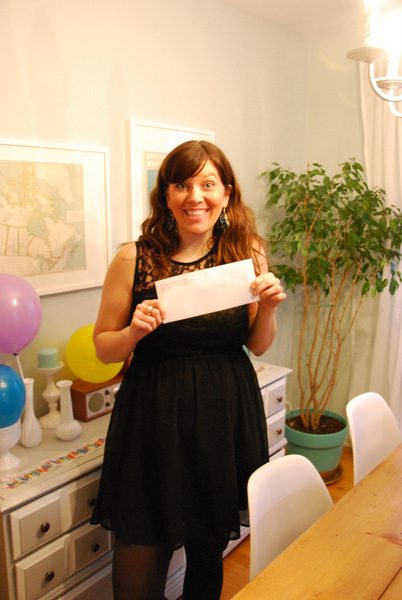 Right before we opened it, we both made our guess. We hadn't chatted much about what we thought the baby was for these last few months, because we didn't want to get stuck on thinking a certain way…. Funnily enough though, both of our gut instincts said girl.
The birthday boy did the honours, and kind of dragged it out for a few seconds…  he was starting to laugh and then made the announcement.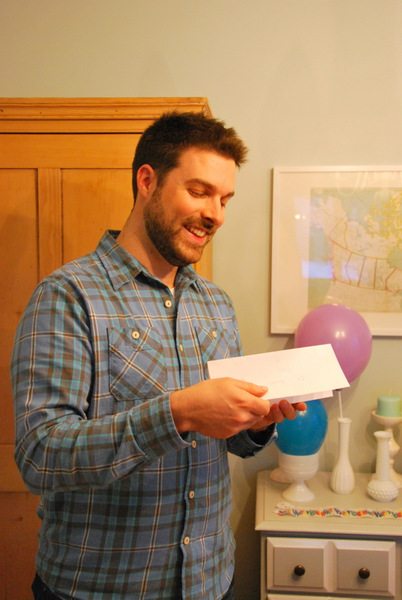 We had a little hug (and yep, a few tears!) … and then I did this! Ha ha.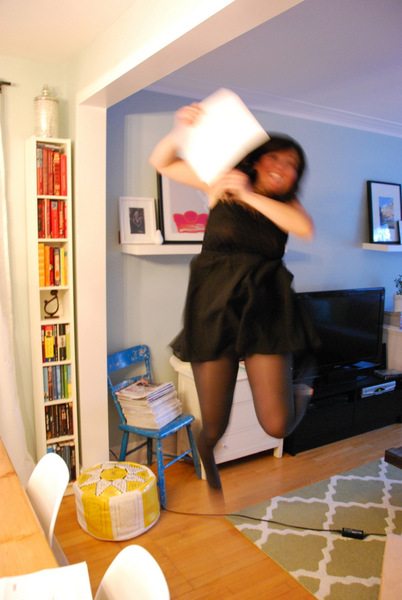 Sometimes those gut instincts can just be bang on!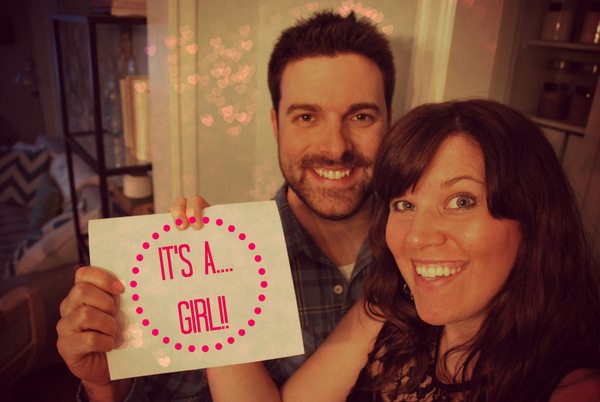 A girl!!!!!
We had a super yummy dinner where we just kept repeating "I can't believe it's a girl!" (Ottawa folks – if you haven't tried Back Lane Cafe yet, you must! it's SO good), and then hosted another birthday bash the next night. We had my parents, Dan's parents and Dan's uncle over for dinner. It was Dan's Dad's birthday that night, we did a bit of a combo celebration.
And the cake? Well, I decided to have some fun with our announcement. I used food colouring to dye the inside of the cake bright pink, but frosted it in neutral colours and added the "little miss?" and "little fella?" flags.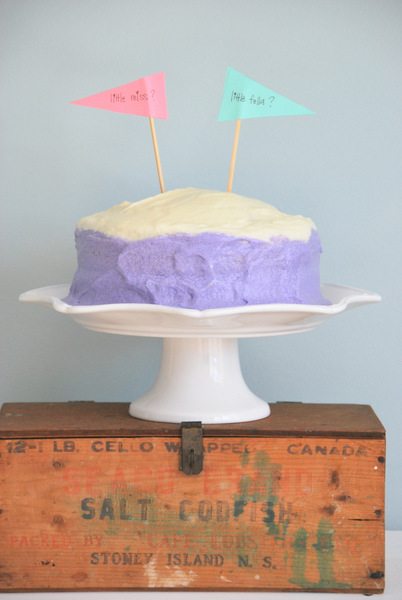 The birthday boys blew out the candles…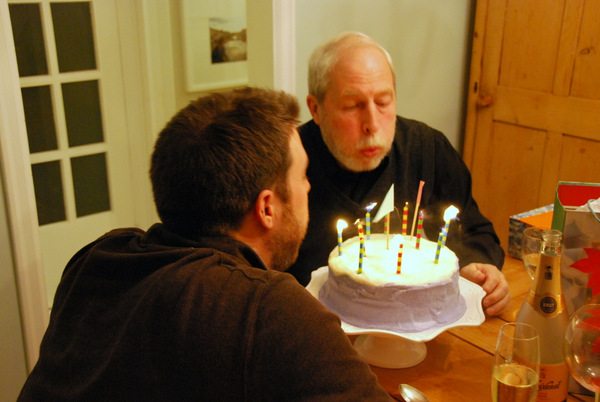 And the grandmas got to do the cutting. The sheer excitement on my mum's face here kills me. Look at that grin!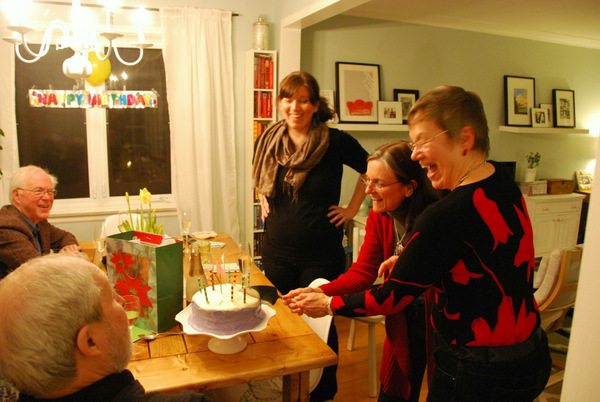 Mary (Dan's mum) yelled "it's pink!!!" followed by laughter and some grandmother jumping-up-and-down. My mum had been SO sure it was going to be a boy, so she was really taken by surprise. Totally hilarious (I had such a good giggle!).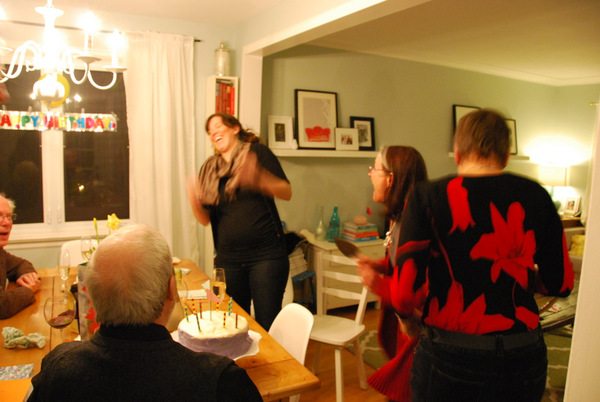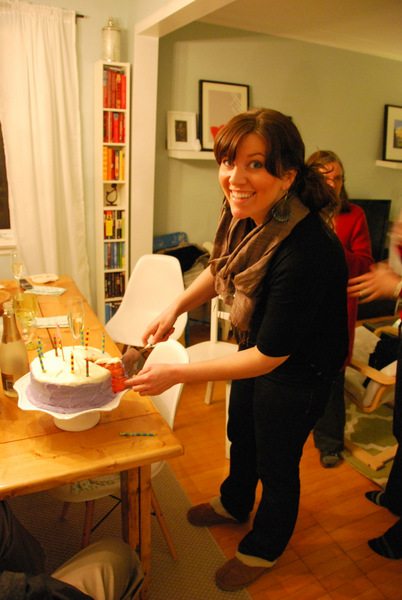 All in all, so much fun. We are so grateful that this little babe seems healthy and happy in there. Come back tomorrow and I'll share the deets on how I made that cake (disclaimer: I used box cake mix!).
How was your weekend? Get out and do anything fun? Have you ever done any girl/boy announcements? Got any fun stories to share?