In yesterday's post I showed you guys how we found out and celebrated the news of our Baby Sprout being a girl! Well, here are the deets on that little reveal cake I made for our family.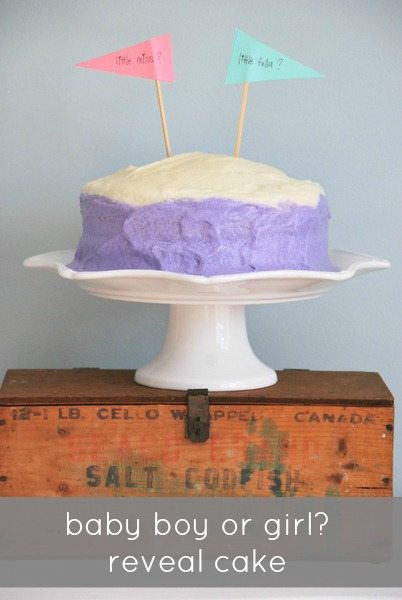 I love food. I really, really do. But I have to admit, I'm not susie homemaker in the kitchen. I can follow a recipe just fine and have a few meals as my "go to", but really, Dan the man does all the cooking around here. He's da bomb.
So when it comes to baking, I tend to get lazy and use the boxed caked. I have made cakes from scratch before, and yes they usually taste better, but these are just sooooo easy. I grabbed two boxes of lemon cake mix and followed instructions, except I added some lemon rind to make the cake extra lemon-y. Yumm.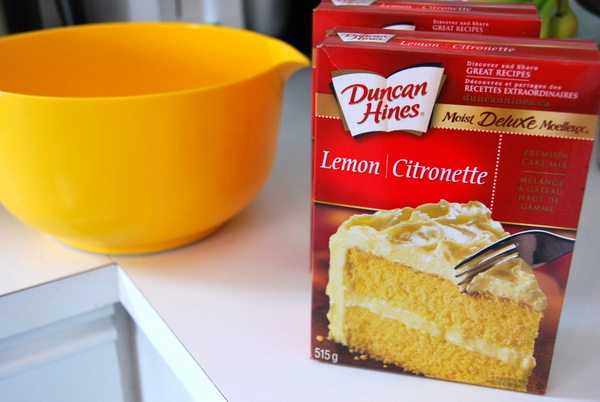 Once the batter was all mixed up, it was time to add in some food colouring. I actually have some Wilton colouring that is meant for icing, so grabbed some from my little pink pot with a toothpick (it comes in a gel-like consistency) and swirled it in. Another little shot with my hand mixer and that bad boy turned bright pink. Fun, fun!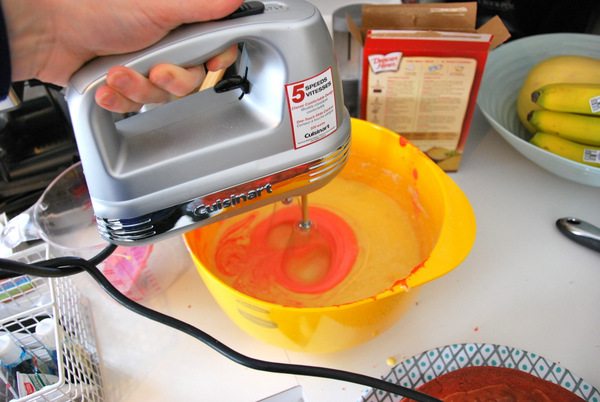 I made two layers so that the cake would be nice and big. Here is the bottom layer once it came out of the oven — I had to cut down the top a bit so that it was flat (just using a bread knife).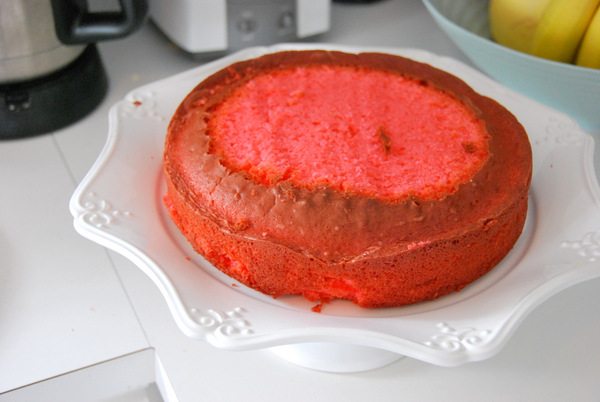 While my second layer was baking, I shifted attention to making the little flags. First up was to cut some triangles out of cardstock. You want to cut 2 identical triangles in each colour (so 4 triangles total).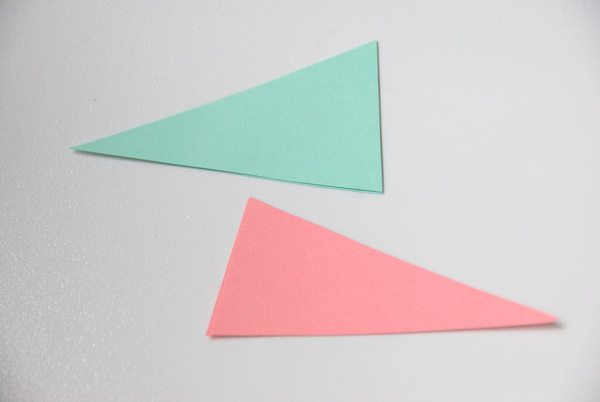 Then tape a toothpick on the inside of each. I used regular scotch tape and then added some double-sided squares all around the triangle before pressing the other side down on top.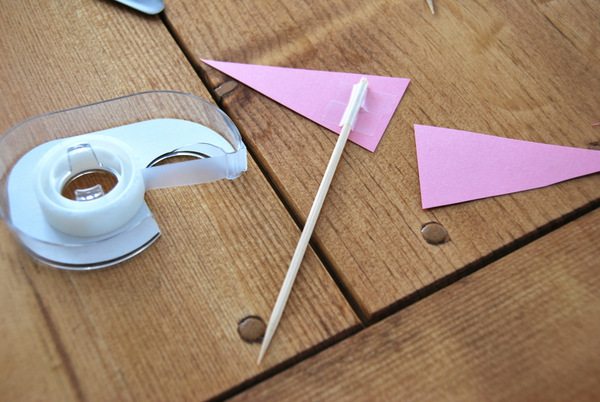 It was around that time that the oven timer dinged and my second layer was all set to go. I whipped up some basic buttercream icing (you can find tons of recipes online – the one I use calls for icing sugar, butter, whipping cream, vanilla, and I added in some lemon juice). Smooth a layer of the icing on the bottom piece and then plop your second layer on top.
I didn't take any photos while actually icing the cake (my hands were a little full!), but once I had covered the top in white icing I realized that a few little crumbs were poking through. I didn't want anyone to spot any pink, so I threw some purple food colouring into the rest of the icing bowl to do the sides. I got icing EVERYWHERE, but if you have the cake on a cute little platter, you can just wipe away the excess with a damp cloth. No one will know what a mess it looked like to start with :)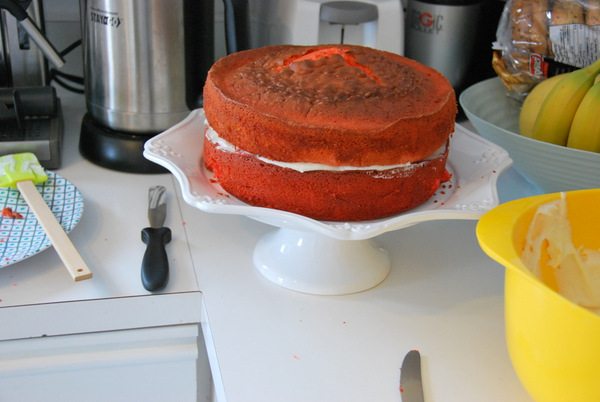 And here is the result once I stuck my little flags in. Pretty cute, right?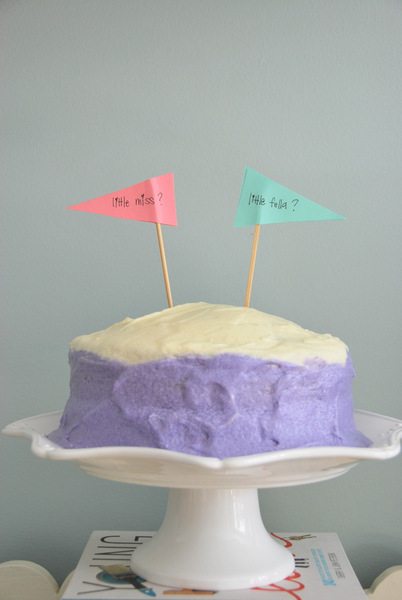 I just hand-wrote "little miss?" and "little fella?" on the flags before inserting them. You could get fancy and print these out I guess, but I was just keepin' it simple, folks.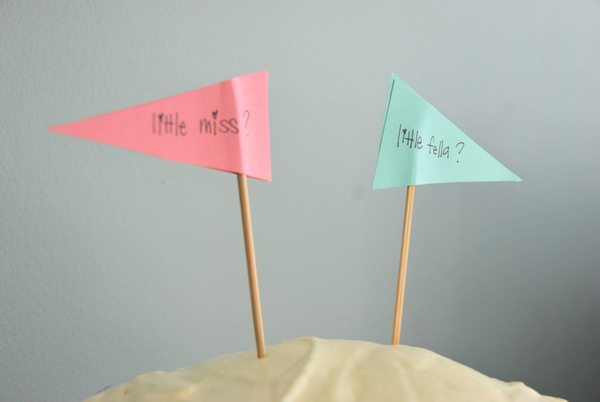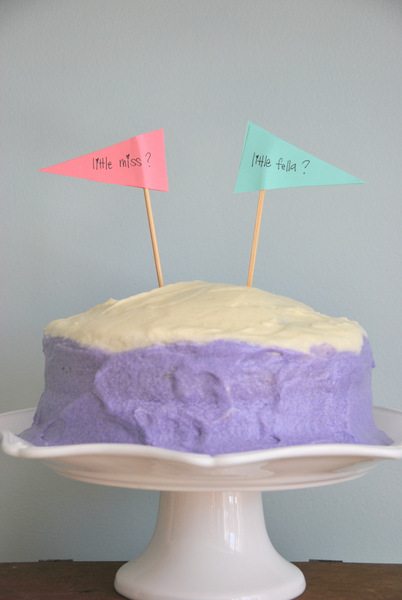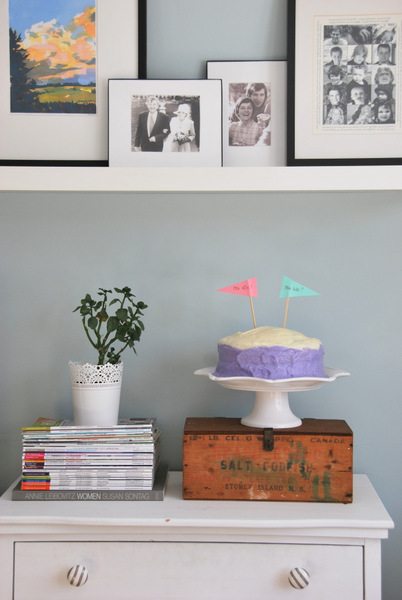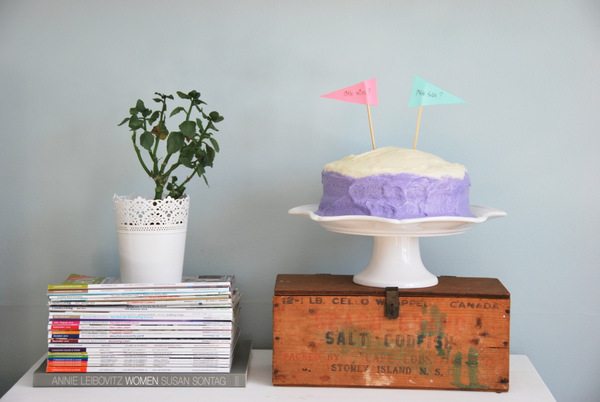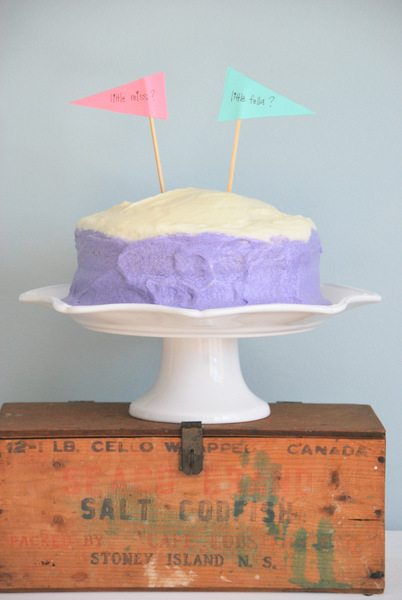 Okay, that's enough with the cake shots. Can you tell I was a little over-excited? Haha.
What about you guys? Done any fun baby sex reveal parties or announcements? Decided to keep it a surprise until the day of the birth? I must admit, I'm so glad we know (I'm a planner, after all!) and it was so much fun to share the news. I can totally see the appeal of the surprise too though — how often in life do we get true surprises?! I don't think you can go wrong either way! :)