When I was in Vancouver the other week, I was apartment-hopping among my girlfriends' places. Actually, you'll remember one of them from this apartment tour I did a few years ago (last time I was in Vancouver). This time around, I got to peak into my pal Emily's apartment and was totally wowed. Emily is a designer – she has a super awesome job of designing the stores for Lululemon (Canadian-based yoga clothing company). So if you've ever been into a cool Lulu store, she might have had something to do with it!
Anyway, let's take a tour of her sweet 1-bedroom pad, shall we?
Upon entering the apartment, you quickly find yourself in Em's living room. It's a great example of a mostly neutral base (taupe walls, neutral furniture, etc) with pops of colour and pattern dotted around.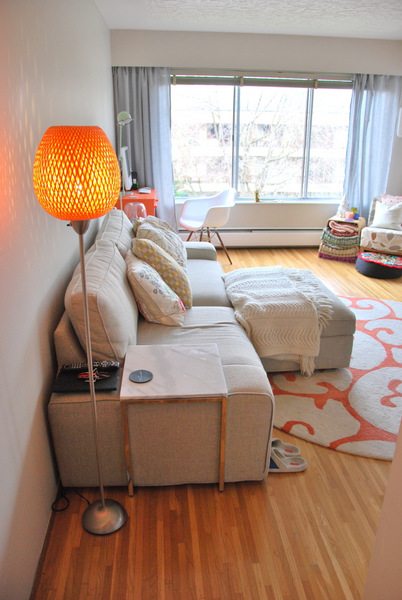 The accent colours in here are mostly orange and mint – such a great combo, right? Fresh, fun, and cozy.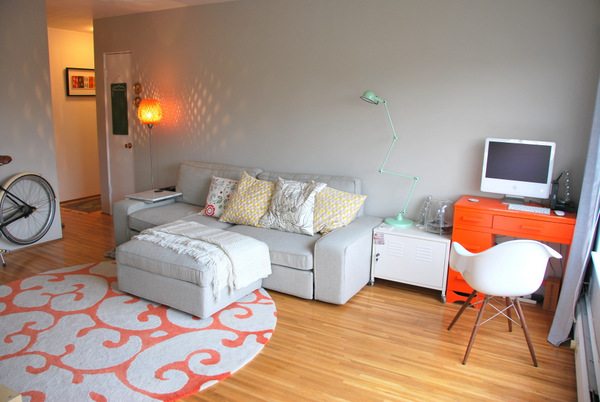 Did you spot the mint lamp in the photo above? I was totally.obsessed. Wanted to somehow sneak it under my jacket and run. It's got a fab extra-long goose neck and the shade of mint is perfection. Mint lamp + taupe/grey walls + yellow and grey pillow = sooooo my jam.
The bookshelves have been colour-blocked (ie. arranged by spine colour), adding to the colour in the space. Oh and can you spot that miniature chair in the top right square? Miniatures of iconic chairs were dotted around the bookshelf – super fun and a little nod to Em's design background.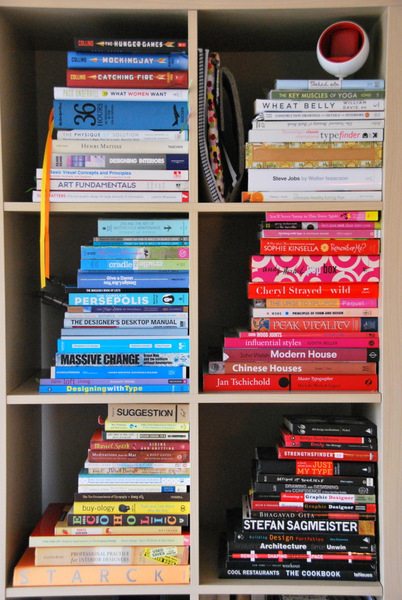 The Eames chair is obviously a fave (pretty similar to my dining room chairs), and that orange desk was punchy and fun.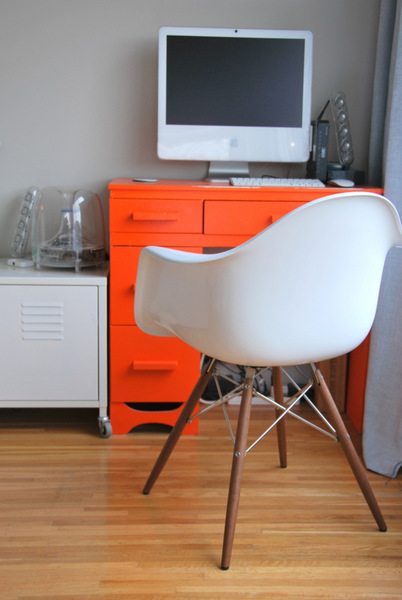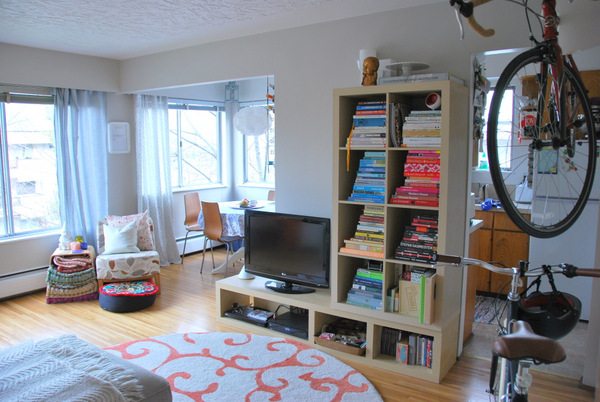 Did you notice those bikes in the photo above? Well check out how they are hung right on the wall. Such a great idea if you don't have much in the way of storage space. And they totally weren't dominating or overwhelming in the room. I hardly even noticed they were there.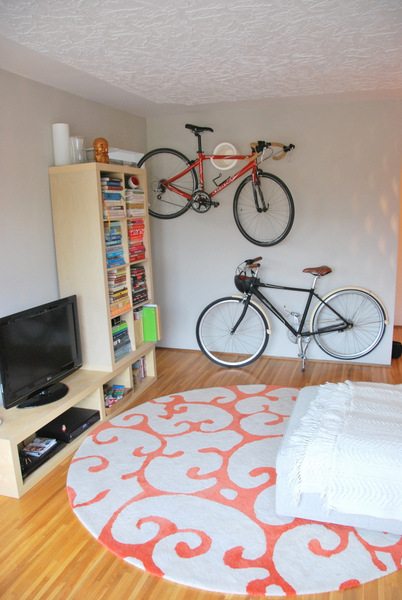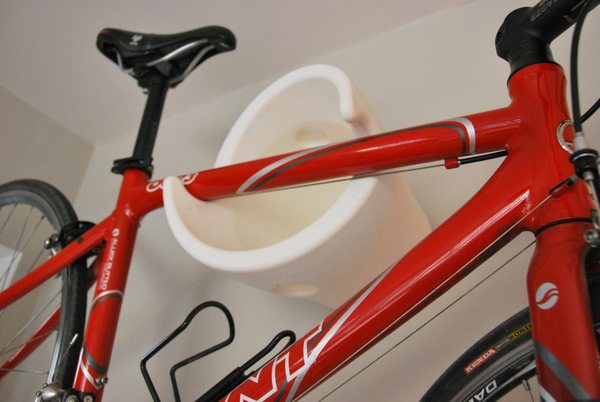 The kitchen and dining room are right off the living room, making it feel like one large open space. The same colour and window treatments are carried through into this space, making it flow well and feel connected.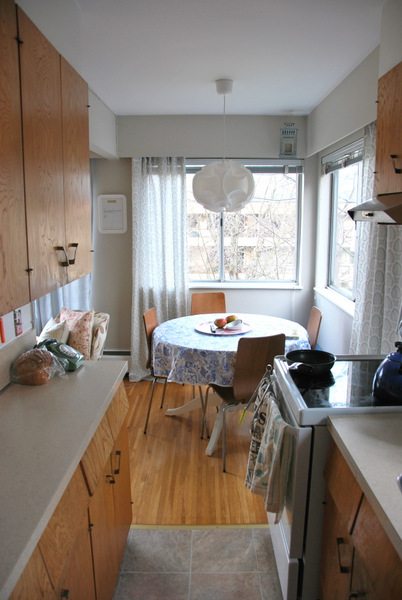 Hanging your own light fixture, curtains, kitchen accessories (knife rack, tea towel holders, etc), and other little touches are things you can do to really personalize a rental.
Another space-saver? Neatly fold your extra blankets and cushions for when friends and family come to stay, and pile them under a side table, like Em has done.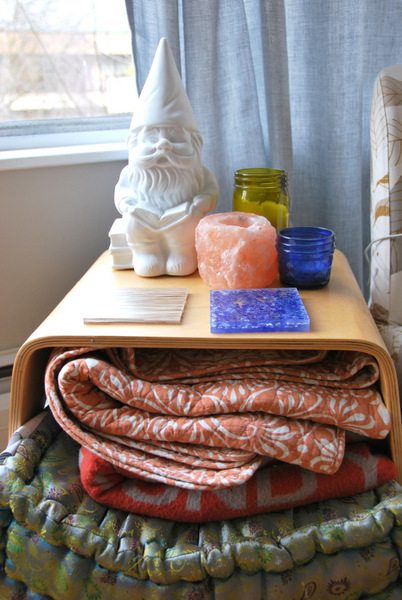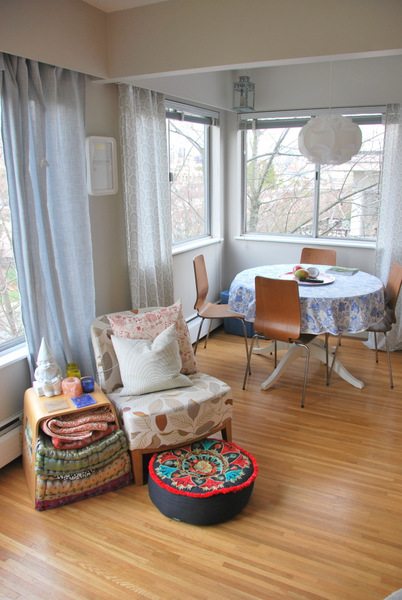 All of the little touches in the apartment are what really did it for me. Thought had clearly been given to every corner of the space. Light switch covers had been swapped out for artistic ones, with little plate arrangements hanging ontop…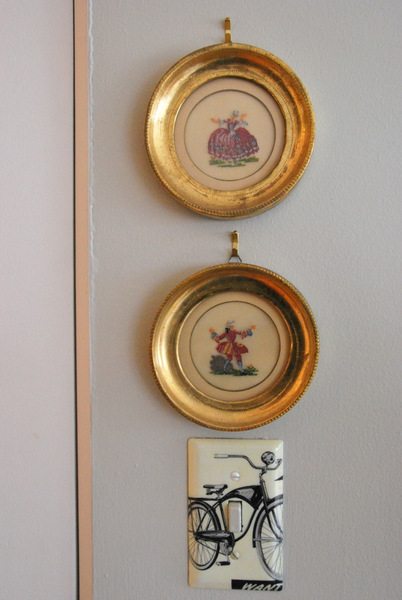 … and sweet, fun artwork was hanging everywhere, including this awesome Pantone toothbrush shadowbox in the bathroom (funny story – I had bought the same set of Pantone toothbrushes at West Elm the day before seeing Em's apartment… aren't we two peas in a pod?).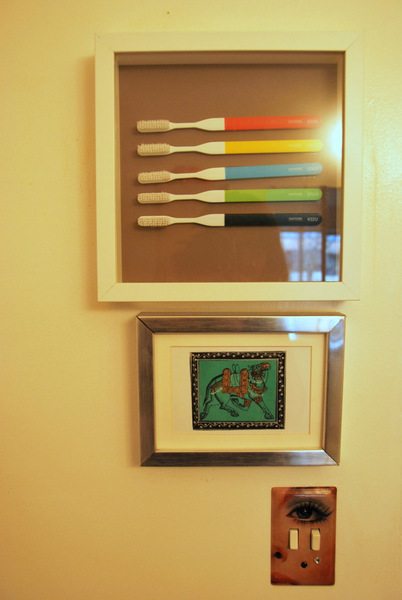 All in all – a bright, comfortable, stylish pad to come home to. Thanks for showing us around, Em! (and for hosting one hella Bachelor watching partaay while I was there in Vancouver!).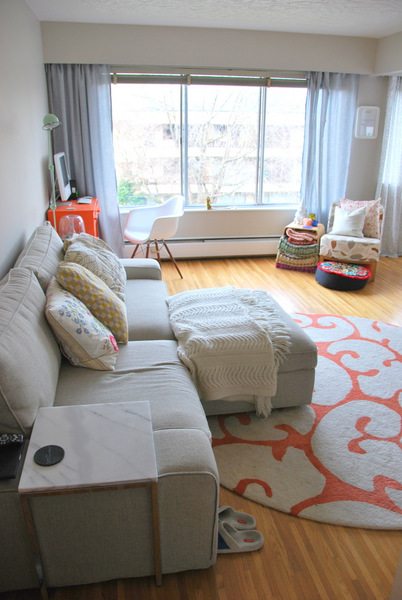 Have you guys seen any pads that you have loved lately? Got any great tips for how to personalize a rental space? Any space-saving ideas? See an idea in Em's apartment that you totally want to steal?