So right before the hubs and I moved to London (England) for a year, we bought a $40 dresser off friends of ours who were also moving. I loved the scale, oodles of storage, details on the drawers, and of course the turquoise paint. Unfortunately after two years of sitting in our garage, the piece looked a little worse for wear.
Case in point: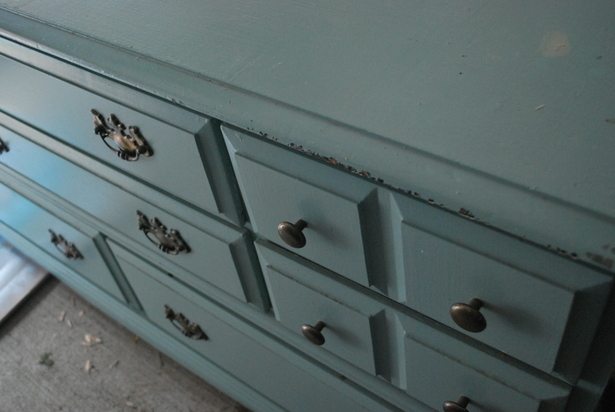 Since we now have the perfect spot for this bad boy in our pad, it was time to roll up my sleeves and fix 'er up. As much as I loved the turquoise, since we have plans for this piece in our already-blue dining room, more turquoise was going to be a bit overkill (even for me!).
First step was to patch all of the holes and dents with some wood filler. You apply the filler with a spatula-type tool and let it dry (as in the photo below). Then take some light sand paper to it and smooth it out.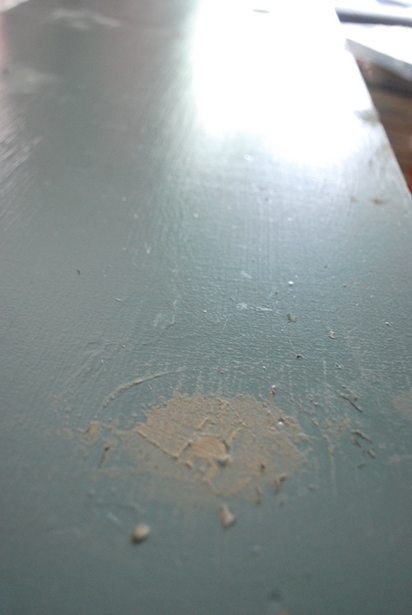 I also removed all the hardware. Even though I planned on using it as-is (I like the patina of the old bronze), I wanted to take it all off so that the painting was as easy as possible. Painting around fiddly hardware ain't my cuppa tea.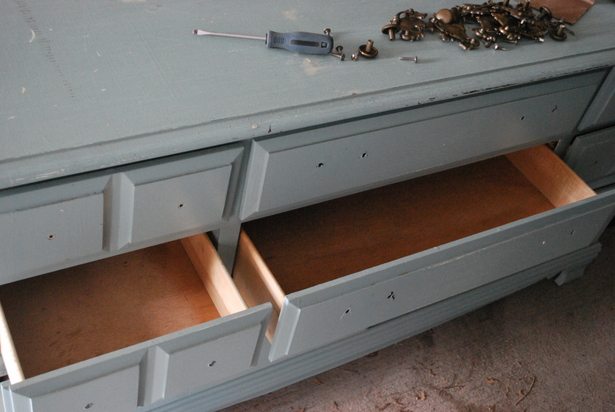 I pulled out all the drawers and made sure everything was given a light sand so that the paint would take well.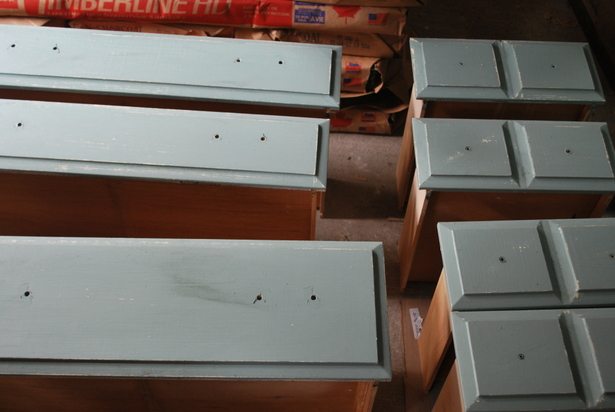 Then came the fun part. Well, fun if you're into painting furniture like I am, anyway! I have been wanting to try some of the Martha Stewart paint colours, so I went with her driftwood grey (in high gloss for durability). A soft, warm grey that would tie in well with the grey/seaglass blue/green palette of our pad.
Once I had given the whole piece two coats, I put some of the drawers back in to see how the whole thing was looking. I loved the colour, but felt that the piece looked a little one-dimensional. So, I decided to paint some of the drawer detailing in white (like we did on my friend's buffet in his condo redesign).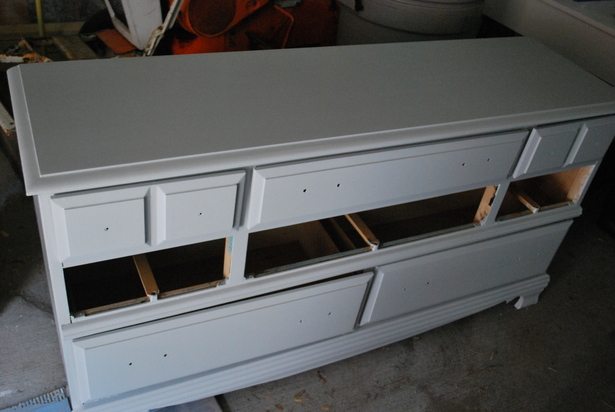 With a steady hand and my best Purdy paintbrush (you want something with good angled bristles), the drawers got their white borders.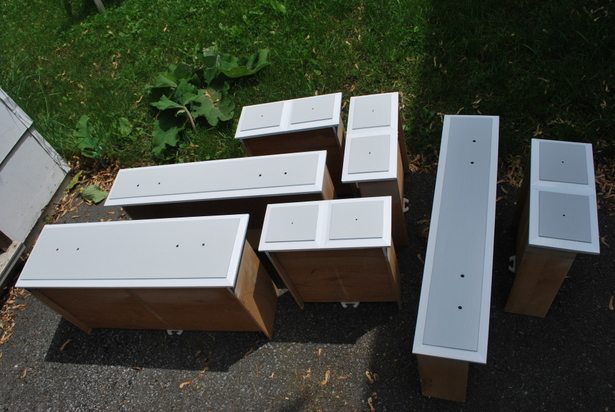 And here is the after. So much more dimension and character with the two-tone colours, right? And I love the pop of dark hardware.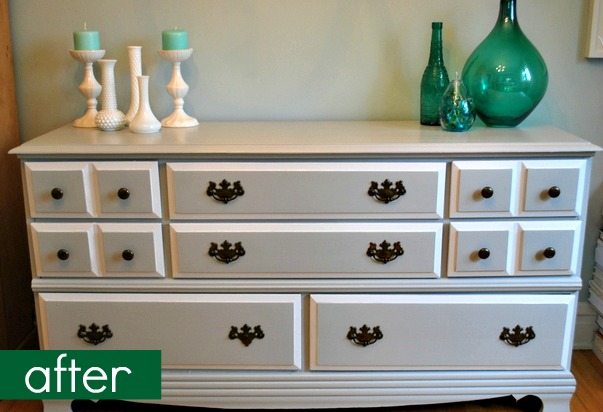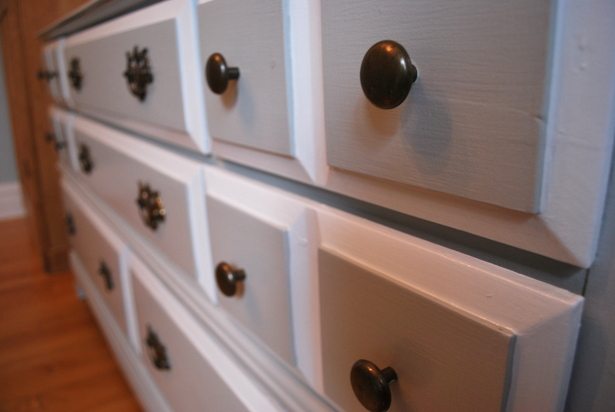 The styling isn't perfect yet, but I'm still playing around with this whole section of the dining room. I'll be back with more progress next week. You know me – always tweaking!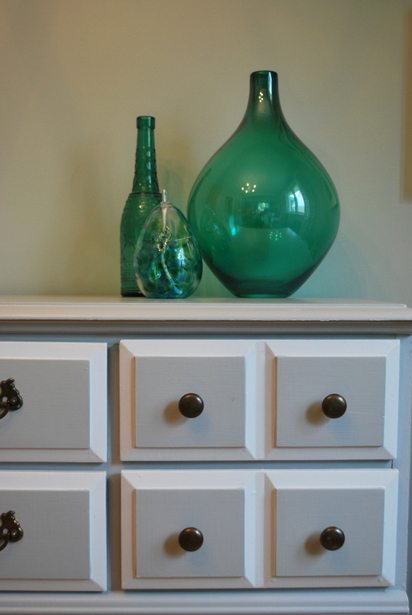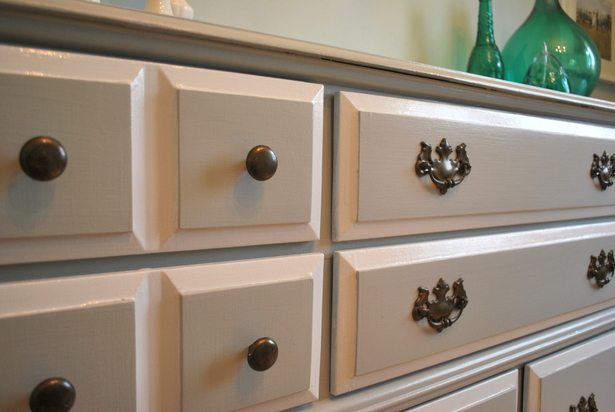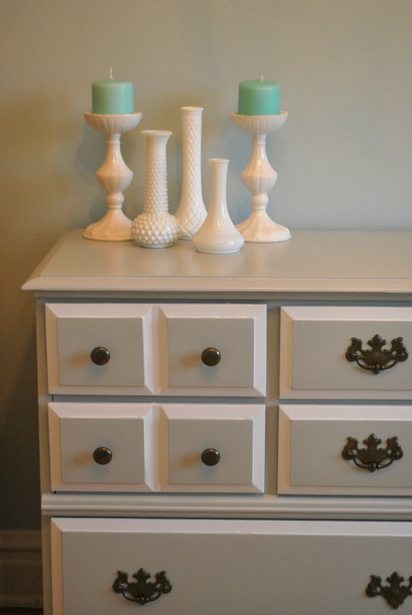 So there you have it. An easy paint project that you could do on just about any wood dresser. We'll be using ours as a buffet, but you could do this same idea for bedroom dressers, nightstands, cabinets, whatever! And ours is really neutral, but doing bright colours would be amazing too. Some kelly green and white, or aqua and yellow. The possibilities are endless!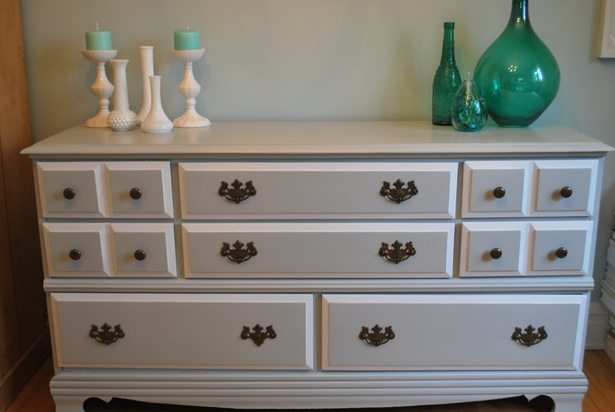 What about you folks? Done over any furniture lately? Ever painted anything in two-tone? Got any big weekend DIY plans up your sleeve?  Do tell!
[Linked up here]