Building or renovating a home is just an endless lesson in decision-making. There are so many decisions to make – pretty much on a daily basis. Some bigger, and more expensive, than others. One of the larger decisions we had to make in terms of interior finishing were the floors.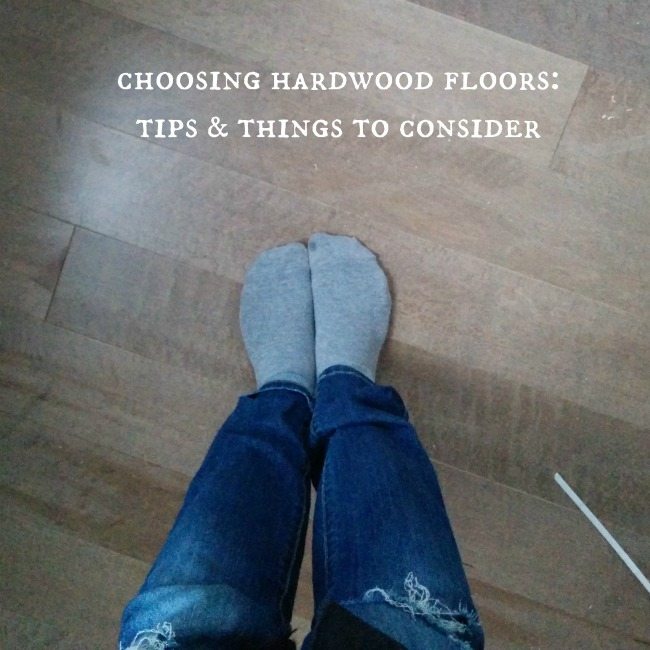 We knew from the very beginning that we wanted a continuous look throughout the house. Sure the bathrooms would be tiled, but everywhere else would have the same floors – a hardwood. We love the warmth of  hardwood floors. They are a classic choice, don't go out of style, are good for re-sale, and suit just about every kind of look you might be going for in a room. I'll admit that we did think about a laminate or tile for a brief period – the kind that mimic the look of hardwood – because the price of those options was just so appealing. Ultimately though, we knew it was wise to spend the extra money now and not regret our decision later on. Floors aren't really something that are easy to change down the line.
I had a pretty clear vision of the style I wanted from the very beginning: a wide plank hardwood in a grey-meets-brown colour with a satin finish. I kept coming back to this particular space…
>> see this gorgeous home by Architect, Heather A Wilson here <<
The look felt just right to me – kind of beach-house inspired – with a heavy dose of grey. Not too golden, not too reddish, not too brown, that perfect grey wash kind of look.The practicality of a lighter toned wood was also appealing. I didn't want to get something that was too dark, where I would be seeing the dust and dirt 10 minutes after it had been cleaned.
Sourcing out the floors became a full time gig there for a while. I visited a zillion hardwood floor places around town, looking for the floor that was going to be just right, but that also wouldn't break the bank.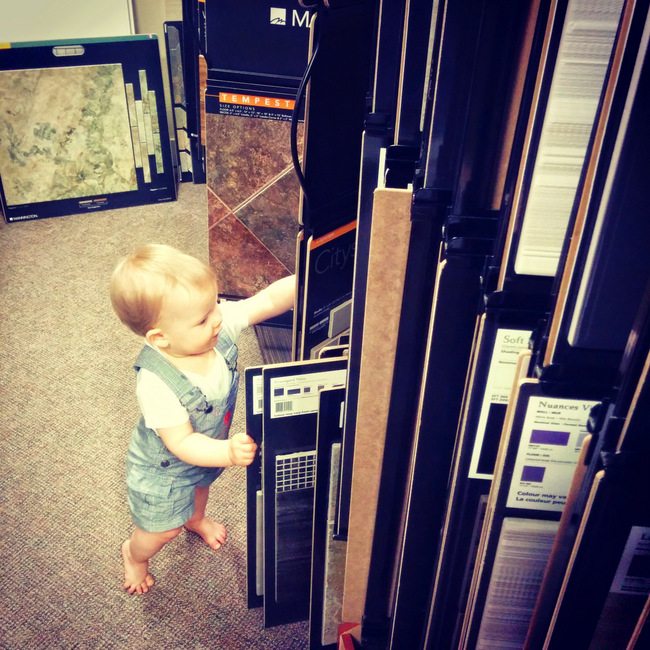 My mini helper. How little she was last summer… Her short hair! The legs!
I brought home sample after sample. There was one hardwood that was amaaaaazing and I stupidly brought home a sample piece. Of course it was way over budget, but I was bringing home a piece of it just to "compare others" so that I could "find a match" that was cheaper. Ha, what a dumb move. If you can't afford it, don't even look at it. Seriously. Just walk away.
On wide planks: Everyone kept telling me that if I wanted wide planks, then I was much better off to go with an engineered wood product. Solid hardwood (which typically comes in narrower widths like 3 or 4 inches) is more prone to "cupping" and warping with the expansion and contraction that occurs with change of season and moisture levels. At first I was really reticent on the whole idea of engineered wood floors – I thought it was the same as laminate – but was won over when I saw the product from a few of the top line manufacturers. Engineered hardwood is made of layers of wood, bonded together with adhesives. A high quality engineered hardwood will still be able to be sanded/re-finished several times in its lifetime. When you look at the side profile of an engineered floor piece, you can see that the good ones have quite a thick top layer (the wood). The main advantage to engineered hardwood is that it is much more moisture resistant and therefore less likely to cup or warp over time. So with a wide plank where there could be a lot of expansion and contraction in a solid, you are making a safer choice by going with engineered. After hearing this and doing my own reading, I was sold on the idea of engineered so that I could get those wide planks and not worry about warping down the road. BUT… of course, they were more expensive. Why is that always the case?!  [FYI – for more details on solid vs engineered flooring, here is an article with Mike Holmes and one from House & Home].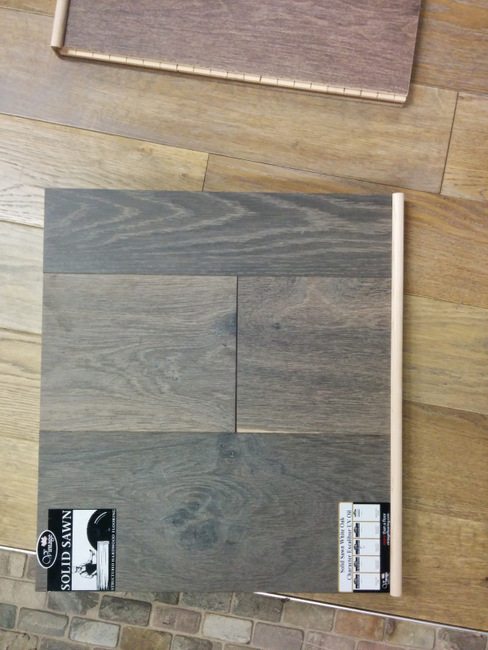 I went around and around on a few different choices. Some would look promising in the showroom and then look quite different in the light at our house. I also found that looking at a small piece that had lots of variation in the wood grain and tone looked awesome in the sample, but then when you saw it in a large area it was too busy. That was a good lesson to learn, and the only way I realized that was when we saw a hardwood installed in about a 200 square foot area of one of the showrooms. It was one that we had originally liked, but thought it was awful when we saw it on the large scale. So my advice? Get big enough samples and bring them home with you to look at in different zones of your home. Once you've done that and narrowed it down, have the store open a box of that hardwood and pull out like 4-5 pieces and lay them down so that you get a good sense of how it looks on a bigger scale (unless they already have this in their showroom).
>> there was a lot of this… <<
The one that we ended up choosing, I originally thought had been too grey in the showroom. I didn't even pick it up until my third visit there (why the guys at that place hadn't booted me out of the store by then, I don't know…so patient!). Once I got it into the house though, I knew it was just the right colour – a perfect mix of brown and grey. The colour is called 'Cumin' and it is made by Superior Flooring (a Canadian company with an excellent reputation). It is a Maple and came in both engineered and in solid. The cost of the engineered was more expensive both in materials and labour to install it, so we made a compromise – we went with the engineered for the main floor to get that wide plank look we were after, but transitioned to the solid for the second floor (the wide planks were originally to be 7″ but we ended up with 5″, and the solid is 3 1/2″). In terms of pricing, the solid hardwood ended up being around $5.65/square foot, and the engineered at $7.80/square foot, not including installation.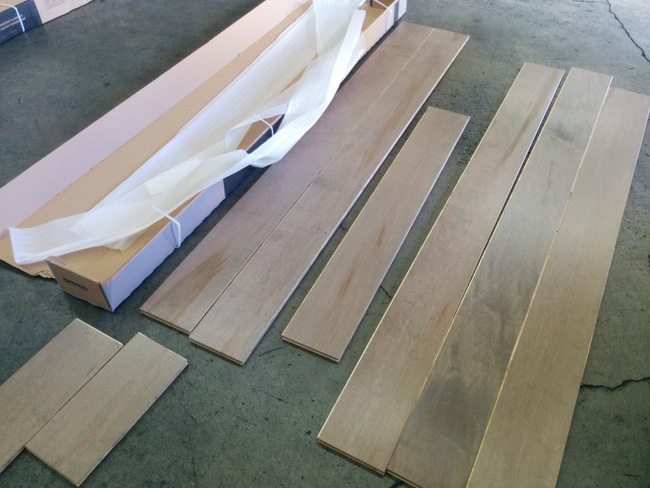 The lucky part to this story? We had placed the order for our hardwood and then received a call a little while later that apparently the supplier was not able to get their hands on any engineered maple in the particular grade we had selected (we had gone with the higher grade to ensure a more uniform colouring/look). They had, however, been able to locate some birdseye maple. Birdseye is extremely uncommon, and therefore, super expensive. If you haven't heard of it before (I hadn't), the unique feature is a bunch of tiny knots in the maple — resembling birds eyes. It is apparently a prized wood for artisans and fine furniture makers. So because we had already placed the order, they were going to upgrade us to the birdseye at no additional cost (it would have been double or triple what we paid!). I went in to check out the sample pieces, and at first the birdseye looked busy to me, but when I saw several pieces of it all laid out next to each other, I loved it.
The week the floor went in was amazing. Sort of like the drywall stage, it really felt like we were getting closer to that finish line.
A relatively clean job site…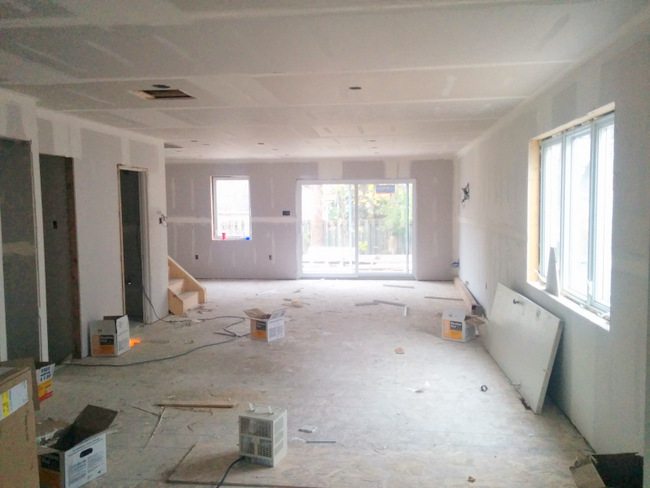 To disaster (once again)…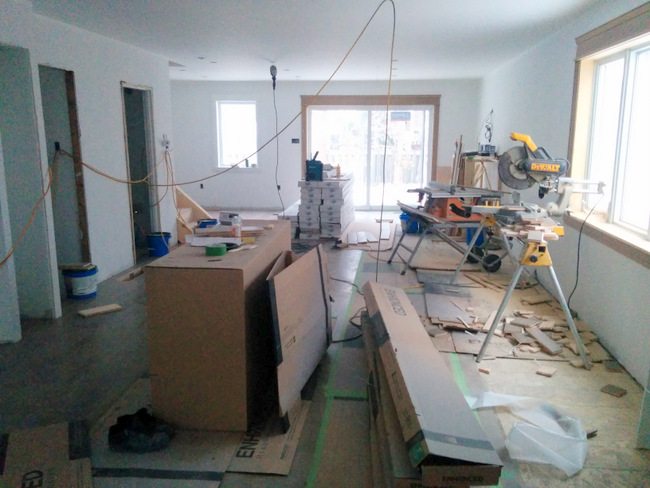 But then… progress! We paid a bit extra to have the main floor glued down with a special glue, as we were advised that this would help with soundproofing. Since we rent out the basement and wanted to do whatever we could to minimize the noise between the two units, we figured it was a smart move.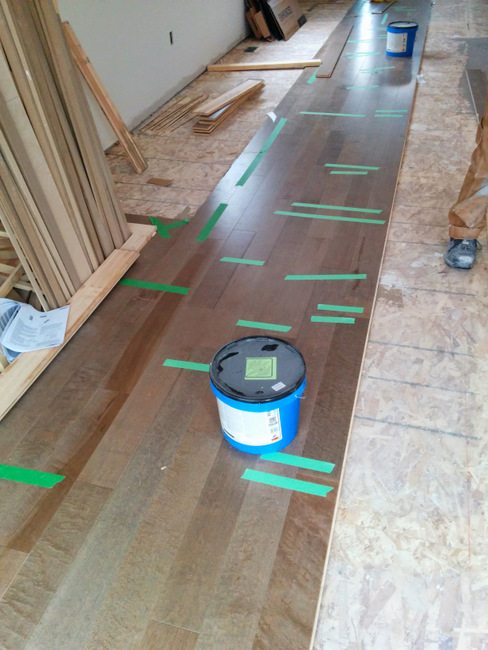 I don't have any beautifully styled "after" photos for you yet (hello, renovation zone!), but you can get a good sense of the look in these shots. These are both on the main floor, so where we went with the wide plank engineered (ignore how high up the dining room light fixture is – we had it raised so that no one would bonk their head when we were moving in furniture).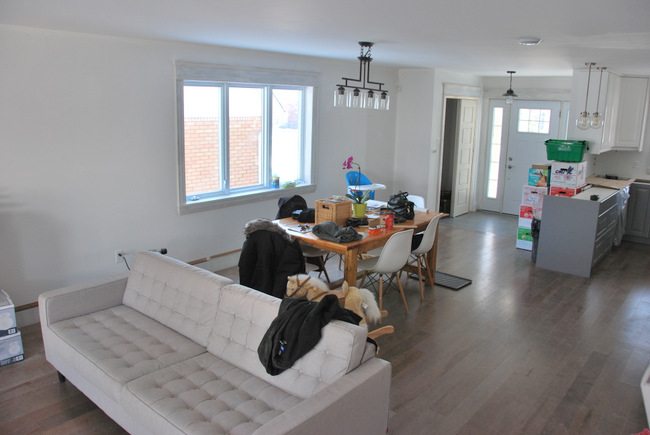 We really appreciated how the boards are all generally pretty long. Nothing short and stubby, and you don't see too many seams.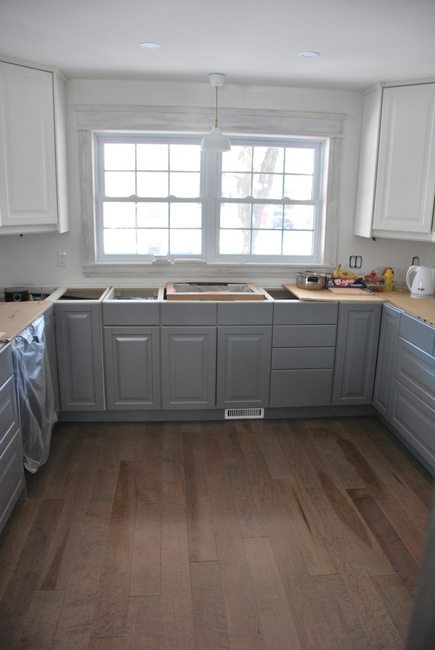 And then on the second floor (this is Maya's room), where we have the narrower solid hardwood in the same colour.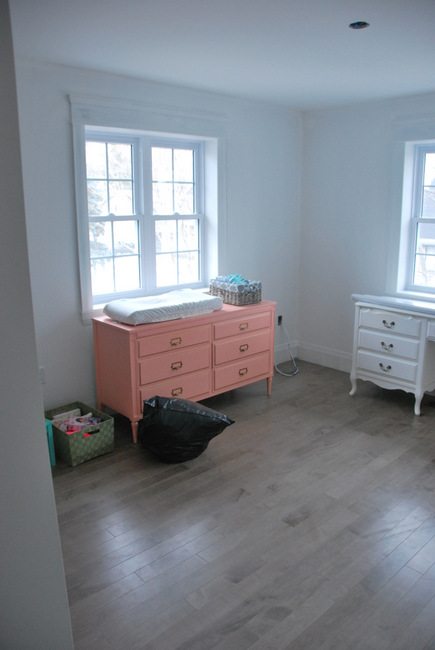 It took about a week for it all to get installed. We had the same company who we bought the floor from install it (Barwood Flooring here in Ottawa, for you local folks). That way if there were any defects or errors with the order, it was on them to fix it. They were great, the install went smoothly, and the end result is fabulous. It was definitely a bit of a splurge, but we feel confident that we got an excellent product that will stand the test of time, and a really expert installation.
After all of those deliberations and many, many trips around town, I feel huge relief that we love the floors as much as we do. It would have been a seriously expensive decision to have any regret about…!
Have you guys chosen flooring for your pad before? Or re-finished any hardwood? Got any tips or advice to share?