Remember back in this post when I lamented over our front door color? I wasn't sure what to choose that was going to go with our red brick exterior and brown screen door.
Well, ever since I painted our screen door black, my colour options for our front door were wide open. I could go with any of my original contenders (yellow, red, or navy), or could stay true to my aqua-loving self.
The result? A turquoise front door!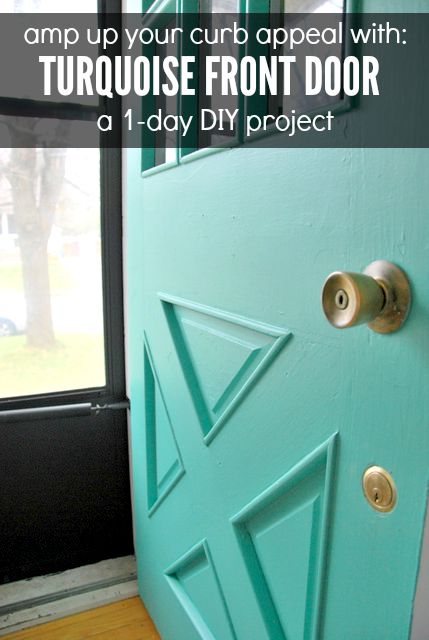 First step was to tape off the door. I used an "exterior surfaces" painter's tape from ScotchBlue that I hadn't tried before (this is the stuff). The special feature is that with a bit of pressure when you are ripping it off the roll, it tears off in a straight line – no scissors needed or wonky cuts! It only took a few tries of getting used to breaking it off, and it really made things a cinch. Taping off all of these little windows took waaaay less time.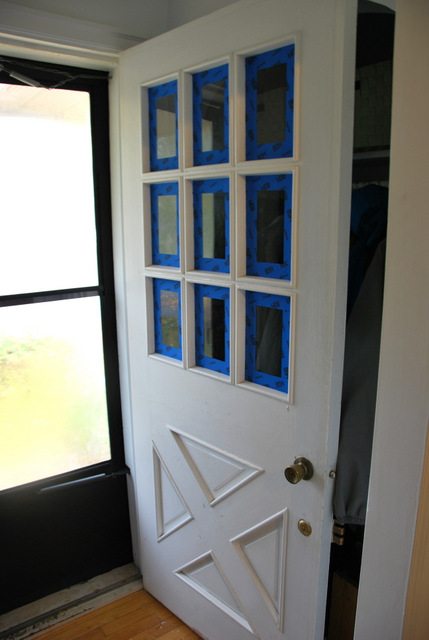 When I was browsing my Martha Stewart paint deck, I saw her teal colour (called "araucana teal") and I was sold. It's a really saturated color, knew it would go well with our red brick and black accents, and it just felt happy to me.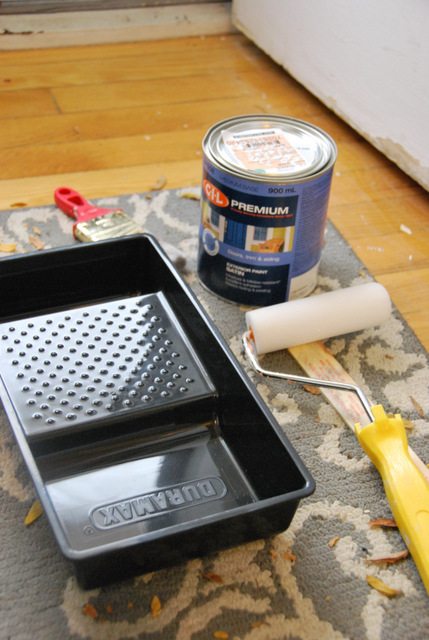 I had it colour-matched at the Home Depot to CIL's exterior paint in a satin finish.
[Update: After living with this paint finish for a while, I would recommend going with a semi-gloss or gloss finish. We found that the satin finish marked easily.]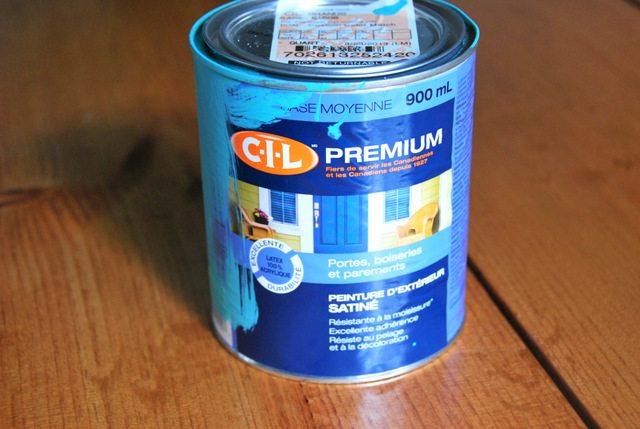 I gave the door a sanding before getting started. I didn't go overboard, as we will replace this door when we do our major addition/reno, but I wanted to get some of the major dings sanded down a bit. Then I washed it down with a soapy cloth, let it dry, and got started on painting. Remember that your paint job is only going to be as good as your prep work, so make sure to put the time in (even though I know how annoying it can be!).
First up was to cut in around all areas with moulding with a 2″ angled brush. I just cut in around the door knob, but if you're worried, either tape off the hardware or remove it all together for painting.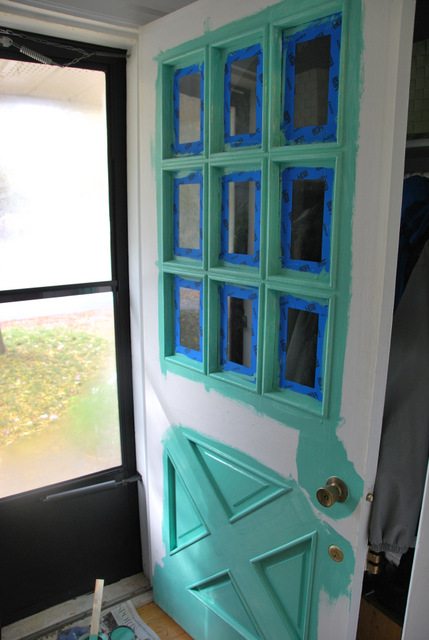 Then finish off the rest with a small foam roller. It took three coats for full coverage. The foam roller will give you that more smooth finish, free of brush strokes.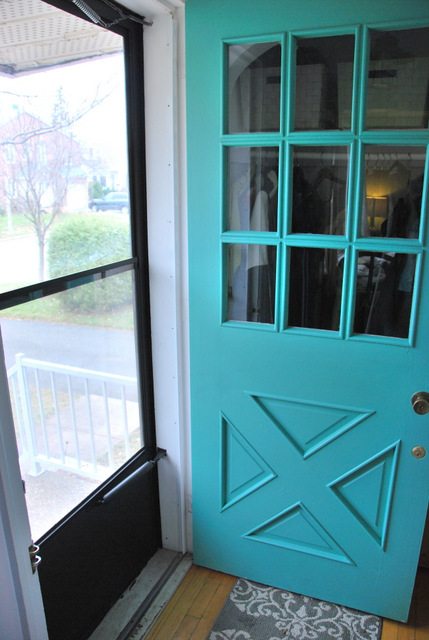 Below is a better photo of the colour. It's very much a teal. I couldn't be happier.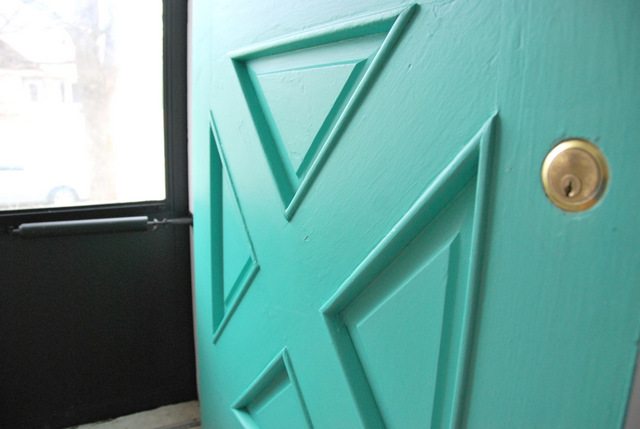 You can see that there are still some dents in the door (this is an OLD door!), but the paint did a nice job of distracting from them. They were more noticeable in the glossy white, which was super dingy looking. And even though we still have our old doorknob, I love the way the brass now looks next to the teal.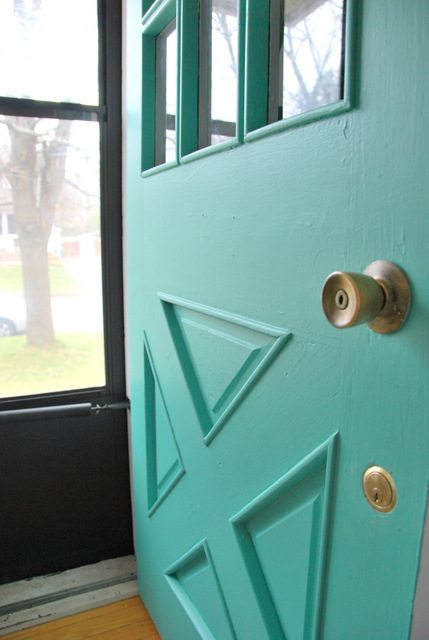 I really like the balance of the cool turquoise with the warm red and rich black accents. It's a happy little marriage of colours.
This is one of those projects that I so wish I had done when we first purchased our home. The turquoise door and black screen have really changed the curb appeal of our place and make it a really happy place to come home to.
Want more door painting tips?: Check out how I painted some interior doors gray and got a factory finish. This post has all the how-to details!
What colour is your front door? Are you into bright doors? Love neutral beauties? I definitely still love a black or deep navy door. I think we might go that route in our future once the addition/reno is done.