Even though Spring is taking its time to arrive here in Ontario (snow in April – WTF?), I can't help but start to tweak the decor around the house when the seasons change. I'm putting away the heavy throw blankets, switching out the pillows on the couch for bright white ones, and our DIY winter wreath on our front door has headed into storage. I came across some sweet pink faux flowers at the dollar store a few weeks ago, and grabbed them for a spring wreath. My projects these days need to be able to get from start to finish during a baby naptime, so this one was perfect. I know you parents out there can relate. My days are broken up into very repetitive cycles: feed baby – play with baby – put baby down – do something productive during nap (or chill the F out and watch Netflix) – start over.So here is how to make a DIY Faux Floral Wreath — super easy!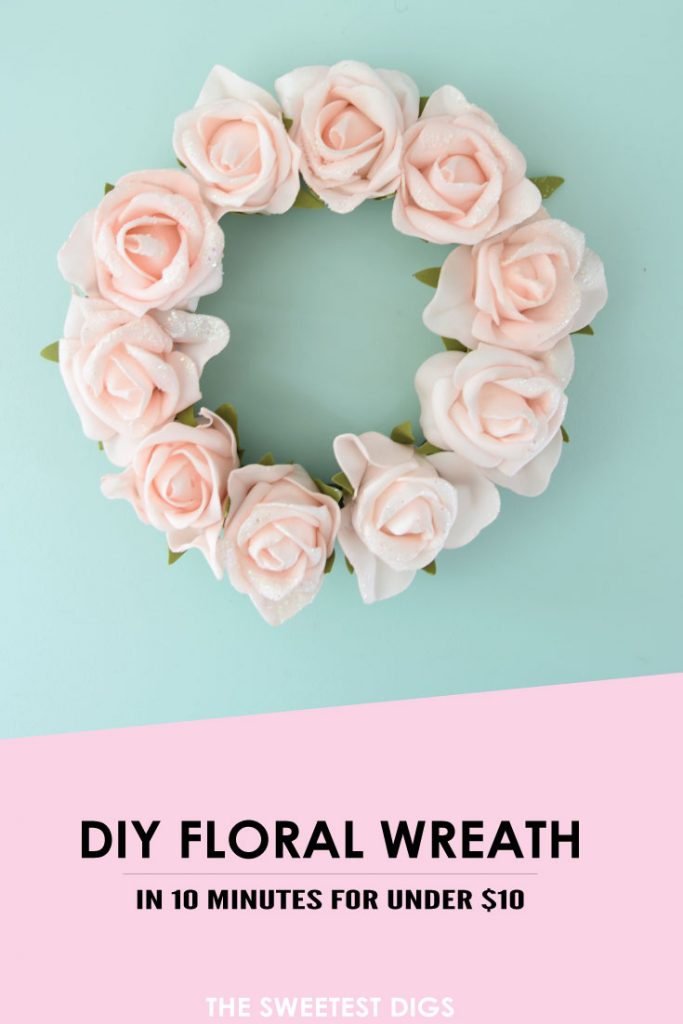 Wreath with Faux Flowers Supplies You'll Need:
Batch of faux flowers (I got two bunches of these at the dollarama)
Foam board
Hot glue & glue gun
Scissors
For the wreath form, simply cut out a circle in the size you want out of the foam board. I had black here, but the color doesn't matter. Once you have glued your flowers on, it will sit against your door or wall and you won't see the form.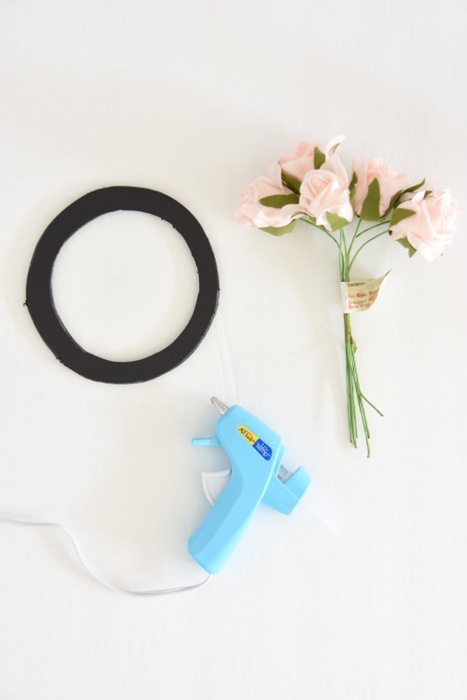 DIY Faux Floral Wreath – Directions:
The steps for the diy faux floral wreath are super easy. Cut out your wreath form (I made mine a mini). Pop the heads of your faux flowers off their stems. Then apply hot glue to the wreath form and press down the flowers – around and around until you have filled the whole form.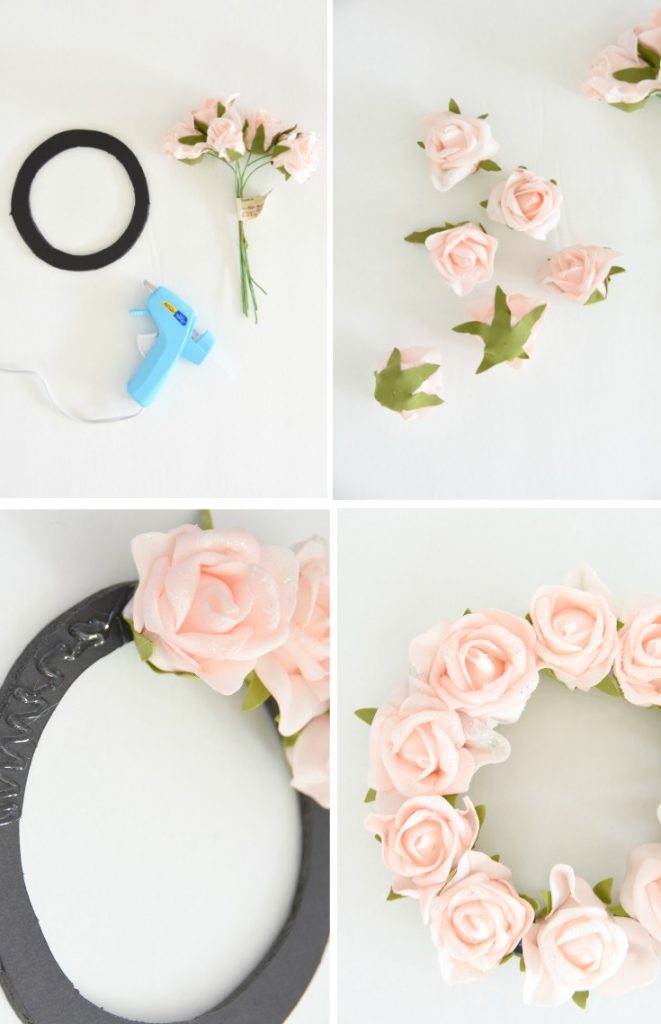 Quick tip for the glue. Don't apply too much at once. You need to hold the flowers in place for about 30 seconds when you place them down, so if you put too much glue down at once, then it's going to dry before you can get there with the flowers. Ya feel?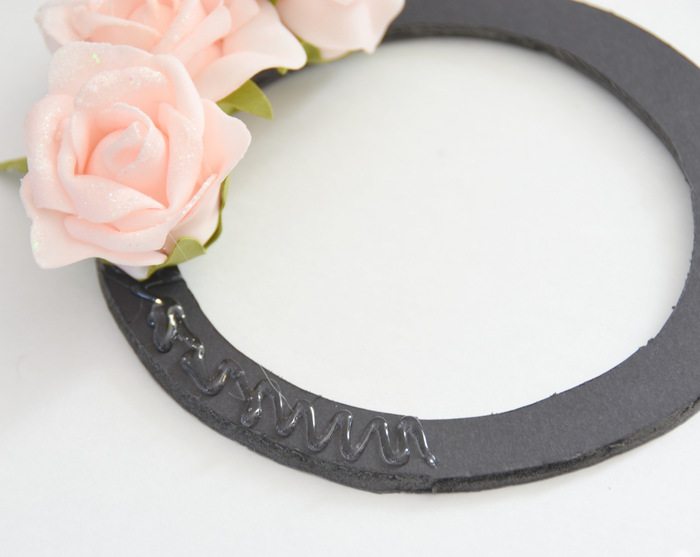 Here is what it looks like from the back. You can see that the flowers go way out from the form, hence why you don't see it from the front. If you choose different flowers, just make sure that you have picked something that is wide enough to really cover the wreath well.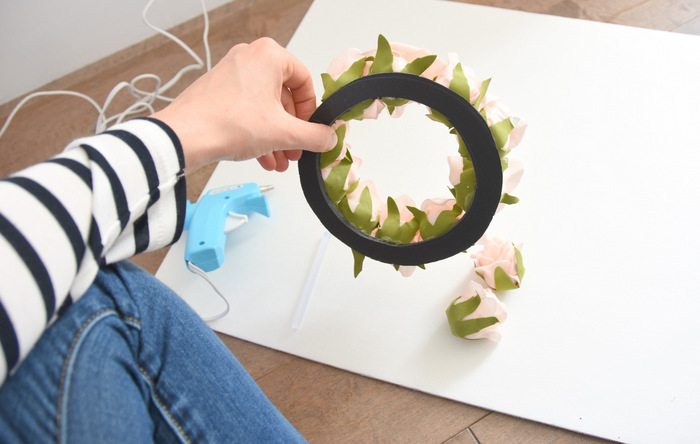 And you end up with this little beauty! Sweet, huh?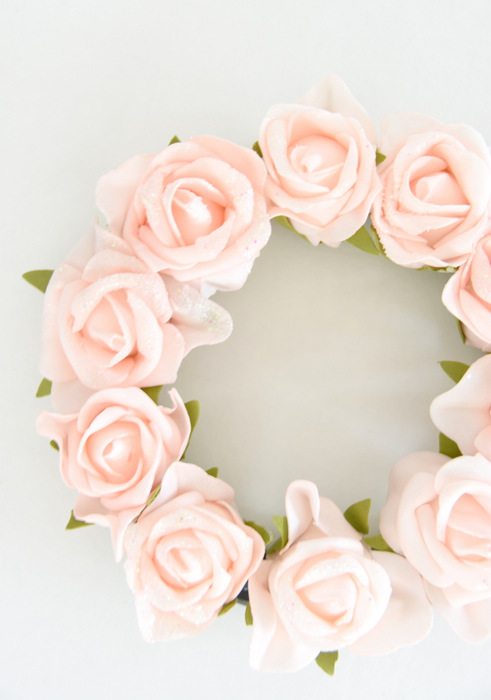 I think it would be really cute to make a bunch of these and hang them up on a wall (say 5-6 mini's) as baby or bridal shower decorations. They totally don't need to be limited to front door decor.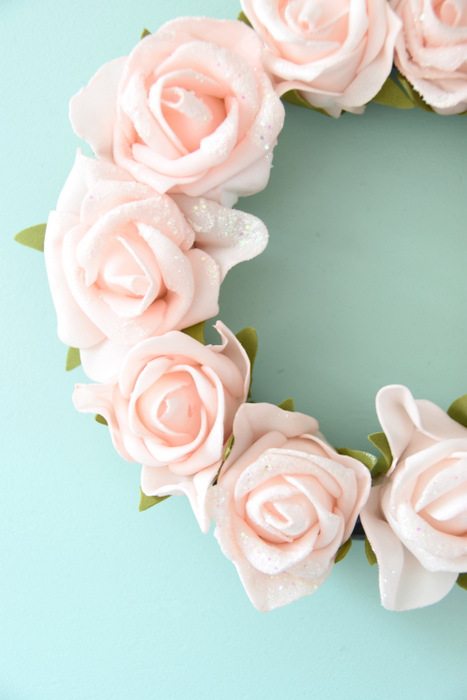 I even thought about hanging mine on top of my DIY abstract canvas, since the pink is the perfect match. I couldn't quite figure out a good hanging method though, so this guy went up in my window instead. Still.. the colors look nice together, hey?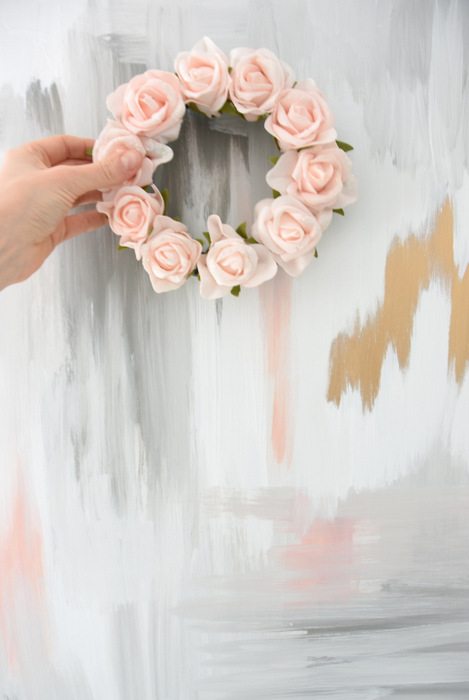 Are you making any changes to your decor right now to welcome spring and summer? Do you do a swap out of a bunch of your stuff? Get the itch to declutter like I do?