I'm pretty traditional when it comes to birth announcements. Both of my kiddos had announcements in the local newspaper when they were born. Does ANYONE even see those these days?! Probably not, but my Mum wanted to do it and I love having them clipped out to put in their baby books. I also have done a mail-out birth announcement for both, too (mostly for the grandparents and far-away relatives). Maybe it's just my love of all things stationary?
Whatever it is, I wanted to show you guys what we did for James's birth announcement and also give you some ideas on how to make a photo birth announcement yourself.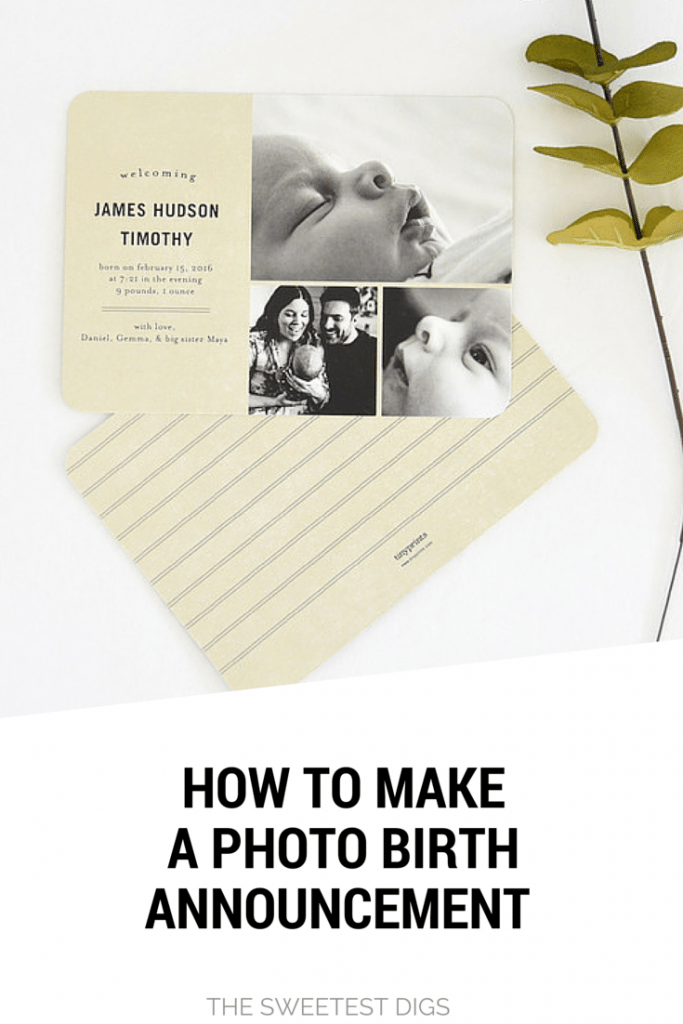 We were really lucky to have some newborn photos taken when James was 3 days old (Charlotte Northrope Photography from Ottawa). I couldn't decide on just one of the photos, so I selected 3 of my favourite shots and headed on over to Tiny Prints. Have you guys used Tiny Prints before? They are part of the Shutterfly family, and have pretty much every kind of announcement you could ever want.
Because I wanted to use multiple photos from our photoshoot, I just selected that in the filter, uploaded the photos I wanted to use, and then got a glimpse of what all of the card designs would look like. Honestly, the card designs are so.cute.
I ended up choosing something simple and classic – I liked that it wasn't too busy and mostly focused on the photos. The quality of the cards was fab – just like any of the Shutterfly products I have purchased in the past. Nice thick paper, a printed design on the back, great envelopes, and good resolution. I loved them!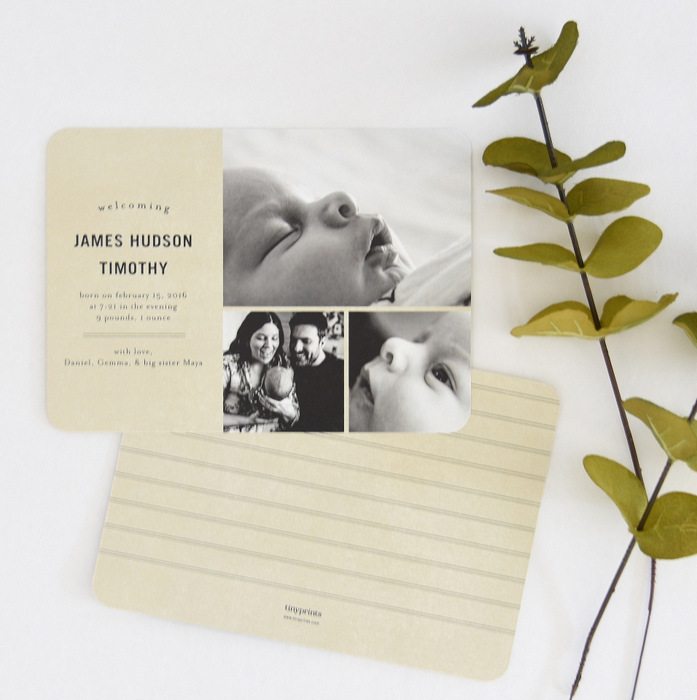 If you don't have professional photos taken though, don't stress. You can totally pull off an amazing looking announcement with your own camera and a bit of photo editing.
One option is to create an announcement that has one main photo. I love the look of these, with text placed over the photo. You can actually see the one I DIY'd for Maya here.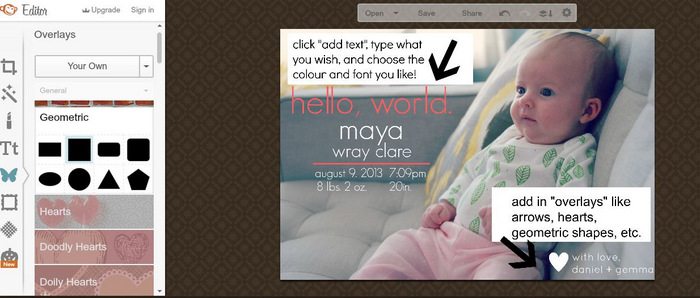 To get the photo, prop up your sweet baby up on the couch and try to get one amazing close-up shot of their face. Take a TON of pictures so that you ensure at least one really great one. Turn off your flash and make sure there is lots of natural light (don't do this in the evening).
If you want the photo to be in color, then think about the outfit you're putting them in and the background (ie. the couch or pillow). I would stick with mostly solid colors so that the photo doesn't look too busy. A little trick though to make your photo suddenly look more profesh and take out the color/matching issue is simply to turn it black and white during the editing process.
I snapped this pic of my little guy, uploaded it to PicMonkey, and used the 'Silverscreen' filter.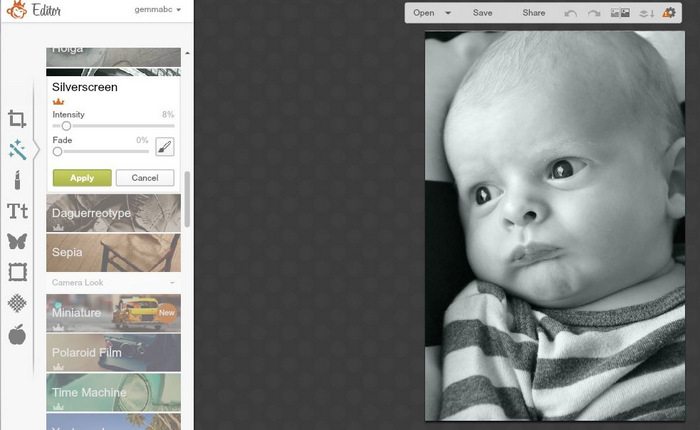 A second option, if you want to create an announcement with multiple photos like the one I did for James, is to lay the baby down on the floor and snap a bunch of photos. Again, turn off your flash and make sure you are doing this somewhere with lots of natural light. Take some photos that have the baby's whole body in them, but then others that zoom in on their sweet hands, feet, ears, etc. Be thoughtful about what you are laying the baby down on, as this will make up the background. Maybe it's just your hardwood floors, or possibly a blanket, or in my case, a little shag rug!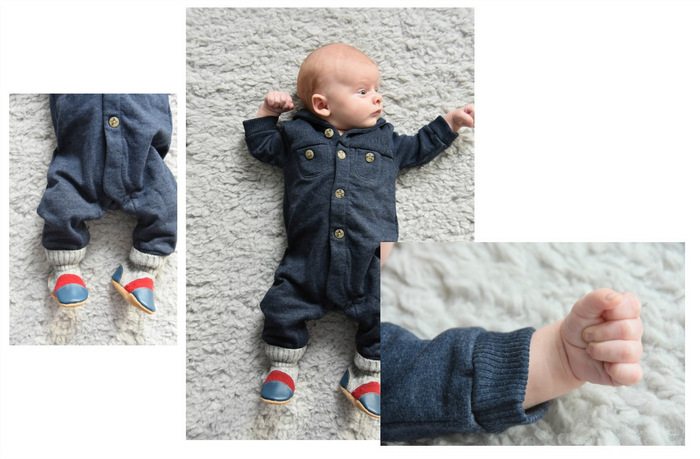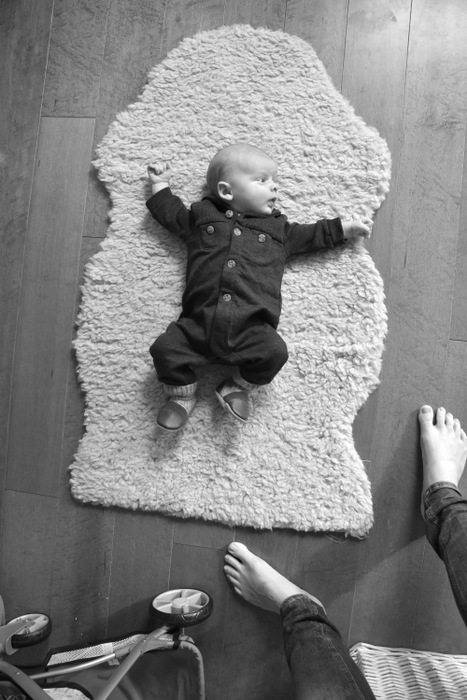 If you want to get even more creative, grab a few props and add them to the photo. I snagged some blocks from our toy bin that spell out James's first two names and placed them down beside him. The only extra challenge here is that he kept hitting them with his flailing arms – ha!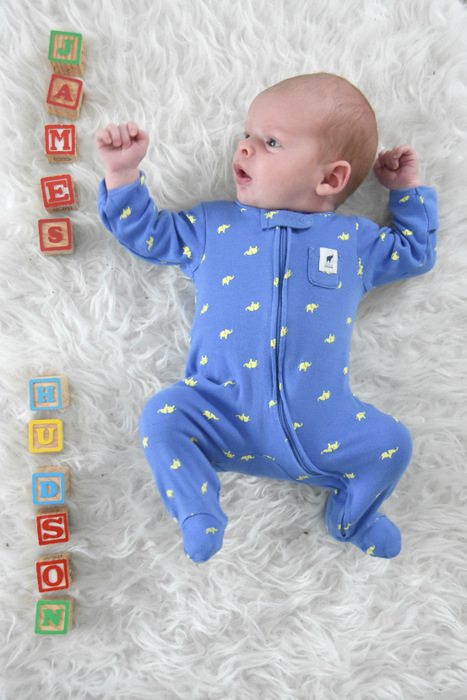 Upload your photos into Tiny Prints and you'll be able to customize your announcement in a snap using whatever design you like! Let me know how it goes.
Disclosure: I partnered with Tiny Prints on this project, but as always opinions are 100% my own and I would only ever recommend brands that I LOVE to work with.