It's been a LONG time since I have given any updates to our second floor kids/guest bathroom and I wanted to tackle some easy diy floating shelves. Like many rooms in our home, it got like 75% of the way there (painted, tiled, new bath and shower, vanities, mirrors, lighting), but then none of the finishing projects happened. That seems to have happened all across our house – needing to get the essentials done, but then never finding the time to get to the more fun decorating and accessorizing part!
Luckily, with my Dad staying over a few weeks ago and keen to help with a project around the house, we knocked this one out in an afternoon: some above-the-toilet bathroom shelves. Nothing like a helper to get you motivated!
The area above our toilet had a whole lot of nothing going on. I could've purchased white or glass shelves to go above there, but really wanted to incorporate some wood into the space.
BUT… trying to find floating wood shelves in the exact wood colour I was looking for was a tall order.
Time to DIY something.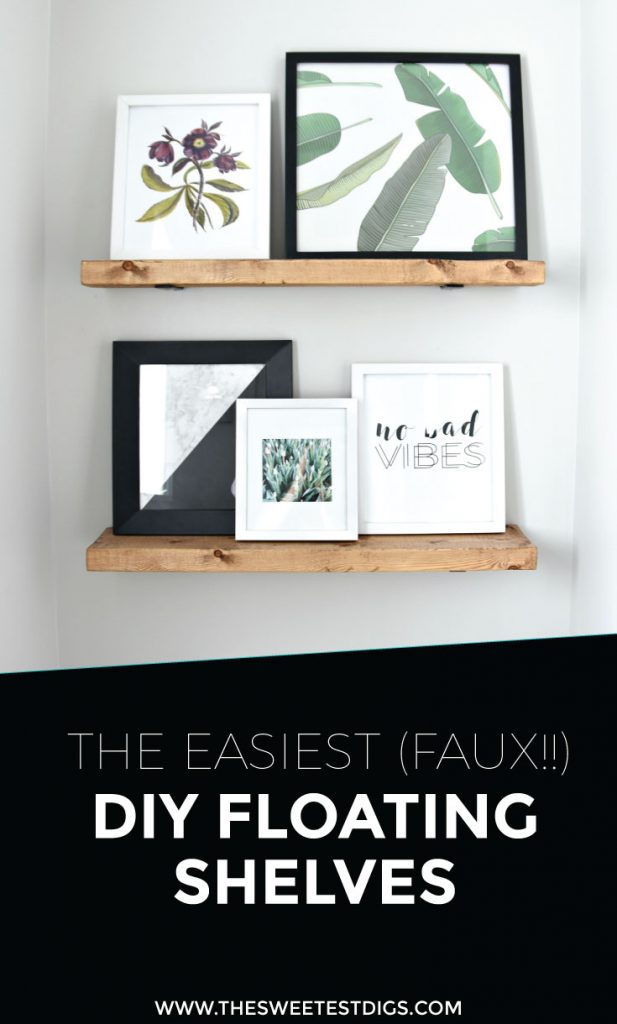 DIY Floating Shelves – Supplies You'll Need:
Affiliate links have been used. Please refer to my Policies page for more information.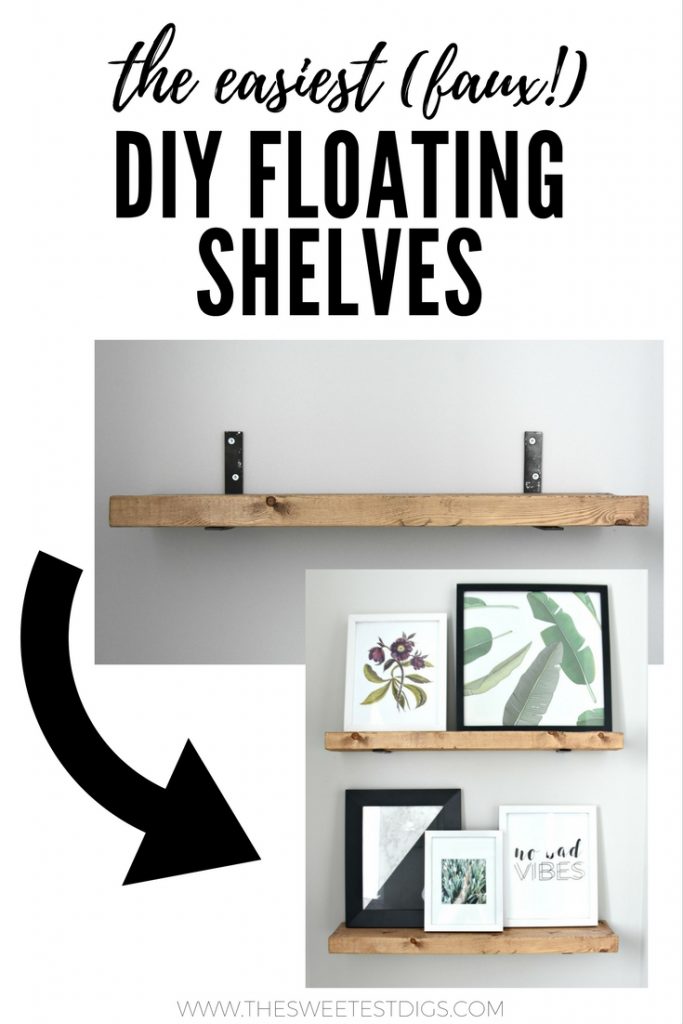 This is the landing to our second floor – you have just come up the stairs and turned left. The bathroom is the first room you are greeted with, and so it's nice to have it be one of the more finished spaces in the house.
FYI – I carried the same very light gray paint colour (Para Paint's "Runway Coach") from the hallway into the bathroom. It really is the nicest neutral – so easy on the eyes and goes with everything.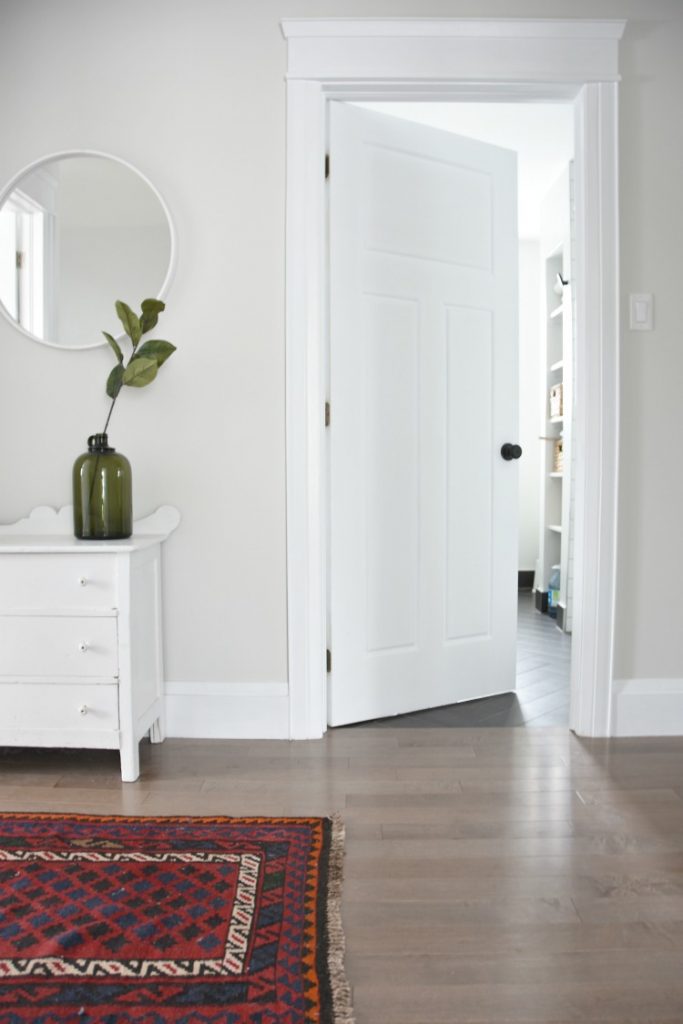 Step 1 / Measure & Plan Placement
The first thing you'll want to do is measure your space and plan out the number and size of shelves you'll need.
Plan for big art – don't use teeny tiny 4×6 frames as they just won't add the same amount of drama or interest. Go for frames that are 8×10, 11×17, or larger. This means you'll need to give enough space between your shelves. Keep symmetry in mind, whatever the space you're working in.
I knew I wanted just two diy floating shelves and wanted them to be not much wider than the toilet itself.
Step 2 / Get your Lumber
The beauty of getting your lumber from a hardware store like The Home Depot is that they will actually cut it for you in the store.
This is THE BEST. No power tools needed and saves you tons of time!
I grabbed a piece of 2×6 pine in an 8 foot length, and had them cut it down to the two pieces I needed for my space.
Step 3 / Sand and Stain
Once you've got your wood home, it's time to sand it down and stain it.
The rules for sanding are to start with a lower grit paper and work your way up to a finer grit (ie. higher number). Basically you just need to sand it enough so that the corners are rounded slightly and you don't have any gnarly bits anywhere.
Then it's time to stain.
I *always* put a coat of wood conditioner onto any raw wood before applying stain. It's an annoying extra step, but it really helps in making sure the stain goes on evenly. I regularly use and like Varathane's wood conditioner.
I used Minwax stain in "special walnut" for these shelves. I wanted a fairly medium tone to go with the baskets we have in our bathroom. It's a nice stain colour that isn't too golden or too gray.
My little helper …. :)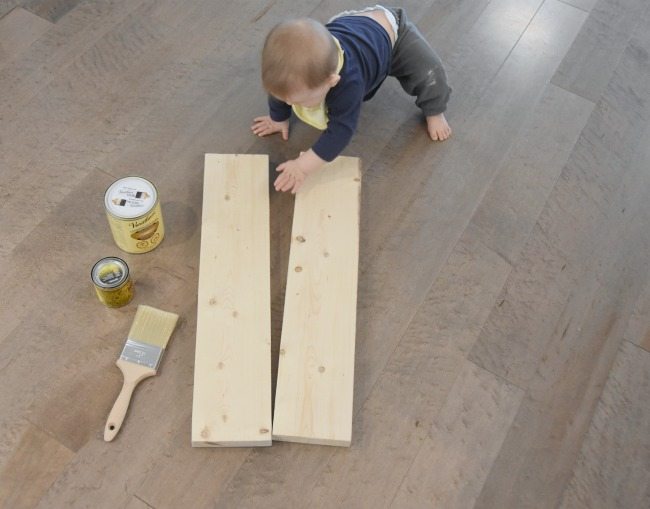 Step 4 / Mount your Shelves
Here's where the "faux floating" part comes into these shelves.
I wanted floating because I didn't want to see the brackets under the shelves (too busy for this small space), but I also didn't want to go to the hassle of making real floating shelves, which is more complicated.
Basically, I wanted the lazy DIYer version.
Enter these bad boys: Corner braces. (I used these Everbilt Zinc plated ones)
They are heavy duty metal braces that are used for shelves, but are usually mounted with one part of the "L" shape along the board for support, and the other side down, as traditional brackets would. BUT by turning them upside down and mounting them going up the wall instead (with the board sitting on top), you get this…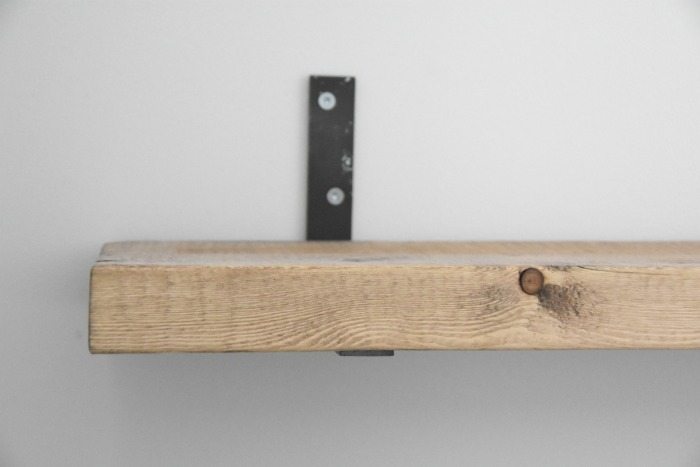 You're probably wondering why I would do it this way and have them be visible like that?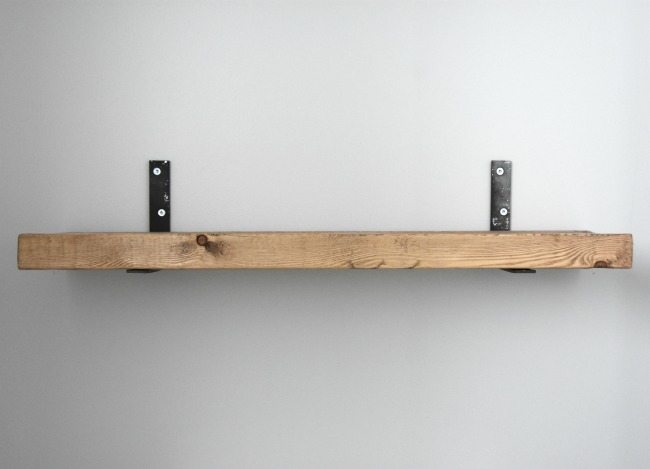 DIY Floating Shelves – Easy Floating Shelves Cheat
Well, as soon as you put your art up, all of a sudden they disappear and those shelves look like they are floating. No brackets underneath, and no complicated floating shelf mounting!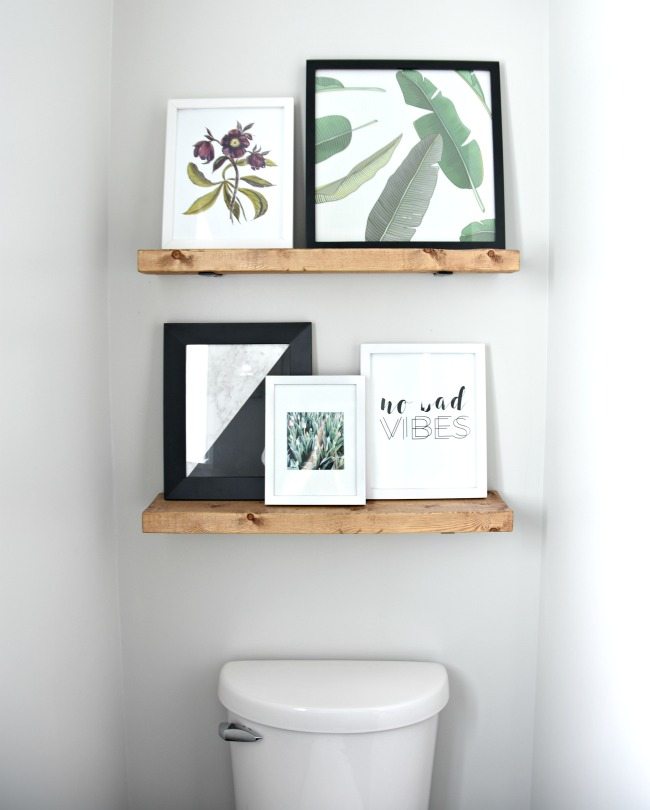 DIY Floating Shelves – No Lopsided Boards…
The corner braces are incredibly easy to install. Use drywall anchors to ensure that everything is nice and sturdy (unless you are drilling straight into a stud) – follow the instructions that your anchors come with.
Then simply screw the corner braces into the wall using wood screws, and then do the ones from below into your piece of wood.
Make sure to pop your level on the boards before drilling to ensure it's all lining up properly. You don't want lopsided boards!
[Note: I actually spray painted my corner braces black before mounting them on the off-chance you'd see them – I wanted the black to tie in with the other finishes in the room – but you actually don't see them AT ALL, so it was a bit of a wasted effort. Plus I didn't bother priming them, so they chipped a little when installing. Lesson learned!]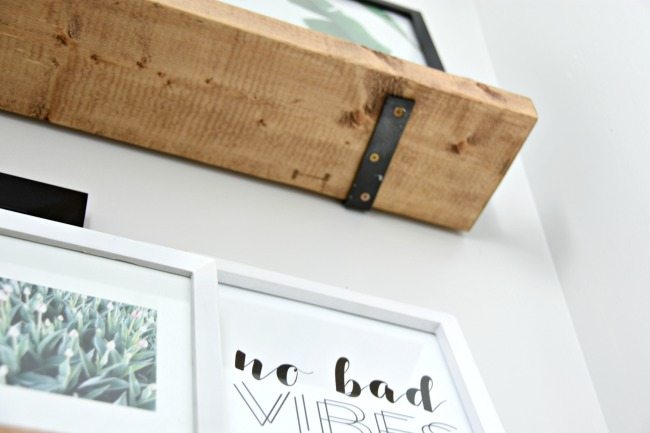 Step 5 / Add your Art
The last step is to style your shelves. I just wanted to keep it to artwork on these shelves as they are pretty narrow, and I wanted to add as much height and drama as I could. No little trinket boxes here.
I shopped my house and used things I already had. A mixture of frame sizes helps to give the shelves interest (nothing too small!). A mixture of black and white frames keeps the collection cohesive, and I used a white mat for the photo of tulips, but kept the others mat-less.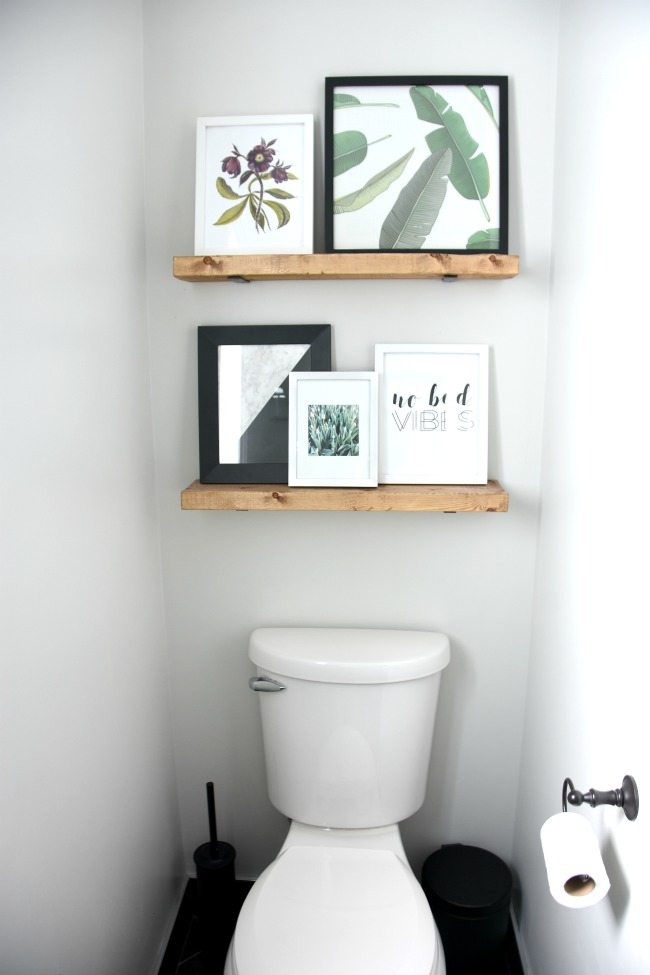 DIY Floating Shelves – Copy this Art Collection:
Sticking to a white-black-greenery theme with the art prints ties it all together. You can copy the same collected look by using the same or similar prints, which I have given the sources for below. All are available as digital prints, making it super budget friendly!
Banana Leaf Print – This was a wallpaper remnant I had leftover from this project. You can snag this awesome banana leaf digital print from Sarah Dorsey though (LOVE this!)
Purple Floral – This is a reproduction of one of my grandmother's watercolours. I'm making a super similar one available in my FREE printables library (ie. "the vault"!), so just sign up below to get access to it.
Black and Marble Geometric – A chic, simple piece that looks stellar framed within a gallery wall collection. Snag it over in the Etsy shop.
Tulip Photo – This was actually just a snapshot that I took a few years ago on my phone at the Tulip Festival here in Ottawa. Added a filter and boom, a perfect little piece of art! If you have a camera on your phone, just go find some flowers and snap a close-up. Instant art.
No Bad Vibes – This popular 'No Bad Vibes' art print is available in my Etsy shop.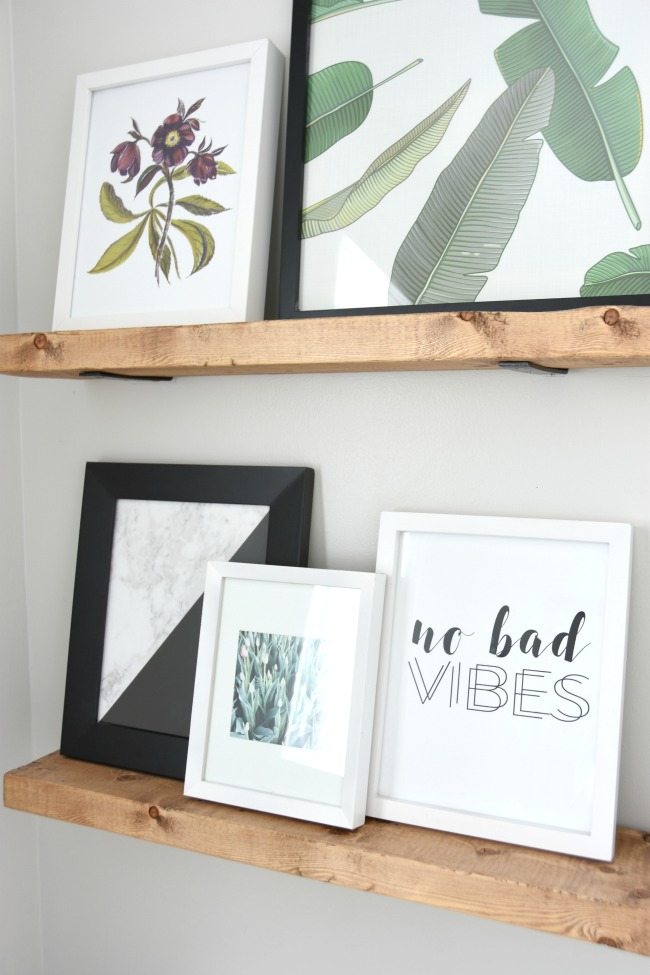 The space is a bit hard to photograph, but see how the diy floating shelves really add a lot more dimension and interest to the nook? It was a really bare space before without them.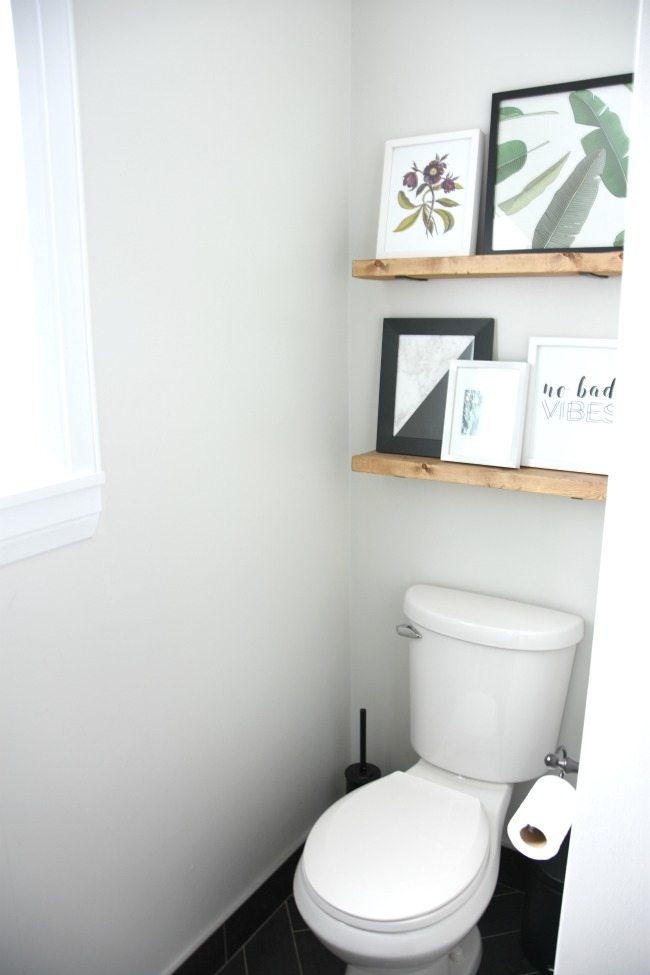 I had debated with just hanging one large black and white print above the toilet, which would have been dramatic, but see how the wood shelves tie in with the baskets we have sitting right next to the nook? I figured it made sense to repeat that tone and warmth elsewhere in the room, and it definitely helps to bring the whole look together.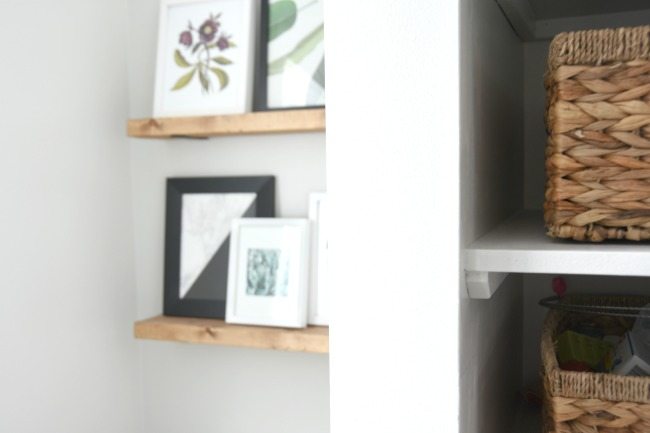 I'm still obsessed with the dark gray herringbone tiled floors we did in this room. I love the classic look, and the dark tiles have been keeping up with the major wear and tear this room gets. We are two years in, and they still look as good as the day they were installed.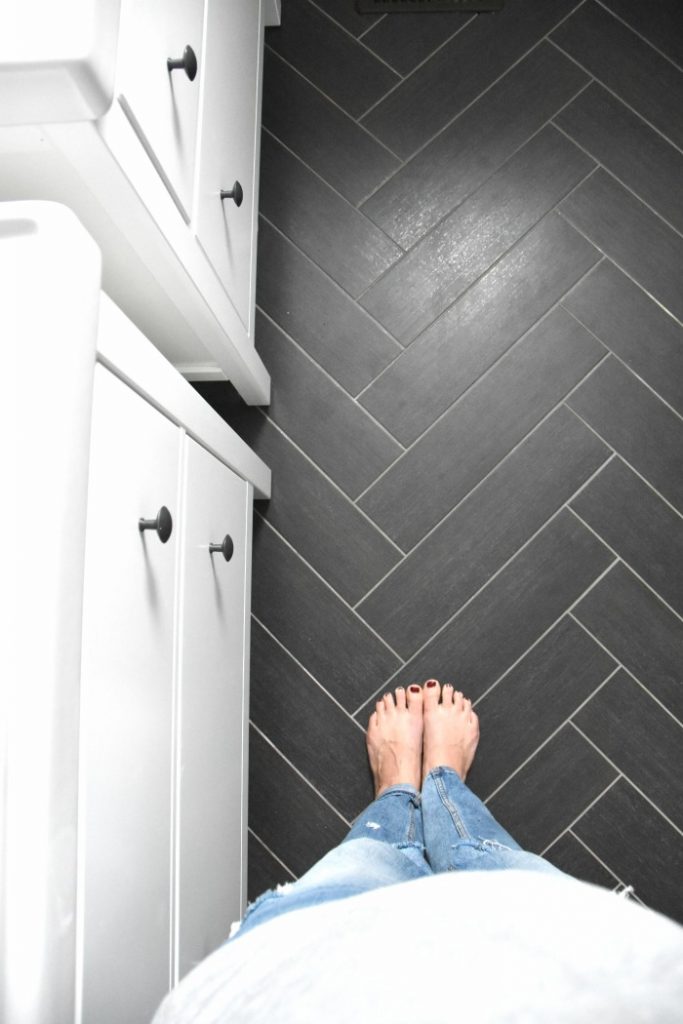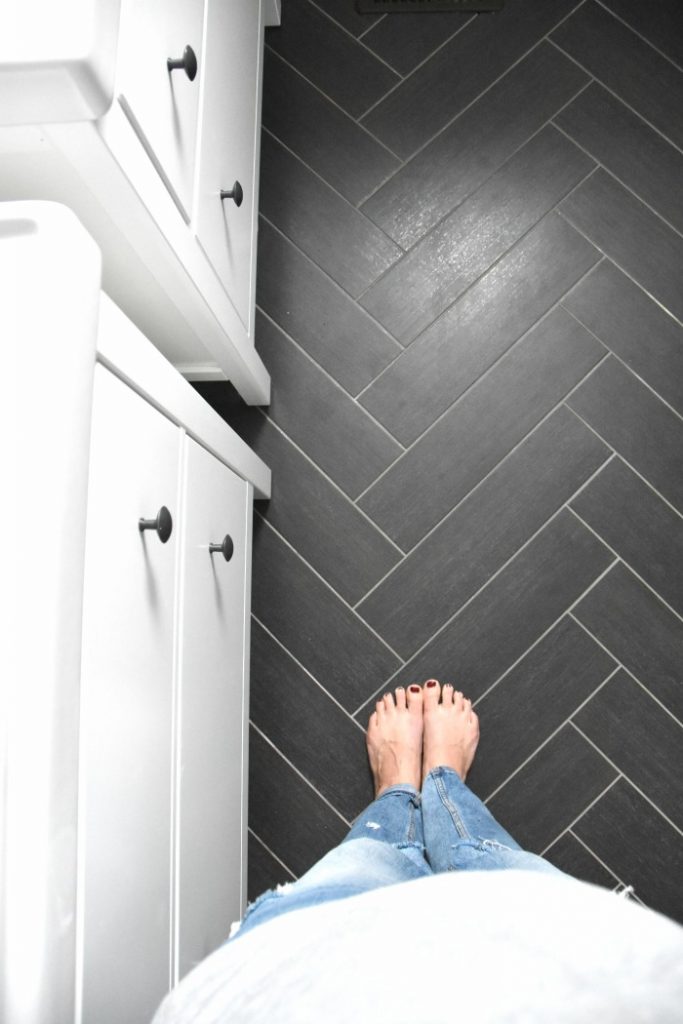 Overall we have been really pleased with the choices we made in this bathroom. The two IKEA Hemnes vanities have been great, we love our subway tile shower, and the rest of the fixtures and accessories in here.
Our window is still bare and needs some love, and in my dreams I'd love to throw down a persian style runner in here… but the reality of kids and spills and splashes just doesn't make that feasible right now!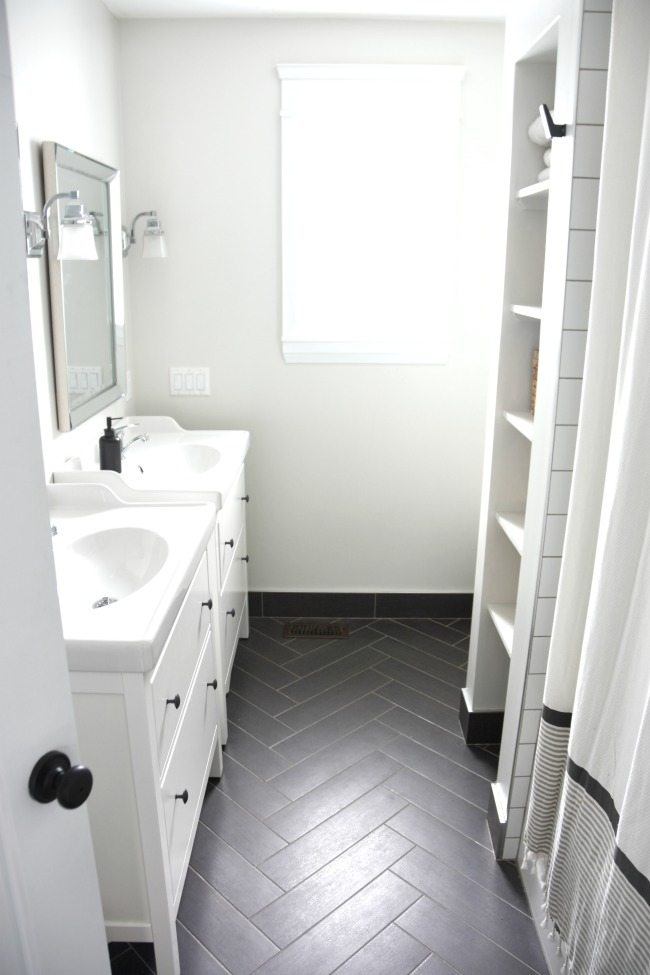 Oh and our West Elm shower curtain is still going strong. I love the waffle fabric, stripes, and tassels along the bottom.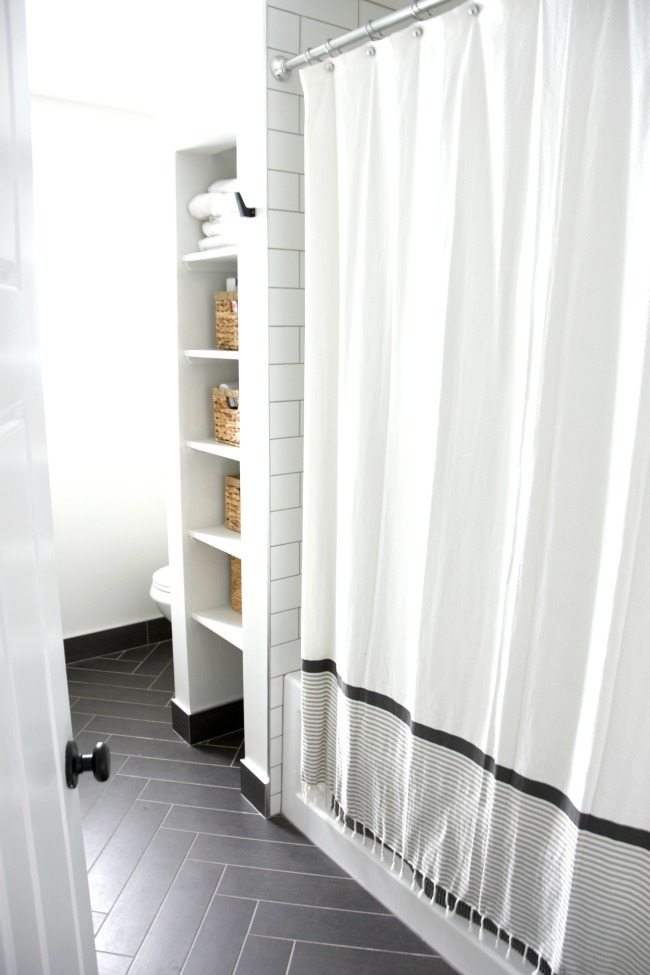 Sadly they don't carry this exact one anymore, but there are some good alternatives…
Like the diy floating shelves? Want to know want more about how this bathroom came to be? check out these posts:
–Installing our herringbone tile floors.
–How we made the shower tile look seriously luxe on a budget.
–The right gray paint and choosing the room finishes.
What about you? Have you cheated and made faux floating shelves before? Made the most of the space above your toilet with some artwork? Spill!