I have to admit, I love Valentine's Day. Not the whole Hallmark aspect, or the idea that we all need to go out and spend money on gifts (no!!), but just the idea of having a day that reminds us to show a little extra love to the ones around us. I can get on board with that. And now that my daughter Maya is into a crafty stage, I LOVE making DIY valentines cards and crafts with her. It's my jam.
A while ago I had seen a blogger use fruit loops in a neat way as a cake topper. I reminded me how cute fruit loops are, and I thought they would make a darling candy necklace. Add a little homemade card, and you've got yourself the sweetest DIY valentine's.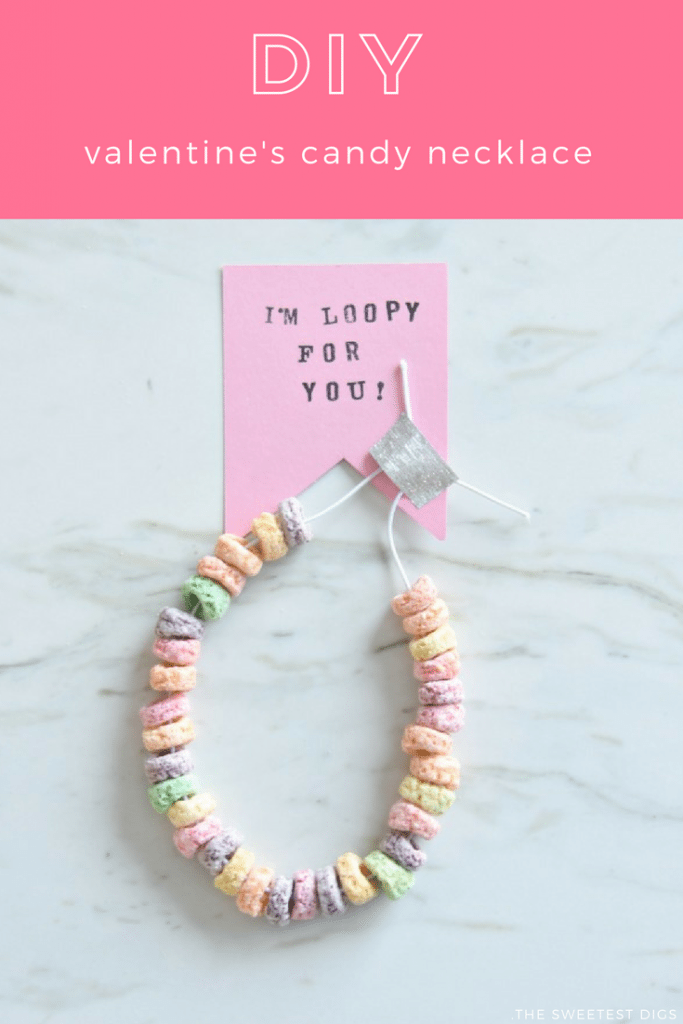 Supplies You'll Need:
Affiliate Links have been used. Please see my Policies page for more information. 
A box of Fruit Loops from the grocery store. This stuff is like forbidden fruit for my kids… so it's seriously a treat to bring a box of it home!! So. Much. Sugar.
Stretchy string – This stuff is great for any kind of beading craft. It's sometimes called "elastic cord" and you can get it in different weights/thicknesses and colours.
Cardstock – Any colour, but pink definitely works well for love day!
Alphabet Stamps – You want to use ones that are quite small. This is a great wooden set.
Black Ink Pad – I use this brand and have been happy with it.
Scissors
Tape – Any decorative tape to affix the necklace to the card will work. Or you can use a stapler!
How to Make DIY Valentines Candy Necklaces:
Step 1 / Prep your String
Cut your pieces of string to size, and lay out your fruit loops.
Tie a big knot in one end of your string.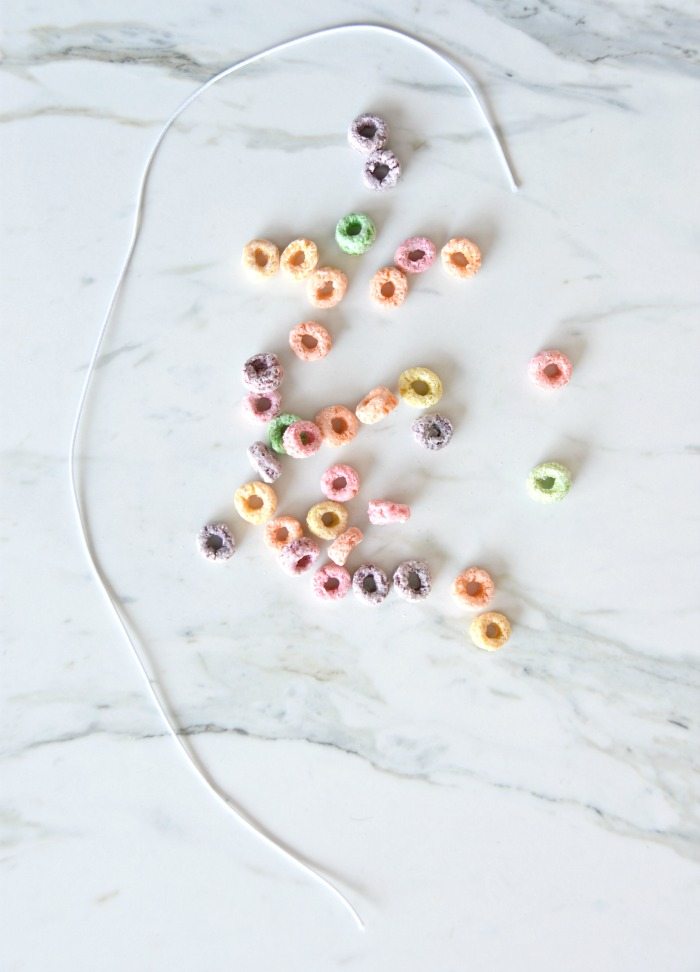 Step 2 / String your Loops
Basically it's just like beading a necklace. Get your kiddo to grab a fruit loop at a time and string it onto the string.
Important: Be sure to wash your hands thoroughly before starting this part. You are going to be handling each loop, so we want clean hands.

Step 3 / Knot
Once you've got all the loops on your string, knot it up at the top.
I basically just knotted mine a bunch of times so that it stayed put. You can cut the ends of your string if you don't want the excess.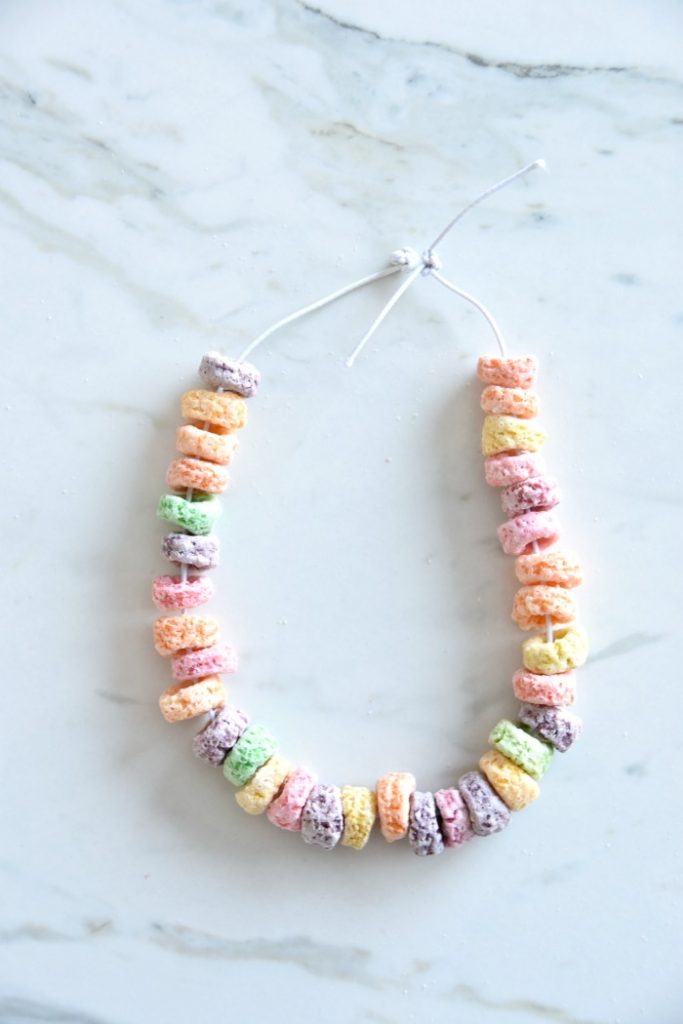 Step 4 / Card Making
Now it's time to make your cards. I grabbed some pink cardstock and cut it out into a flag shape.
Then I took my little alphabet stamps, dipped them one by one into my black ink pad and stamped out my message.
Obviously I wanted it to be on-theme, so we went with "I'm loopy for you!".
I did this part myself to keep the letters in line, while Maya stamped her heart out on a separate piece of paper. If you had an older kid at home, then this would be totally do-able by them.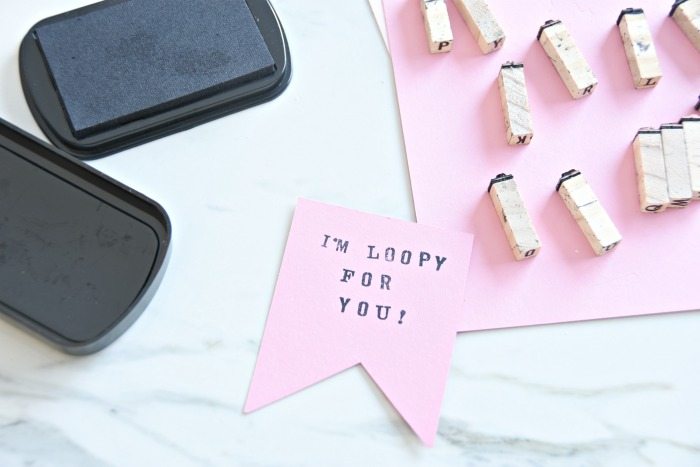 Step 5 / Attach
Then you just affix your necklace to your card in some way, and you're done!
I used some tape on the front, but you could tape the necklace on the back, or you could put a hole punch in your card and string your necklace through the hole.
If you want the necklace to stay more protected, you could grab some little ziploc bags or some mini paper bags. Actually, putting the necklace in a mini paper bag and then stapling the bag to the card would look super cute!
Aren't they sweet?!

I obviously let Maya draw all over the cards after I had made them, so that she could personalize them herself. Let's just say that those didn't end up looking quite so "blog worthy". Ha!
This is a fun, easy, and inexpensive craft to do with kids. Plus, beading the loops actually takes up a decent amount of time (parenting win!).
Want More Valentines Ideas?
Here is a date jar I made for Dan one year for valentine's day. Oh the pre-kid days of actually having so much leisure time and knowing we could go on regular date nights!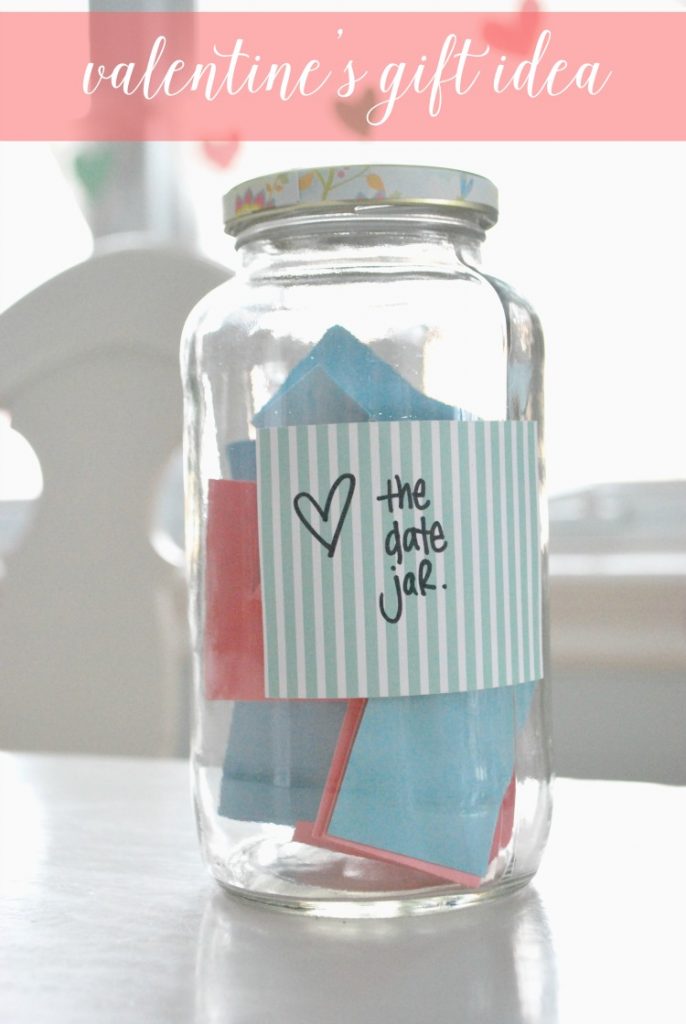 And this simple heart flag garland is a valentines decoration that comes out every year. It's reeeeeally simple to make, and you can use the rest of your pink cardstock for it!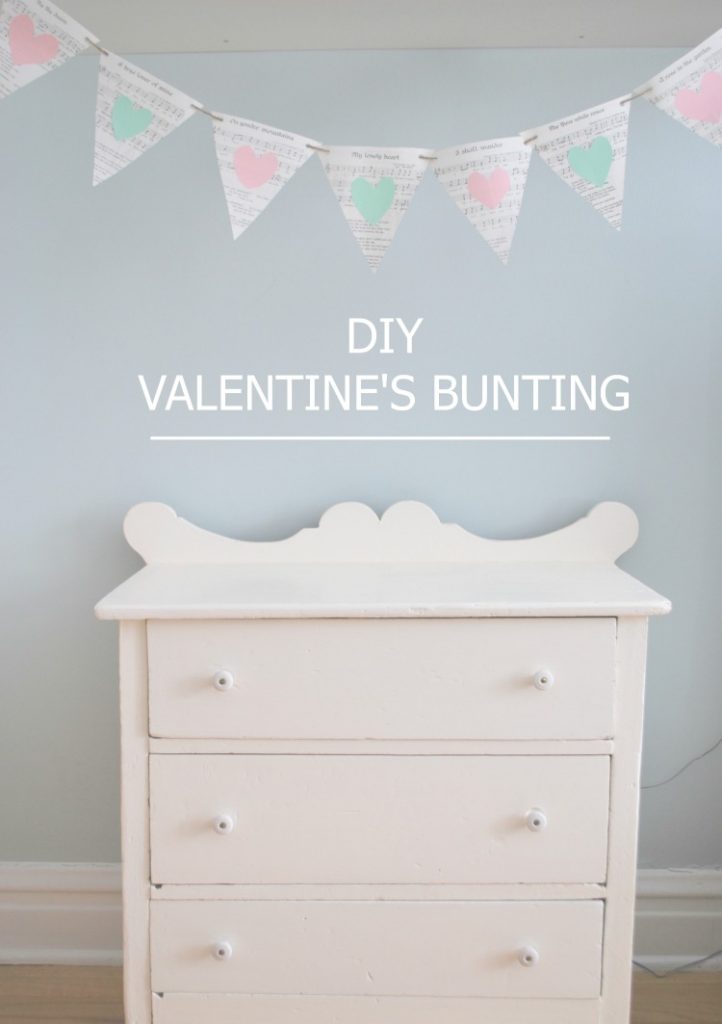 And I have some FREE valentine's art printables in this post!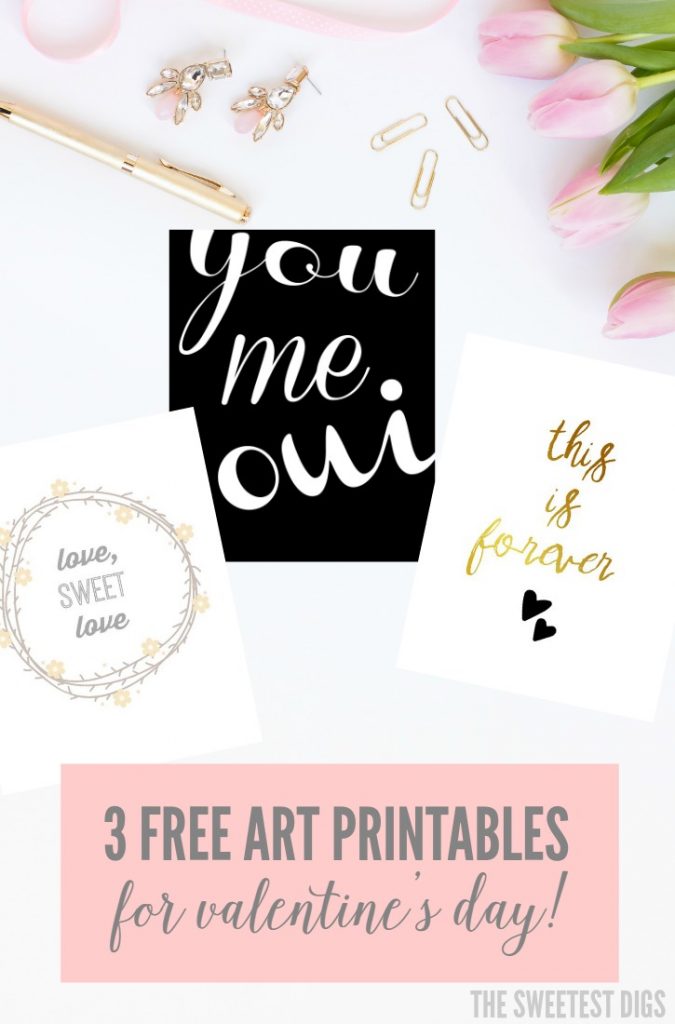 XO!