Do you have some kind of faux taxidermy up in your pad? Have you jumped on board the trend? I happily admit, I love a good white deer head like the rest of them.
If you have wanted to get something like that for a kids nursery or bedroom, then this DIY tutorial is for you. Forget the sloppy paper and mis-shapen busts of going the usual paper mache route. This version of faux (!!) mini paper mache animal heads is going to take you no time and look SO cute.
So many colours and animal choices – you'll be able to make a bunch!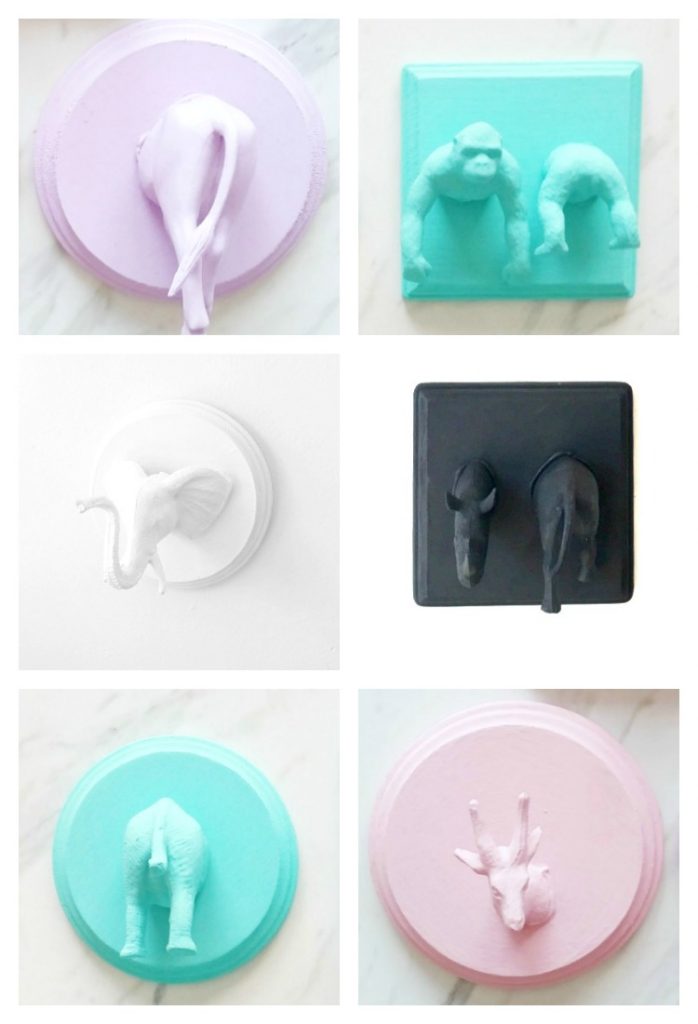 Here's What You'll Need:
[Please note that some affiliate links have been used.]
Plastic toy animals. You can choose whatever mixed bag of animals has the types of animals you want – dinosaurs, farm animals, jungle, sea life, etc.
A saw, sharp utility knife, or heat knife. You're going to need something to cut your animals in half (the horror!)
Sandpaper. Just some medium grit sandpaper to sand your plaques and animals lightly before painting.
Wood plaques. You can get a variety of shapes, so just pick the one(s) that you like best. My faves ended up being these circles and square ones.
Paint. Standard craft acrylic paint is all you need. I'm a big fan of the colours in this set (Martha Stewart, of course!).
Glue gun.
Hot glue sticks.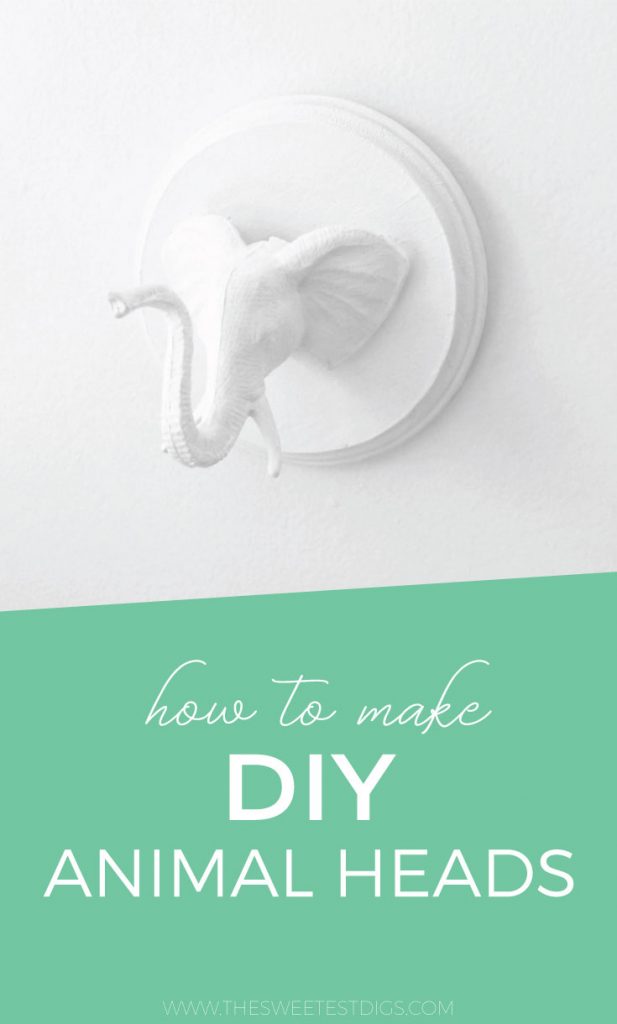 DIY Animal Heads Tutorial:
Step 1: Chop off Animal Heads
Yep, you gotta de-capitate those little guys. Because they are hard plastic, it can be a bit of a pain to actually chop these bad boys in half. Use a hand-held saw, a sharp utility knife, or a heat knife if you have one. Then just hack away at your animals, trying to cut as straight as you can.
Depending on the animal you choose, you may have to chop off part of the middle of the body too. This is only if you want to do the animal head plus butt — if there is too much midsection, the butt will stick out too far.
See the cow in the pic below? Most of its mid-section was cut out, leaving the head and bum with the same general depth. Make sense?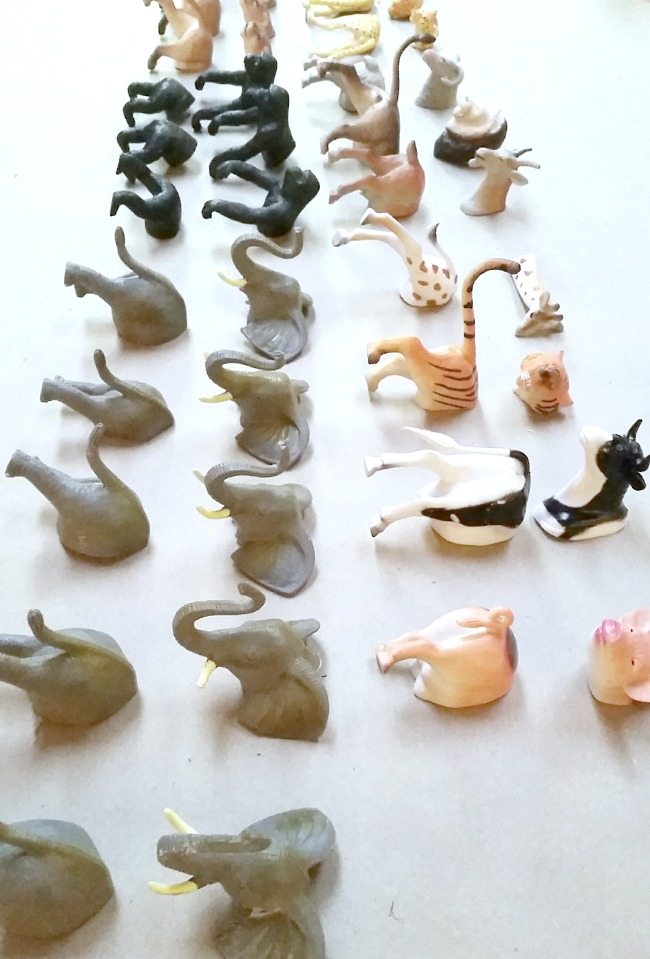 My girlfriend Caroline and I run a DIY workshop business here in Ottawa (check it out here if you're local!). We actually did this DIY for one of our events, hence the huge number of decapitated animals in these pics. Ha!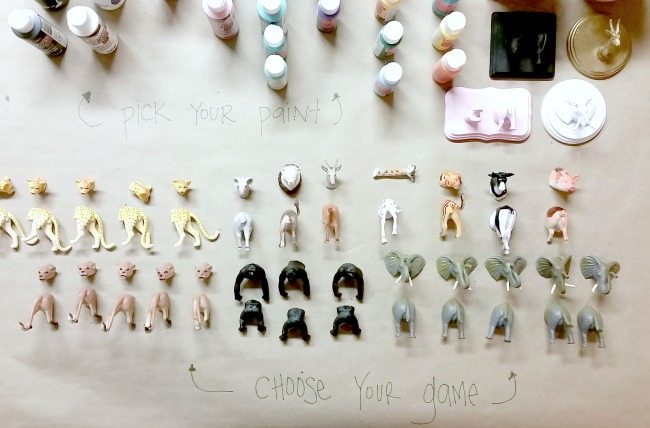 Step 2: Sand & Paint
Once your toy animal pieces are ready, then it's time to choose the plaque you want to use for it. Make sure you figure out placement before painting – the circle plaques tend to only fit one animal piece, whereas the square or rectangle plaques leave room for head and bum.
Give both the animal pieces and the wood plaques a quick sand. Nothing too extreme, but just to rough up the animals and smooth out the plaques.
Then paint all pieces with whatever colour of paint you choose. Regular craft acrylic paint is all that's needed. Know that the animal pieces take a lot of paint for good coverage, so you'll need to do probably 4 coats. We found that foam brushes were the easiest thing for applying the paint.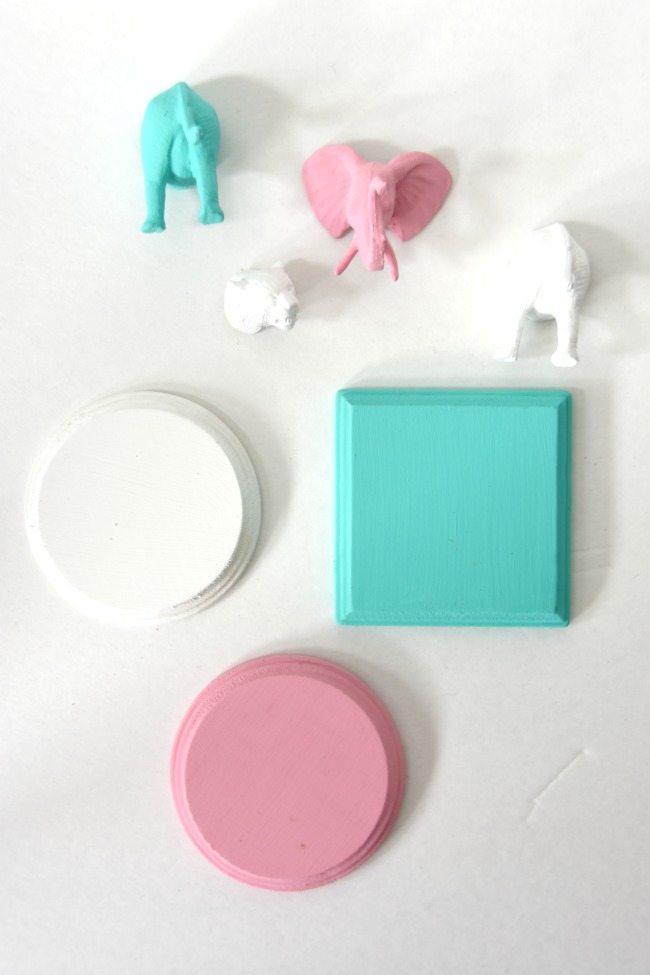 Step 3: Hot Glue
Once all of your pieces have dried (let that happen overnight), it's time to glue them together.
Just put hot glue along the back rim of the animal piece and press down onto your plaque. Hold it in place for about 20 seconds before letting go. Don't stress about there being a bit of glue being visible. Once it has all cooled, simply do a last coat of paint on top and it'll all blend in.
So cute, right?!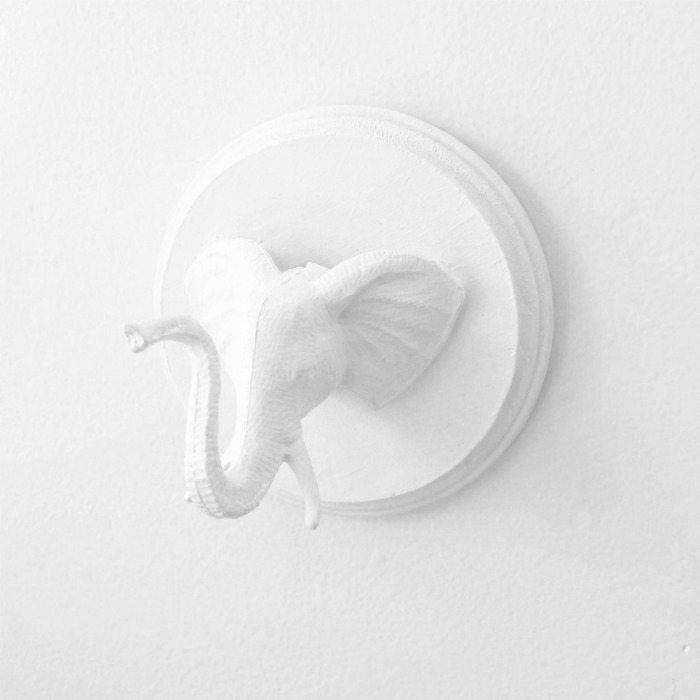 In terms of affixing them to the walls, we found that the easiest way was to use some wall mounting velcro strips.
Stick some on the back of the plaque, then a piece on your wall, and press together. It means that the plaque is flush with the wall, and little hands won't be able to pull them down!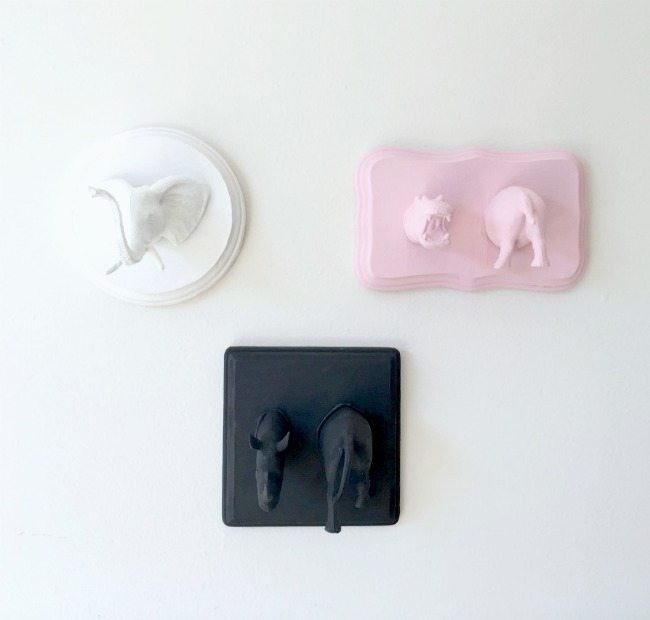 We did a whole bunch of these at our workshop. You can see below all the fun colour and animal combinations. One of our participants did two different colours for the animal and the plaque, which turned out really nicely too (not shown – I forgot to snap a pic!).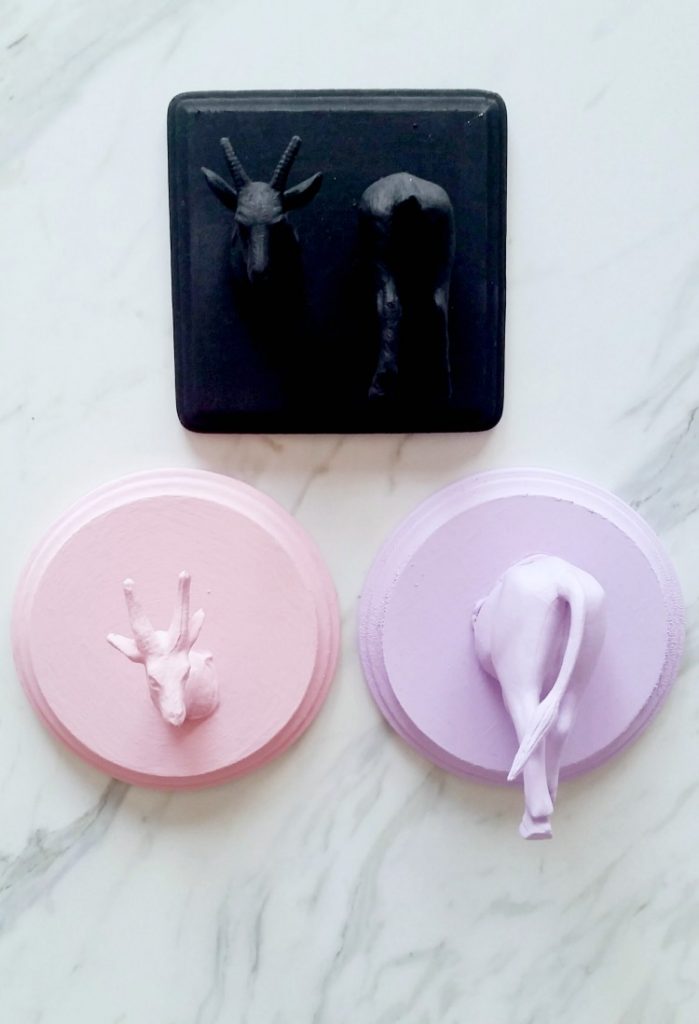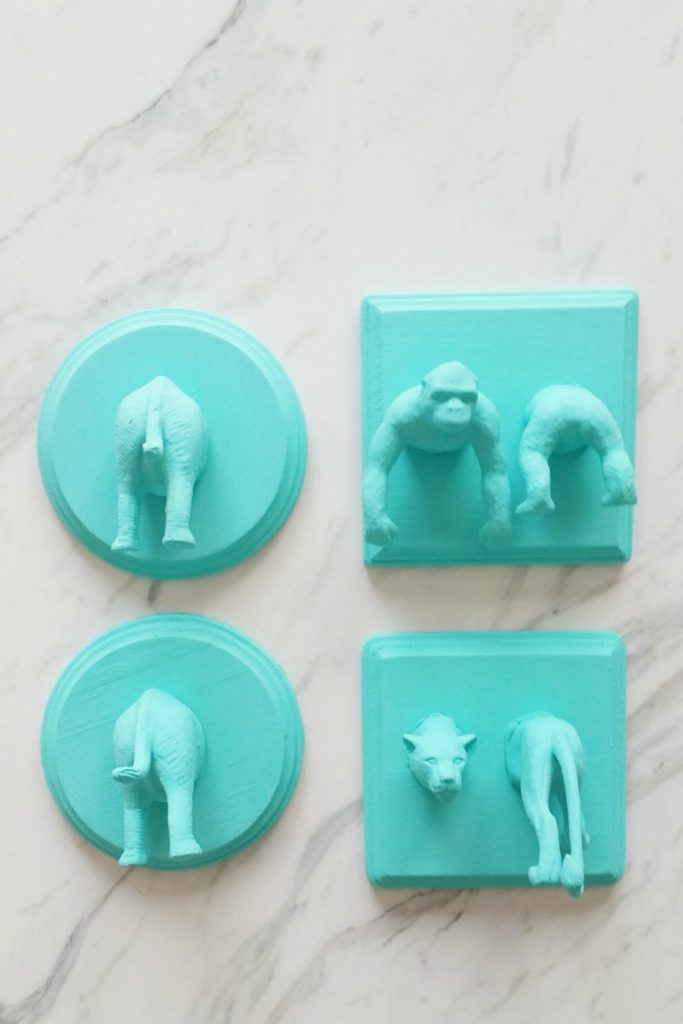 I love them so much! I'm re-doing a section of Maya's room soon and she chose a pink pig so I'll be incorporating it into her new gallery wall.
Don't forget to pin it!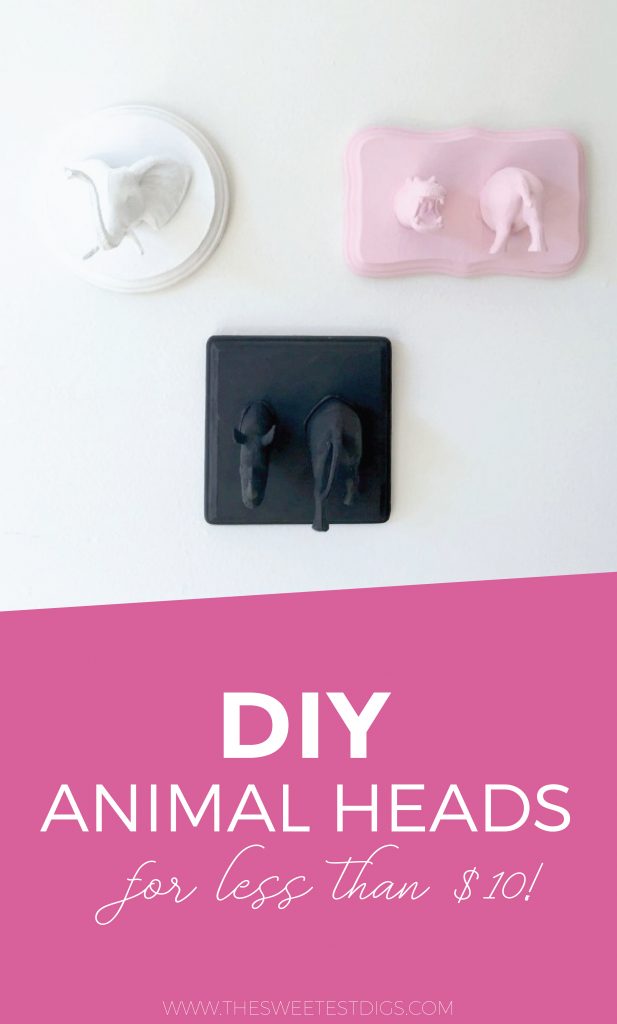 If you like that project, you might also be interested in checking these out:
My daughter's nursery – a pink and mint dream!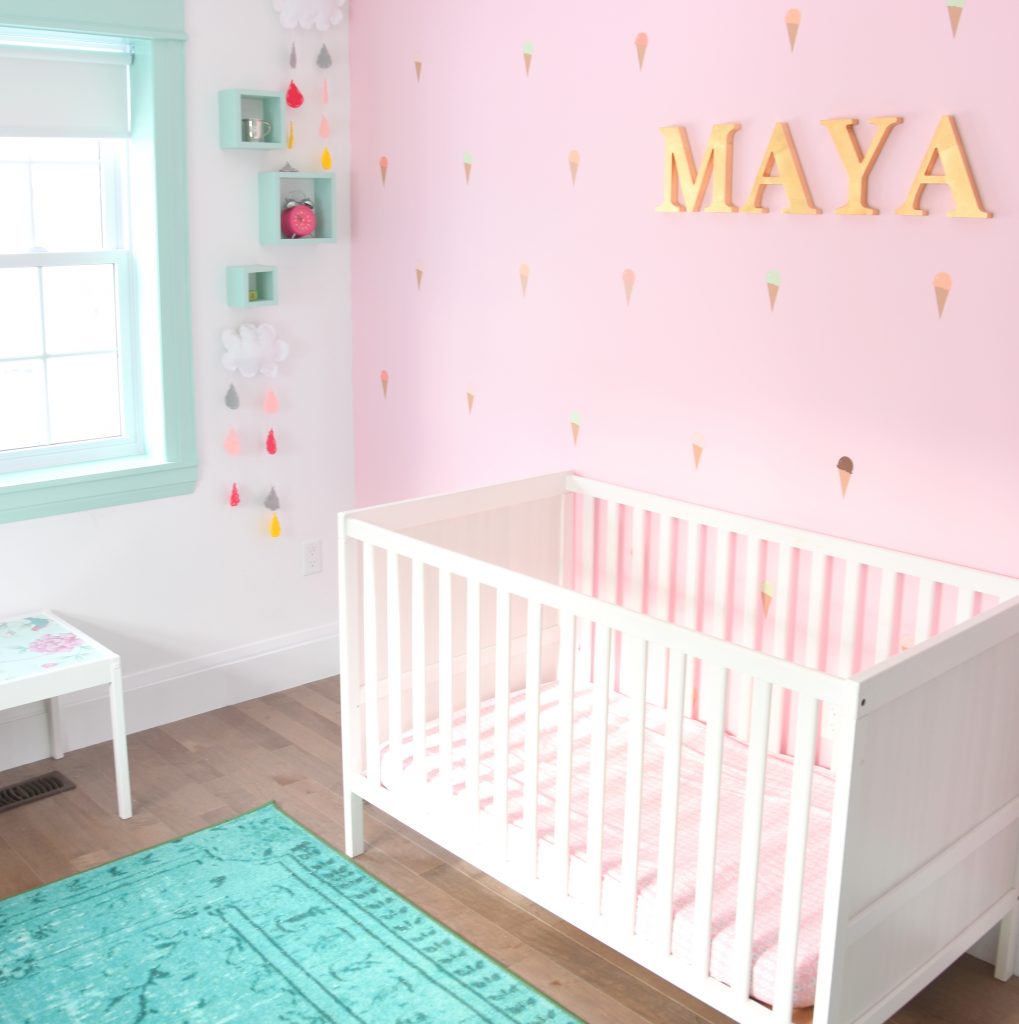 How to create a scandi style accent wall, like we did in my son's nursery.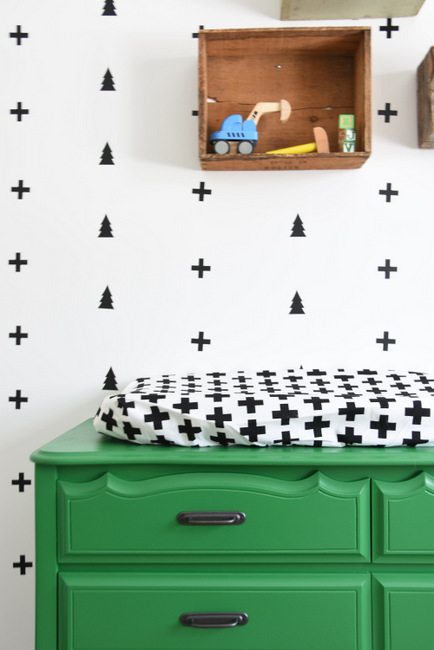 The DIY mountain mural – a super easy (and budget friendly!) wall art project.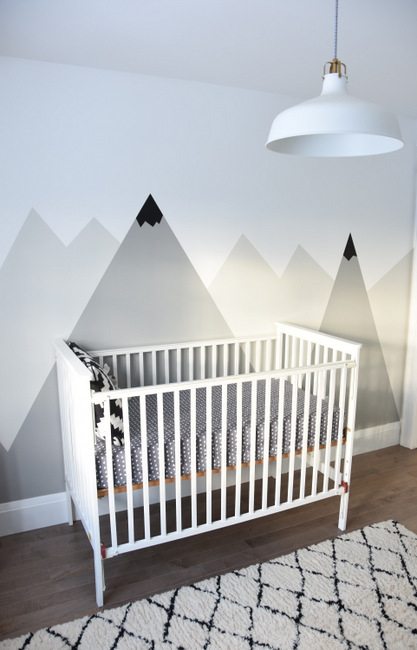 And lots more ideas over in the DIY Project Gallery.