The black and white bathroom. Ahhhh, my bathroom design board on Pinterest is FULL of them. There is something about the simplistic nature of black, white, layered textures, patterns, and wood tones that gets me every single time.
But how can you pull off a look like that without spending a fortune?
Would you be surprised if I told you that you could remodel your bathroom and buy everything you need at your local hardware store and get that designer look?
Here's the reality: Most of us don't have designers. Most of us can't afford custom vanities or the towel bar that costs $200 (even though it's soooo pretty!). And we shop at places we know and trust.
This was my challenge: Put together a black and white bathroom that came in high on style but low on budget, all while shopping at The Home Depot.
Want to see what I came up with?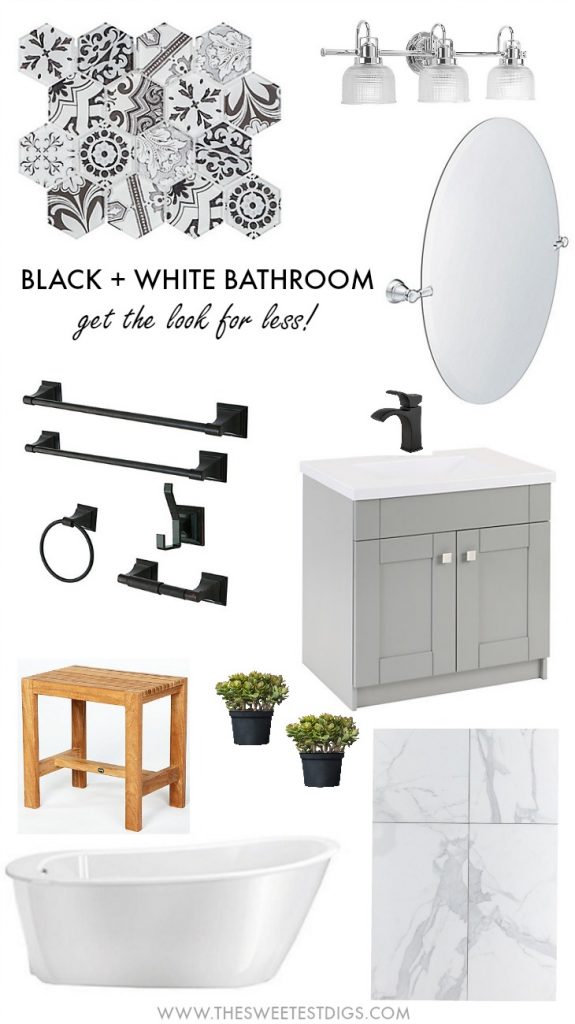 Wouldn't you love this bathroom in your pad?
Let's go through the products….
#1: Tiles
I'm obsessed with the patterned tiles that are all over the place right now, but here are my two tips if you want to use these in your space:
First: Keep the patterned tiles in neutral colours so that you don't tire of them too quickly and so that they aren't too loud in the room.
And Second: If you can't afford to do the whole floor in them (or just don't want to), then bring them into the room in a smaller dose like with these black and white mosaic tiles below. So pretty right? You could do them behind your vanity and mirror for a serious wow factor, or in your shower (even just a stripe or in a niche, with budget-friendly subway tile everywhere else).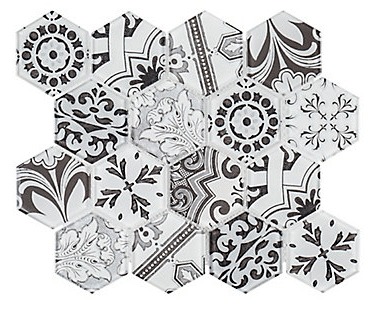 On your floor, going with a marble tile will never date. There is something so beautiful and classic about marble. But, it doesn't run cheap.
My alternative?
Use these porcelain "marble" tiles – total lookalikes!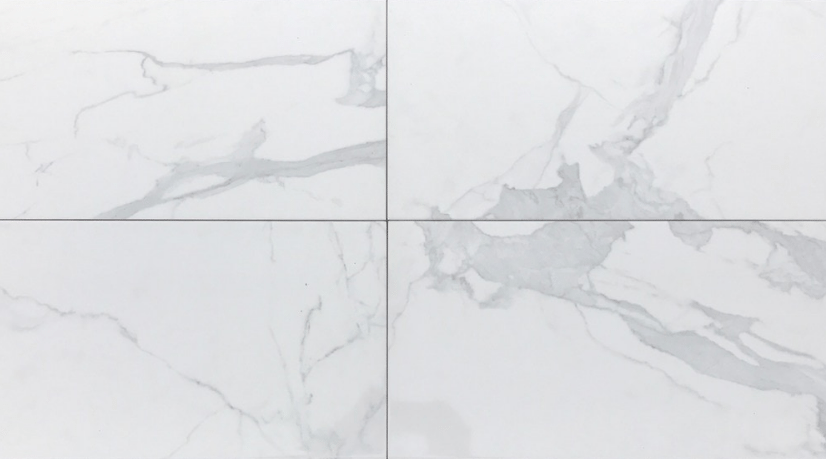 You really don't notice that they aren't the real thing. Plus, the fact that they are so budget friendly and so durable (being porcelain) are such bonuses.
We used these tiles in our tenant's bathroom in our basement apartment and they look amazing!
#2: A Free Standing Bathtub
Have room in your bathroom for a stand-alone tub?
If you do, you really can't beat the price of this free-standing bathtub. I love the simple, modern lines and man would your space ever feel like a spa!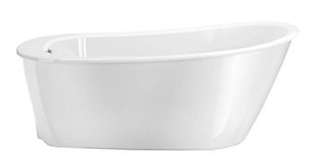 #3: A Classic Vanity
In terms of the vanity, choosing one that has shaker style doors in either a grey or a white is a classic choice. Going custom can be seriously expensive, so grabbing an "off the shelf" one like this gray vanity, which comes with the white porcelain sink and countertop, is such a great option.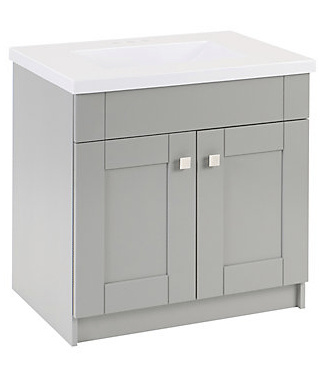 If you were looking for two sinks, you could even place two of these next to each other with a small gap in between. It would be cheaper than going for a large double-sink vanity (we did two side by side in our kids/guest bathroom)!
#4: A Black Faucet and Towel Bar
I'm obsessed with black faucets. Adding one of these to your vanity is going to instantly make it look majorly stylish. This black faucet has that matte look with a contemporary design.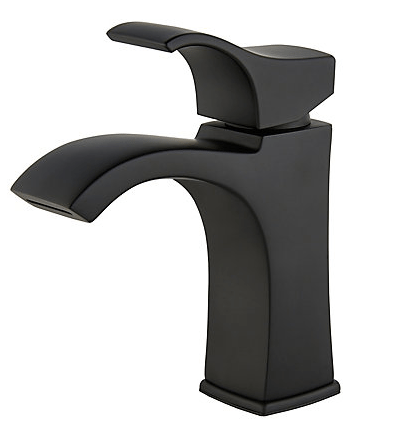 And repeat the black in the room by using a towel bar, toilet paper holder, and towel ring in the same finish.
This towel bar set is technically oil rubbed bronze, but they look black! You could even lightly spray them with matte black spray paint, if you wanted. For $62 for the whole set, you are still ahead of the game compared to buying black towel bars and accessories (they are harder to find).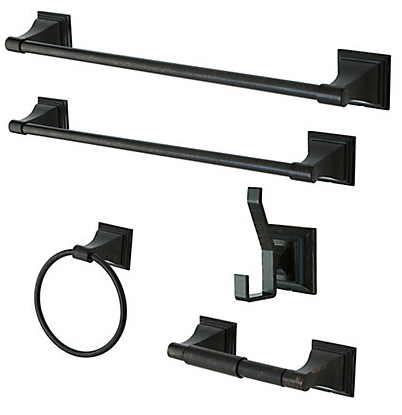 #5: A Round Mirror
I really love the way a round or oval mirror can break up the boxy look of a vanity. The combination is beautiful.
Snag this oval mirror, which is nice and simple with no heavy frame.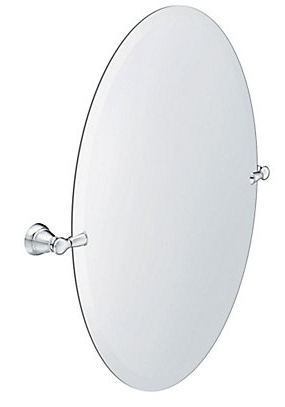 #6: Lighting
Then for lighting, I totally think you can mix and match metals (ie. just because you have a black faucet, doesn't mean you need to have black light fixtures). I'm a sucker for brass, but decided to stick with chrome in this case to mimic the chrome details in the mirror. Chrome is also usually way more budget-friendly.
I like the vintage aspect of this 3-light sconce a lot.
#7: Accessories
You don't want your black and white room to feel too sterile, so they key is to add in some warmth and texture by bringing in plants, a wood stool or chair, some plush towels, and hanging some artwork.
This teak stool is a beaut.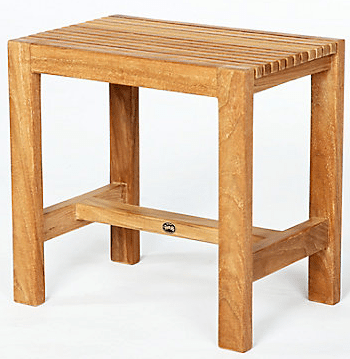 And some simple greenery…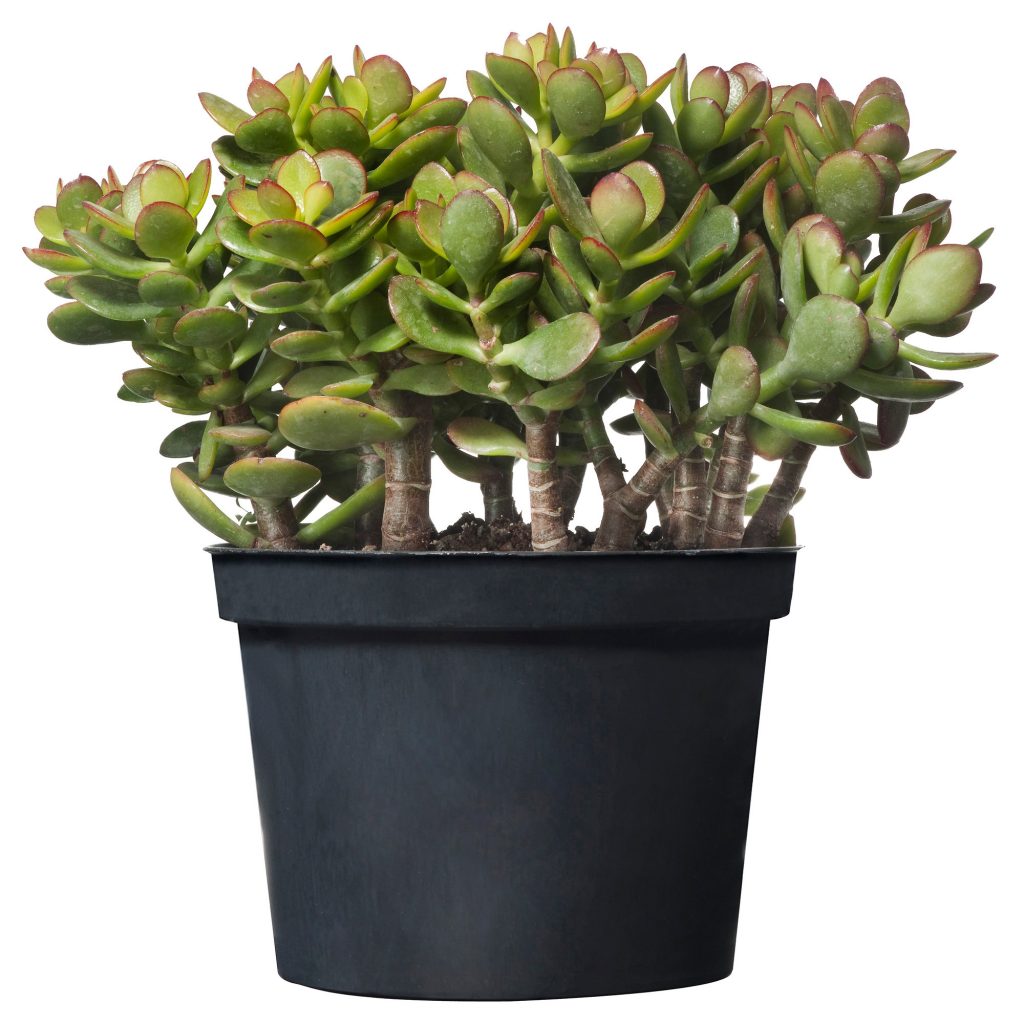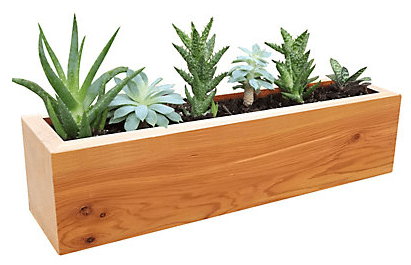 There you have it. A fully made over black and white bathroom that is budget-friendly, easy to shop for all at the Home Depot, AND looks like you had a designer come over and do it for you.
Major win.
Disclosure: This post has been brought to you in collaboration with the Home Depot, but as always opinions are 100% my own. 
If you want more bathroom inspiration, check these out:
Our bathroom's herringbone tile floors…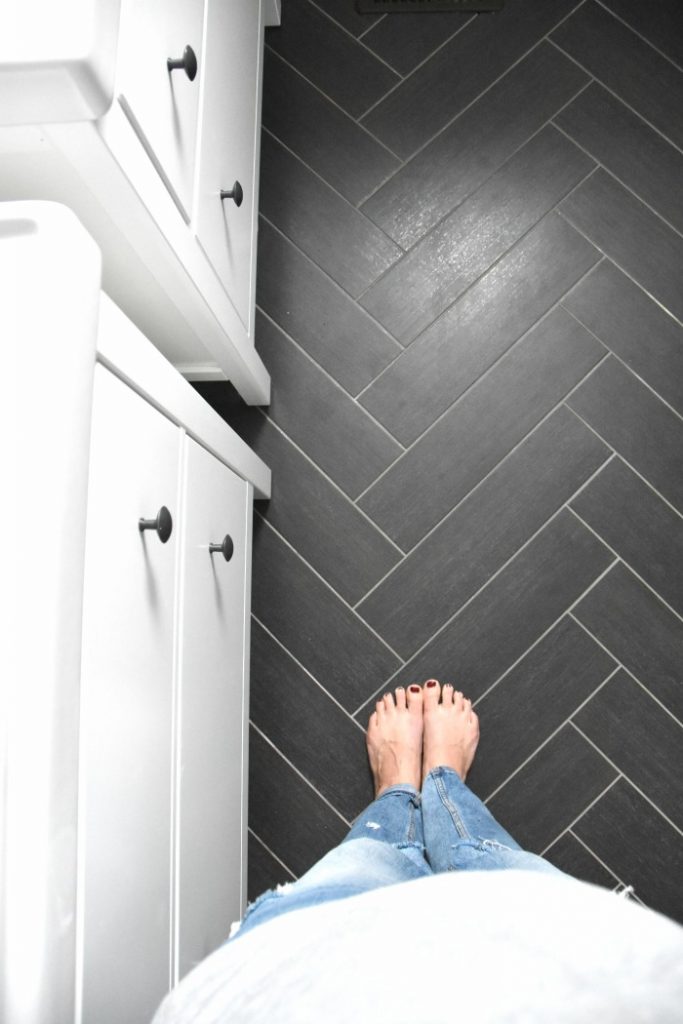 How to DIY faux floating shelves (these are perfect for that "don't know what to do with it" above the toilet space!)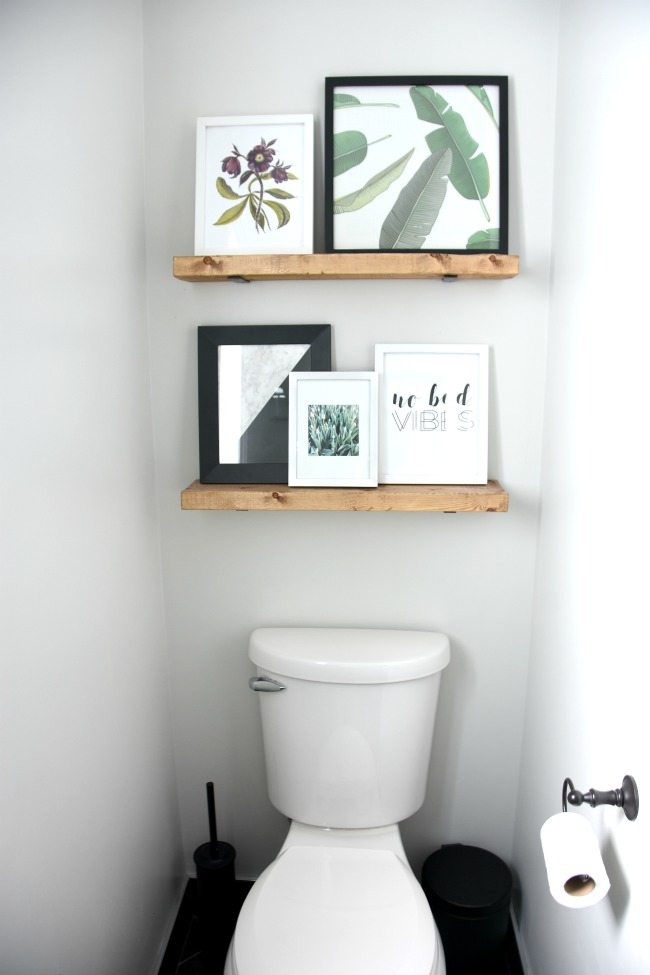 And how we used subway tiles and a marble niche to get a luxe look for less…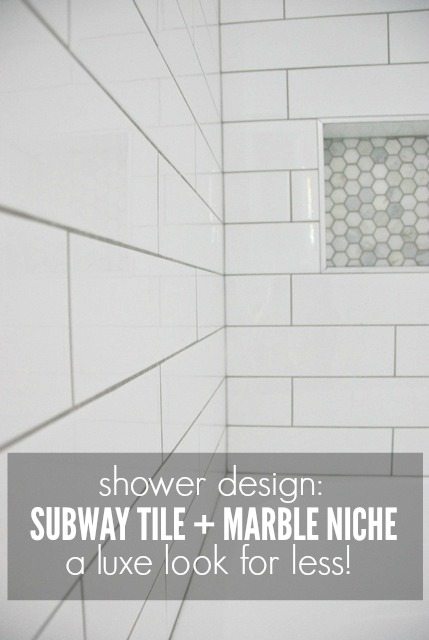 Got any bathroom makeover tips you want to share? Or have plans to renovate one in your pad?