It's been over two years since we moved back into our house post-renovation, and it's finally time for our forgotten-about master bedroom to get a little attention. Although there are elements of this room that are OK, I never got around to tackling it properly and it's looking pretty shleppy.
What's lighting the fire to finally get it finished? Well, I'm hopping on board for the "One Room Challenge" (ORC) and I'm sooo excited about it.
Have you heard of the "ORC" before? It was started by Linda at Calling It Home, and basically, it's a bunch of home and design bloggers tackling a complete room makeover in 6 weeks. Each blogger posts weekly, showing makeover progress, and then reveals their room in the final week. If you are looking for some amazing interior decorating inspiration, this is it. Past ORC rooms have been AMAZING.
Ready to dive into these un-staged (rather embarrassing) before photos?
The bed. We purchased our Malm bed and nightstands from IKEA a few years ago and do really like them. The low bed is just right for being under the window, and we like having matching nightstands with drawers. I love the black sconces we installed (they are staying for sure), but I never did bring in any accessories for our nightstands.
We did have a duvet cover on here once upon a time, but I grew tired of its' gray colour and it somehow never made it back on after being washed a few months ago.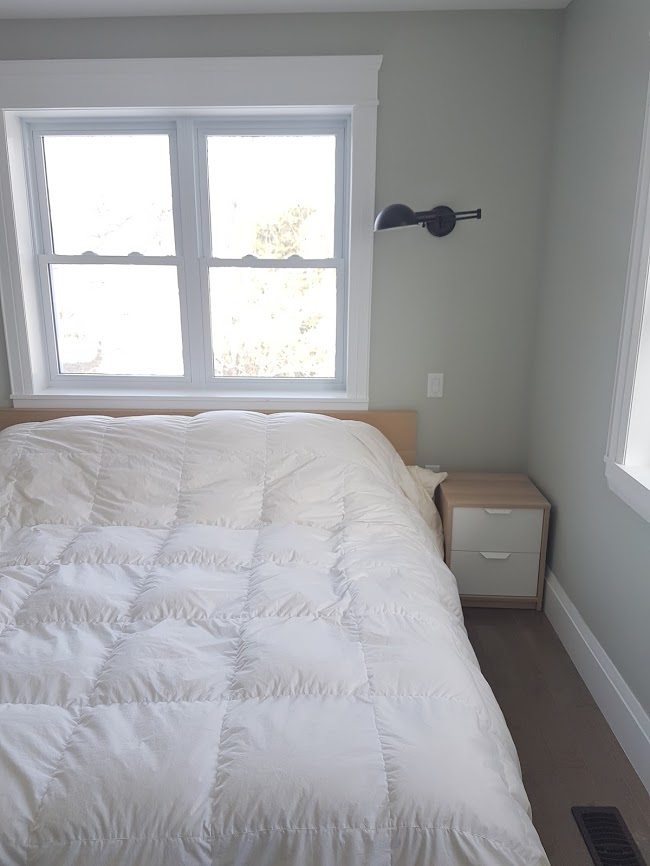 Then on the opposite wall, I installed a gallery wall above the dresser. That dresser was a Kijiji find for around $30, but I kept meaning to paint it a dark navy and never got around to it. Time to fix that!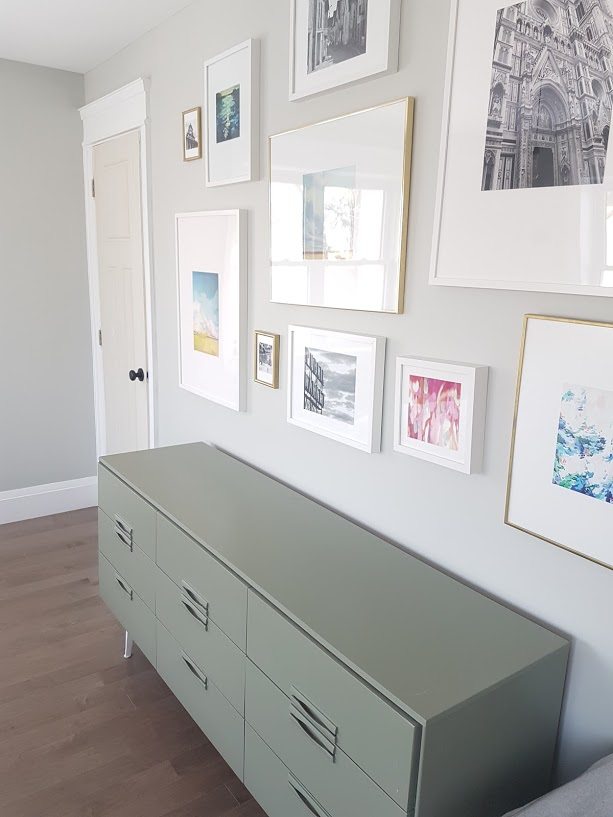 Although I still like the gallery, I have decided to do two huge art pieces above the dresser for a more dramatic look and move the gallery frames out into the hall (which is art-less at the moment).
The room is also desperately crying out for a rug. And window treatments. And a light fixture over that bare bulb hanging over the bed. Oh man.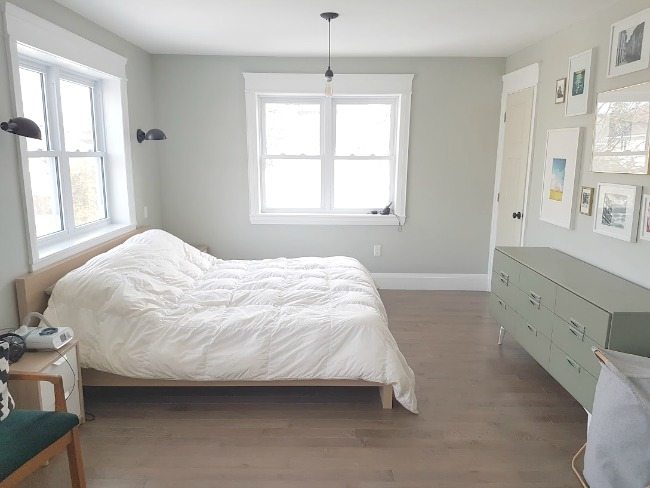 As you span across the room, there is a decent amount of space between the bed and the Pax closet. We had always planned to make this into a cozy reading spot, but never purchased a comfortable chair/stool/side table/rug. That green chair in the photo was one I moved in to the space a few weeks ago just to get a sense of the scale that will work.
Can you spy James doing his favourite activity? Taking the rad covers off!!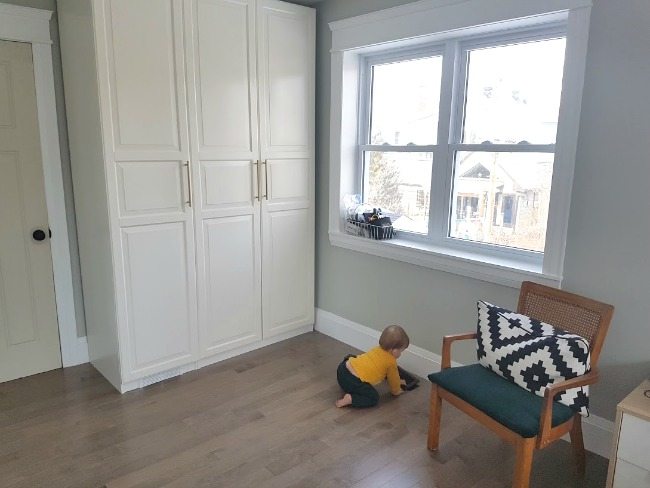 And the Pax. Ahh. So this is Dan's closet (I have a closet off the other side of the room). It's a great organizational system, but it looks clunky and just like it was dropped into the room. We want to build out a frame for it and have moulding that goes along the top and sides so it really appears to be more built-in. I am also majorly considering painting it the same colour as the walls so it all looks more seamless.
Speaking of painting, I need to paint a few of the doors in this space too. This one leading into our still-unfinished master bathroom, and the one on the opposite side of the room that leads into my closet both haven't been painted yet (yes, they have been like that for two years!! Yikes!).
I'm also thinking of painting out the white trim to be the same colour as the walls … we'll see. The wall colour, "Blenheim Palace" by Para Paints is staying. I like the muted green-y grey.
Want a glimpse of the overall design plan?
I've partnered up with Wayfair.ca and will be bringing in some of their gorgeous pieces, along with DIY projects, and a few others to transform this space into something with a relaxed, airy vibe. Think neutrals and lots of textural elements (linen bedding!!! my dream!!).
Washed 100% Linen bedding / 'Olga' area rug / Gold Pendant (similar) / Cactus art / Black chevron throw blanket / African inspired pillow / Faux Fig leaf tree / White leather pouf / Gray accent chair
Make sure to follow along over the next 6 weeks as I work on this master bedroom makeover (wish me luck!), and visit the One Room Challenge blog to see all of the other rooms!