Alright you guys, I have something fun for you today. I'm part of the 'great canadian wreath hop 2013'. A bunch of us blogger gals got together to all DIY some holiday wreaths. I had tons of fun putting together my wreath, and I'm pretty pumped to check out what everyone else got up to!
Here was my criteria for this year's wreath: not super time consuming, no need to shop for materials, and something fresh and fun. The result? This scandi, dipped clothespin wreath.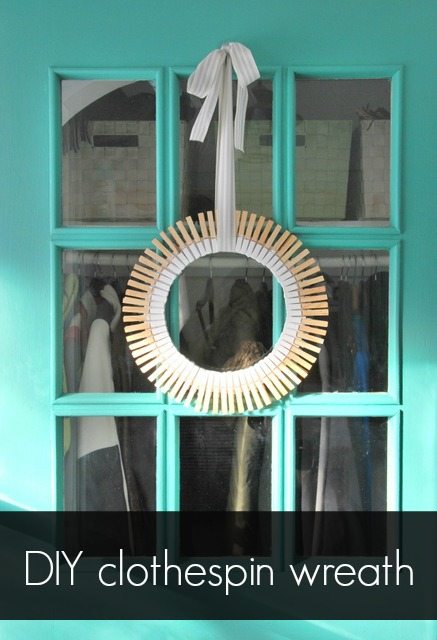 I started out with a big sheet of cardboard (fished out from the recycling bin!) and traced a circle to get the shape of the wreath.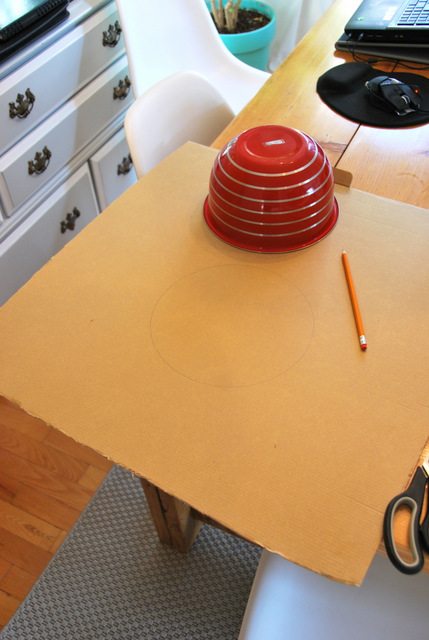 I cut out the circle to form the base of what my clothespins would stick to. It had to be narrow enough so that you wouldn't really see it once all the pins were clipped on.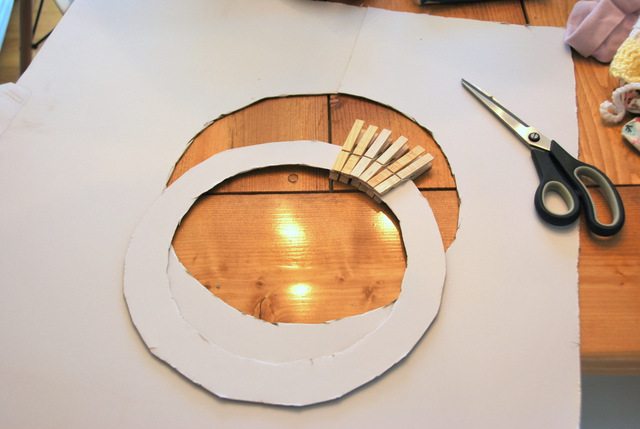 Here's a closer shot so you see what I mean.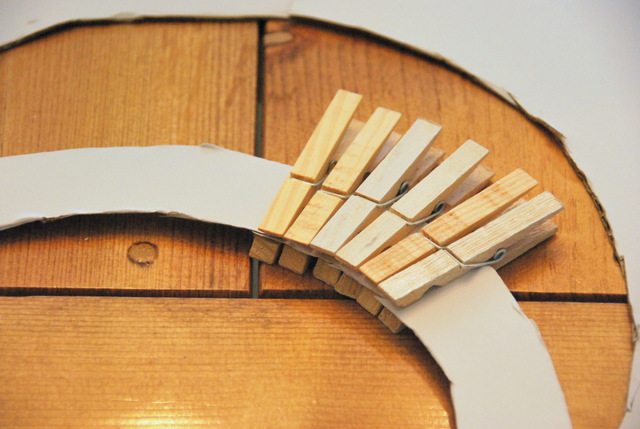 Then I laid out a bunch of clothespins to make sure that I had enough before getting to the painting part. I had two big bags of clothespins from the dollar store in my craft closet, so luckily there was no running out!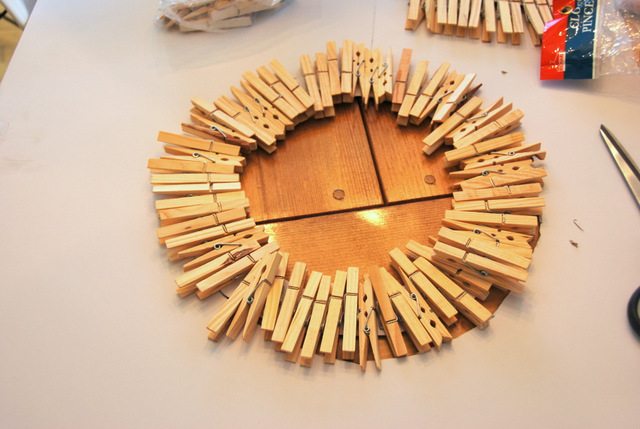 To dip, I poured some white acrylic paint into a little jar, dipped the clothespin in until the metal pieces, and then clipped them onto this cardboard contraption I put together. You want something that keeps the pins with the paint facing downwards, and has somewhere for the paint to drip onto.
Then it was just a matter of clipping all of the pins around the cardboard cut out. It's a seriously easy wreath to do, you guys. Besides letting the paint dry (I think I waited about a half day), I would say like 20 minutes tops?!
I used this beautiful striped ribbon from May Arts to hang the wreath from our front door. It finishes it off nicely, right?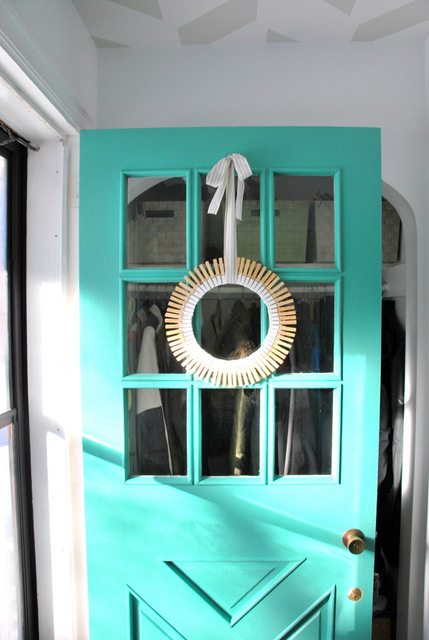 I'm really liking the scandinavian feeling of the wreath. The sparse aesthetic and light wood + white combination is clean and pretty.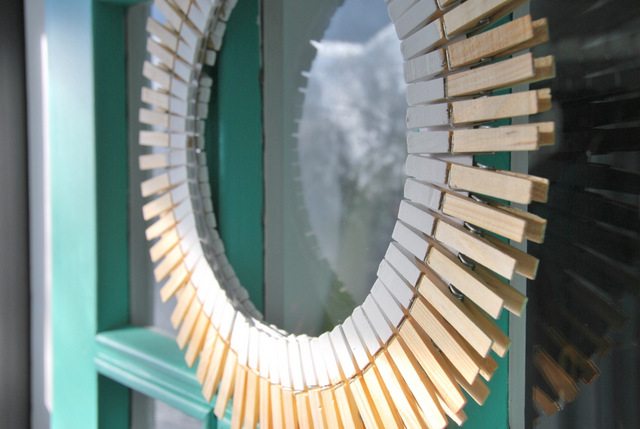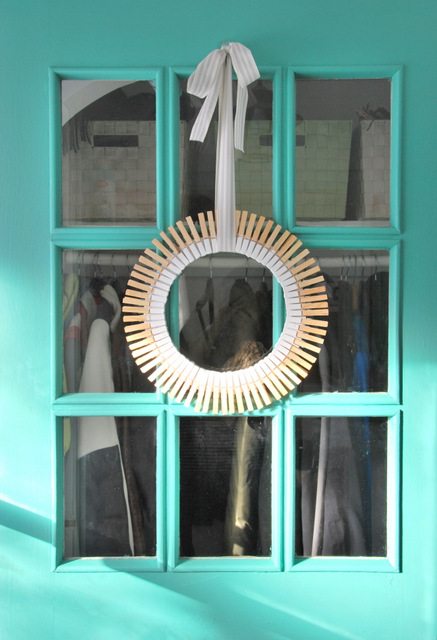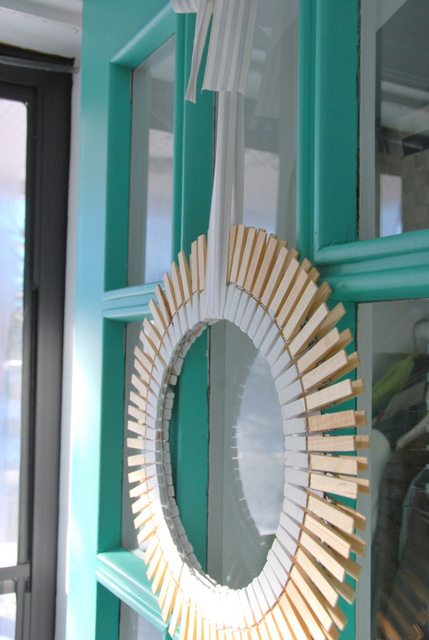 What do you think? Fun, right? Now it's time to hop around and get some more wreath ideas! For tons of inspiration, check out these 14 incredible wreaths created by my lovely fellow bloggers.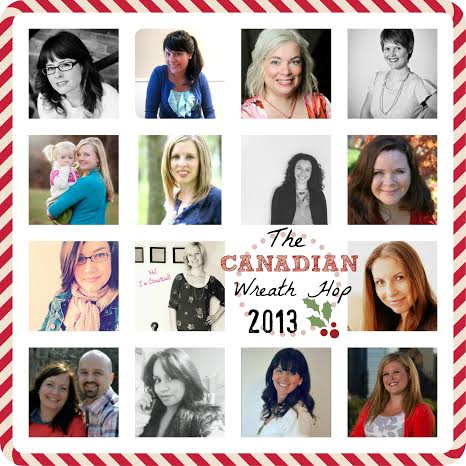 (from left to right, they are):
Jo-Anna from A Pretty Life In The Suburbs
Thalita from The Learner Observer
Angie from Echoes of Laughter
Virginia from Fynes Designs
Tara from Suburble
Shauna from Satori Design for Living
Kelly from A Swell Place to Dwell
Stephanie from Garden Therapy
Becky from Sketchy Styles
Christine from DIY Dreamer
Alex from Northstory
Shannon from AKA Design
Ingrid from Now At Home Mom
<me!>
Brooke from Brooklyn Berry Designs
Have fun browsing these beauties! 
**Disclaimer: Free ribbon was received from May Arts for this project!**
Linked up at the DIY Dreamer, the DIY showoff,