I'm a sucker for a beautifully set table, and nice napkins can totally set the tone. My girlfriend Caroline and I had a crafting day a while back and experimented with painting napkins. We wanted that abstract, soft, watercolor look to them… and they totally turned out!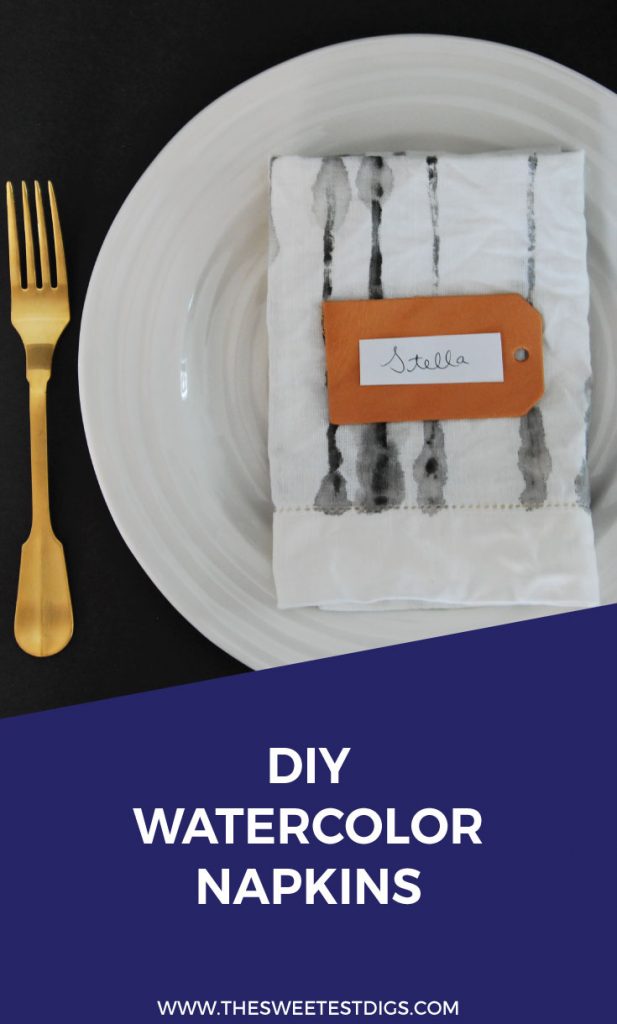 What You'll Need:
Cloth napkins. I used the Gullmaj ones from IKEA that are a cotton/linen blend. They cost $5.99 for a pack of 2. But then I found these ones on Amazon, which are a WAY better price and look perfect for this project. If I make more of these to use as gifts, I'm definitely ordering those Amazon ones.
Fabric paint in whatever color(s) you prefer. I used these from the Tulip brand, which work well and are really reasonably priced.
Small paintbrush.
Water – just in a cup by your painting station
Towel – for underneath the napkin to protect your table/painting surface
Tape – to keep the napkin in place while painting
The DIY:
Step 1 // Wash and prep napkins.
We washed the napkins before getting started to make sure that if they were going to shrink in the wash, it happened before we painted. You can see that they ended up quite wrinkled afterwards, but it was just a matter of ironing them when we were all done to get them smooth again.
Lay out the napkins overtop of a surface you don't mind getting wet and potentially have some paint soak through. We used an old towel, then taped down our napkins on top.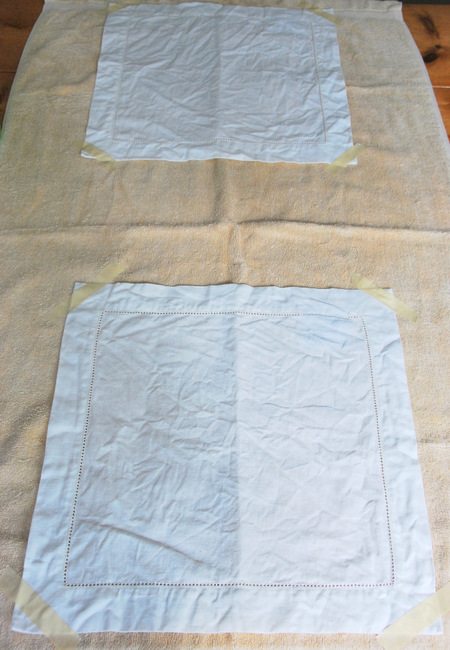 Step 2 // Painting
Now for the actual painting part.
Squeeze out a bit of your paint onto a plate or bowl, and have a cup of water at the ready as you'll be dipping your brush in there constantly.
We wanted watercolor stripes along ours, so we started at one end and moved across the napkin dabbing paint on as we went. The trick is to use a lot of water to get that watercolor look. Dab some paint on, then go over it again with a super wet brush. Play around until you get the look you want. You don't want the consistency of paint to be uniform – some areas with more heavy coloring, some areas that are quite watery and light. This is what makes it more like true watercolor.
Keep working your way across the napkin in stripes from top to bottom. You can also vary the amount of space you have between your stripes, depending on the look you're going for.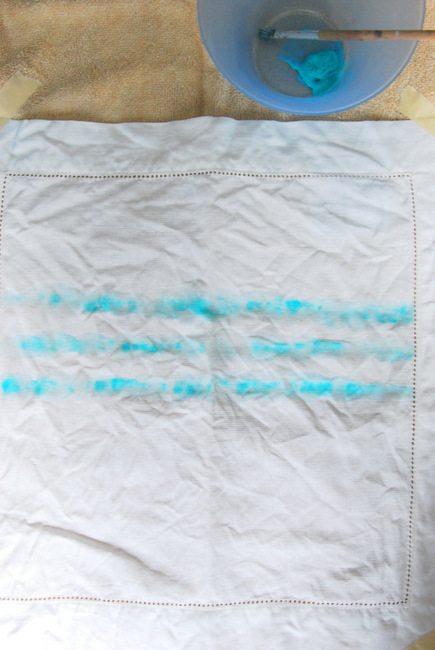 I tried some out with a bright blue and did thicker stripes, and Caroline went for black and kept her stripes on the thinner side. You can make these with any color you want, and could even do a multi-color look if you wanted. I was thinking that a half light pink and half minty green would look so sweet.
Step 3 // Let dry & style!
Yep, that's IT. So easy and no big mess of dip dying.
We gave our napkins a good couple of hours to dry. Because the paint is meant to adhere to fabric, there is nothing you need to do with it afterwards to ensure it actually stays put.
I ran the napkins through the wash a few times just to be sure before I wrote this post, and they came out exactly the same. No running of paint. These bad boys wear well.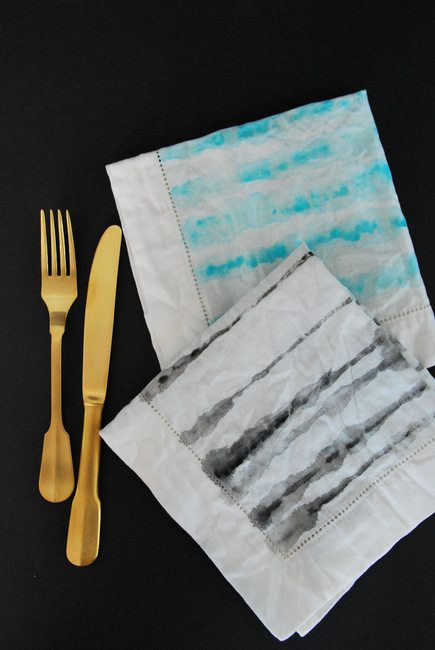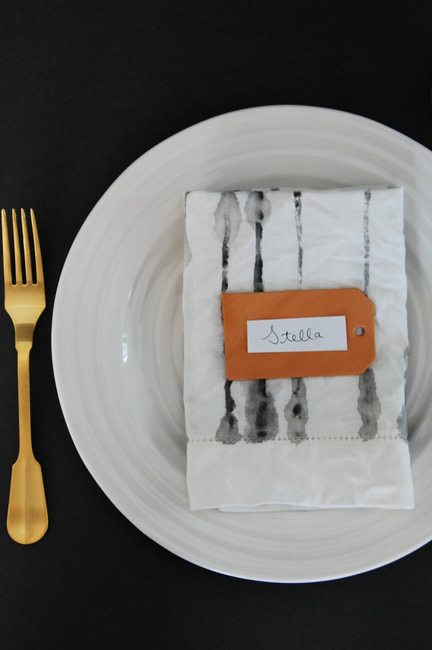 The blue ones were more playful. I feel like they would be perfect for any garden party or English tea. They have that summery feel to them.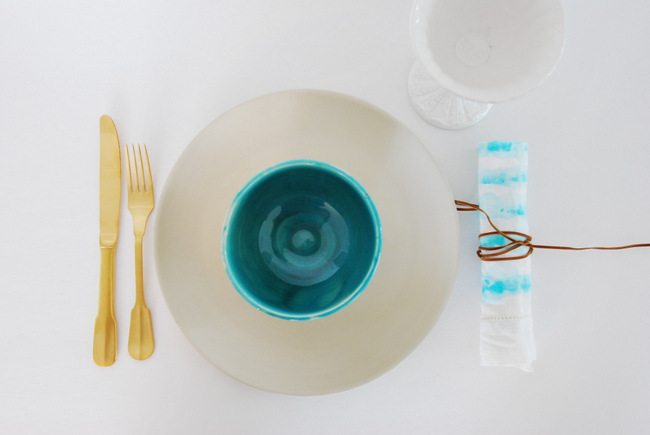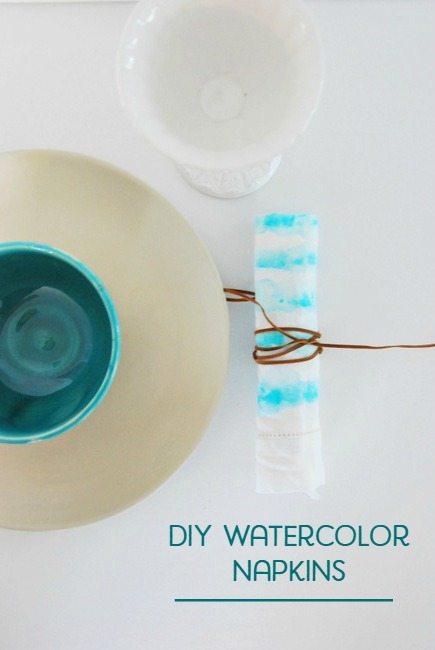 A set of 4 or 6 of these would make an amazing handmade gift idea. Something to put on the potential holiday gift list? Or do as a house-warming for someone? So many ideas!
If you want more DIY project ideas like this one, head on over to the project gallery!
Have you guys tried any projects using fabric paint before? I feel like the options are endless! I felt all inspired and clearly need to be doing more of it. I was thinking that some tea towels would be really cute. And I want to do more napkins with different patterns… maybe something geometric next time? Any other ideas of things you've seen?