Last week I shared my favourite gifts under $30 from various Etsy sellers. Today I'm back with an Etsy gift guide for kids. Browsing around for sweet things for babies and kiddos? Just about my favourite thing ever.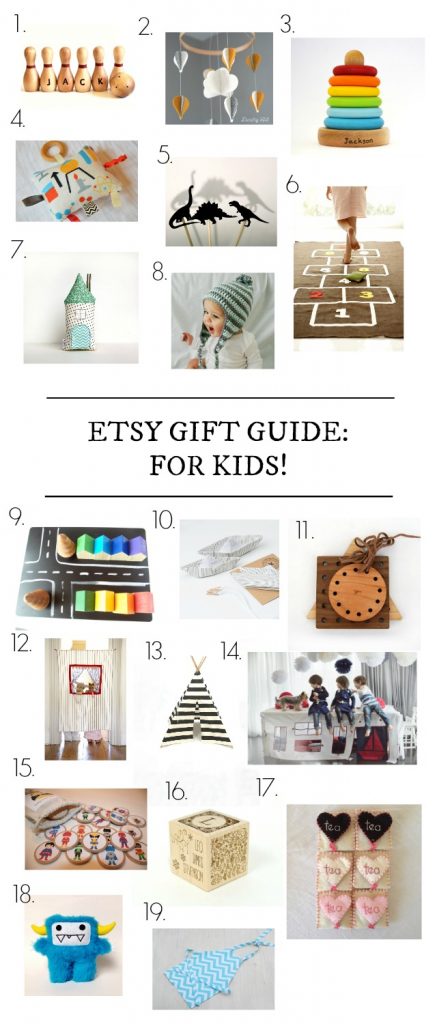 1 >> This personalized wood bowling set  is fun. I love wooden toys for kids for so many reasons – longevity, looks, craftsmanship, safety, etc.
2 >> I made a raindrop mobile for Maya's room that both she and I adore. This hot air balloon baby mobile would make any kids room feel really special I think. Plus she makes them in just about every colour, and also has plane and bird versions.
3 >> Kind of like the bowling set, these personalized wooden stacking rings are so much nicer than the usual plastic version of the same toy. Nothing wrong with the plastic set (we have it!), but this one would make such a nice gift, personalized with the kids name.
4 >> This baby tag blanket teether is perfect for drooly babies who just want to put everything in their mouths. Plus, I think the "mad scientist" fabric is pretty cute.
5 >> How fun would these wooden dinosaur shadow puppets be to play with at a sleepover? So clever.
6 >> Got kids that go a little stir crazy inside during the winter? I think this hopscotch mat could be pretty entertaining, and a good way to burn off some energy.
7 >> Forget putting the tooth under your pillow. This tooth fairy house pillow with secret pocket to tuck in that tooth (or whatever other little prized possession you want) is ridiculously sweet. She makes this house version, and a teepee style one too.
8 >> I am OBSESSED with this cute knit baby hat. I love the colours (she's got a bunch more on her site, too), the thick knit, the huge pom (!!), and the straps that come down over the ears. Maya is brutal with keeping hats on her head, so those strings to tie it around the chin would be perfect.
9 >> I haven't seen a toy like this wooden rainbow chalkboard village before. I think it would be really fun for toddlers to play with – great for imagination play.
10 >> These fabric origami sailboats are beautiful. I would use these just as decor in a baby room, but they also double as fun toys for kids to play with. Isn't there something really simple and gorgeous about them?
11 >> This lacing wooden toy is a montessori developmental toy. The premise is simple, but probably great for kids who are at the age where they are learning to tie shoes.
12 >> How fun is this doorway puppet theatre? I LOVED putting on shows when I was a kid. This would have probably upped the production value of the Gemma Bonham-Carter theatre back in the day.
13 >> Dan's parents bought one of these black and white striped kids teepee for Maya for her birthday (from a different vendor, who doesn't seem to have them listed anymore). We have yet to set it up – waiting to get into the new house – but I can't wait.
14 >> This is also super ingenious. A tablecloth play house? Let the kids turn your dining room table into a fort. Sounds like a pretty fun time to me (plus, probably a whole afternoon of kid distraction).
15 >> Matching/memory games are a classic, and I like the twist of this one – a superhero matching game.
16 >> My Mum gives me a Christmas ornament every year, and I am continuing that traidtion with Maya. I love these personalized wood block christmas ornament, especially for a baby's first Christmas.
17 >> I can't wait to play tea party with Maya. This play felt tea set is definitely on my wish list to buy when Maya gets a little older. Check out the shop for other cute felt food – there are some donuts and cookies that are ridiculously cute.
18 >> I met the seller and maker behind these furry plush monsters at a craft fair the other day. The seller was SO lovely, and these little monsters are cute and really well made. Each one has been hand sewn with a lot of love.
19 >> Want to get your kid involved in the kitchen? I bet this chevron toddler apron would help make it a fun activity.
So that's it! Such great stuff, hey? I just love finding these unique things that people across the world have made. I don't know if I have mentioned it on here before, but I'm an Etsy "Tastemaker". Basically it means that I have my own page where I have a curated selection of my favourite things. You can see my tastemaker page here, and follow me if you dig my style!
The other really sweet part of this post? Etsy is offering up a $50 gift card for one lucky reader (thank you, Etsy!). Enter below using the rafflecopter widget.
Giveaway open to everyone. Closes on Friday, December 5 2014. Good luck!
How is your holiday shopping and prep going, guys? I am about halfway there I'd say. Since we're not back in our own house yet, I'm doing just about no decorating or holiday themed crafts/projects. Just a few handmade gifts. I am totally not keeping up with the joneses when it comes to my blog buddies churning out gorgeous holiday craft after holiday craft… but it's kind of lovely just to skip out on it all this year. Bad blogger, right?