I went into full holiday prep mode the other day. Carols, hot chocolate, cozy slippers, the whole thing.
Things are looking pretty festive around here! And I have some great flocked christmas tree decorating ideas for you today, so keep reading…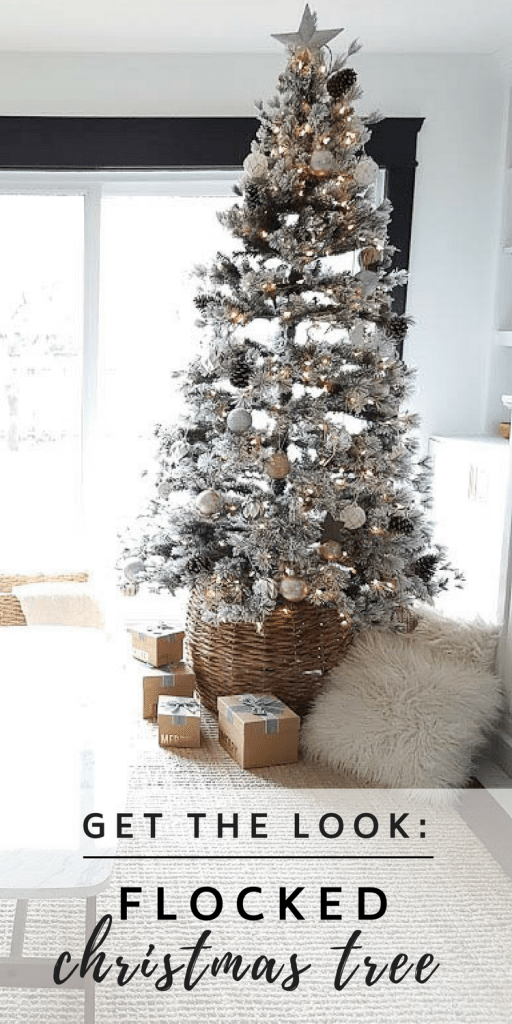 It's officially week 4 of our Modern Holiday Home series, and the girls and I all hit up Home Depot for some holiday decor.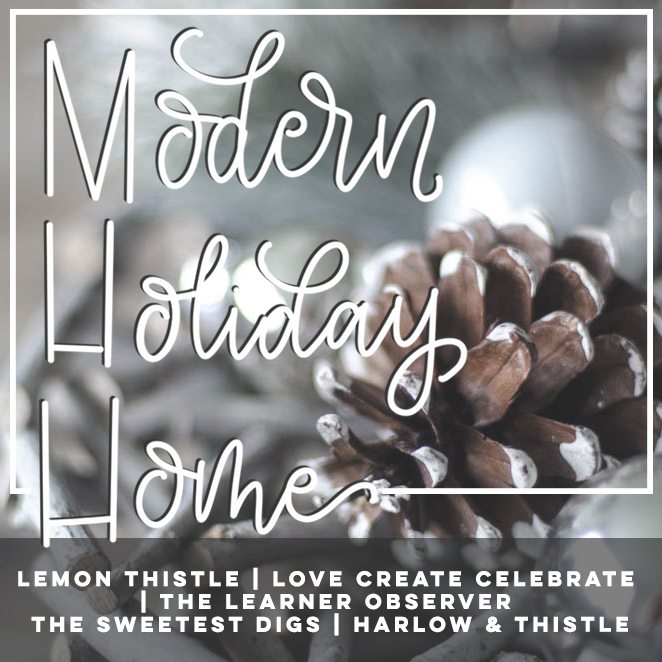 Flocked Christmas Tree Decorating Ideas:
I have been dreaming of getting a flocked Christmas tree for years. If you don't know what "flocked" means, it's when the tree has that freshly fallen snow look. Like a layer of white on top of the tree.
I LOVE that classic, snowy look.
I dig the smell and sentimentality of a real tree like the next person, but I have to admit, having an artificial tree that is pre-lit is pretty wonderful. No dropping needles to clean up, no watering, and no untangling strings of lights.
So we were on a mission to get our first ever big artificial tree. I packed up a picnic dinner for the kids and after school one night last week, we all loaded into the car and drove over to the Home Depot to check out what they had.
I was pretty much giddy when I saw the huge selection…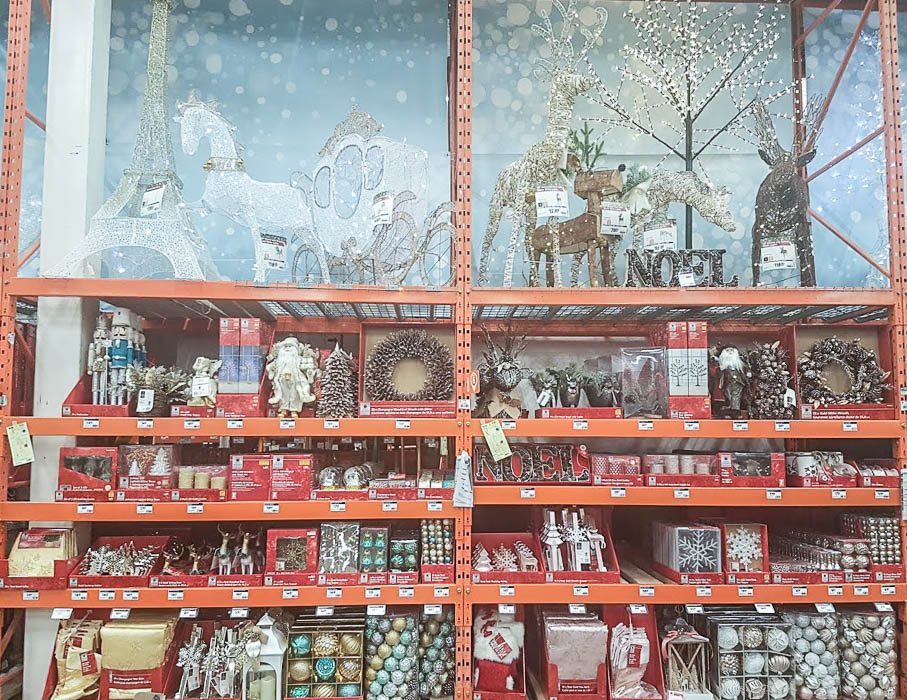 And the kids were pretty pumped about the life-size Santa Clause, the blow-up display, and all the lights! Oh and those race car shopping carts. Genius, Home Depot.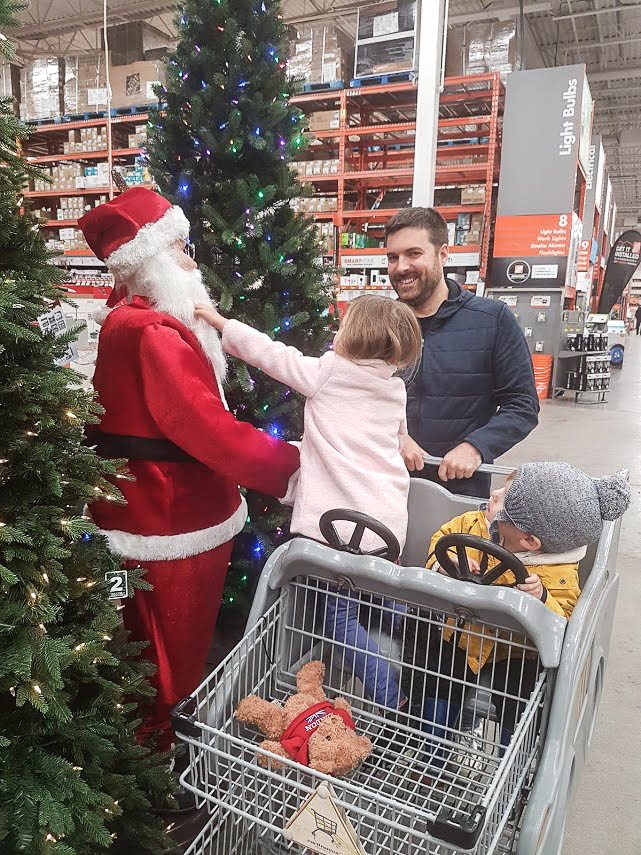 Once I saw the Lexington Flocked Tree it was game-over. I knew I had found the one!
We brought it home and it was incredibly easy to put together. The tree has all the electrical connections inside the pole so it's just a matter of popping each section on top of one another. There are 500 LED lights and a button at the base so it's super easy to click on and off. It seriously took all of 5 minutes to put up.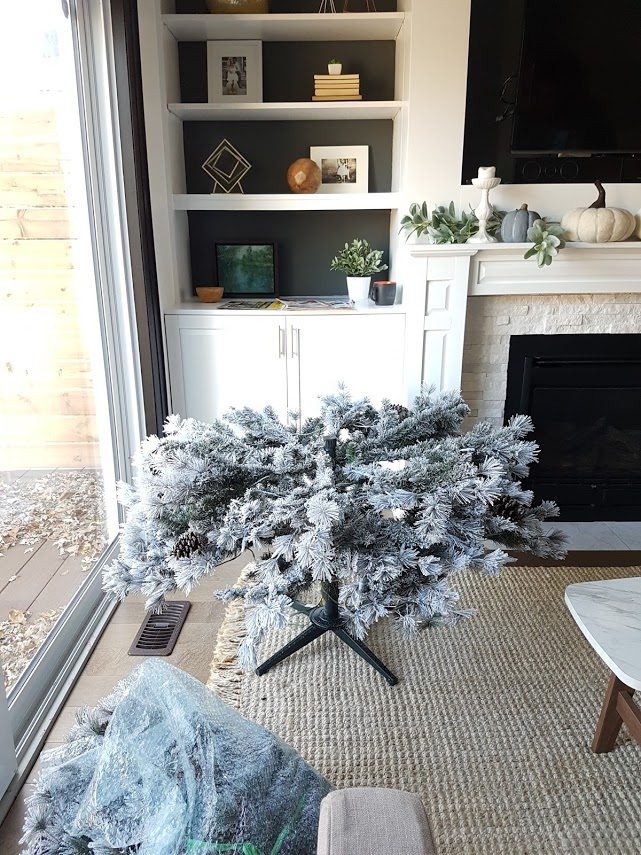 In terms of decorating the tree, we have always had a mish-mash of ornaments. You know, the sentimental ones. The crafted ones. The hand-me-downs. But this year, for this tree, I just wanted a beautiful, classic look.
While we were at the Home Depot, I spotted this case of 75 ornaments in hues of rose gold and silver. They are shatter-proof, which is perfect for the kids, and I loved the mixed metals look. Totally in keeping with my all-neutral scheme this year.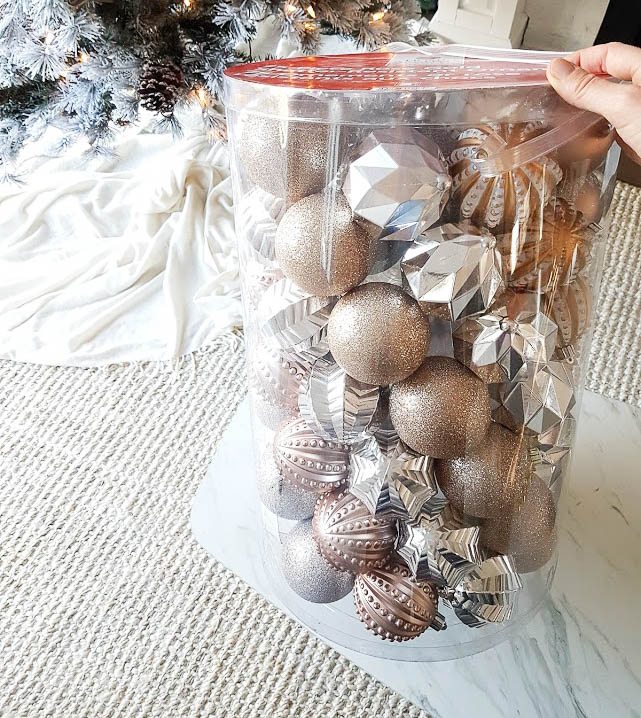 The best thing about buying a set of ornaments like that is that you know they all work together. The palette is just right, and no matter what, you totally look like you're all Martha Stewart. Bam.
My little assistant loved helping out!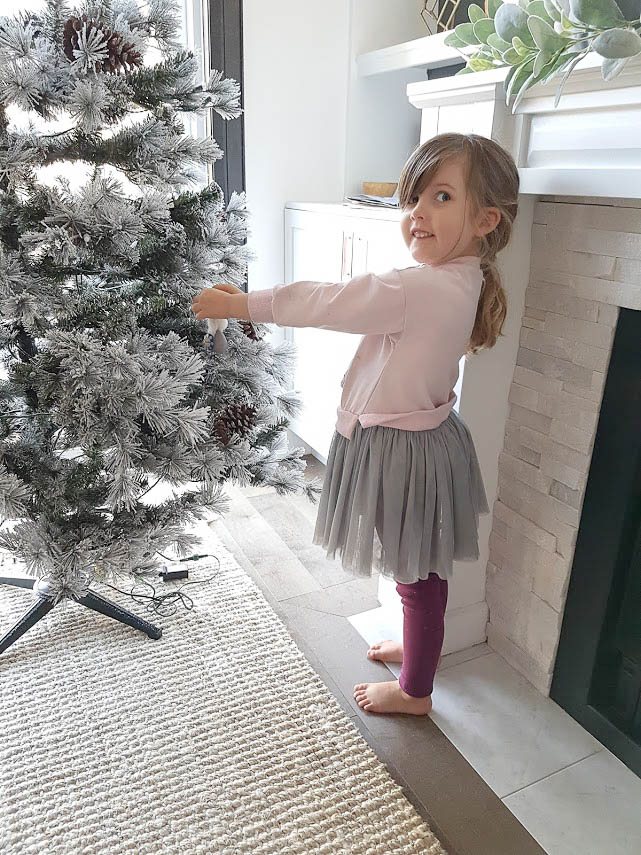 And here it is! Totally winter wonderland, right?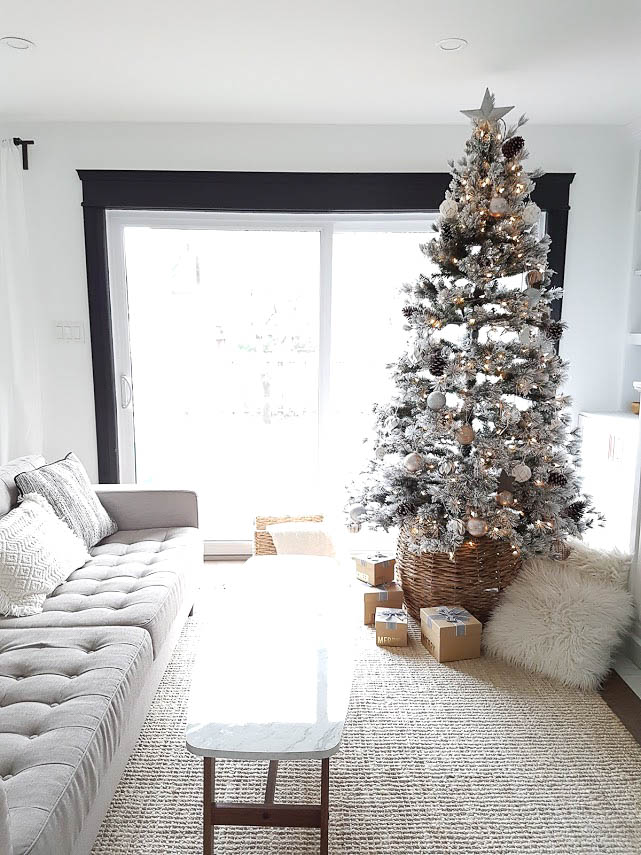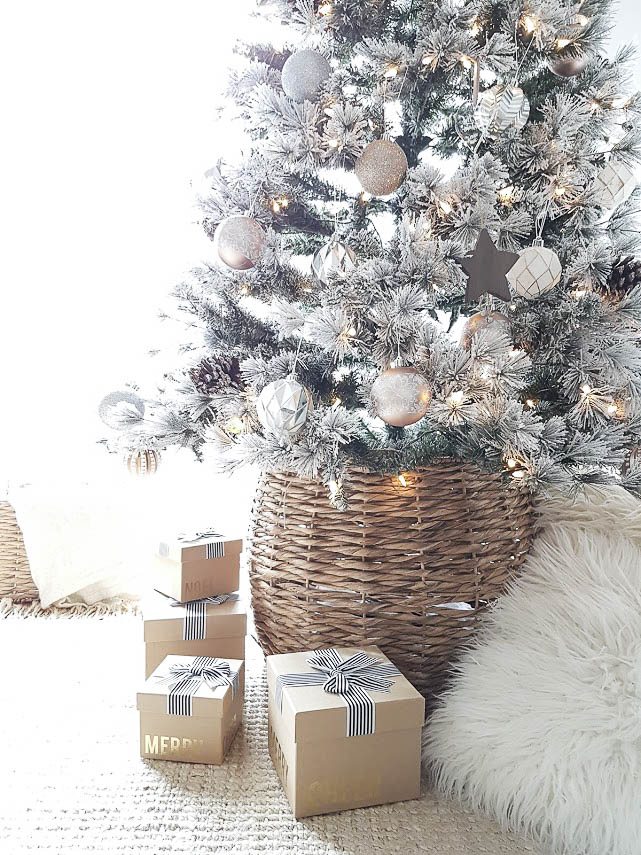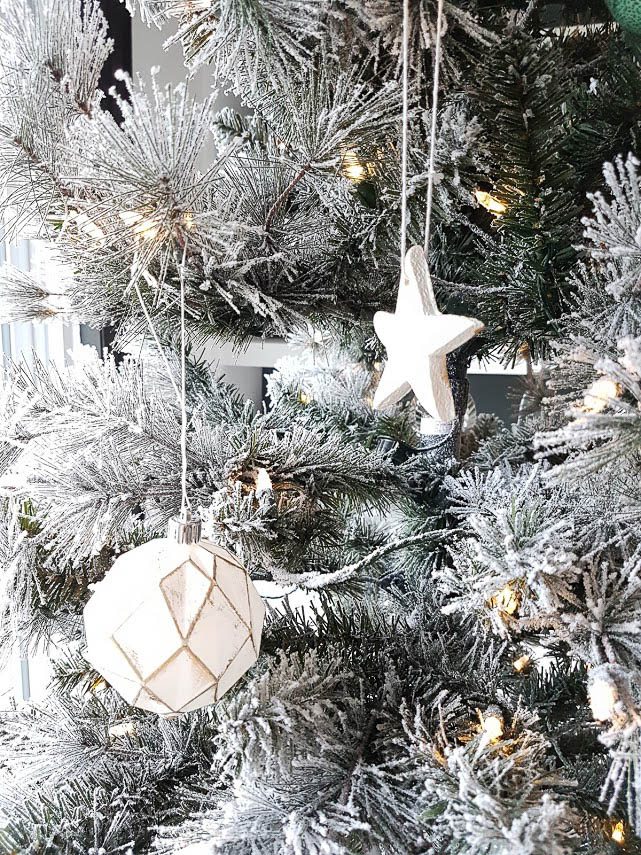 At 7 and a half feet tall, it is just the right size for our room. It fills up the space, but gives us *just* enough room to sneak a star on top.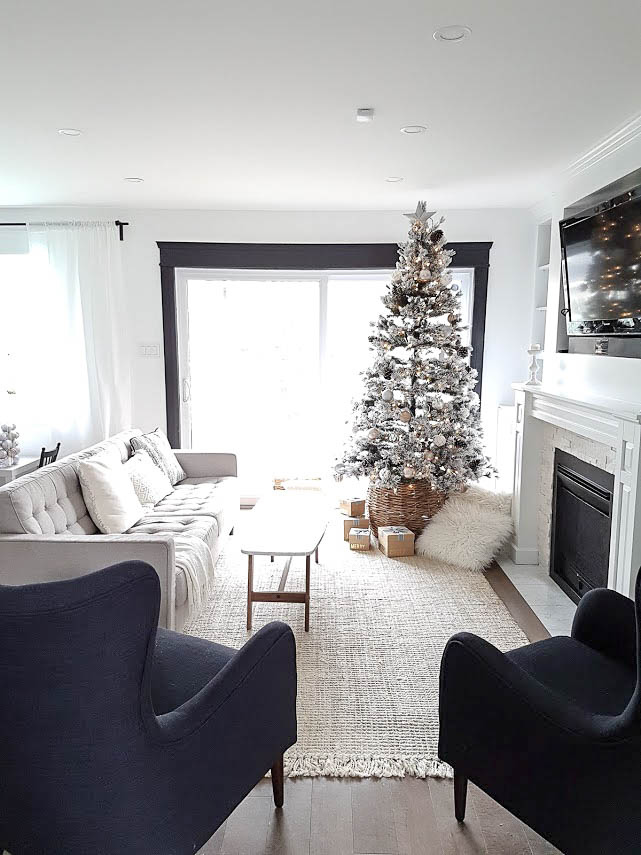 The metallic ornaments and the flocked tree just go together like PB and J. It is, without a doubt, the prettiest tree I have ever decorated.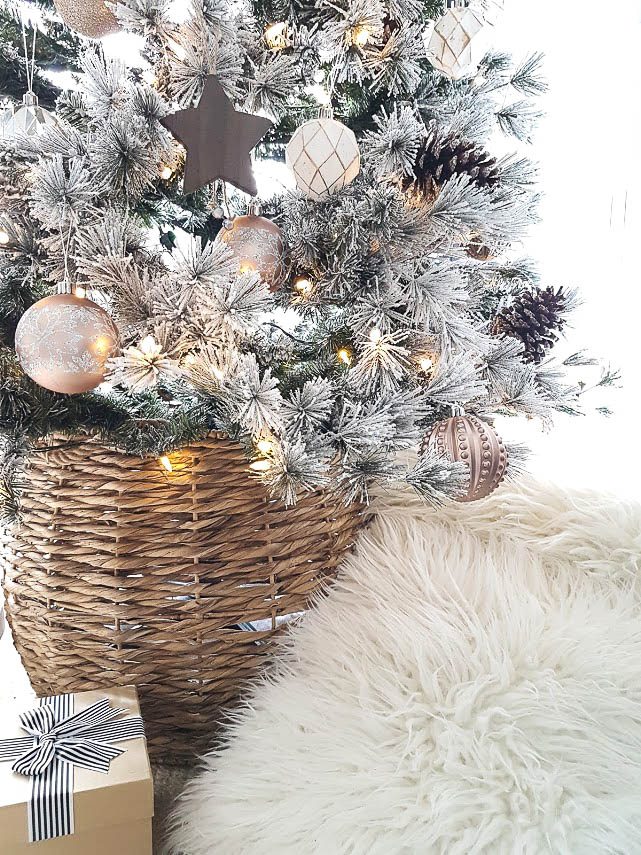 And although the tree looks lovely in the day, my favourite is at night. When it's dark and cold outside, the tree is lit up, and it lets off this warm white glow. Dan and I have been having a cup of hot chocolate down there every night after the kids go to bed. It is seriously cozy.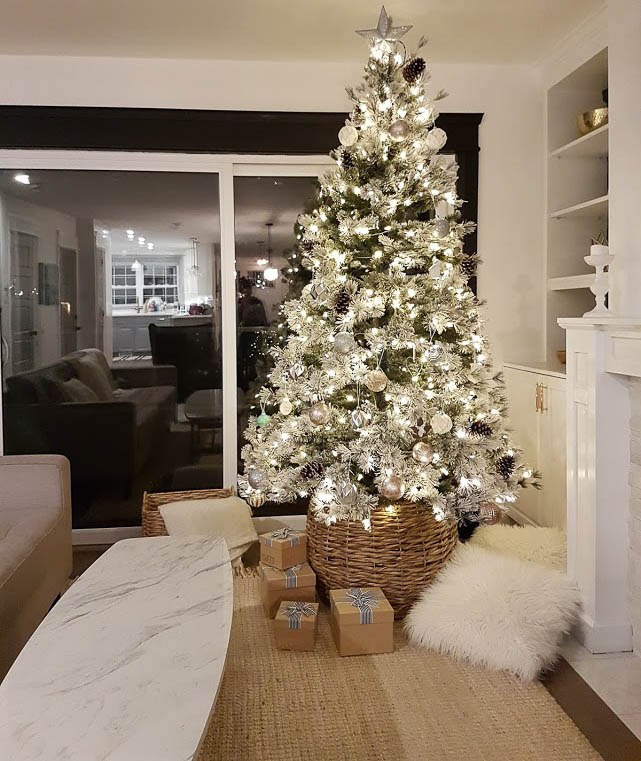 James thinks it's pretty magical, too. The great thing about these shatter-proof ornaments is that I can be totally chill about the kids touching them and re-decorating however they want!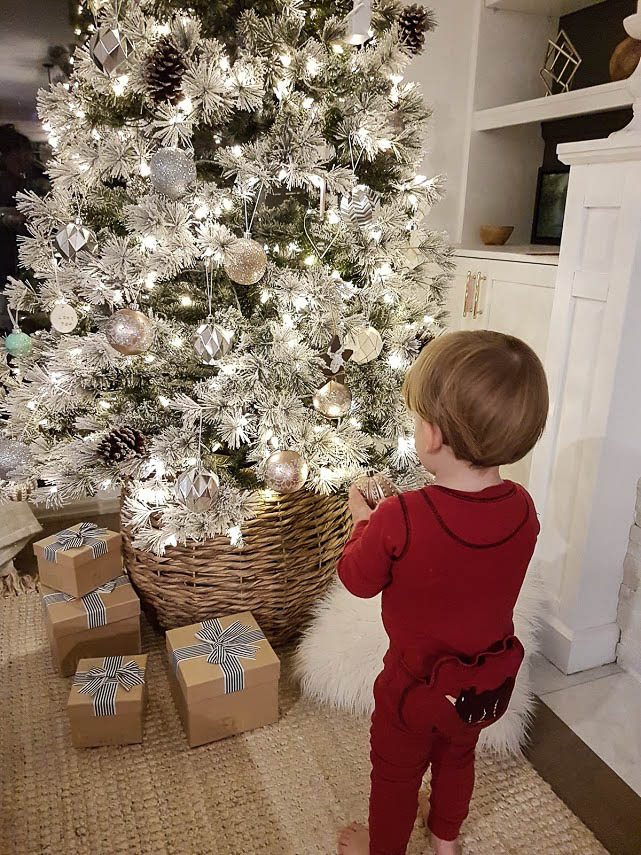 This boy cracks me up…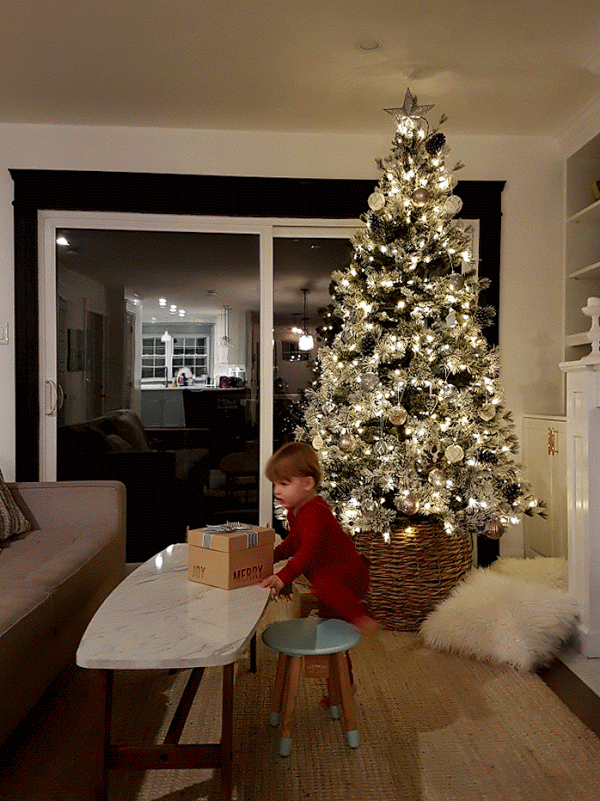 We have a second mini tree upstairs, where the kids went wild with their homemade decorations. It's stuffed to the brim with all the heartfelt, sentimental ones. I love having both!
Shop The Look:
Want to get the look? Grab the items below! [FYI – the rose gold ornaments seem to only be available at Home Depot Canada, so I have linked to a similar silver set for Home Depot USA below!]
For Canadians –> Home Depot Lexington Flocked Christmas Tree
Modern Holiday Home Series:
And now let's see what the other ladies did with their Home Depot decorations this week! Head over to have a peak inside all of their gorgeous homes…
The Learner Observer | Love Create Celebrate | Harlow and Thistle | Lemon Thistle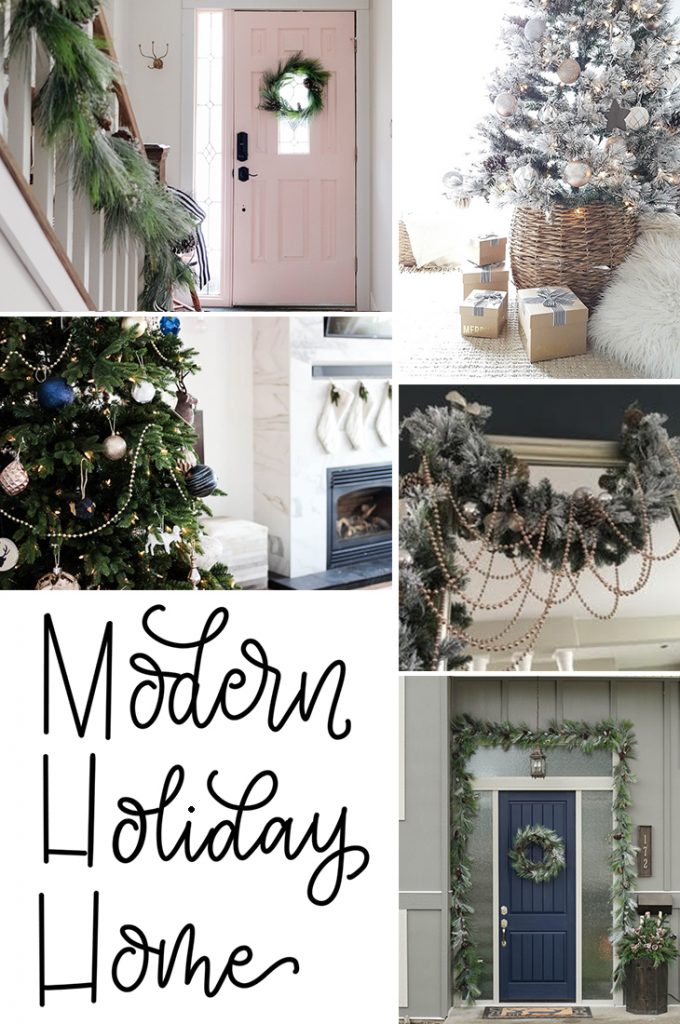 *This post was sponsored by the Home Depot Canada. As always, opinions are 100% my own! For more info, please see my disclosure page.*