The IKEA kitchen in our post-renovation house is finally getting pretty darn close to the finish line. There is still that pesky 5% left. You know – the small details like caulking and painting the trim that you just can't seem to get around to doing. On the whole though, we can pretty much call this one done.
A gray and white kitchen with a classic and timeless look. All on a budget, and a (mostly) IKEA kitchen.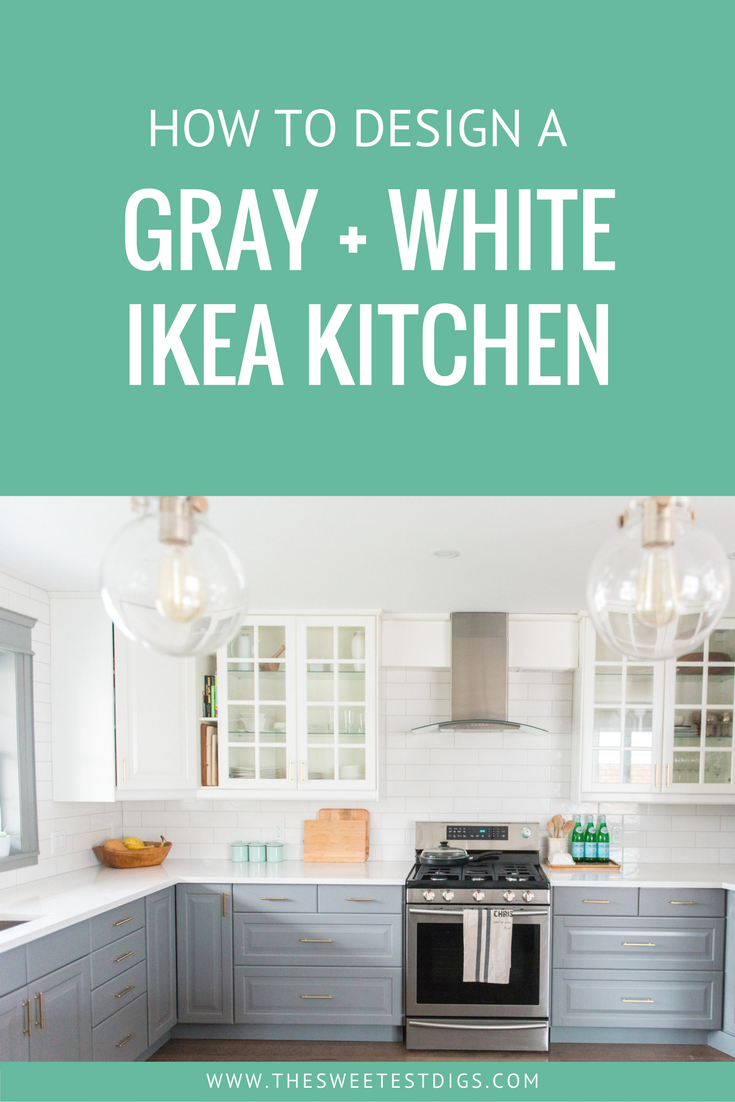 [convertkit form=4843634]
Our happy wee little bungalow served us well for 5 years, before we took it all apart to create the larger family home of our dreams.
Should we take a little step back in time and see where the kitchen came from?
This was demo day. When our bungalow was about to be no longer (and Dan and I were having serious heart palpitations). Here is our blast from the past kitchen…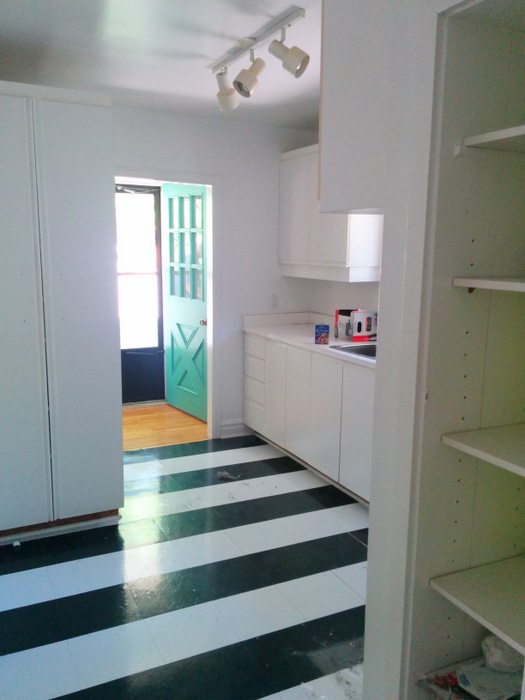 And the living room on the other side of the wall (to the left when standing in the hallway where the pic above was taken).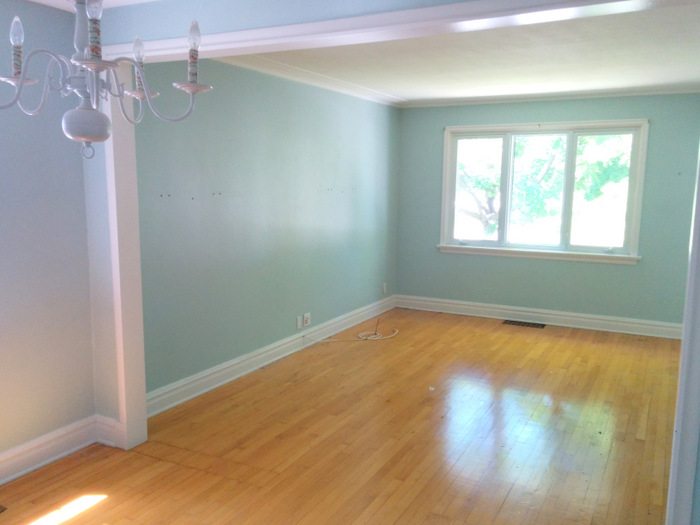 The IKEA Kitchen Reno Process:
Once it had been demo'd, the wall between those two rooms had come down, and the front door re-positioned onto the other side of the front of the house, this is what we were starting with.
All of a sudden it felt so, so open.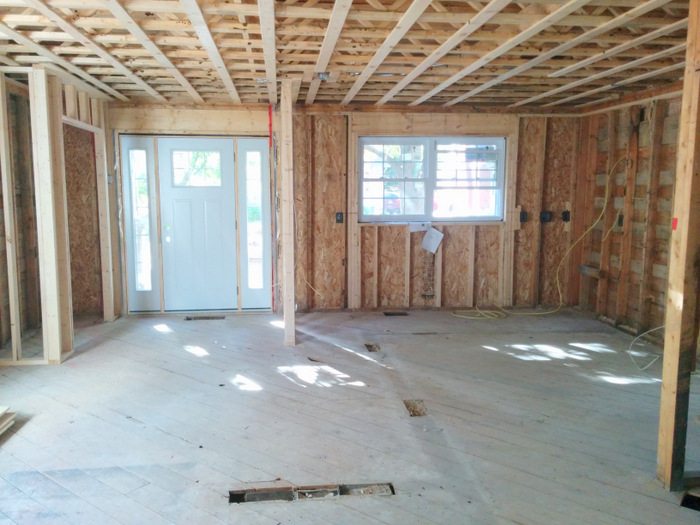 Drywall went in…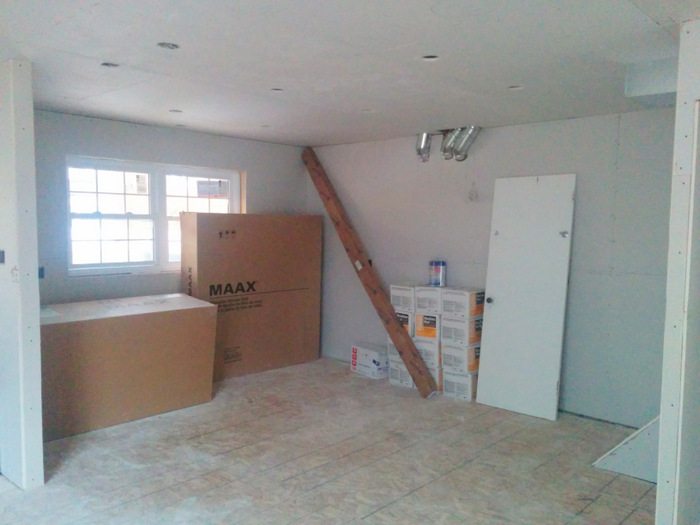 And then flooring, IKEA cabinetry and appliances were up next. Woah – hey, kitchen!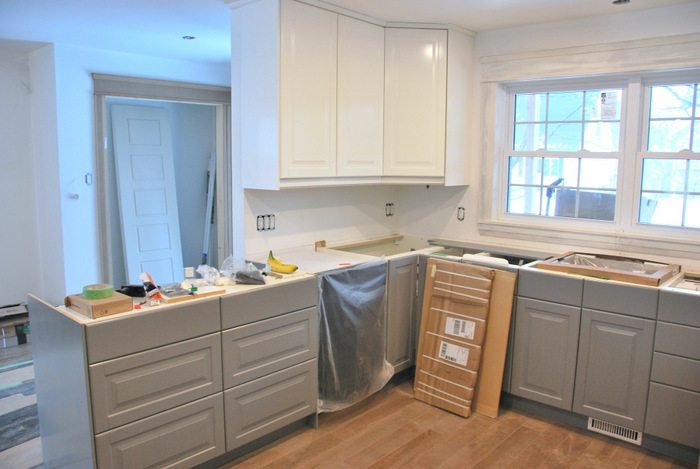 After moving back in, we lived with plywood countertops for a while…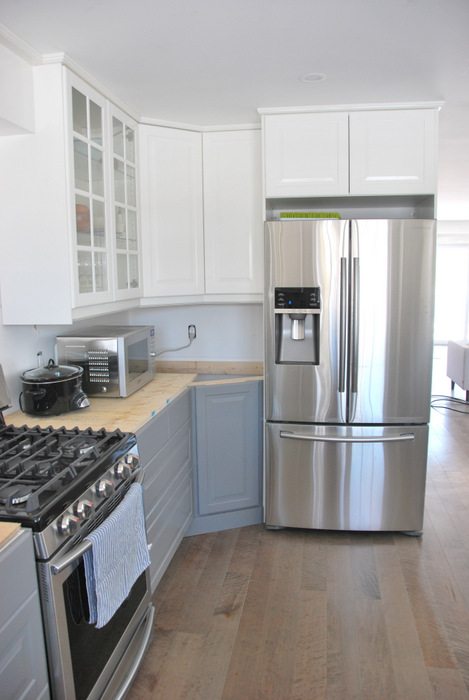 And then our marble-lookalike quartz countertops went in, which felt like a huge victory.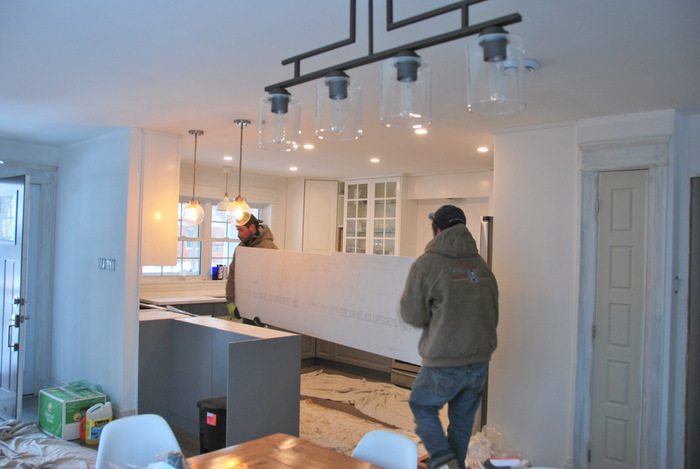 After subway tile backsplash, gold hardware, and other odd jobs, we landed here for a while…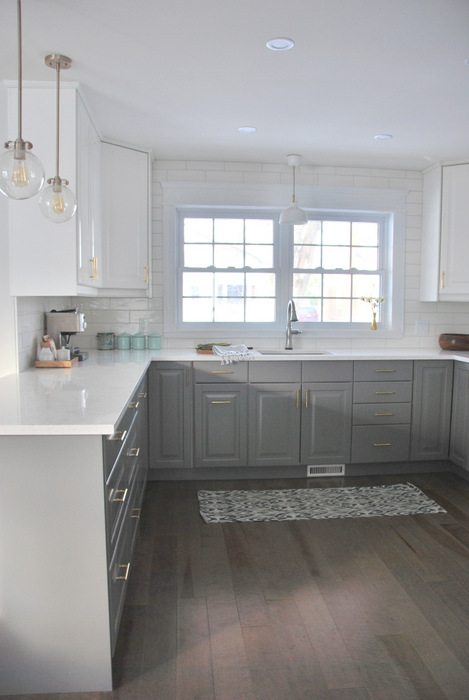 And then one of the more recent things I checked off the list (back in late summer) was to paint the molding around that large window a very close gray to the bottom cabinetry (the same gray I used for all the interior doors on the main floor of the house), switch out the runner below the sink, and a few of the elements on the countertops.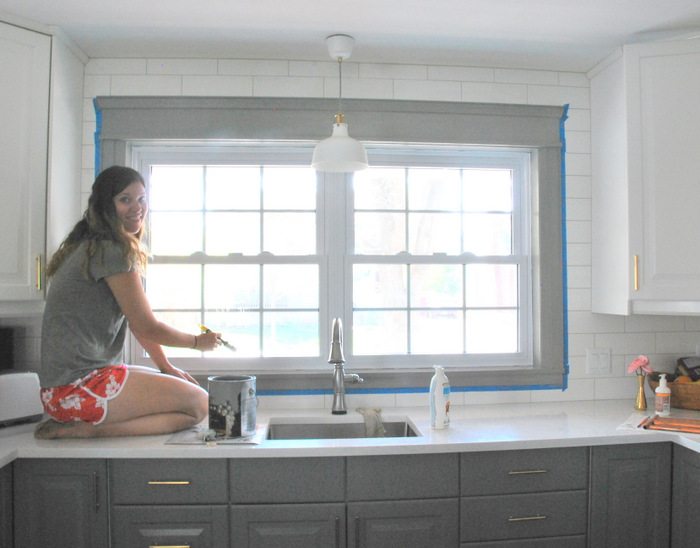 The IKEA kitchen Now
More than a year after getting started, and 95% complete, we are here.
This is the real-deal kitchen.
Appliances, bowls, and trays on the countertops – exactly how we live in it every day.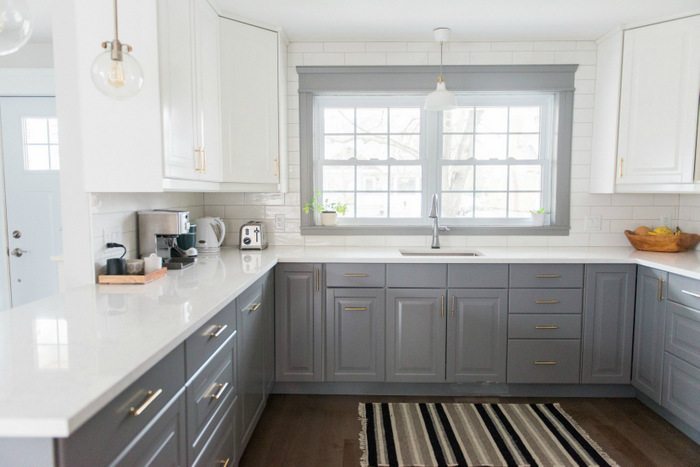 The Layout
The layout of the room works really well.
Despite having originally wanted an island, the peninsula we ended up with is wonderful and offers so much counter space.
The solutions we used for the weird nooks and crannies that we had to deal with (like the angled bottom cabinetry beside the fridge, or the duct work we needed to hide beside the hood vent, or the narrow bookshelf we created to deal with the lack of symmetry) all seem to work. The triangle of appliances is great and having the dishwasher close to the sink is perfect.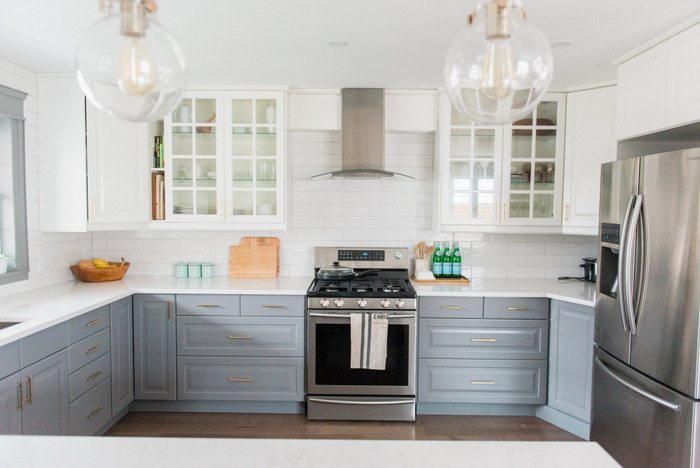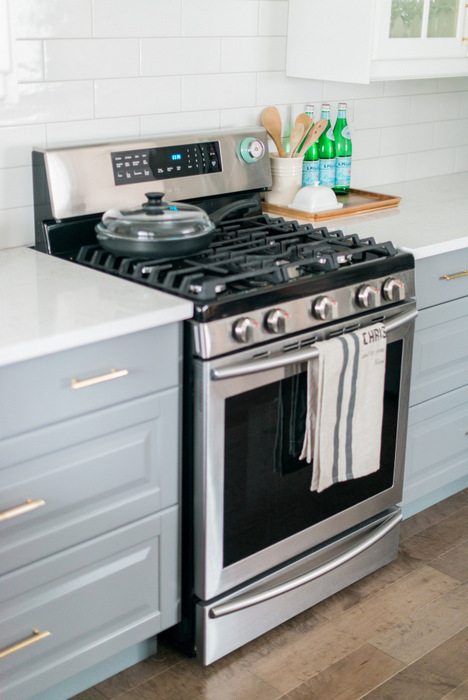 Review of our Design Choices:
I am happy to report that there aren't any decisions that I'm bummed about.
IKEA Cabinetry: I love the two tone cabinetry and like that we went with uppers, even though I know having open shelving is nice in an open concept space. We can pack SO MUCH into this kitchen and totally don't need a pantry or other space to store anything. Plus, the glass-fronted uppers keep it feeling a bit lighter.
I've been super pleased with the IKEA cabinetry and other IKEA elements in the room. Having lots of drawers (particularly the big deep ones for pots and pants) was worth the extra expense, and we love the pull-out recycling cabinet and integrated dishwasher front so that you don't even know it's there.
Big Sink: Having one big, rectangular sink has been great for washing pots and pans and it looks amazing. Here's a tip if you're going with a big sink – get a faucet that pulls out so you can easily wash the corners. We have a pull-out Delta faucet, and I can only imagine how annoying it would be to clean the corners and sides of the large sink without it.
Backsplash Tile: In my dreamiest of dreams I still would have loved one large slab of marble as a backsplash, but the elongated subway has a classic and clean look that I'm super happy with.
Hardware: I still LOVE the way the gold hardware looks in the kitchen against both the gray and white cabinets. So stylish.
Lighting: We've been really happy with the mixture of potlights and pendants in our kitchen. It's important to have that layered lighting. Our exact pendants aren't available anymore, but I love these chrome and glass pendants.
Range Hood: I would have loved to get a custom range hood made, probably all in white, that would have been designed to hide that duct work we were working with, but our budget-friendly IKEA hood and DIY'd box out of cabinetry material totally works.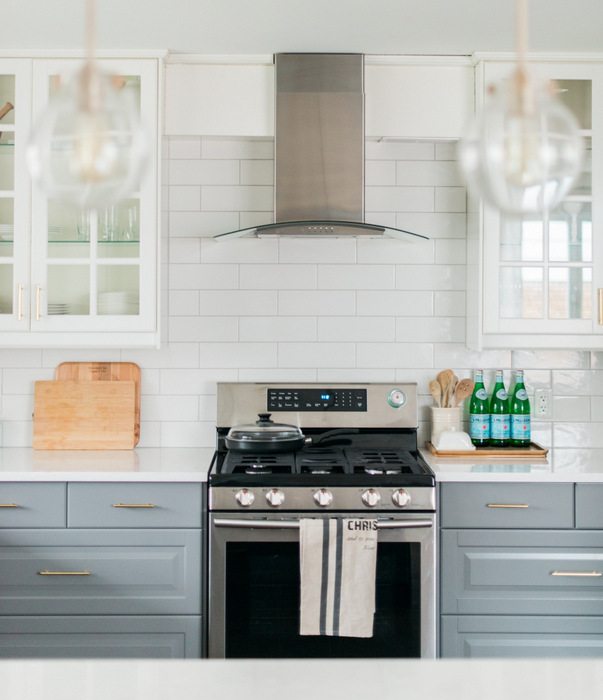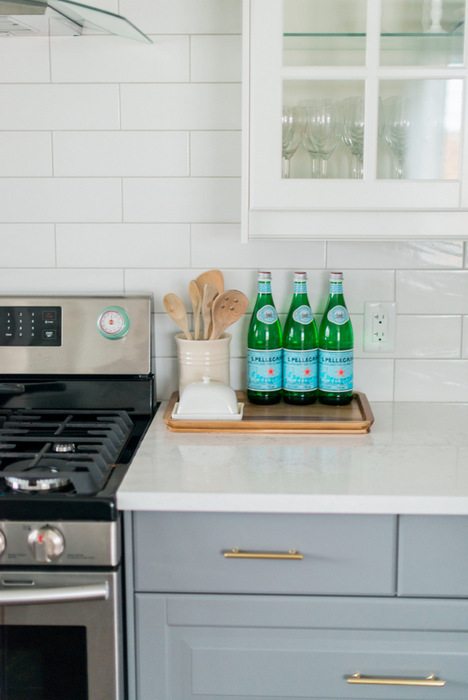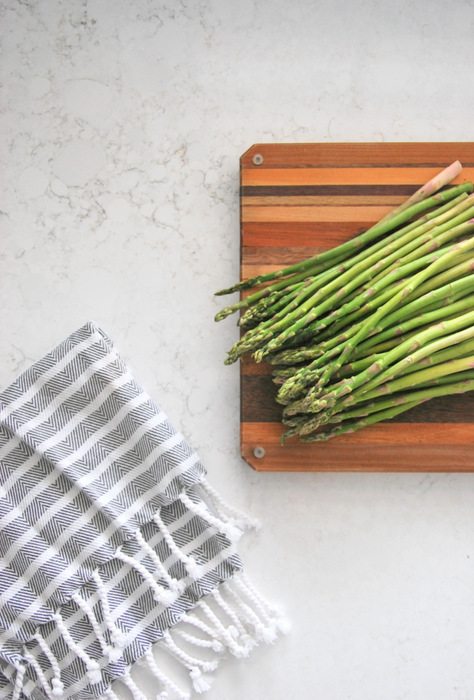 Did we DIY it all?
We are keen DIYers as you guys well know, but when doing an entire house like this all at once and with the kitchen being a pretty major priority to get done in order to be able to move back in to a space, we didn't truly DIY too much of this room.
Sure we designed it, picked out all of the features ourselves, acted as the general contractor for our own renovation, and handled the finishing stuff (hardware, etc), but it is thanks to our great guys who installed the cabinetry, flooring, tile work, countertops, and appliances that this bad boy came together.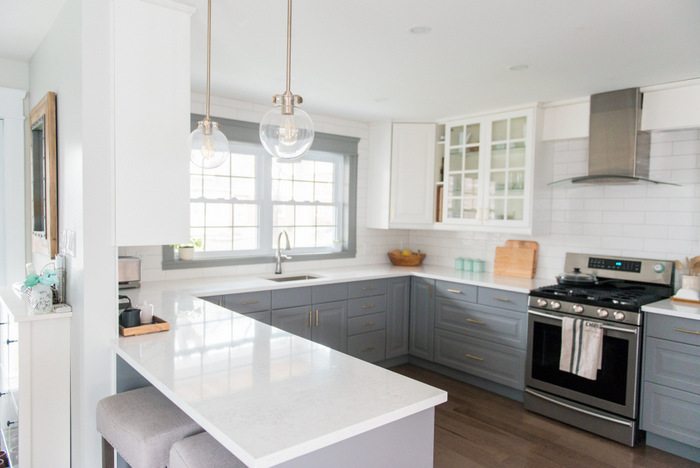 What was the Budget?
Because the budget for this kitchen was so inter-twined with the budget of the rest of the reno (for example – separating out labour costs for the cabinetry install, tile work, hardwood floor install, and electrical for this room from the rest of the house would be next to impossible), it's hard to say what the bottom line was in terms of cost.
Ultimately though, we chose budget-friendly options pretty much everywhere possible. Cabinetry, sink, and hood vent were from IKEA. Hardware was $5.25 a handle. The lighting was a mixture of pot lights with a few budget-friendly pendants thrown in. The appliances were all new, but purchased on a great bundled sale. I would consider the countertop the biggest splurge, but even still, it was on the lower end when compared to other quartz options.
Overall, this is a very budget-friendly kitchen renovation. And maybe I was just used to living with 80's oak strip cabinetry for too long, but I think despite the tight purse strings, it looks pretty darn high end.
I'm all about creating a home and life you love and doing that with the means that are available to you. Maybe you're in a spot to splurge on some super high end kitchen, and others are renting an apartment where only small, budget-friendly switch-outs are possible. Either way, it's about creating a space that feels like YOU and makes you happy. You want to get a big hug from your pad when you walk through the door, and that's what this house and room does for me.
All the Kitchen Reno Blog Posts:
–Planning & Designing the Kitchen
–Installing IKEA Kitchen Cabinetry
–Choosing Marble-Lookalike Quartz Countertops
–Choosing Gold Hardware & Installation How-To
–Choosing the Right Subway Tile Backsplash
–Planning Kitchen Lighting
A big thank you to Laura Kelly Photography for shooting the majority of these "after" photos of the kitchen.