If you guys have been reading this blog for a while, you'll know that we are big fans of making photo books and doing family photo sessions. I love the snaps I take on my phone and personal camera, but there is nothing like getting a professional photographer to capture a point in time for your family. I thought I would chime in today on how to get amazing photos while you're pregnant – scroll down to the bottom for a free download of maternity photo shoot ideas and tips!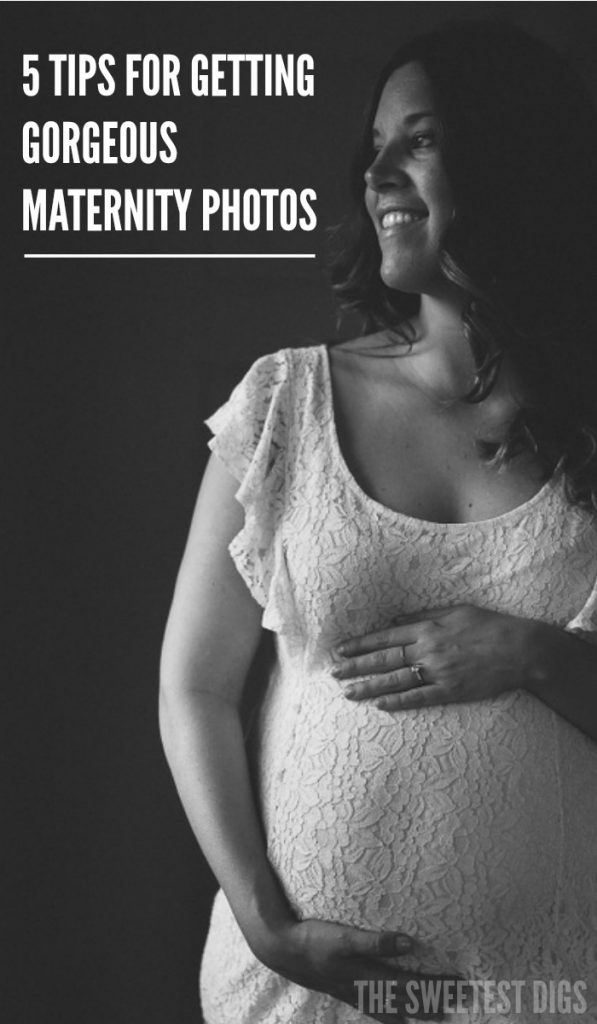 How To Get Great Maternity Photos
When I was pregnant with Maya, we had to unexpectedly cancel our maternity photoshoot session at the last minute due to an emergency with the photographer's family, and we never had a chance to re-book anything before she was born. We still did a session out at Dan's family farm and his Mum took the photos (she's an avid photographer), and luckily there are some lovely ones that I absolutely treasure – like this fun rainboot one! Those boots fit Maya right now actually and it's so fun to think back on this photo when we were anxiously awaiting her arrival and had these stored away in her closet for that future time.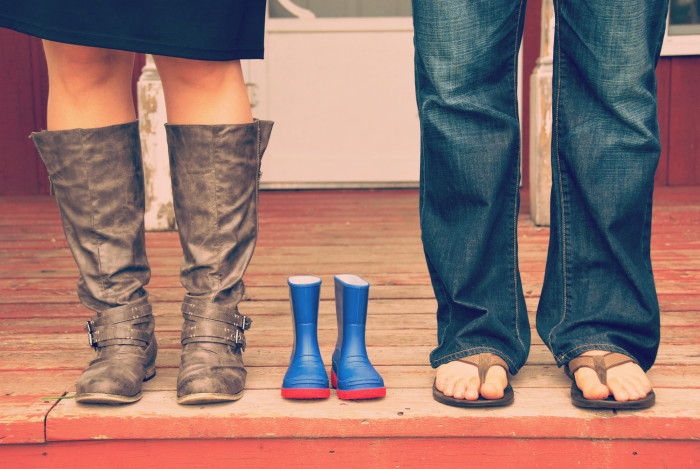 This time around though, we have actually been lucky enough to have TWO sessions (!!) with two different photographers.
The first was an at-home maternity shoot with ultra-talented photographer Charlotte Northrope. I love Charlotte's artistic and candid style and knew she would be perfect to get some solo shots of just me and the belly. We did this session on a weekday when it was nice and quiet at the house (benefits of working from home!) and the whole thing felt super relaxed. The photos feel so personal to me as they are in our own home, surrounded by our everyday life stuff. It just feels real.
Charlotte had some great advice for in-home maternity sessions that I wanted to share with you guys:
Choosing the right space in your home // Pick 2-3 spaces in your home that you would like to be photographed in. Often these are the living room, a bedroom, and/or a nursery. You want to choose spaces that have some diversity so that you can get different looks throughout the photos and also ones that have windows with good natural light. Make sure to tidy and declutter these rooms before the photographer arrives!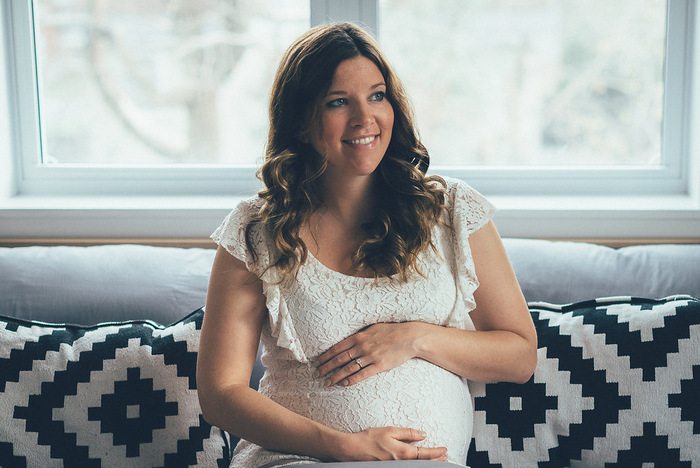 What to wear // Neutral colors work well to bring out natural skin tones. This means that wearing whites, soft greys, tan, browns, denim, soft blues, and soft pinks are really good options. However — if you are someone who always wears bright, bold colors, then stick to that! You want to look like yourself and have the photos accurately reflect who YOU are.
Too many conflicting patterns or large logos can be distracting in photos, so try to limit them. If you are going for some pattern and there are multiple people in the photoshoot, think about how those patterns and colors work together. Maybe stick with having one or two people with a patterned shirt and the rest in a solid, complimentary color.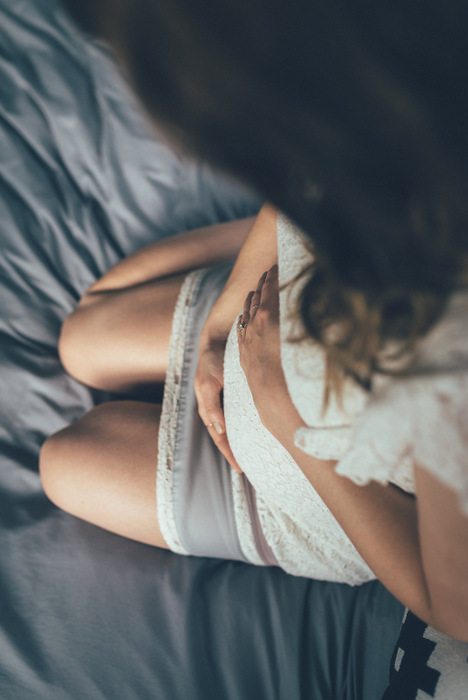 Props // There might be some props in your home that you'd like to feature in the photos. A special blanket that was knit by a family member, some blocks that spell out the baby's name, a favourite kids book, the mug you have been using for your cuppa tea every day since you were pregnant, whatever. It can be fun to capture those things in the photos, so think about them before the photographer arrives so that you're all ready to go.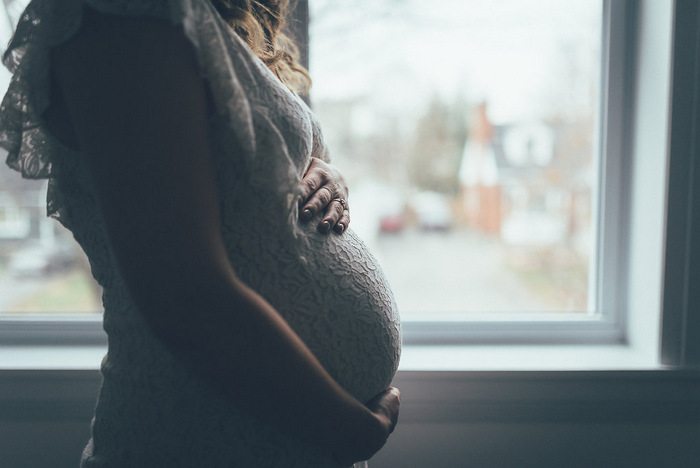 The second shoot we just did a few days ago was an outdoor session in the snow! We had actually purchased this one as more of a "family photoshoot" for my parents' as part of their Christmas present, as we really don't have enough good photos with them. It was another wonderful shoot and the bright white snow was such a perfect (and REAL) backdrop. We're Canadian – can't be all beaches and summery stuff! Again, we kept it close to home and did some pics in front of our house and then the rest down on a pedestrian pathway at the end of our street. Photographer was the sweet and talented Michelle from Michelle Ma Belle Photography.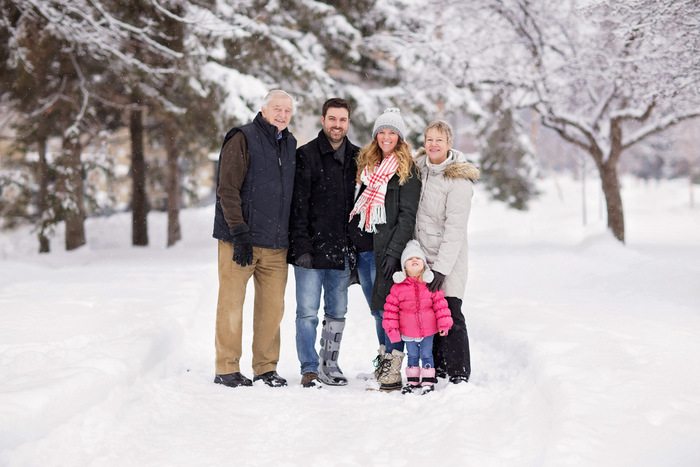 After doing both of these photoshoots, these are my takeaways of things you want to consider when booking a maternity photo session:
1 // Choose a location that feels natural. It's not that I don't appreciate studio photography, but in my experience, the photos that we have had done in personal locations are meaningful and seem so much more natural. I love that both of these sessions were at our own home – in our own space, on a path we walk on just about everyday, etc. Maybe there is a park you go to all the time or an area of your town you hang out in – I would choose those spots over places you've never been that feel a bit too staged.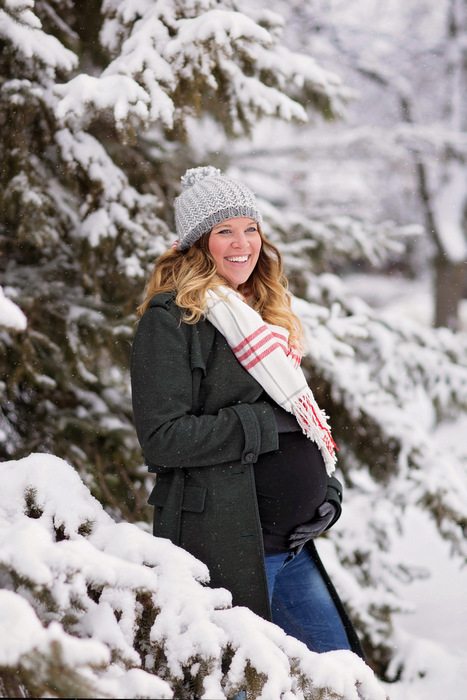 2 // Working with small kids. If you have a toddler who is going to be in the photos with you, be smart about the timing of your session. I thought I was being clever by booking our family shoot at 10am since that is nowhere close to Maya's naptime, but I stupidly forgot to give her a snack before the photographer arrived. She was fine for the first 20 minutes or so, and then went into full on rascal-mode and was SO HARD to get in the photos. Usually she is a total ham for the camera and a generally pretty darling kiddo, so it was really frustrating for me to see her being so badly behaved. After a while, we totally used bribery to try to get her to cooperate and it did work to a degree. Bribery and corruption you guys – use it. We tried to smile and laugh our way through it and still got some good snaps, but I would have loved a few more or just her and I (she refused) and maybe one with her and the grandparents without us. You win some, you lose some, right?! #RealLife
(Oh, and throwing her up in the air? That worked to get a smile. Use it!)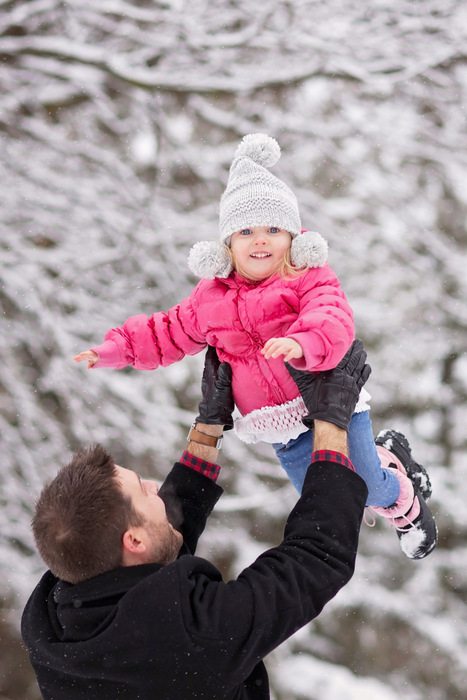 3 // Do your research, but let the photographer direct you. I like to gather some inspiration ideas online for what type of photos I would like and then send them to the photographer in advance or show them the pics before getting started, but ultimately you need to let the photographer do the directing. They are able to see the photo and what is/isn't working and you need to trust them. I always feel a little awkward in front of the camera, and it really helps when the photographer just says "put your foot this way, look that way, move your hand down, etc". Just let them do their thing and try to relax.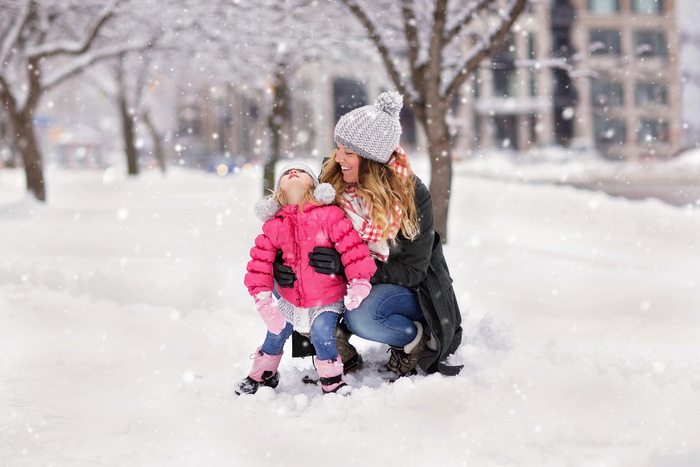 4 // Choose the right photographer. I have gotten to know several different local photographers and they all have a different style. If you want fun, bright, and playful shots, choose a photographer that features that type of work in their portfolio. If you want something more journalist-style, or darker and more "moody", look around for that. It's really important to check out the style of the photographer and know that it is in line with what you want versus hiring someone because they have the best price (or whatever the deciding factor is for you) and then trying to get them to do something different from what their body of work represents. Remember that they are artists who have a defined style, so choose the one that you think "Oh, I'd love for our pictures to look exactly like THAT!"!
I have a whole photography board on Pinterest where I love to gather ideas for photo sessions. Make sure to
follow me over there
for inspiration!
Have you guys had professional photo sessions before? Any tips to share on your experience? Would love to hear them!