It's that time of year, you guys. If you partake in any kind of holiday gift giving, you have probably started thinking about who you want to give gifts to, making lists, and doing some shopping and crafting! On Dan's side of the family we do secret santa (by generation), and on my side we do handmade gifts. It means that things stay pretty reasonable in the expense department, and there isn't too much pressure to go out and buy or make a million things.
I do, however, LOVE to put together a good stocking. I do one for Dan, one for each of my parents, and for the first time this year, one for Maya. I am so pumped! I think that stockings are so much fun, don't you? Putting together a package of little items that you have really thought about for that loved one – things that will make them smile, and know that you were paying attention throughout the year – is probably one of my favourite things ever.
Etsy is one of my go-to spots for holiday shopping because not only are items from small business owners, but you can find some really original stuff. Here is my roundup of favourite gifts under $30.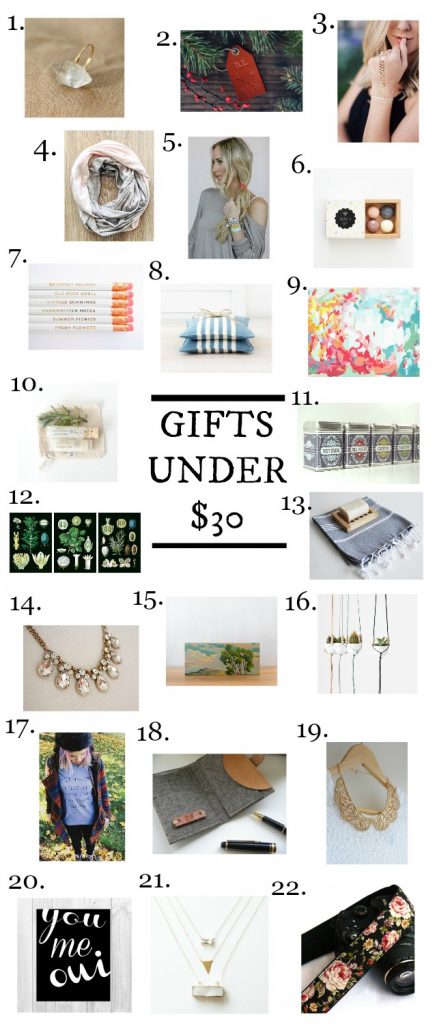 1 // I love the chunky and natural vibe of this quartz ring. This would be a favourite in my jewellery collection for sure.
2 // I love the way you can personalize these leather luggage tags. Add initials or a saying to make them perfectly suited to your loved one. Plus, would look way nicer than the paper tags on a suitcase.
3 // I am dying over these temporary gold tattoos. One of my BFFs posted a bunch of pics on Instagram of her using them in Mexico on the beach, and daaaamn they looked good.
4 // What gal doesn't love an infinity scarf ?? I like the subtle colours in this one.
5 // I throw my hair up in a ponytail probably 2-3 days a week. These aztec hair ties would make that pony look way more stylish, don't you think?
6 // This jewel soap set is just so pretty. Would be a perfect hostess gift.
7 // I have always loved these pencil sets that have little sayings on them. This particular set of "favourite things" is really cute. I'm thinking they would be perfect in my future office.
8 // These lavender satchels remind me of the south of France. They are darling and are that perfect small gift for someone you don't know what to get.
9 // I'm looooving the colours in this abstract print. Summery and sweet.
10 // Kind of like the soap set above, this all natural lip balm and bath salt gift set is a great hostess gift or stocking stuffer. Who doesn't love getting a new lip balm?
11 // These customized spice tins are retro and fun, don't you think? I'd love them for my spice cabinet. Fill them up for an even nicer gift. Would be great for someone moving into a new house, or a cook.
12 // I'm obsessed with these black 8×10 botanical prints. I love their graphic nature and vintage vibe.
13 // These light weight turkish hand towels are great in a bathroom. Not only are they light weight and attractive, but they are super on trend right now, too.
14 // How glitzy and gorgeous is this raindrop crystal necklace? Come to mama.
15 // I love this retro paint by number art block. A really fun and different art piece.
16 // This mini hanging planter is so sweet, don't you think? Put a plant in it and add a a few gardening accessories for a more fulsome gift basket.
17 // This long sleeve tee is to die for. Even though I don't live in the North West (where the shop hails from, and all the sayings are in reference to), it still resonates with me. Got an outdoorsy guy or gal on your list? Check out their shop for more really unique clothing items.
18 // This minimalist wool felt wallet is great for holding business cards or for someone who likes a more slim wallet. I love wool texture.
19 // I have a lace collared necklace like this one and wear it all the time. Really versatile and sweet piece.
20 // I would be remiss not to mention my own little Etsy shop in the under $30 category. I sell art prints (all my original designs) for $15 a piece. Very reasonably priced and I have quite a few up on the site, so there should be a little something for everybody. This one is my 'you, me, oui' black and white print. Oh, and don't forget to enter 'HOLIDAY' upon checkout to receive 25% off your entire order (until Dec 1)!!
21 // How gorgeous is this layered druzy necklace? Do I need to even say more?
22 // For any photographer on your list, this camera strap would be such a good gift. They have a bunch of other patterns in their shop, so I'm sure you'll be able to find exactly what you're looking for.
Well there you have it! A roundup of my favourite things under $30 on Etsy. You totally don't have to spent too much money to get really great gifts, plus support small businesses while you're doing it. Dan and other family/friends, feel free to use this as my own Christmas wishlist (hint, hint!).
Do you have a lot of Christmas presents to figure out? It's funny how everyone feels really differently about it. Some folks hate the pressure of having to buy at Christmas, others love hunting down that perfect thing for someone. Some make all of their gifts, and some just love to go on big sprees and buy for everyone. What do you do at the holidays?