A few weeks ago, in this post, you saw the design and direction for our IKEA kitchen. We purchased all of our cabinetry and some appliances (dishwasher, hood range) during one of IKEA's kitchen events, which I totally recommend. We walked away with about $1600 in a gift card to use on future purchases. It has come in super useful already, considering we're at IKEA on a near-weekly basis these days. Oy. Here is what we learned installing IKEA kitchen cabinetry!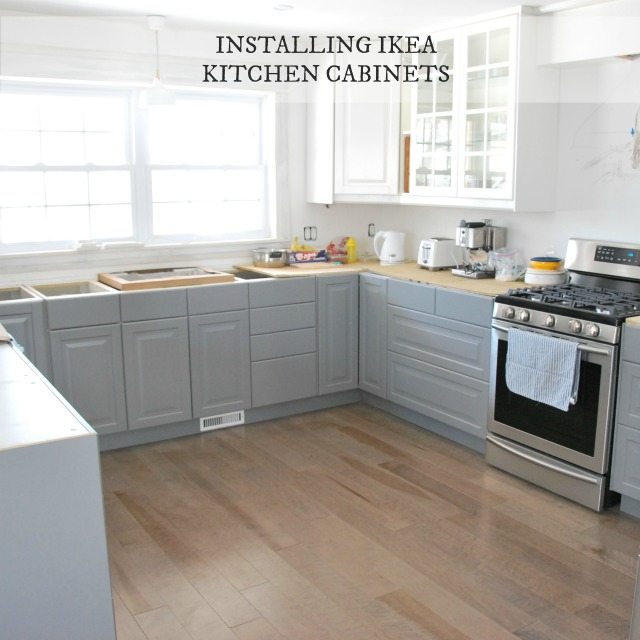 Want to travel back in time a bit?
This is what the kitchen looked like, post-demo, ready to get put back together…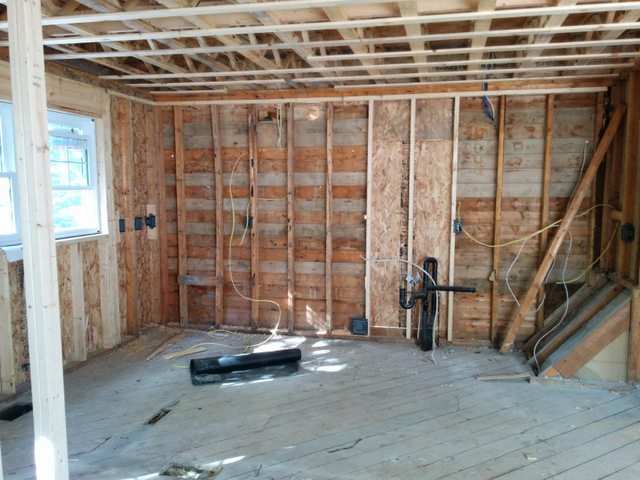 And here is the space with drywall on the walls. Man, I remember that being such a game changer. Like all of a sudden it seemed like a house again.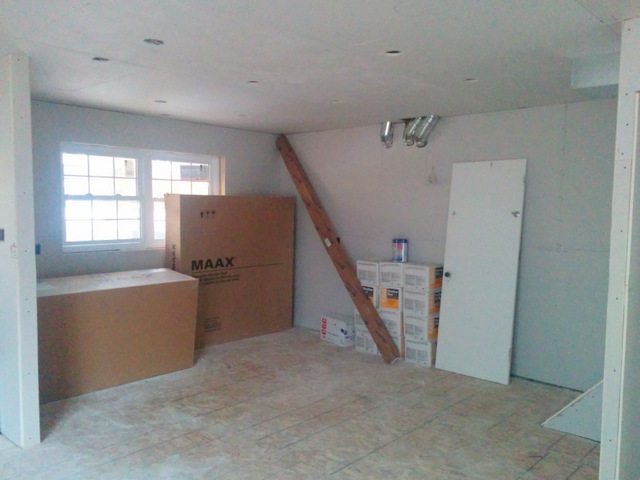 And a reminder of our design from the IKEA kitchen planner..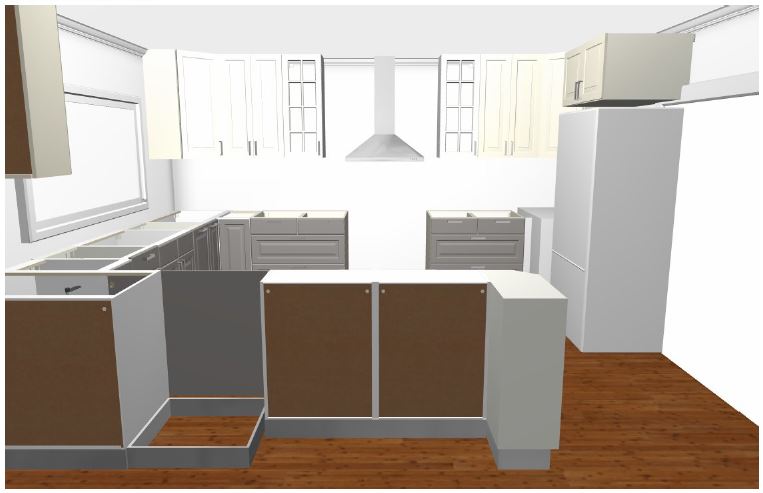 Installing IKEA Kitchen Cabinetry
I'm going to start off by saying that we did not install this kitchen ourselves. Although we are almost always up for a DIY and learning a new skill, this was just beyond our scope. We're both working while this reno is happening and frankly just don't have the time. Plus, installing a kitchen is a tricky thing. We knew that hiring a contractor to install the kitchen would not only make it go WAY faster, but would also result in a fabulous looking space.
For all of the finishing details around the house (trim work, hanging doors, building our fireplace built in, etc) we have used a contractor – Andrew – that my parents had used when they built their home, and we had used briefly during our basement reno a few years ago. He has put in a number of kitchens before and is a great problem solver. Just the kind of guy you want for the job. Going with IKEA is fabulous in terms of the price point and the look (I'm crazy in love with our white and grey cabinetry), but installing it can be a bit challenging as you are fitting standard size cabinetry into a not-always-standard space.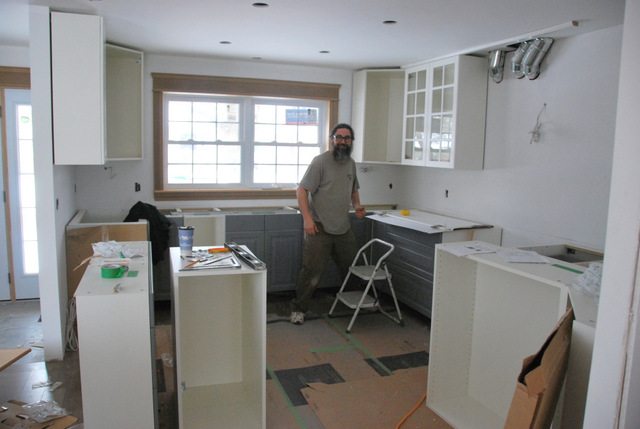 Funny guy :)
I'm obviously not going to give a how-to for installing this cabinetry as we didn't do it ourselves, but I will point out a few areas that were challenging. Oh, and these are the "Lindigo" cabinets from IKEA, which, now with their new Sektion line are basically the same as the 'Bobdyn' cabinets, as far as I can tell.
A corner of the kitchen proved to be tricky right from the get go. See in this picture below that triangular section in the ground?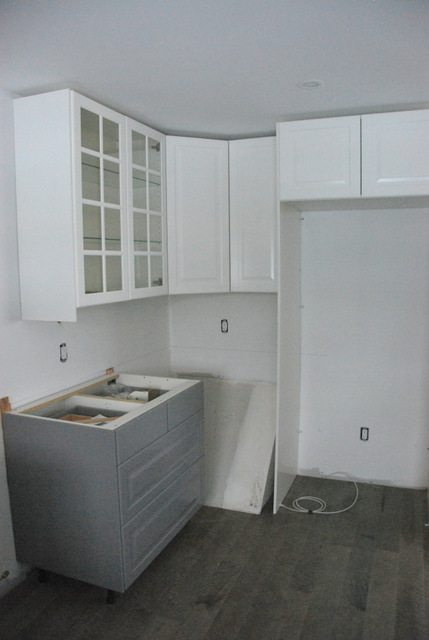 Well it is the top of the staircase that goes down to the basement. There was no moving that, so we knew we would just have to work with it (it has been built around in our previous kitchen as well). Andrew gave us a few options of how we could work with it, and ultimately we all felt like it made the most sense to have the run of cabinetry come around that corner on an angle and have a fake door on the front. The countertops will also make the same angle, so it'll just blend in.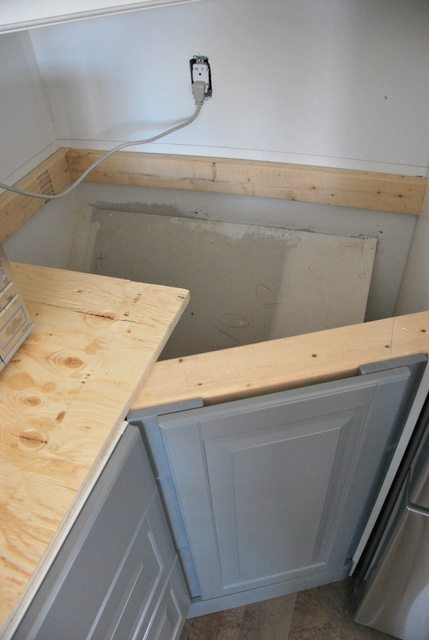 Andrew was able to still make it look intentional and built in.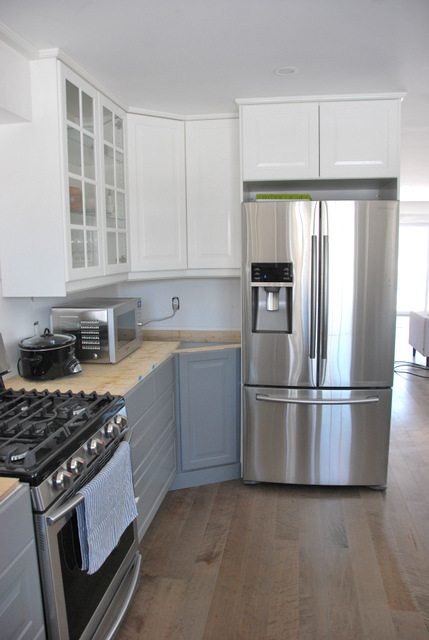 The hood vent was another tricky area.
Initially we purchased the Luftig range hood from IKEA (the one you see in tons of kitchens!). I like the streamlined look and we thought it would work in the space. Unfortunately, once a box was built around the duct work (again, something we couldn't move), it didn't leave enough space for the range.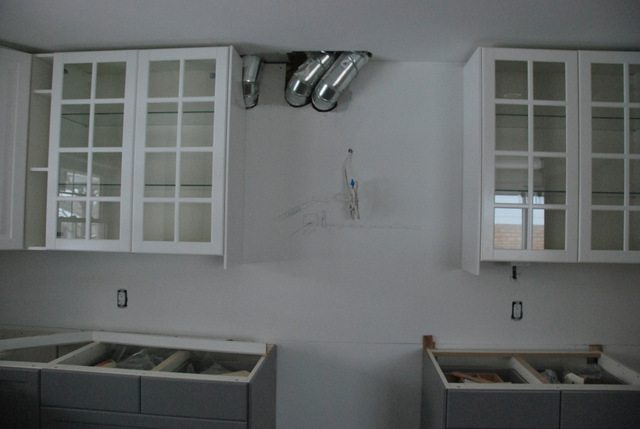 You need to have a certain amount of space between the top of the stove and bottom of the range, and we weren't going to meet it. Dan has been looking around for another self-vented range (ie. instead of being vented to the outside, it has a recirculation mode fitted with a charcoal filter). We have recently found one online that will work, and so are in the midst of purchasing it.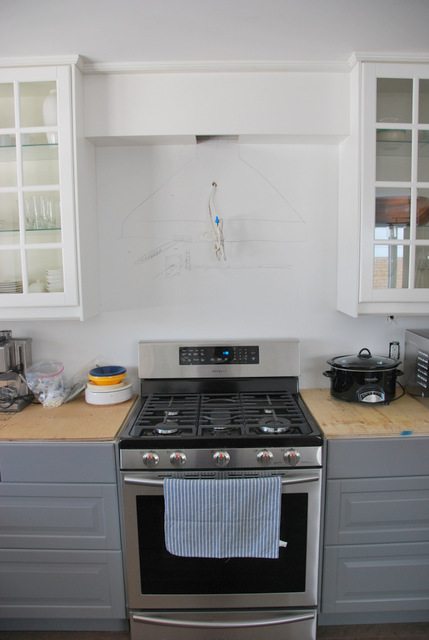 One of the other great ideas that Andrew came up with was that narrow shelf on the left in the photo below. Although we had thought everything was symmetrical in our plans, once we started to put the uppers up, they weren't aligning evenly with the stove. I really didn't want to have a bigger gap on one side of the stove than the other – really felt like it would look 'off' – so Andrew made up the difference by building that custom shelf on the left between the two uppers. Perfect for cutting boards and some cookbooks.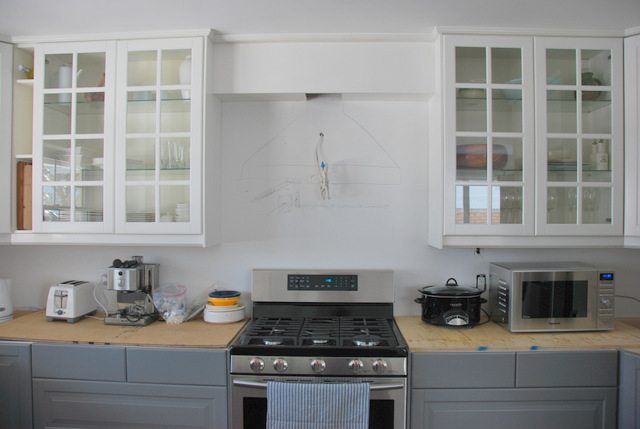 In our peninsula area, we switched from the standard deep cabinets to some more narrow ones. This gives space to tuck in stools around that back side. We thought about some open shelving of some kind on the side of the peninsula, but didn't really have the space in the end. A waterfall effect with the countertops would've been lovely, but was out of the budget for us.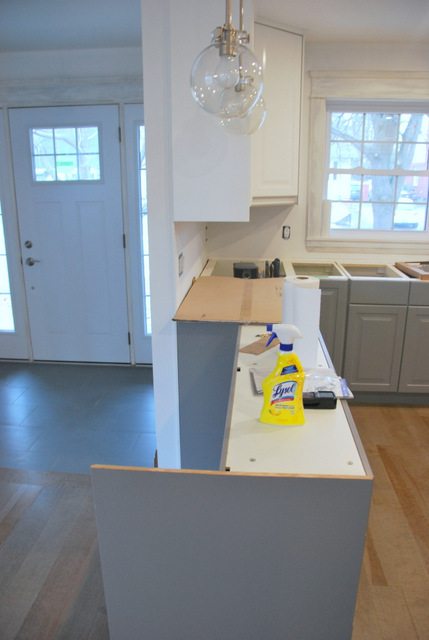 The other thing Andrew did a lot of was add little pieces of filler here and there to get a clean, continuous look between each cabinet. He also used a filler piece to make that box around the duct work above the stove. We went all the way to the ceiling with our cabinets and used the IKEA crown molding to tie it all in. All in all, we are super pleased with how it came out. I like having a few glass fronted cabinets, but also lots of closed uppers to maximise storage that might not be so 'pretty'. We focused heavily on having drawers and corner units that pull out. So far, we are really liking the configuration of everything.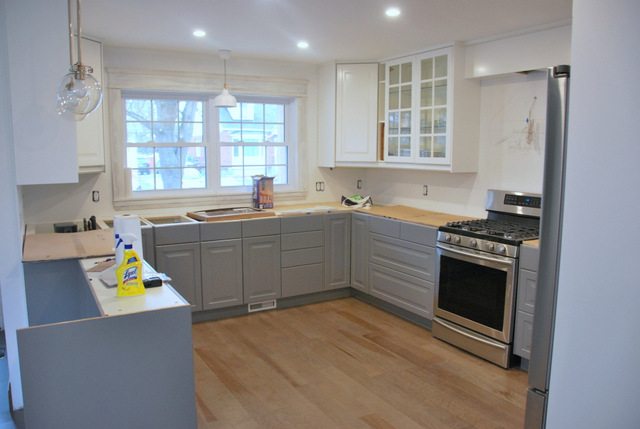 I feel like I need to point out that I will be spray painting that white vent cover below the kitchen sink area (couldn't find a one in the "right" grey). I realize that it sticks out like a sore thumb – you don't need to tell me! ;)
Living with a few areas of plywood countertops and no kitchen sink has meant that I haven't really gotten full use of this bad boy yet, but we're getting close. I have been narrowing down on the hardware choices and think I found the right one. Countertops are also imminent. Stay tuned for more details!
Have you guys put in an IKEA kitchen before? Any tips or advice to share? I am a little annoyed that IKEA has *just* changed to their new kitchen system, right after we purchased ours. I'm keeping my fingers crossed that we won't need any replacement parts for our kitchen for a loooong time to come.