I feel like we're hoping from one room to another and back again all the time, but I guess that's the nature of things when you build a whole house at once, huh? Anyway, let's get back into the kids/guest bathroom (ie. the only bathroom that has a functioning toilet right now!).
Remember my little mini plumber who helped Dad install the IKEA Hemnes vanities…?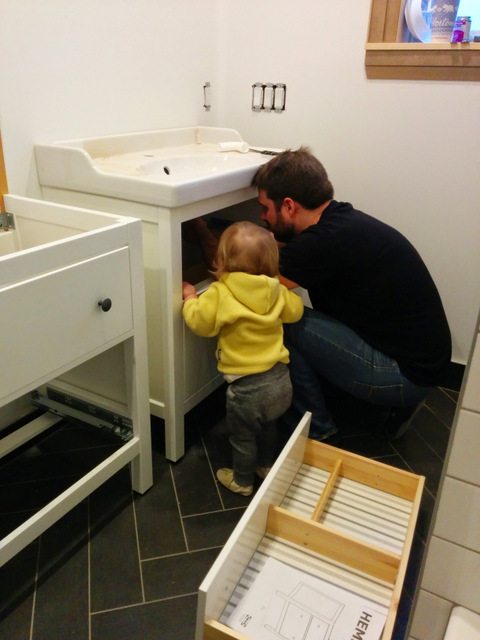 Well next up on that wall was to figure out lighting. We had 3 spots hard-wired for sconces, anticipating two mirrors above the two vanities. I looked online for some sconce options, but holy moly I didn't realize sconces could be quite so pricey. Like most that I liked were in the $100-$200+ range. Yikes x3! Luckily I found a couple of contenders at Home Depot that didn't totally break the bank. I bought two, got them home, and tested them out in the space.
I really liked these ones from the Martha Stewart line, but they were pretty big and came far out from the wall. Not quite right in this bathroom that is on the more narrow side. Check out how excited Dan looks about this part of the design process. "Hold it there babe, okay now this one. Ummm can we go back to the first one again?". What a guy.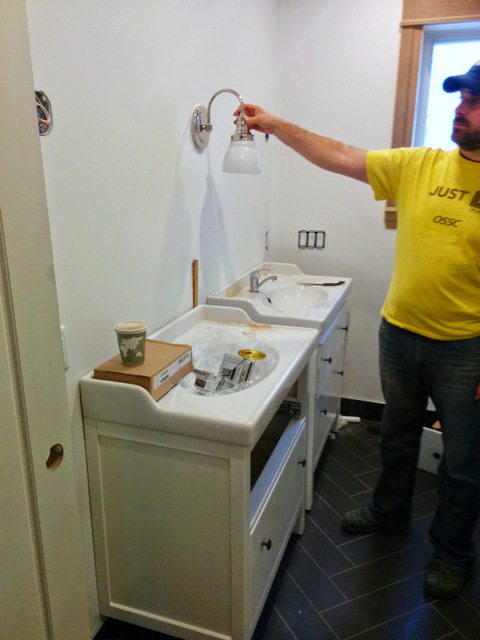 These next ones by Hampton Bay ended up being the winner. I liked the squared lines and they were much more appropriately sized for our space.
My original vision for the room had included black faucets and possibly some black sconces. In the end though, budget won out. The only black faucets I could find (even the ones from IKEA) were more than $70 a piece, and quite tall, which had me worried about splashing in the not super deep vanity sinks. Plus, with the "olskar" faucets from IKEA at $25 a pop, I couldn't beat the price. And likewise with the sconces, these Hampton Bay ones from Home Depot came in at about $50 a piece, and I liked how they tied in with the chrome faucets and chrome shower fixture.
Don't mind the dust in these photos. Our entire house is coated in a layer of fine dust at all times right now, despite the frequency of mopping.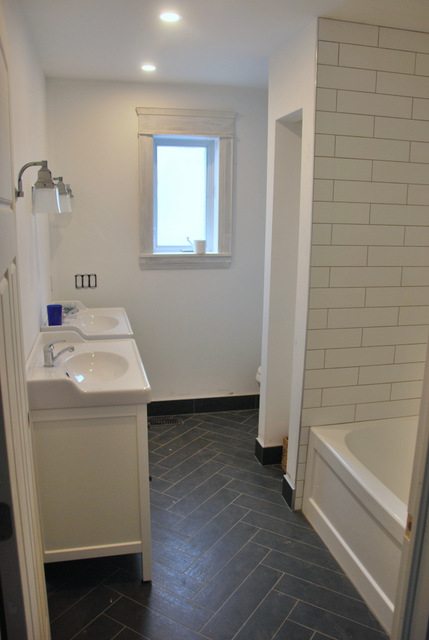 Another new feature in the bathroom is the West Elm shower curtain. I splurged a little on this guy, but no regrets. I'm in love. I adore the waffled white top section, the stripes, and the fringe on the bottom. It all feels a bit Turkish inspired to me. I ordered it online when they were having a sale so I got it for $39 instead of the usual $49 price tag (+shipping as we don't have a West Elm in Ottawa).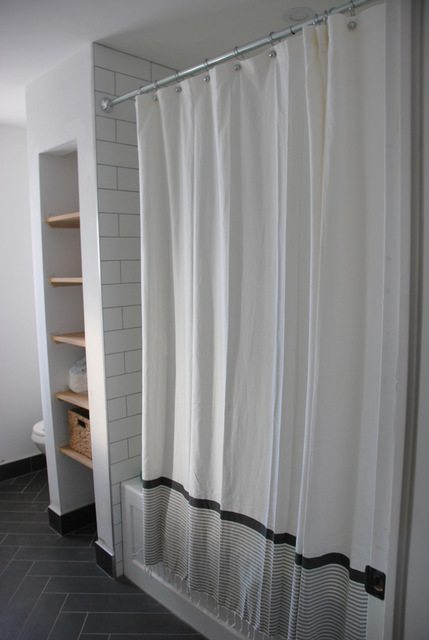 Oh and you might have noticed those shelves next to the shower. Well when we were planning out this bathroom, I decided that it made sense to make use of this space as the toilet didn't need all that room in that corner. It wasn't really wide enough to be a proper closet with a door, but I thought some open shelving would be great. A perfect spot to put some baskets, towels, whatever.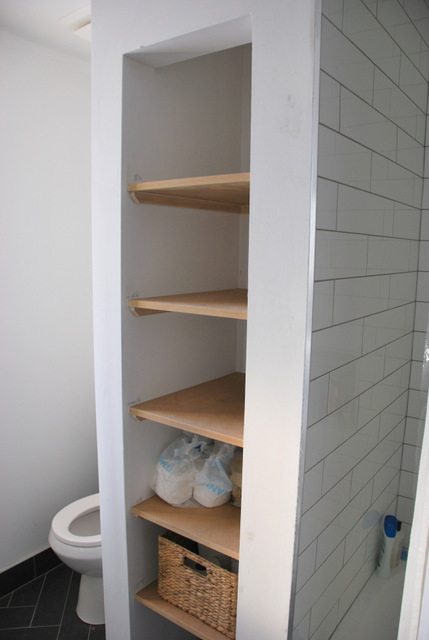 My Dad cut and rounded the wood brackets and then our contractor quickly cut out the shelf pieces out of MDF. They were glued and nailed into the walls, so we made sure that we found the baskets we wanted to use in there first, to get the heights right. I still need to paint them obviously, but I love how custom they look.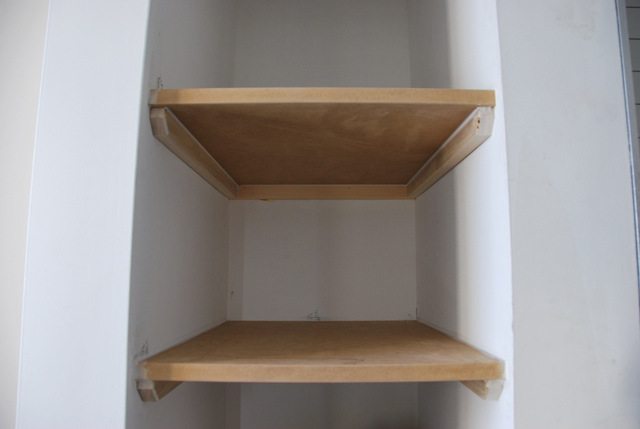 All that is left to do is paint and add the accessories and art. I love this part! When 95% of the rooms in our house have unpainted trim and doors, let alone walls, having even just one room that will be completely finished is going to feel amazing.