I don't know if it's because Valentine's Day is right around the corner or because I'm starting to long for Spring (it's been a coooold winter so far), but I am having a serious love affair with all things pink these days. Here are some of my favourites from Etsy recently. Any of these would make great gifts for your sweeties on love day! I'm pinning after, oh, everything.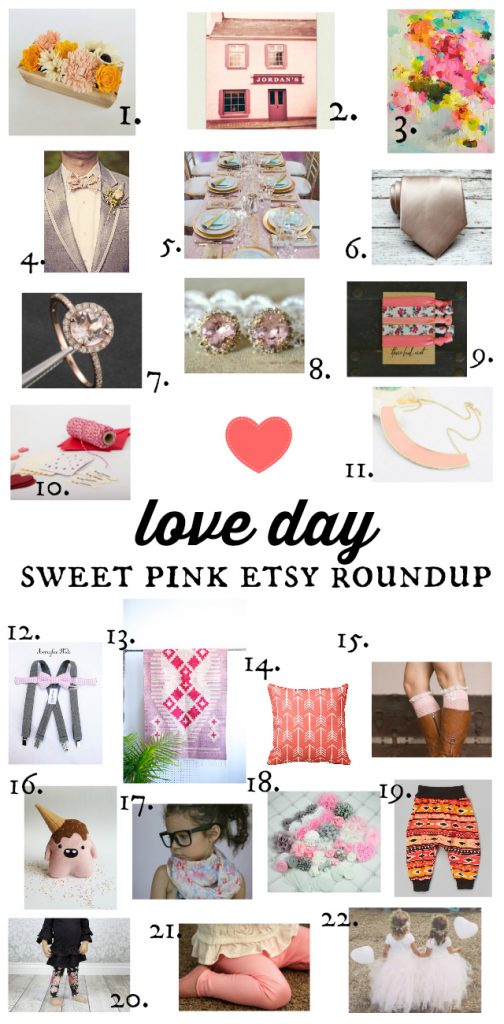 1 >> This felt flower box would not only look amazing on a dining room table or buffet, but I love that it's felt and you don't have to worry about buying new flowers! I'm too cheap to buy fresh flowers all the time even though I love them, so this would be a perfect alternative.
2 >> This saturated pink photograph of a shop in Ireland is lovely. If you last name is Jordan, or you know a Jordan, that would make it all the more sweet.
3 >> I think I have posted prints from this artist before. This particular giclee print based on original oil painting is vibrant with gorgeous colours. Would be amazing on a white wall.
4 >> Can't forget the guys. This men's bow tie has a vintage vibe going for it, and I'm digging it.
5 >> Throwing a party or wedding? This pink sequin table cloth is all kinds of amazing, and would MAKE any table.
6 >> Oh, this pink champagne tie? Love. Plus the pink is really subtle, so I feel like even guys who "don't do pink" would be into it.
7 >> Wanna go really over the top and make a lady in your life feel ridiculously special? This rose gold diamond ring would definitely do it.
8 >> If the ring is out of the budget, these blush pink earrings in 14K plated gold would be a pretty fabulous runner up.
9 >> I have been using these hair tie style elastics in my hair and they are really soft and don't damage the hair as much as regular elastics. These pink and floral hair elastics are particularly cute.
10 >> Want to make some valentines at home with your kids (or, let's be honest, just by yourself)? This DIY valentine's card kit has everything you need.
11 >> You know I love some fun, budget jewellery. This baby pink crescent necklace is only $10.
12 >> Any little guy would look ridiculously cute in these suspenders and bow tie. Everyone always says how fun it is to dress a girl, and it is, but there are so much cutie patootie boy stuff too.
13 >> This vintage turkish kilim rug has me dying. Dan is actually going to Turkey today for work for a week, and you can bet I showed him all kinds of photos of Turkish textiles to encourage some purchasing while over there. Hopefully I'll have a post when he's back about all the sweet finds he brought home.
14 >> I loooove the arrow pattern in this coral throw pillow. Would look amazing in just about any space.
15 >> Wanna add a little something to your outfit? These lace boot cuffs that just pop out the top of your boots are darling.
16 >> Maya is crazy about stuffed animals (and god knows she has enough already!), but this plush monster is all kinds of sweet.
17 >> I don't know if she'll go for it, but I reeeeeally want to get this floral infinity scarf for Maya. Maybe in a few years when she won't just pull it off?
18 >> If you've got a little girl in your life who wears headbands, this DIY headband and hair tie kit would be really fun. Maybe as an activity at a baby shower?
19 >> OK, shut the front door. Baby aztec harem pants? DYING. Would look amazing on boys or girls.
20 >> I have some floral jeans for Maya and they are pretty much my favourite pants of hers. These black floral leggings for just $10 are cute and would go with anything.
21 >> And while we're on the legging trend. These faux leather leggings are pretty fab too.
22 >> Maya has just started playing dress up. Mostly just with my clothes and jewellery… but I feel like a dress up box is in my not-too-distant future. These tulle skirts would make an awfully cute addition.
What do you guys think? Into pink? Making any plans for love day?