What does your morning routine look like during the week? I don't know about you guys, but I always feel that morning frazzled rush even though I don't have a traditional job where I need to "clock in" at a certain time. The three of us wake up at the same time, and then Dan and I rotate showers, with Maya running around the bathroom/hallway/bedroom (often opening the shower curtain to peer in at whoever is in there — "eee! Maya! close that – it's chilly!"). Once we make it downstairs, breakfast is a pretty quick affair, before Dan runs out to catch his bus and I take Maya to daycare. In terms of breakfast, I have muesli with berries, Dan has cheerios, and Maya has a piece of toast with almond butter or cream cheese and some fruit. On the weekends we give Maya oatmeal – I feel like it's a great, nutritious breakfast – but during the week, I just can't handle the clean up of oatmeal (it gets EVERYWHERE) and the extra time it takes Maya to eat it (we are still learning the whole spoon thing). Although toast isn't a bad option, I really wanted to switch it up and try something with more protein and nutrients, but that wasn't going to add time to our routine.
Have you guys seen recipes for savoury "egg muffins" popping up online/pinterest/etc? I came across this recipe which is a bit different than the usual egg + veggies + cheese, as it incorporates flax, hemp seed, and almond flour. It's a little more muffin-y versus mini quiche. And there is literally nothing unhealthy in the recipe – it's full of nutrients, gluten free, and low carb. I thought I would give them a go.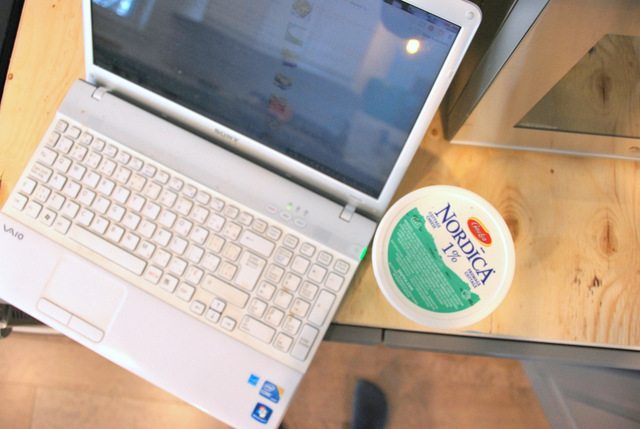 [ note the plywood countertops… still waiting on our countertop install. Hopefully end of this week?! ]
One of the wet ingredients in these muffins which helps to give them some moisture is cottage cheese. I feel like cottage cheese gets an unfair, bad wrap. Sure, it looks a little chunky, but it is super high in protein, has almost no fat, and actually tastes really good. I don't love the 0% stuff as I find it a bit too watery, but the 1-2% is delish. I often have it with berries and cinnamon (kind of like a replacement for yoghurt) and Dan loves to put it on his salad for extra protein. I used the Gay Lea 1% cottage cheese for this recipe.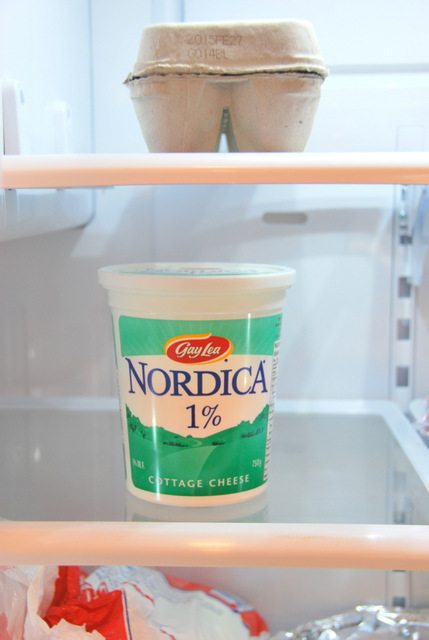 Anyway, back to the muffins. I followed the recipe pretty exactly, except for a few things: I used almond flour instead of almond meal and I didn't put in the nutritional yeast flakes (simply because I couldn't find them at my grocery store).
About 25 minutes in the oven and they came out looking golden and yummy.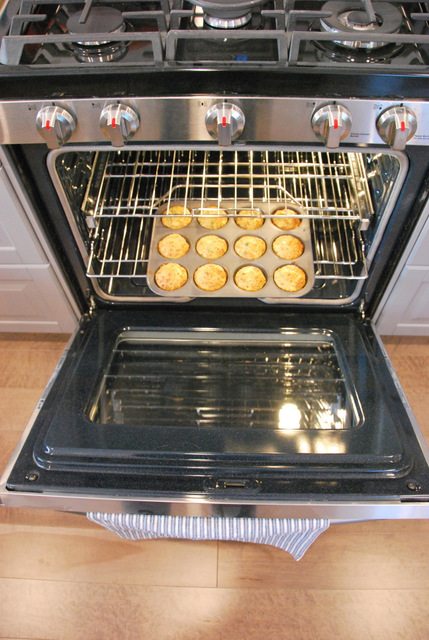 And you know what? They were actually pretty good. Definitely more of a dense chewy muffin rather than quiche. I think next time I might try not putting in the almond flour and putting in some veggies like peppers and mushrooms, maybe with some pesto for extra flavour? The nice thing about them is that you can switch it up a bit with every batch so that you get some variety.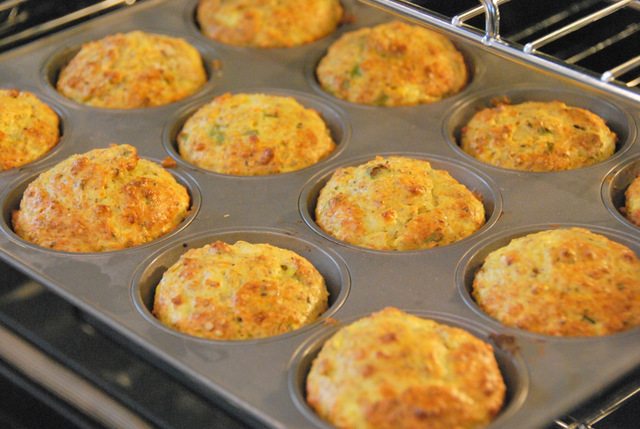 And Maya? She digs 'em! Breakfast this morning was half of a muffin and some strawberries and the girl was saying "mmmm-ore!" the whole time. Oh, and Dan opted for two of these muffins instead of his usual cheerios too. Success.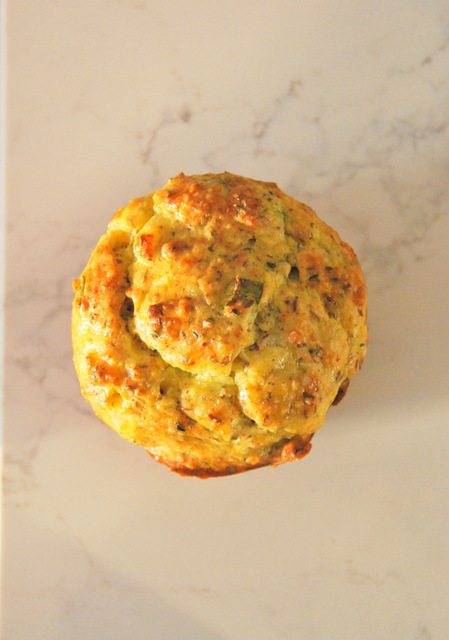 Oh and FYI that they are definitely better served warm, so you want to pop one in the microwave for 20 seconds or so before eating. Side note: When I was telling Dan to microwave it, I used the phrase "just bung it in the microwave for a few seconds". He looked at me, totally confused, and was all like "What did you say? Bung it? What kind of phrase is that?". Is that weird you guys? Is this a phrase from my British father or something that I have inherited? I would usually use it in reference to the oven, but microwave seemed applicable too. Thoughts?
What's your go-to breakfast in your household? Made some of these egg muffins before? Got a recipe to share?
Disclosure: I am part of the Gay Lea Ambassador Campaign with Mom Central Canada and I receive special perks as part of my affiliation with this group. The opinions on this blog are my own. Don't forget to head on over to the Gay Lea website for recipes and more info!