Let's get back to the progress in the kids/guest bathroom. It feels like the one room in the house that is somewhat close to being finished. Maybe because it's the smallest? In any case, hallelujah. In the post last week you saw how we put down charcoal grey tiles in a herringbone pattern and installed the IKEA vanities. Well, let's get to the shower design with subway tile and marble tile niche.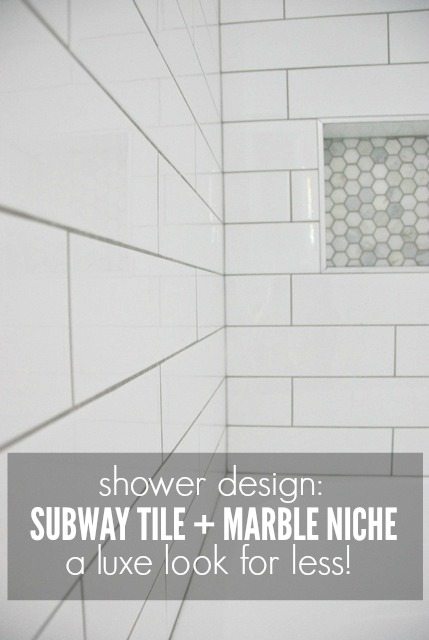 Like the floor tile, there wasn't any DIY'ing going on here (too little time – functional bathroom required!). We have a great tile guy who works quickly and does beautiful work. To start off, he painted the drywall with a waterproofing material.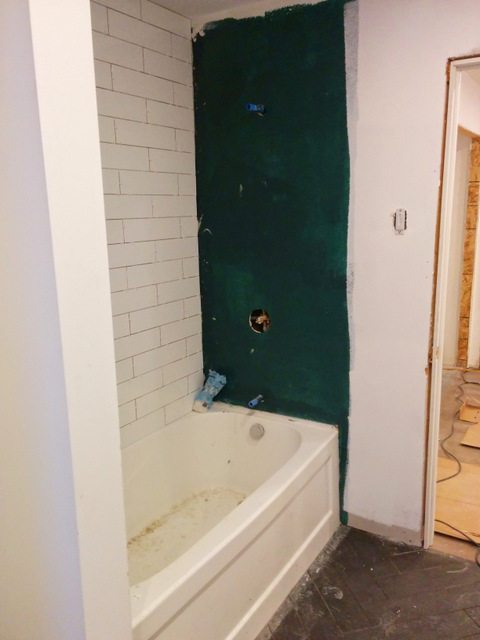 As you can see, in keeping with the black + white direction of the room and my general French vibe, I figured that classic subway tiles would be perfect. Plus, they don't do too much damage on the ol' wallet. To up the ante a little though, I went with the extra long ones. You can still get them at your regular big box hardware store – I got these ones at Home Depot. The price per square foot didn't end up being all that different from the usual 3×6 subway tile size.
That orange thing in the pic below is a niche – a little nook where you can put shampoos and stuff. It feels all kinds of fancy to me…. but in actual cost it was only an extra hundred bucks or so (for materials + a bit of extra time in labour). We placed it near the back of the shower as that way it would be easy to grab the bottles out of the main stream of water.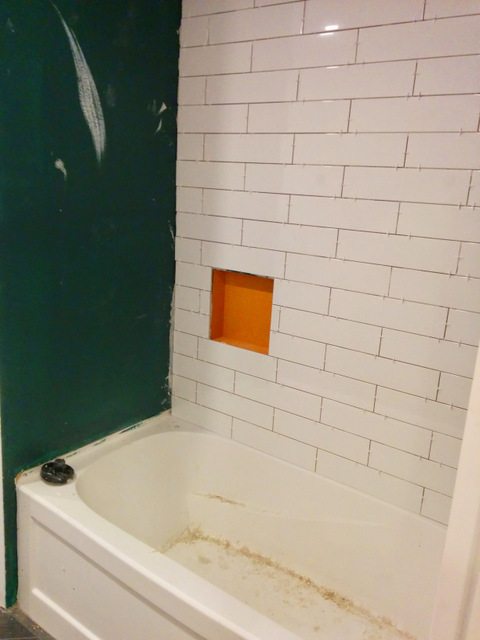 I had a little fun with the niche and bought one sheet of marble hex tile. The hex tile wasn't in our budget for the full shower, but buying just one sheet was do-able and totally adds a bit of glam (FYI, this tile was also from Home Depot).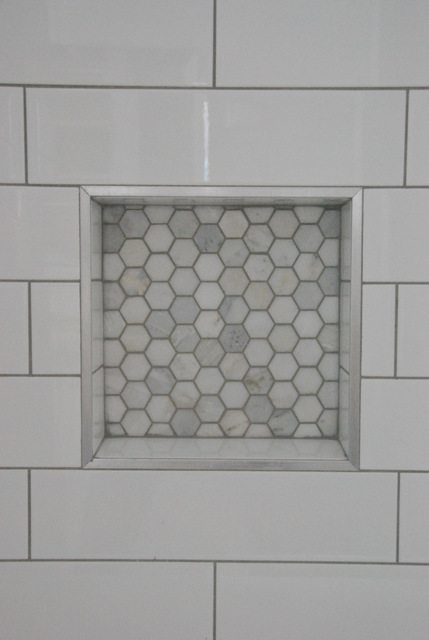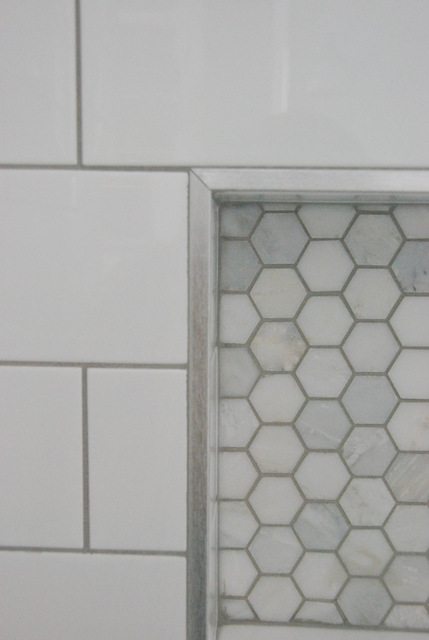 We went with a medium grey grout. I like the way the subway tiles pop, and I also like the fact that the grout won't show dirt. Three cheers for less cleaning?!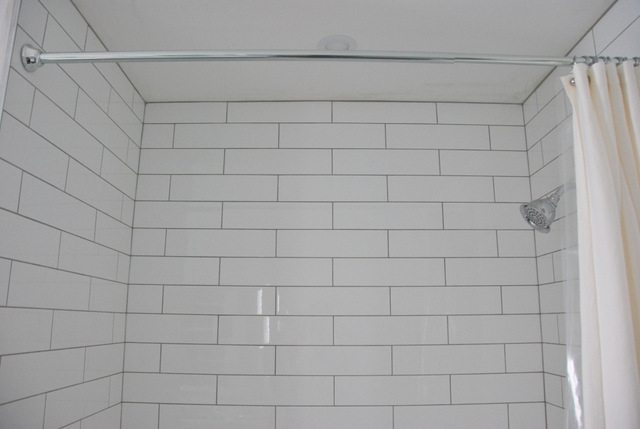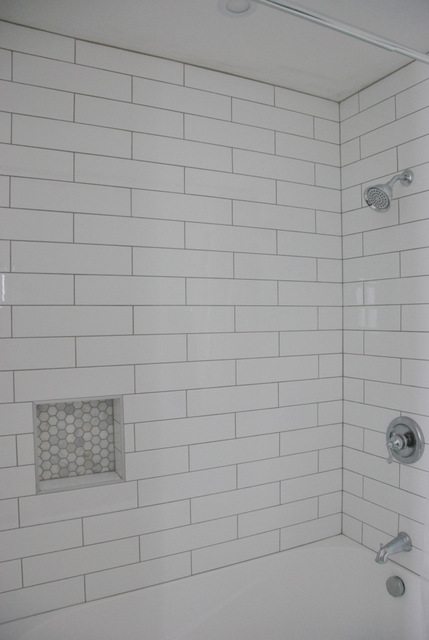 I would have looooooved to get a black shower head/drain set, but the black ones I could find were all on the expensive side. This budget-friendly Moen one in chrome was just under $150 and the traditional shape felt like it would suit the bathroom (it is this fixture from Rona, but this one on Amazon is very very similar). We have been happy with the fixture and have bought several Moen items that are all budget-friendly but holding up well.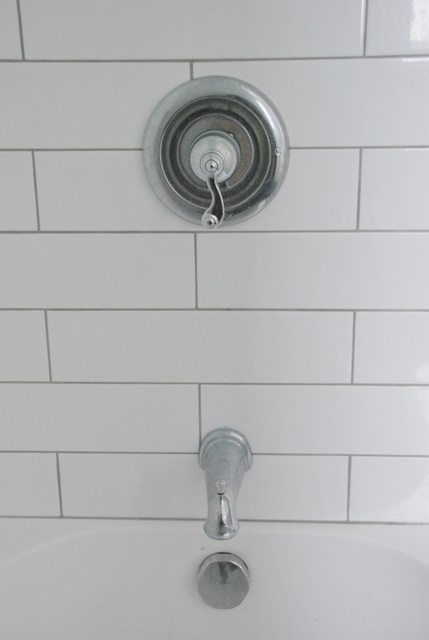 Oh, and here is a more "keepin' it real" pic of the niche. It holds 4-5 bottles, which means that we have just a few tucked in that one corner (I'm a bit of a product lover, and Dan and I don't use the same stuff… so you know… there are always quite a few bottles on the go!). I also need to grab one of those bags that you can put bath toys in. Right now, our various boats and ducks sit on the vanity when not in use. Not ideal!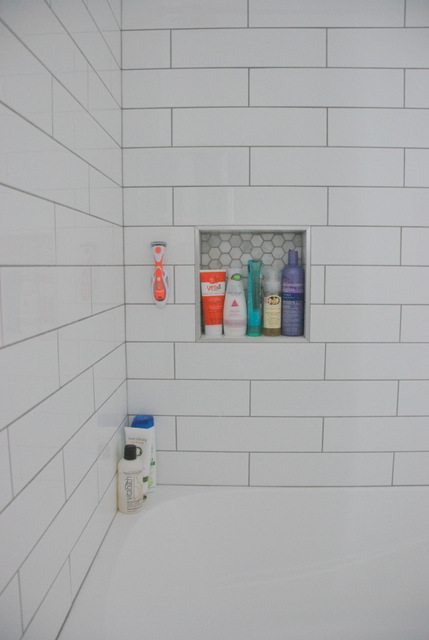 So that's how it's shaping up. I need to paint in there and then I can get to the really fun part: accessorizing. Oooh how I'm dying to put up a piece of art somewhere in the house.
Get Access to The Vault.
Get FREE organization printables, art printables, design guides, and more. There is SOOOO much good stuff.
You know you want in!