So, the kitchen. The heart of the home, right? Just to jog your memory, this was our sweet little diner-style kitchen we had pre-reno.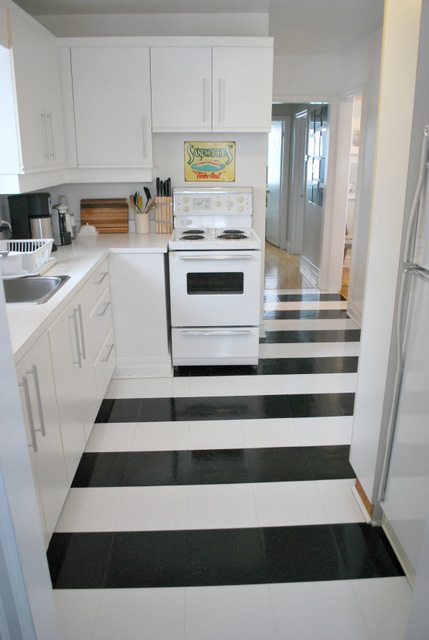 We had made it work by painting out the oak strip cabinetry, adding new hardware, and laying those fabulous budget-friendly black and white vinyl tiles. We lived with our kitchen like this for a number of years, which gave us lots of time to think about what our dream kitchen would look like.
One thing that was on the must-do list was to expand the kitchen. You can see in these pics that I snapped just as we were moving out, that our kitchen was on the right side of the supporting wall…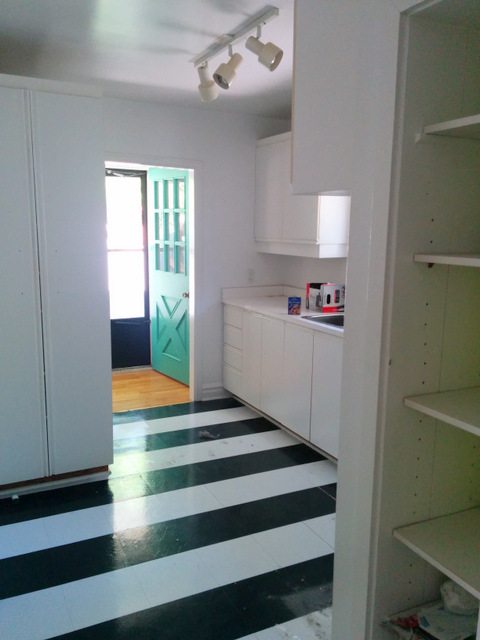 And the living room on the left side..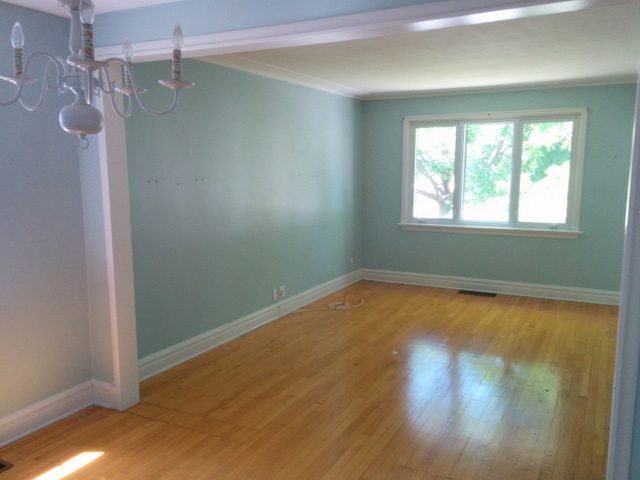 Well, one of our main re-design elements was to bring that wall down (a beam put up in place to support the house). Once our renovation was underway in the summer, things were looking pretty horrific.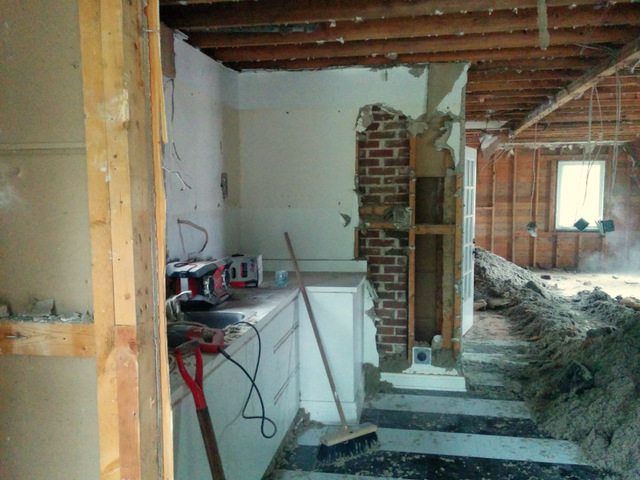 When you do any kind of large reno, you just always have to remember that it gets worse before it gets better. Otherwise you would just want to hide under your pillow and wonder why on earth you ruined a perfectly functional space…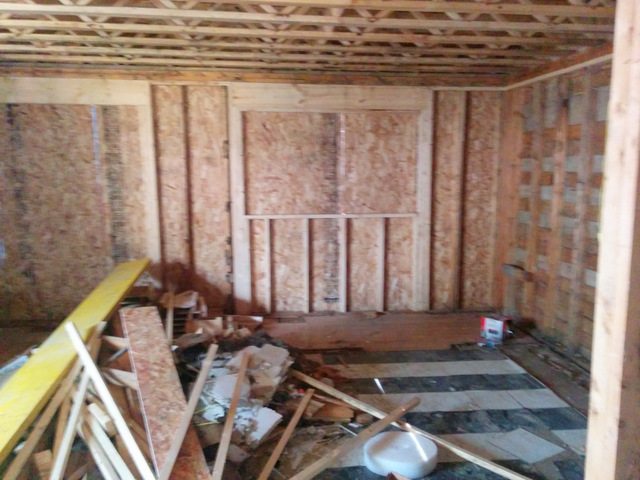 Planning + designing a kitchen
As the house was getting framed, we turned our attention to planning the kitchen. We kept the kitchen in the same general spot as it was before to save on costs related to moving plumbing, but we moved our front door over to the other side of the house so that we could expand the kitchen right up to the exterior wall. Where the door used to be, would now make way for a big picture window.
Before I go on, I just want to make it clear that we are newbie DIY kitchen designers and did these mockups on our own. Once we got to our more final version, however, we consulted with an IKEA kitchen rep, which was definitely super useful. If you're able to, I would always recommend chatting with a professional kitchen designer as there are lots of things that they can help guide you with, and point out things that you might not have considered.
On our first crack at using IKEA's kitchen designer tool, we came up with this. We got the basic layout down, with the "work triangle" people talk about (you want a triangle between your sink, stove, and fridge for efficiency and ease of use). You can't see the sink in this snapshot, but it goes under the window. The whole thing wasn't bad, but the island was looking really dinky. We needed to leave a certain amount of space around the island for walking in and out of the kitchen, so this short island was basically as big as it was going to get. In the picture it looks decent, but when we measured it out and imagined it, I just didn't love it. Plus, we ended up deciding to do a wall to help define the entryway/front door area, so that wall was going to come up and block the left hand space around the island. Plan #1 nixed.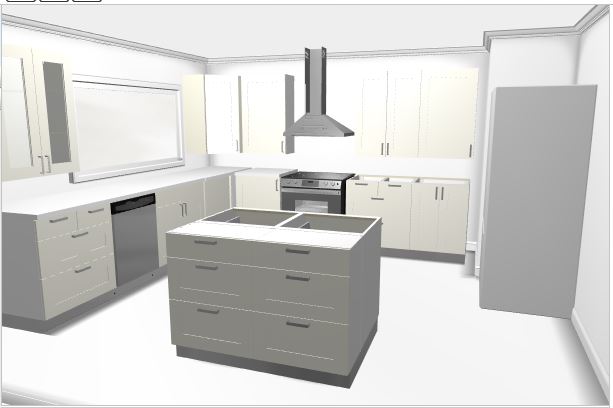 In our second attempt, we switched from an island to a peninsula. Made way more sense space-wise, and this way we could build out the wall by the front door. I didn't like the symmetry with the microwave built-in by the hood vent though (and it wouldn't have been functional anyway, I have now found out!), and wanted to incorporate some glass fronted uppers.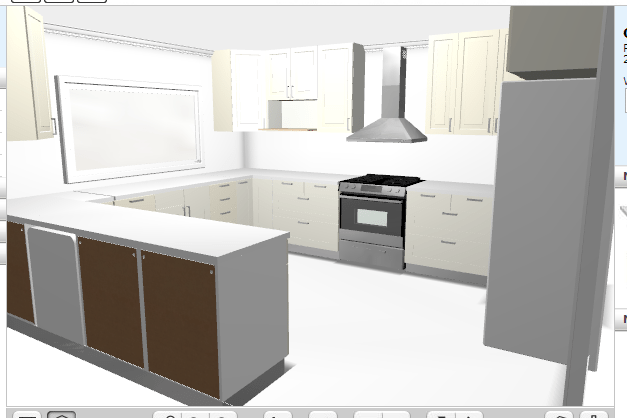 Version 3 was the winner. I liked the symmetry of that far wall, the peninsula gave a nice big stretch of countertop while leaving enough walking room between it and the fridge (over 3 feet), and we could still have our wall to help define the entryway. See where there is a box on the floor of the peninsula that doesn't appear to have a cabinet on it? That's where the wall would come to from the far left side of the picture, leaving enough space to tuck two stools in to the peninsula.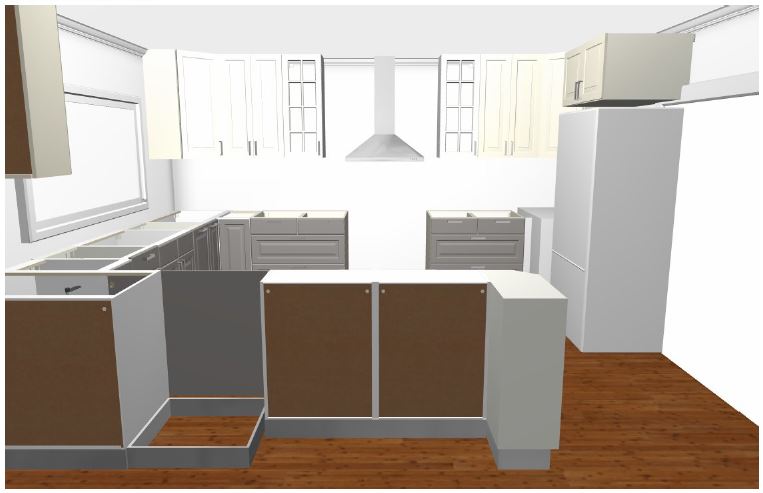 Here it is with the new door, window, and wall framed up. See what I mean about wanting to define the entryway? If we hadn't of put that wall in, you just would have walked basically straight into the kitchen. Not terrible, but not ideal either. I like having the bit of wall, and it gave an opportunity for a few more upper cabinets and a spot to run a bunch of electrical.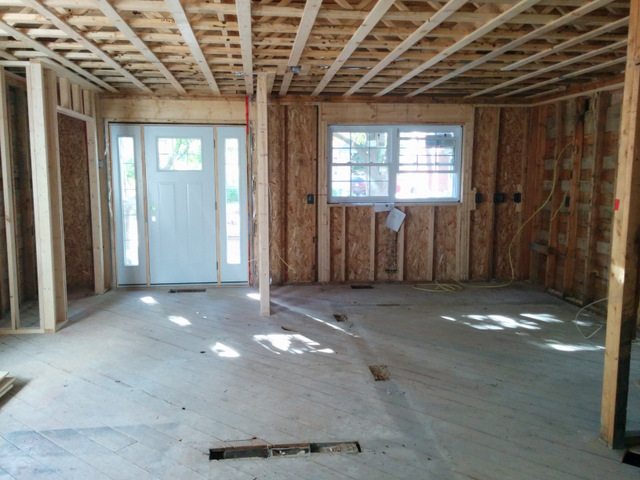 I had done up a moodboard a few months before on a bit of a whim, and I ended up sticking quite close to the design.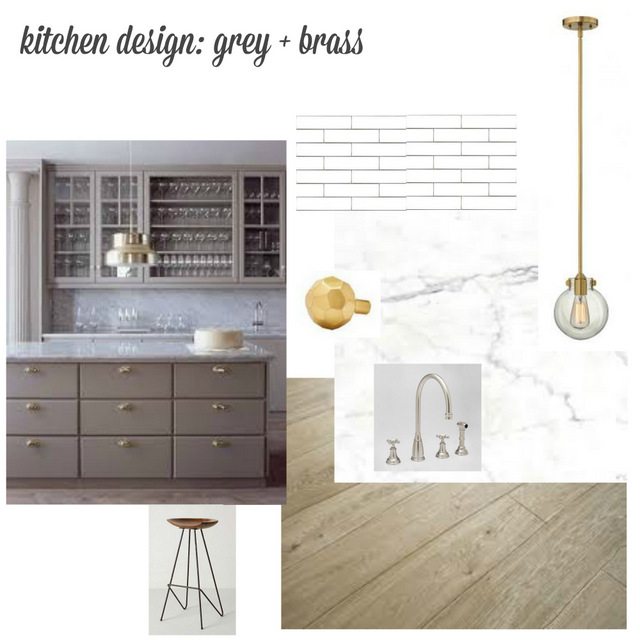 Flooring >> We decided to carry our hardwood through to the kitchen, both for continuity on the main floor and also because I just love hardwood in a kitchen up next to painted cabinetry. I like the warmth that it brings to the space. So our medium tone gray-brown hardwood (more details on that in another post) was what we started with.
Cabinetry >> We knew we would go with IKEA – great prices (most important factor for us), nice contemporary styles, and good reviews from friends and fellow bloggers. I went back and forth about going with all-white cabinetry, but in the end I fell in love with the grey of the Lindigo cabinets.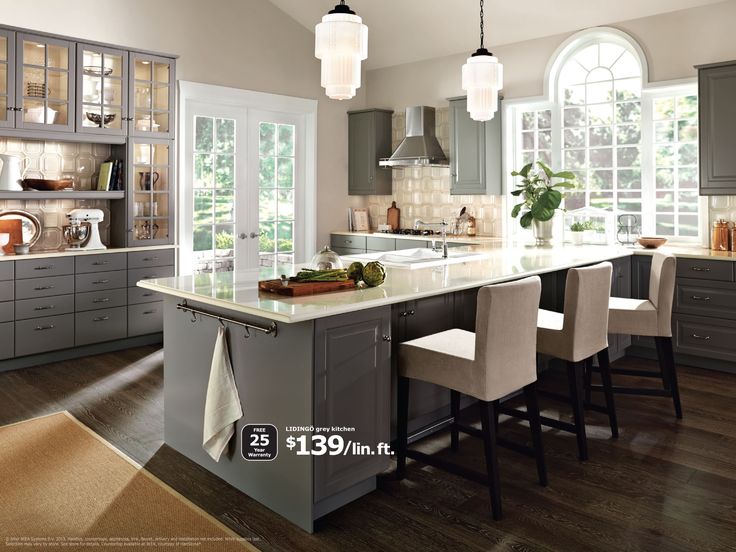 via IKEA
I like the look of a two-tone kitchen, so we went with the grey for bottoms to help ground the whole space, and white uppers. If I had a huge kitchen I would have loved to do some open shelving, but the reality is that our new kitchen, although bigger than it used to be, is still not massive. I knew we would benefit from having as much storage as possible.
As I type this, the kitchen cabinetry is actually in, but we are still waiting on countertops, and figuring out hardware, backsplash, etc. More pics and posts to come soon!
Have you guys designed a kitchen before? Ever gone with IKEA? Got any tips or secrets to share?