What kids don't love applesauce? We eat it on the daily here in our household – by itself, on yoghurt, or on oatmeal. I don't like anything that has added sugar, so we do sugar-free applesauce. And have you ever tasted the difference between homemade applesauce and store-bought? It's INSANE. Homemade applesauce is ridiculously good, no sweetener required, and it happens to be super easy to make. This instant pot applesauce recipe is so simple and honestly, you'll die at how good the taste is.
If you don't have an instant pot yet, go grab yours off Amazon here. I love mine! We use it for things like this applesauce, but also risotto, meat, rice, chili, and so much more.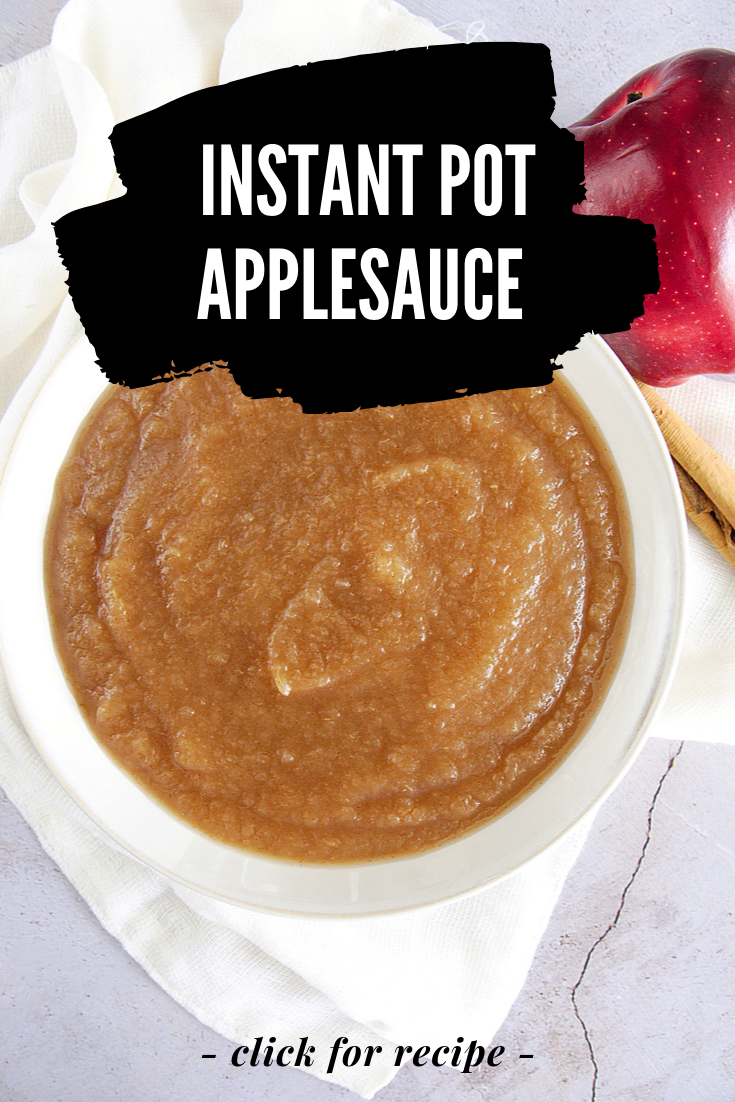 Ingredients:
Makes just over 4 cups of applesauce
3 lbs (or 5 medium-large) red apples (any variety works)
1/2 cup of water
1 tbsp ground cinnamon
large pinch of fine sea salt
OPTIONAL: 1/4 cup of honey
OPTIONAL: 1 tbsp of fresh lemon juice
OPTIONAL: Have any other fruit laying around? Sometimes I add peaches or pears to the mix for a different flavour!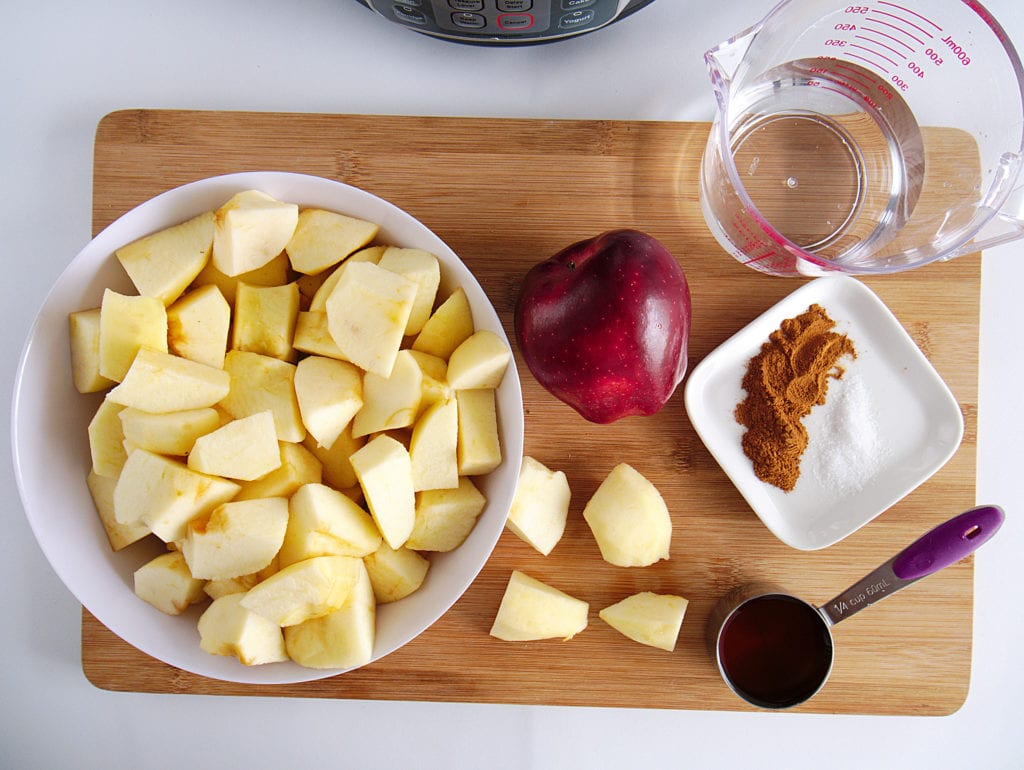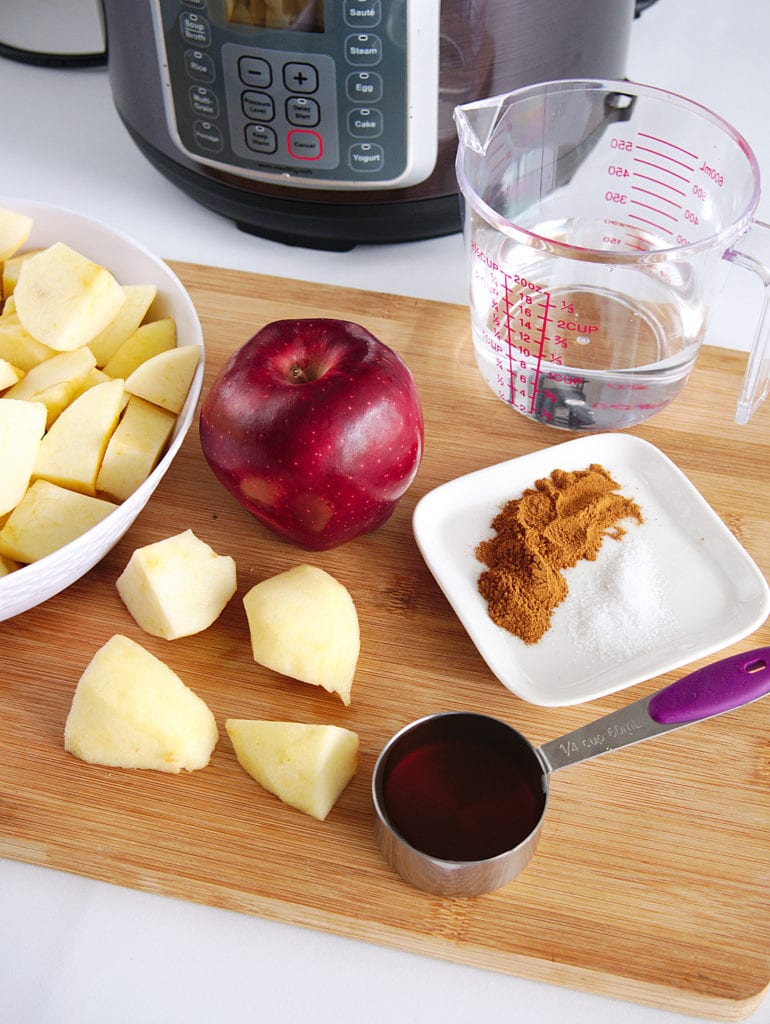 Instant Pot Applesauce Recipe:
Step 1:
Peel apples and then core and cut into slices. I have this apple corer, and it makes it easy and quick. Place the apple pieces into the instant pot then sprinkle in the cinnamon and salt, and pour in water (and honey, if desired). Give the ingredients a good stir until well combined. Place the lid on the pressure cooker and set the pressure cooker valve to "sealing" then press Pressure Cook, High and for 8 minutes.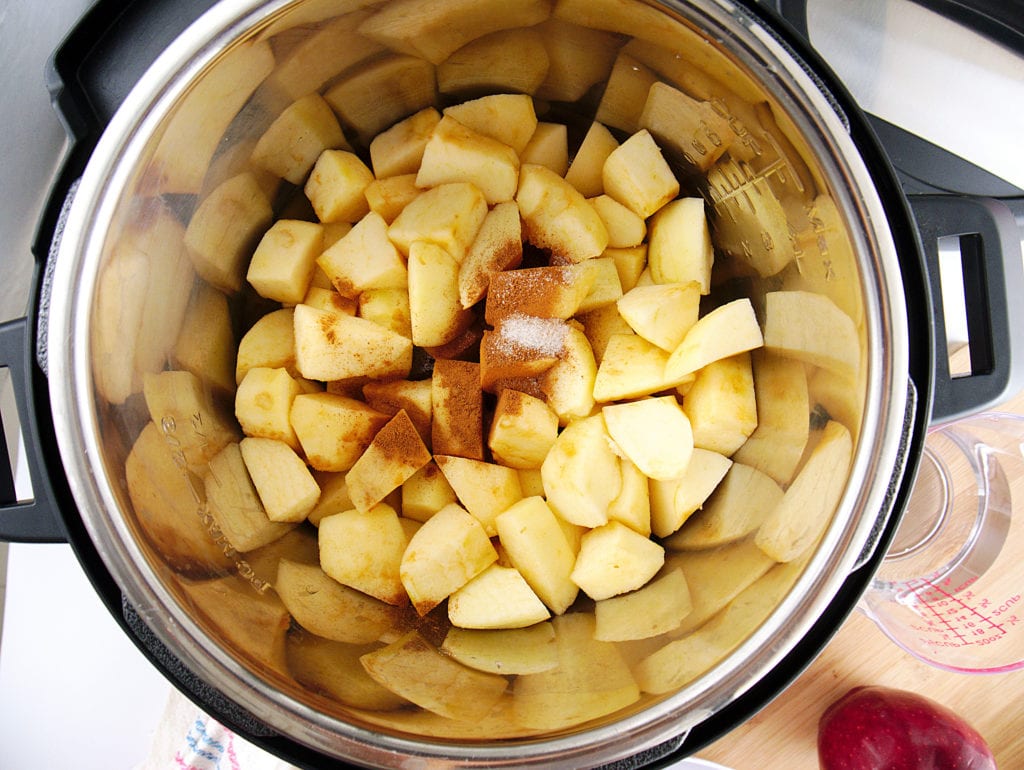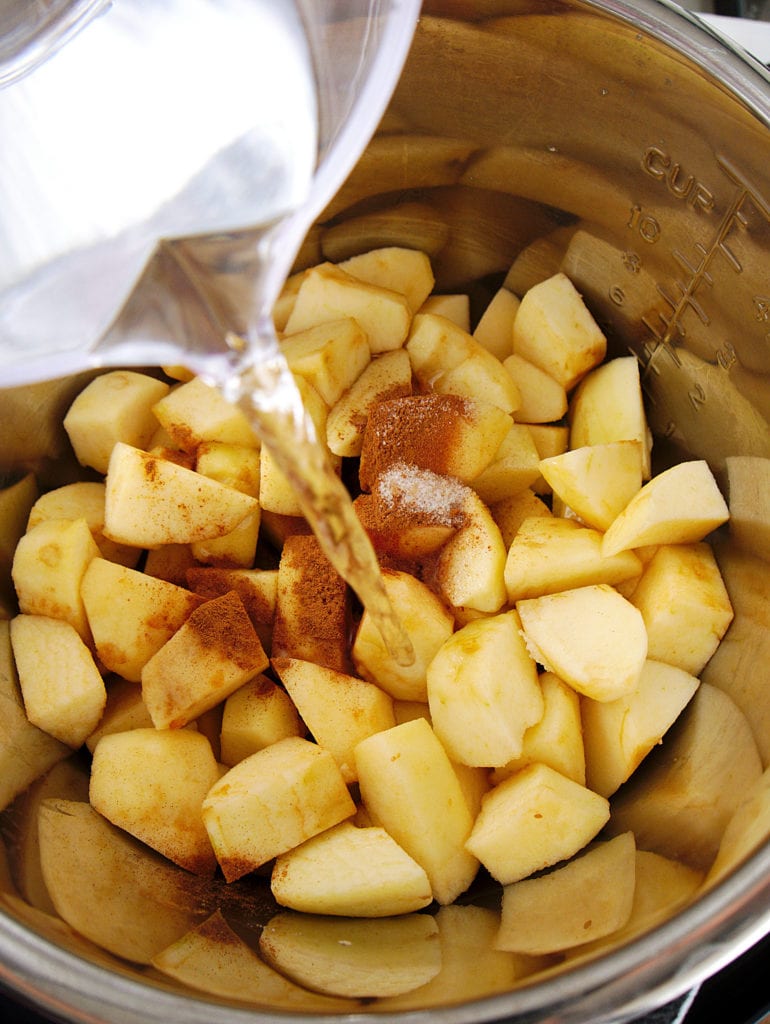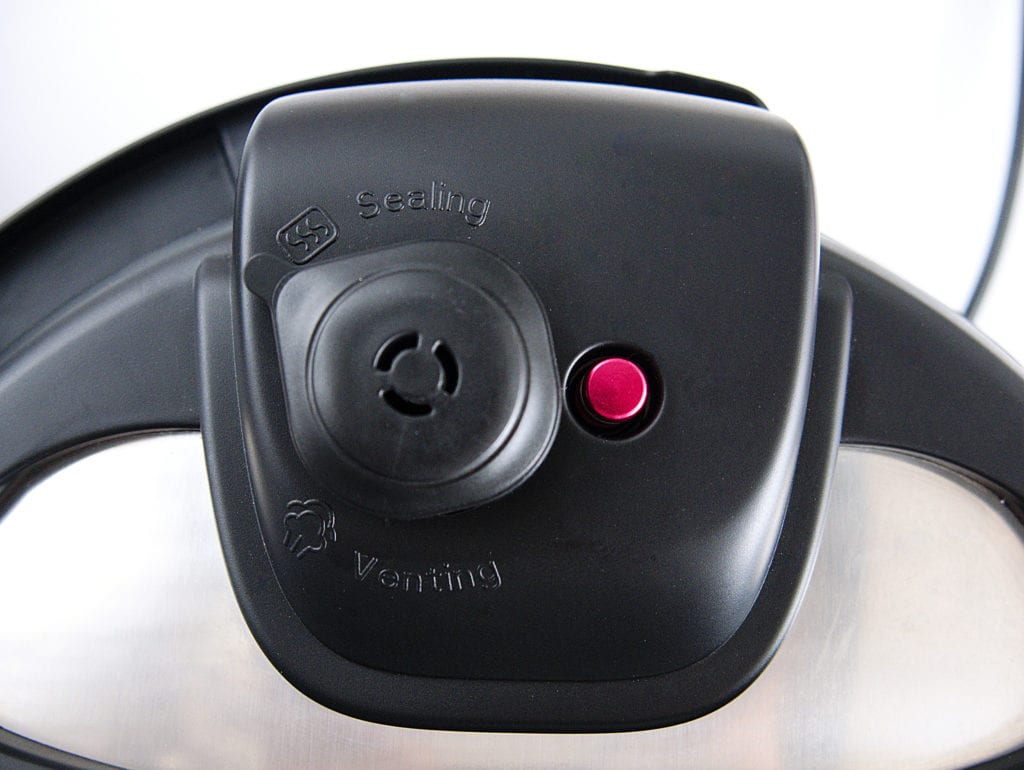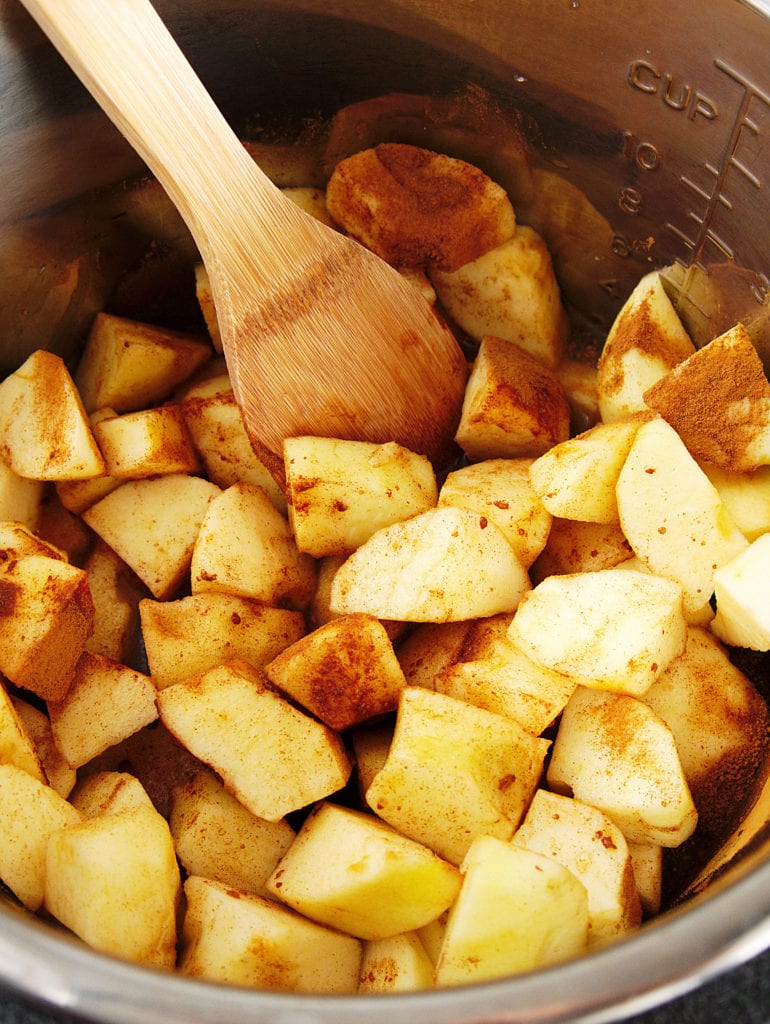 Step 2:
Once the cooking time has completed allow to sit for 5 minutes then turn valve to "venting" to do a quick release and allow all of the pressure to release. Carefully open the lid (away from your face with instant pot – you need to be careful with the pressure). You'll see that the apples are soft, but still in chunks. Use a potato masher to mash the applesauce to your desired consistency. We eat it just like that, but if you want it super smooth, you can also use a hand blender. If the applesauce is too liquidy for your taste you can set the pressure cooker to sauté and cook it down to your desired thickness.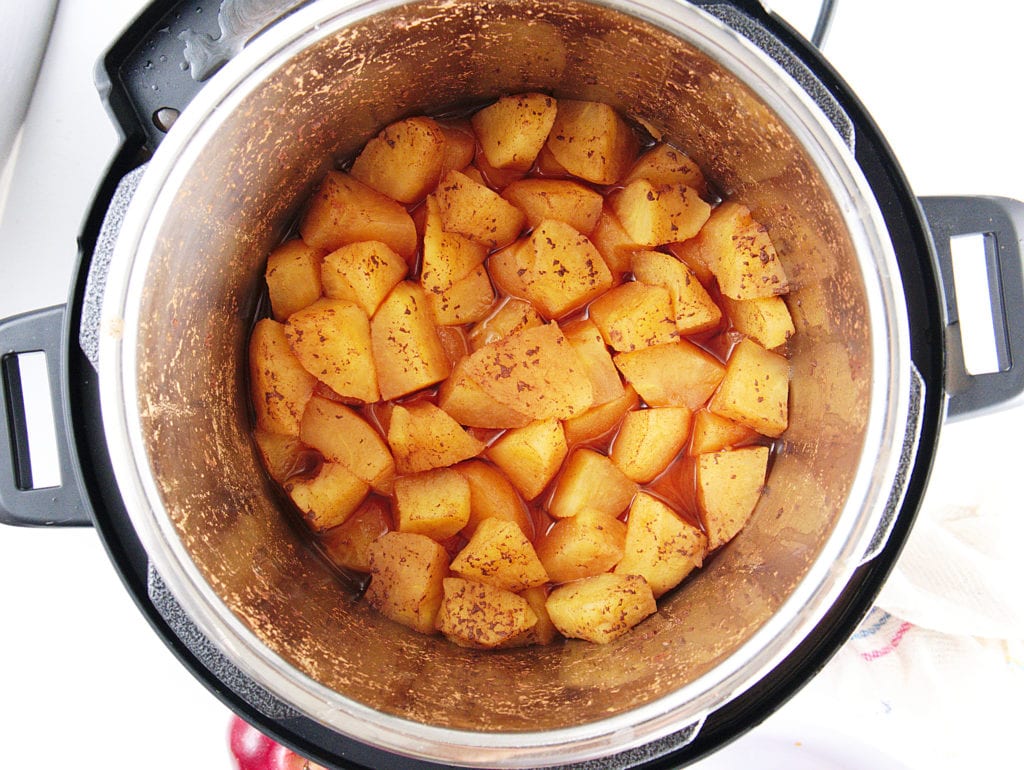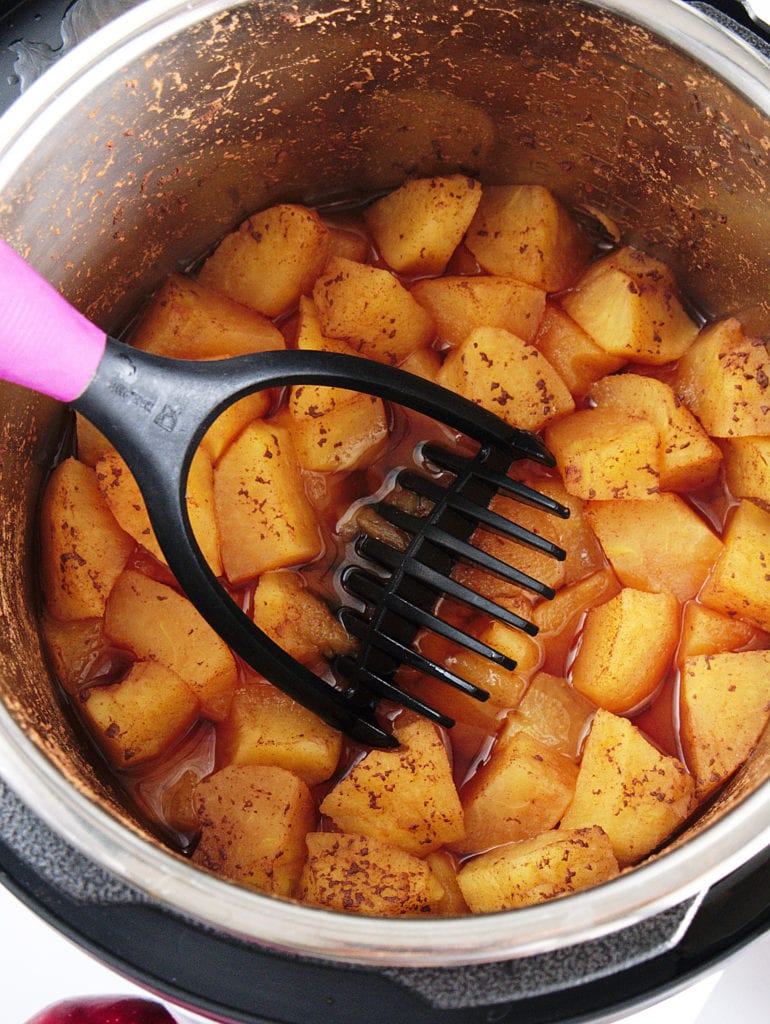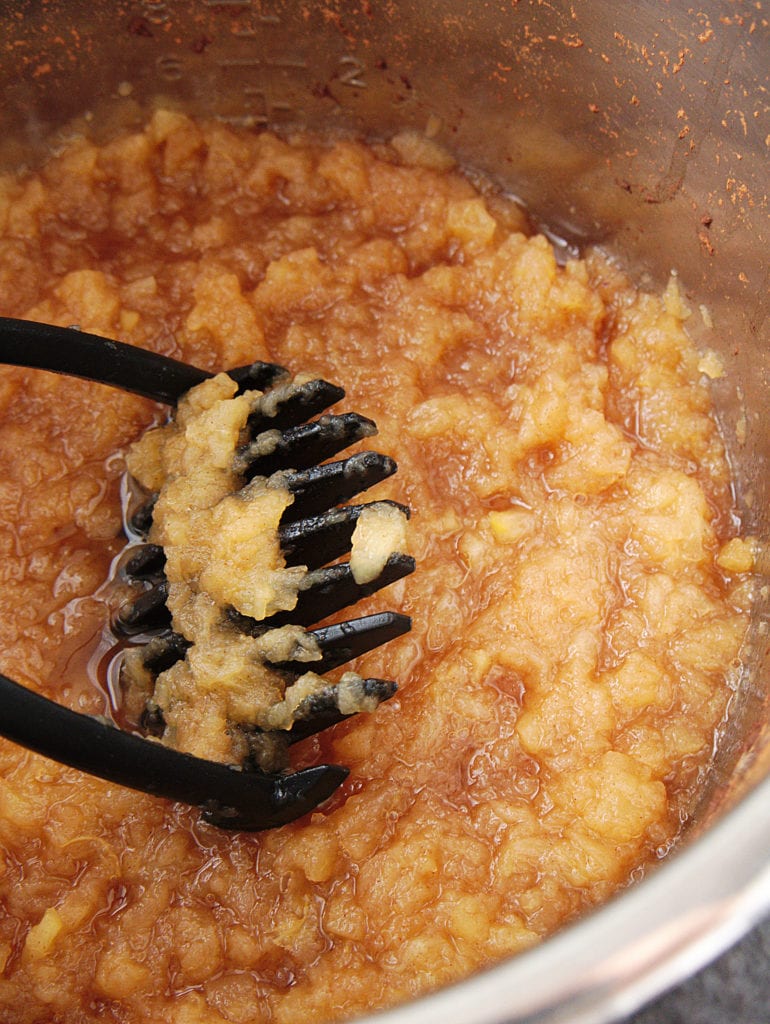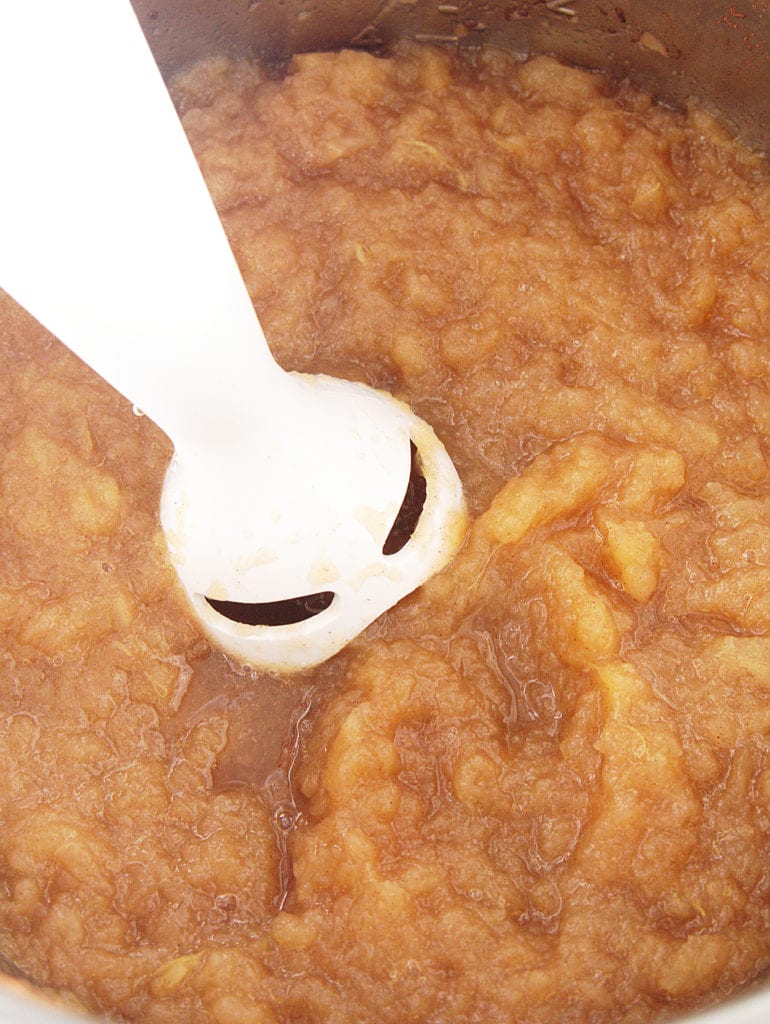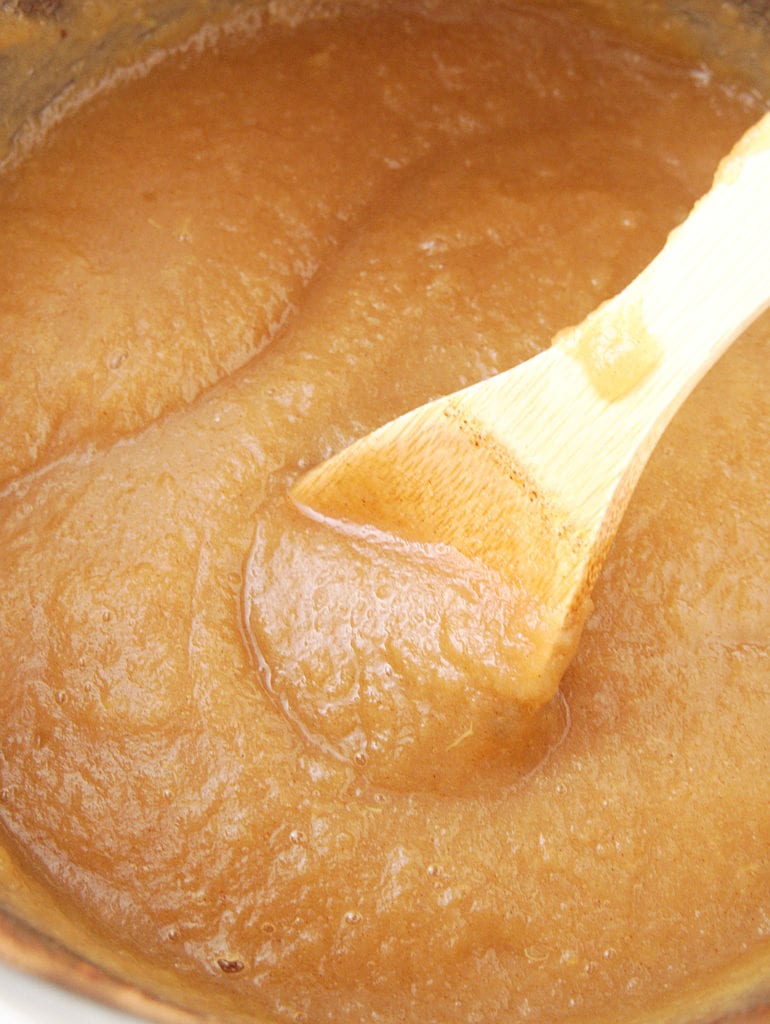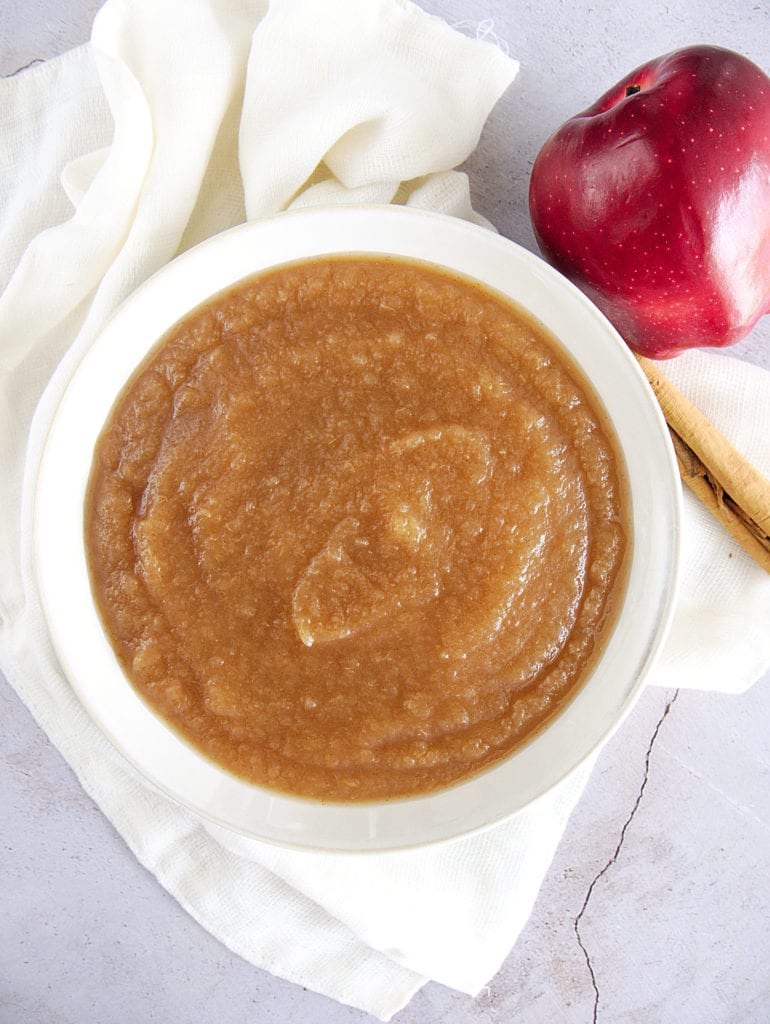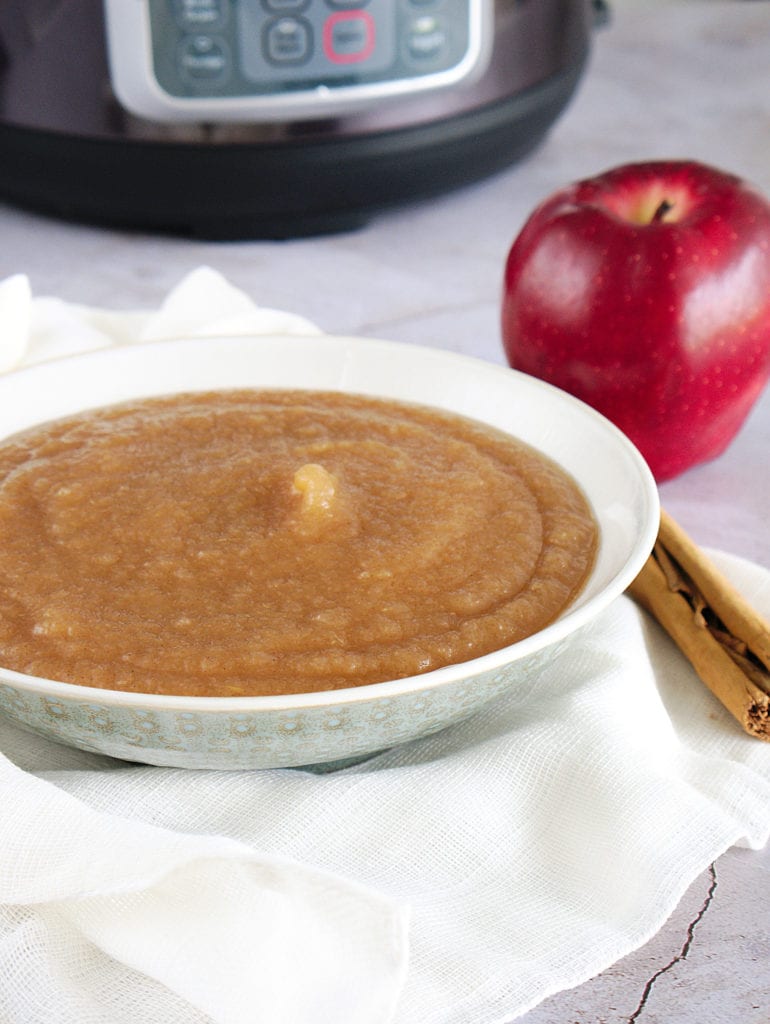 Step 3:
Serve warm or allow to cool in the refrigerator until ready to serve. This applesauce will keep fresh in the fridge for about a week — if it lasts you that long.
I make a new batch of applesauce every Sunday, so that we have it throughout the week. If we have peaches or pears that need to be used up, I'll throw those in too! Once you see how easy it is to make, you can get more comfortable with winging it and not always following the recipe exactly. Oh and your house will smell AMAZING when you're making it. I throw on some music, make this applesauce, and a batch of muffins every weekend. I love it, the kids help, and it gets us set up with some great healthy food for the week!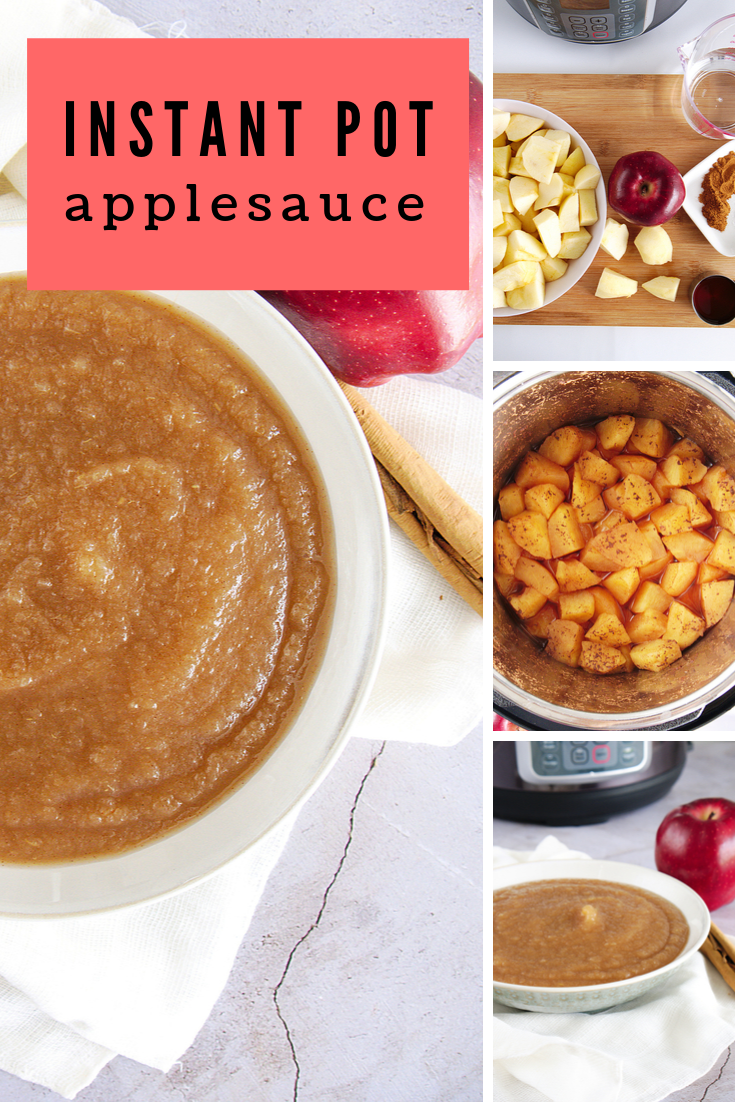 Want more?