If you follow me on social media (here I am on instagram and facebook), then you will have seen some pretty fun news I posted this week!
Daniel and I had our second trimester ultrasound last week (man do I ever love those – so fun to see our little person moving and growing in there!). Anyway, we asked our ultrasound technician to write down the sex of the baby and put it in an envelope for us. Later that day, I dropped off the envelope at my BFFs house and she whipped up some gender reveal cupcakes for us. The next evening, with my parents, Dan's parents and uncle, and my brother and sister in law (sadly my girlfriend who actually made the cupcakes couldn't come as Maya was running a fever and she didn't want to expose her kiddos), all came over for dinner and a fun little reveal.
I setup a chalkboard and we placed bets on whether this was a little fella or a little gal. For the first few weeks of my pregnancy I had thought girl, but from about 11-12 weeks on, I was definitely getting a strong boy sense. I have no idea why. The pregnancies feel more or less the same, but I just had that niggling feeling. Dan, on the other hand, was fully in team girl. He was feeling 100% sure that he was going to be getting another little daddy's girl. Our family made guesses as well – with most of the men thinking it was a boy, and the women thinking girl (including Maya, who emphatically yelled "GIRL" when I asked her).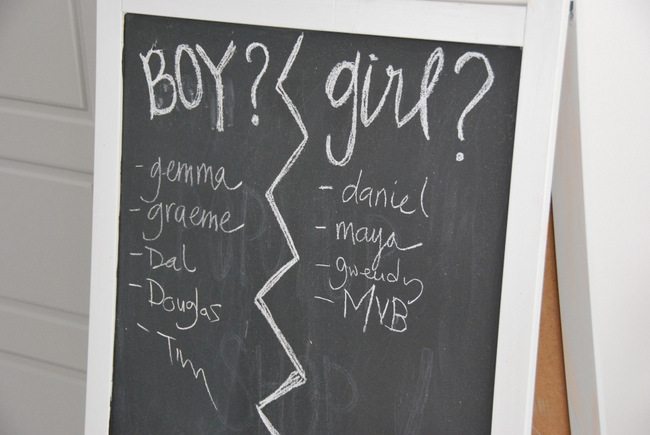 The time came to take a bite out of those cupcakes. I have to admit, I felt ultra jealous the night before when I knew my girlfriend had all the knowledge and I had no idea. She loved it too, sneaky thing. Ha!
What do you guys think. Any guesses?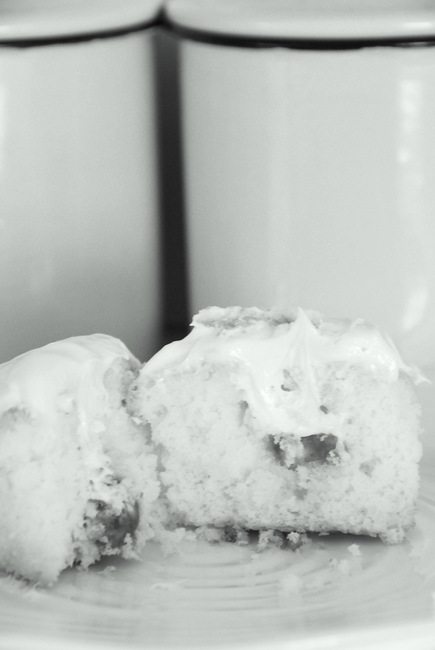 Drumroll………………………………..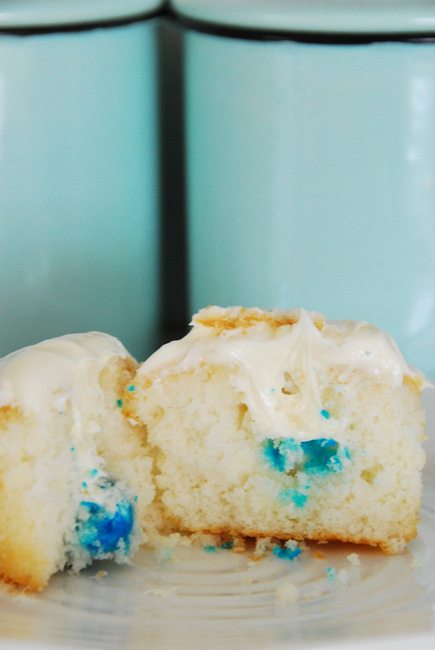 BBBOOOOOOYYYYYYYY!!!!
Here is the video of us biting in. It's funny to watch me and my mom scream and jump and Dan sits there TOTALLY stunned. The guy could hardly believe it for a good 15 minutes. I also think he hates being wrong – ha. And poor Maya got so frightened by all the whooping and hollering. She calmed down after a bit of cupcake, though.
It was all Dan and I could talk about for the rest of the evening. The news really sinking in and the whole excitement of this pregnancy hit an entirely new level, somehow. It's totally a personal preference, but I really love getting to find out the sex. I feel more connected to that little baby for some reason and can picture him in a whole new way. We obviously couldn't help but take some cheesy selfies while we were cleaning up.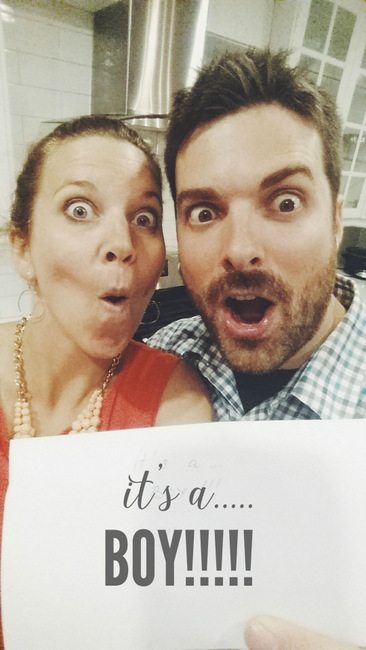 For any of you guys who are thinking of doing something similar for a reveal, here is the scoop on making those cupcakes. My girlfriend used regular white boxed cake and baked the cupcakes as per the instructions. Then, once they had cooled, she used blue gumballs and inserted them into the center. She made a hole in the top of the cupcake, pushed the gumball down, and then covered it back up again with the cake. Then once she had iced the top, you couldn't see any of the gumball! It was a really easy way to do it. The other option is to bake a coloured cake that you can cut into – we did that for Maya's reveal here.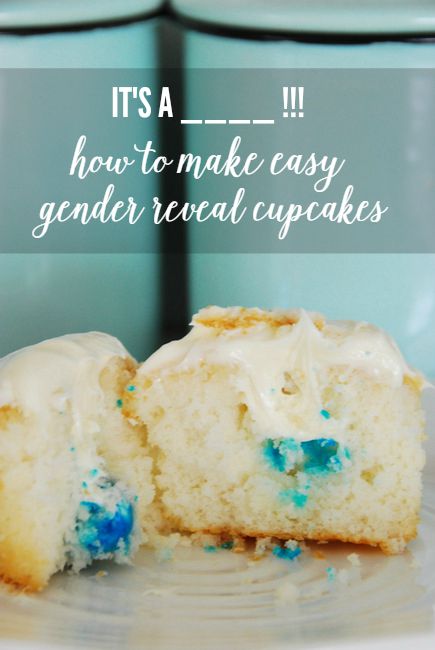 Now it's time to talk names, think about the nursery (I'm pinning away over here), and go through all the baby stuff. I'm secretly pretty excited to have an excuse to go out and look for cute second hand boy clothes, too. Whoever said shopping for boy clothes isn't fun, is crazy. The plaid? The hipster stuff? The vests? I love it all. We are fairly confident that our family will be complete after this little guy arrives, but I think I'll hang on to Maya's stuff in storage for a while just until we are 100% sure. Anyway, oh boy oh boy oh boy!!! Yipee!!!
Any of you out there who are parents find out the sex of your baby? Do it in a fun way? I thought about balloons, but frankly, the cupcakes thing was easier to pull off.