It's been a while since we've done a bit of a recap on where things stand with each room in the house, so I figured it would be the perfect time to take you through a little tour. Just to remind you guys: we basically started from scratch with our house summer of 2014 – ripping the roof off, and adding a second and third storey and attached garage. We have been back in our home since January of this year. When you look back on the last 8 months, it's amazing to see the progress… but then at the same time there are still SO many spaces that are a total disaster. Thank goodness that you can close doors, you know? Sometimes I get all overwhelmed by how much we have left to do, but then that's all part of the fun…
Keep in mind that this is a "real life" tour and not all perfectly styled with professional photographs. Keeping it real, guys!
The exterior has been coming together, particularly in the last few weeks as Dan has been working hard on the landscaping. We just had the paving company come for our driveway and are finishing up the stone path and walkway. We need this done before the snow comes!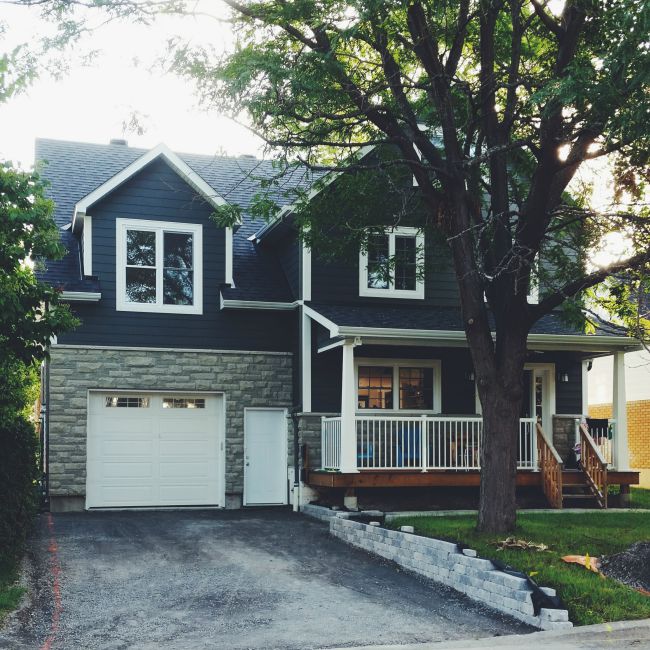 The Main Floor…
The kitchen hasn't changed much since I lasted posted about it. It's 90% there, but there are still those tidbit projects to do that will make all the difference (spray-painting the vent cover on the under-sink cabinet, filling the holes in the hood range moulding, etc).
Here is the dining room as of yetserday. I'd say we are only 50% there for this space – a rug, a  bigger table, and some new curtains are all on the to-do.
The living room has evolved a little. I keep tweaking the open shelves and feel like I'm almost there with them. I haven't found the perfect mix of throw pillows yet, but am waiting until I spot the absolute right things. Eventually this rug will probably move to a room upstairs and we'll bring in something bigger for this space. Slow and steady, right?
This corner is a bit of a zoo of Maya's toys right now. I need to get some better storage, curtains up on the window, and a little rug for this space. Plus, some of her toys are eventually going to head upstairs to the family room on the second floor, which will be good for the toy-overflow situation that's happening down here.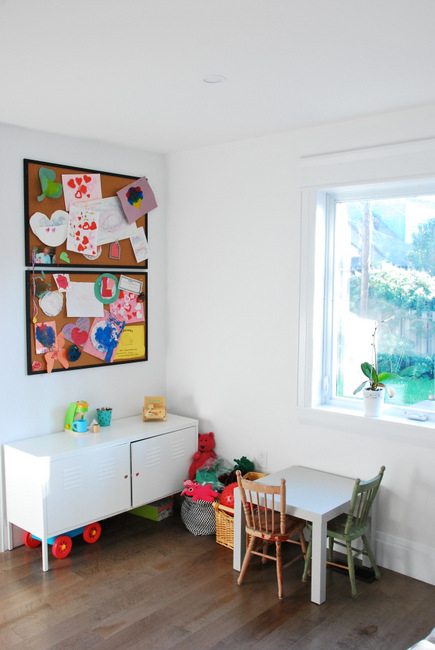 The main floor bathroom is currently a work-in-progress that I'm going to keep under wraps for now. We've been making some strides in there and I'm excited to let you in on that shortly!
I have grand plans for the staircase. I want to cover the wall going up with a huge gallery wall of family and travel photographs. Before doing that though… I kinda need to paint it. We're still living with primer on these walls and the whole upstairs hallway.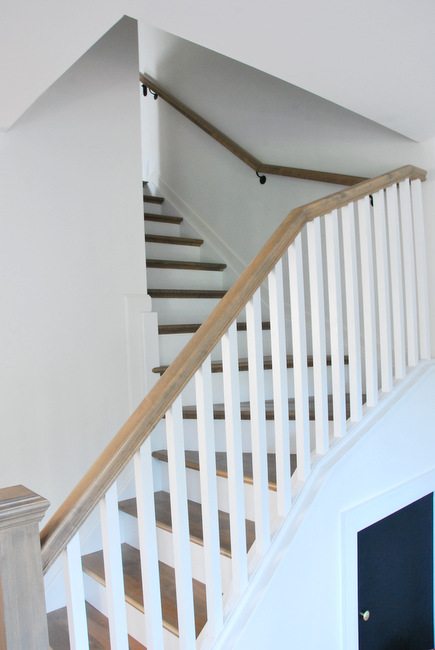 And upstairs….
Maya's bedroom still looks like this (full reveal post here):
And our bedroom is about 40% there. It's painted (yay), but we still have artwork, furniture, rug, and window treatments to do in here.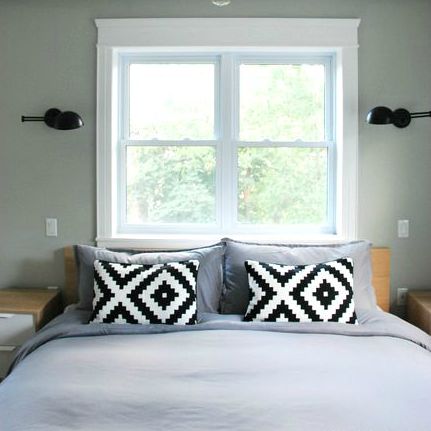 The second floor bathroom still needs artwork and window treatments, but it's more or less there.
Our master bathroom still looks like a construction zone, so I'll leave that one out for now. God knows when we will get to that space.
And now for the REALLY cray-cray spaces. Are you guys ready? These are so NOT pretty and "home tour" worthy. These are all un-painted and un-organized spaces, that basically look like we are hoarders.
Dan's office? More like a catch-all right now. One of those rooms where I'm very happy we have a door and can forget about it for now.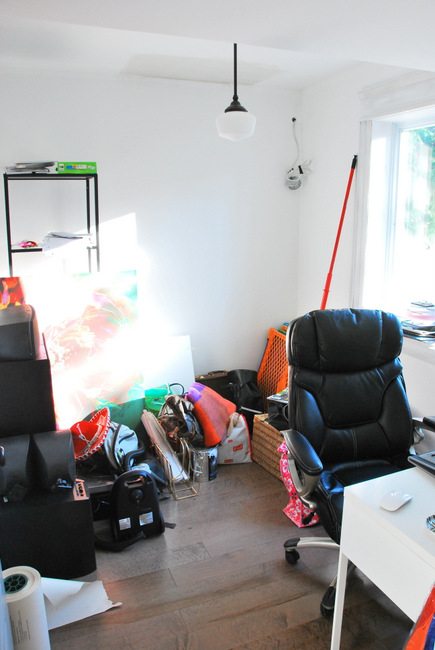 Baby #2's room-to-be. Currently with a bed for when my parents stay over, along with some cast-off furniture.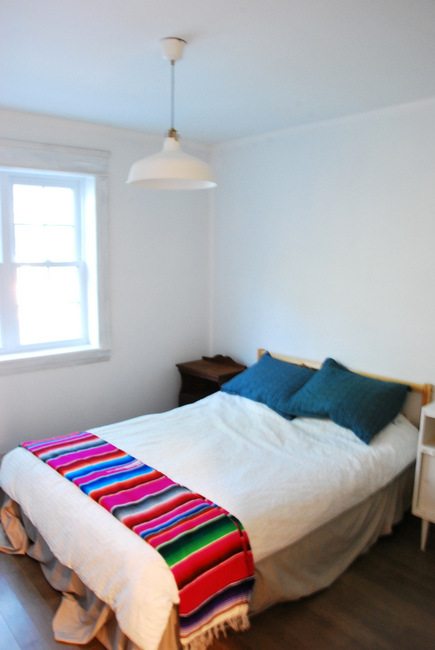 Our upstairs family room, currently acting as a dumping zone slash my studio. Not good…
And our third floor loft. This space is going to be amazing, but right now it's completely un-finished and acting as a storage unit. Most of this is stuff that needs to make it's way into our garage… but the garage? Ha. That's a whole separate crazy space. How is it that we have so much STUFF?!? As you can see, unpacking, sorting through things, and creating storage spaces in our new house is constantly on the to-do list around here. It's hard when things like closets don't have shelves built in them yet, or the garage is hosting a bunch of reno materials. You can't put things away very quickly and for someone like me who wants to organize ALL THE THINGS, it makes me go a little nutty.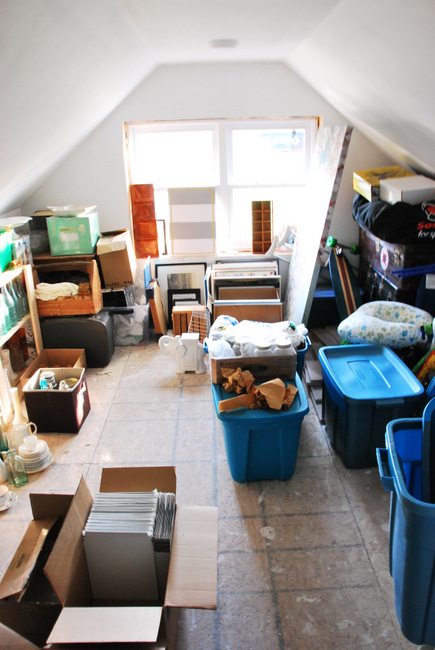 I'm joining a bunch of other bloggers this week who are all giving Fall Home Tours – thanks to our host, Brenda over at Cozy Little House for organizing! Head on over and take a peak at all of their gorgeous homes! I bet I'm the only one who will be showing rooms full of storage boxes… ha! Next up in the "tour" is House of Hipsters (who has a ridiculously amazing pad – seriously… go browse around, my fave is the bedroom!!) but you can view all the homes with each link below. Have fun with all this eye candy!