There have been a lot of outdoor projects on our "to do" list this summer. After (more or less) completing the renovation/build on our home over the winter, once the snow melted, there were so many things in our front and backyard that needed addressing. Grass. A new driveway. A cedar porch ceiling. Pretty crucial stuff. You can always close the door on an unfinished room inside your house, but when the exterior is in such rough shape, it is hard to hide!
When we were completing the reno of our house, we had our main contractor build the structure of the porch, lay composite decking, install railings, and the columns. I'll get into more details about those choices in another post soon, but one of the elements of this porch that we DIY'd (that "we" is pretty liberal… it was all Dan and my Dad on this one) was the cedar porch ceiling.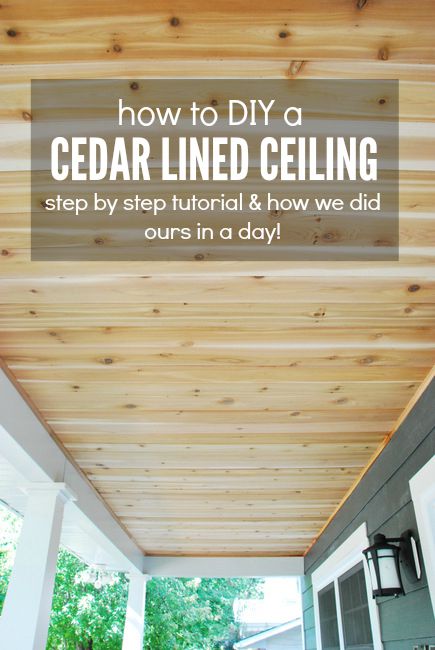 Cedar Porch Ceiling – The Build
I have swooned for ages over those cedar ceilings that you see in porches and outdoor rooms. They smell and look amazing, right?
With the dark gray siding that we chose for our home, plus the white accents, I knew that all the elements would work together and that the wood would add some warmth to the overall scheme. We really want to make the porch somewhere we actually sit and hang out and enjoy.
Here was our starting point: a freshly built, but still "naked" porch ceiling. We have been living with it like that since we moved back in in January (7 months and counting…)!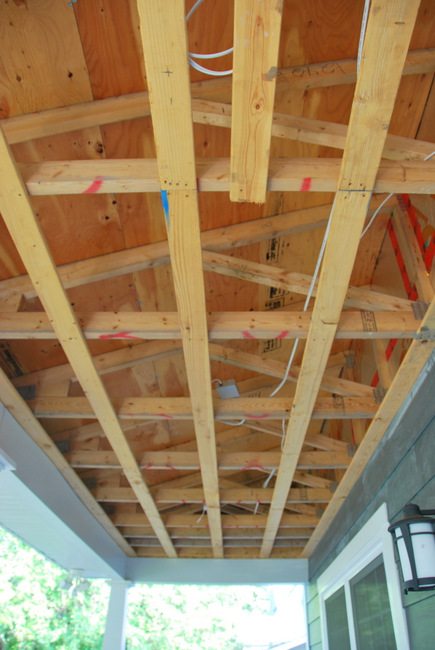 Cedar Porch Ceiling – What we used:
>> 6 foot lengths of tongue and groove cedar (our area was roughly 5 x 20), purchased from Home Hardware
>> cedar cove moulding to wrap around the edges
>> 18 gauge two inch brad nails
>> 1×3 strapping
>> 2″ wood screws
Total cost was around $500 for all materials. We had been quoted $1000+taxes for materials and labour by a contractor, so we definitely saved on doing this ourselves.
Let's break it down into steps.
Step 1 // Before you starting putting any boards up, you want to ensure that your strapping was all done correctly, that you have marked out where your lights are going to go, and all wiring is complete. For our porch, Dan needed to add some 1×3 strapping to bridge the gaps where the electrical cutouts were needed for potlights. He cut the strapping using this RYOBI cordless circular saw. This saw is great for quick rough cuts, very light and easy to use.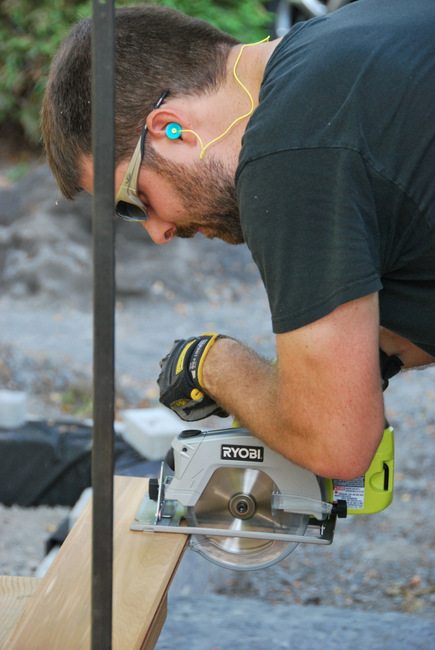 Cedar Porch Ceiling – Ryobi Drill Must Have!
And then put it up using his RYOBI lithium drill.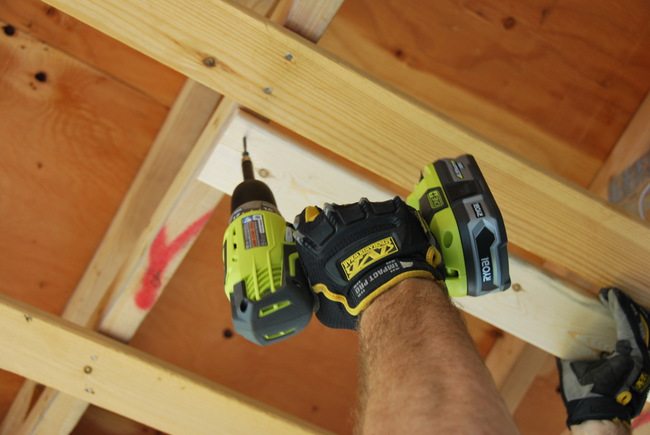 Step 2 // Time for the fun part – actually putting the cedar up! First up is to cut the wood. You want to do this with the Ryobi circular saw, or even better, with a chop saw like this one from RYOBI's One+ system (it's on Dan's wish list!!). Safety first, guys! Always make sure to wear your goggles and whatever other protective equipment you have.
Start at one end and nail gun in the first piece. We did this using our new RYOBI 18-gauge brad nailer. You want to nail angled into the tongue so that you don't see the nails.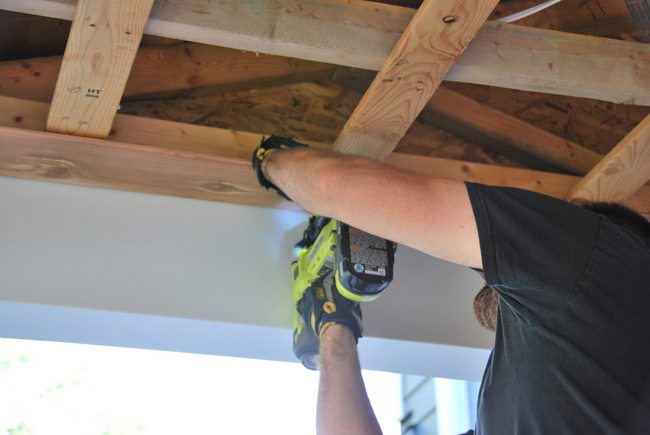 Step 3 // Continue by adding board after board until you have covered entire area. Dan and my Daddio were working on this project together, so my Dad cut and Dan nailed each piece in. It went SO QUICKLY! My Mum and I took Maya for a walk and coffee date, and then by the time we got home, they had finished putting up all the pieces! Couldn't believe it.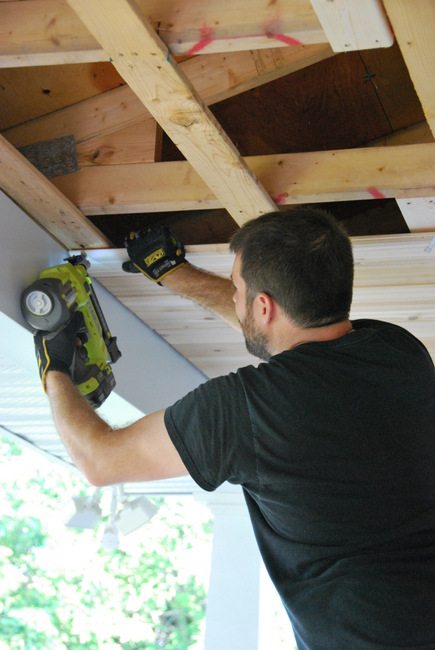 For the very last piece, Dan found that he needed to cut it a bit shorter and then wedge it in. Overall, he left a 1/4 inch gap all the way around the ceiling for any potential expansion and contraction (don't worry – this gap gets hidden in step 4).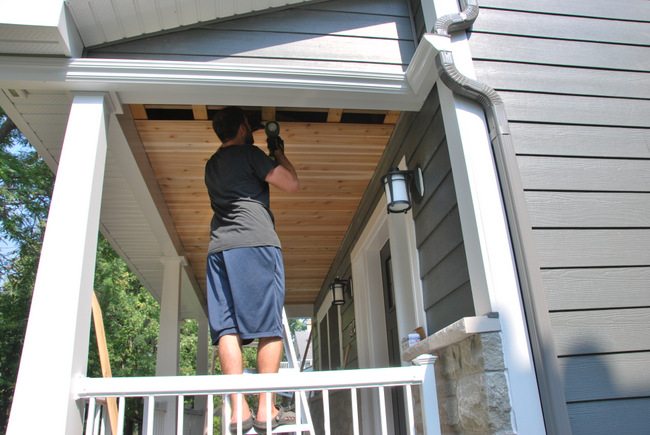 Cedar Porch Ceiling – The Moulding
Step 4 // Last step was to measure and cut the cedar cove moulding. The fellas used a chop saw for this, and and cut the moulding on a 45 degree angle on each end. It doesn't particularly matter where you start with the moulding – long side, short side, no difference. Once they cut the piece to size, Dan again nailed it in with the same brad nailer, straight up.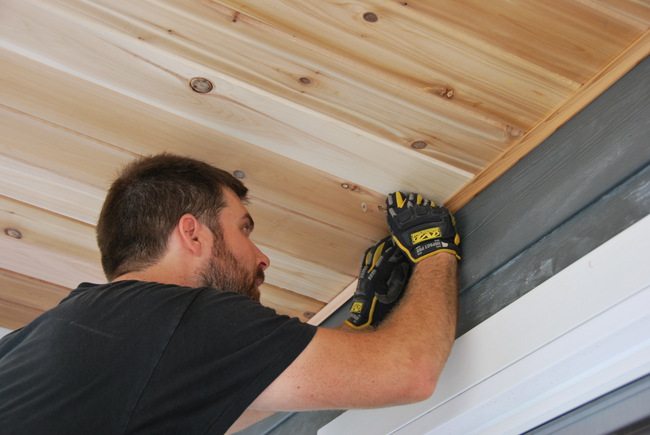 It was amazing to see it go on so easily and quickly. Honestly having a nailer that doesn't require a compression is a total godsend. No fiddling around with any cords … just charge the battery and go!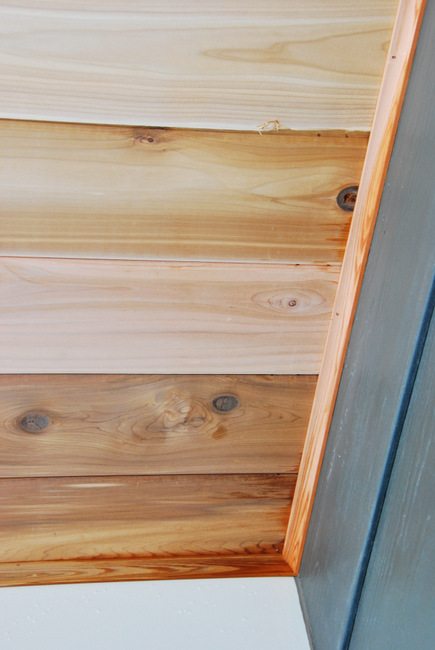 Cedar is a very soft wood, so you may need to adjust the brad nailer based on how far in it drives the nail. Instructions on how to do this come with the tool. You want to test this on a scrap piece of cedar.
Want to see the ceiling in all its' glory? Ta-da!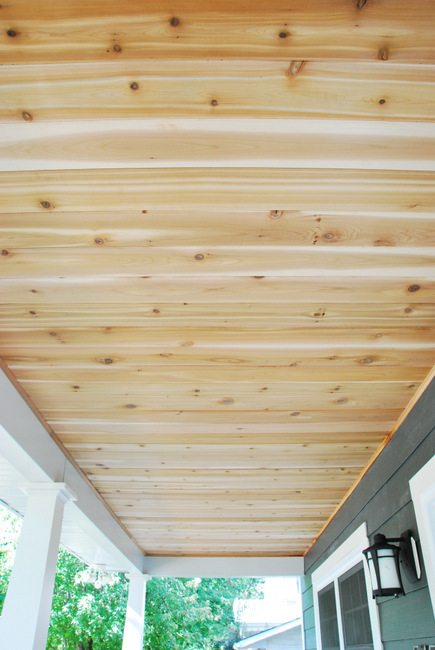 We have put out our plastic Adirondack style chairs that we've had for years, and an outdoor throw rug my Mum gave us, but ultimately I'd like to be able to eventually invest in some better pieces for out here. My vision? Some red Adirondack chairs (actual wood ones or at least better hard plastic ones.. ours are the $20 kind that are now pretty worn!), an outdoor rug that looks like jute or sisal, some side tables, plants in big planters, and some throw pillows. All in good time!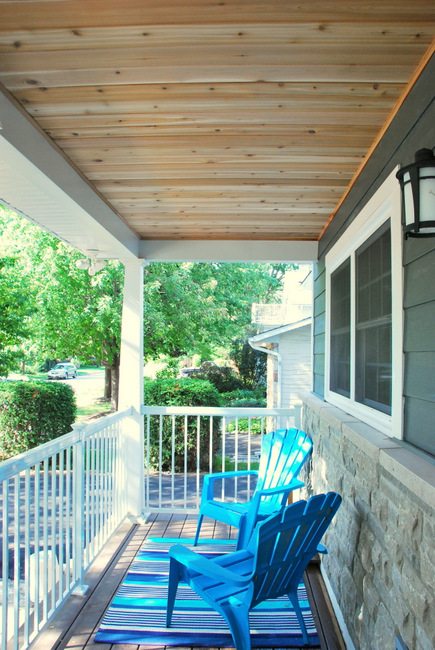 Because it's cedar and it's not directly exposed to the elements, we have decided not to stain it or put any kind of sealant on it. Cedar ages beautifully and continues to give off that amazing smell. If you were worried or wanted a shine, you could of course use some kind of clear sealant – totally a personal preference!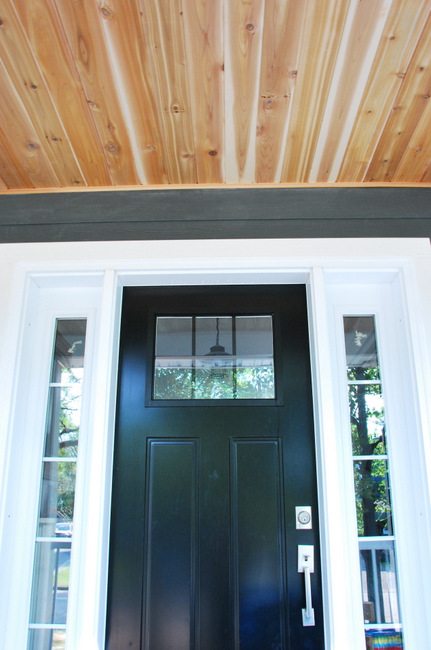 We still have one thing to do which is to cut out the circles for the potlights. Dan needs to grab a special tool to do that and we just haven't gotten to it quite yet — the "to do" list never really gets shorter, you know? Either way, it's lovely to look up at this every time we leave the house.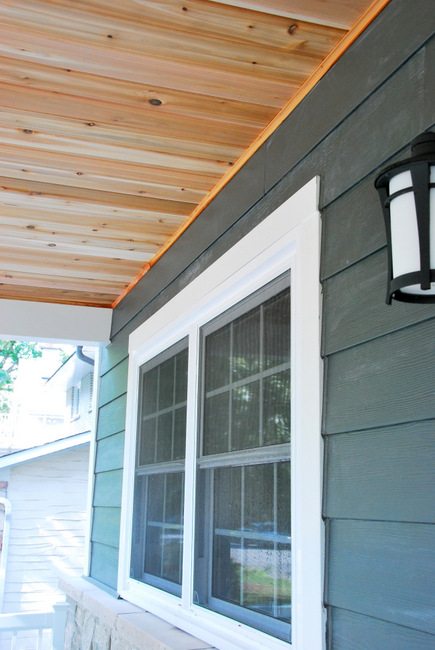 All of the tools we used (aside from our chop saw) are part of the RYOBI 18V One+ system. You guys might have come across this snazzy looking neon green line of tools at the hardware store? Well, I can safely say that Dan is totally obsessed with all things RYOBI now. They are all cordless and have interchangeable battery and charger systems, so everything works in combination with everything else. Plus, the batteries are the latest technology in lithium-ion and basically run longer, have better power, and are lighter than anything else on the market. Win-win. My Dad was looking pretty longingly at Dan's new collection of tools, and Dan is already trying to hint at the other RYOBI tools he "has to have". Honestly though, they are perfect for the weekend DIYer. Keep your eyes peeled for the #RYOBIDays promo happening at Home Depots across the country.
A bunch of my blogger friends are also taking part in #RYOBIDays. Check out their unbelievable projects here. Seriously.. there is some good, good stuff in there! Go be inspired!!
AKA Design
DIY Passion
Fynes Designs
Satori Design For Living
Setting For Four
Have you guys had outdoor projects to tackle this summer? Done any building? Feeling incredibly thankful for a handy hubby/friend/Dad like I am?
Disclosure: Thanks to RYOBI for partnering with us on this project! It was most definitely Dan's favourite blogger collaboration since I started writing this blog 5 years ago. Ha! All opinions, as always, are totally our own.