In our home we have a loft on our third floor that I use for my office/studio, but there is a nook in the space that I had always envisioned using as a kids craft room.
It means we can all be up there together, creating and making. The kids in their zone, and mama in her crafty zone.
Here is the simple formula for a great kids craft room: Table and Chairs + Storage + Fun Colors. 
Totally do-able!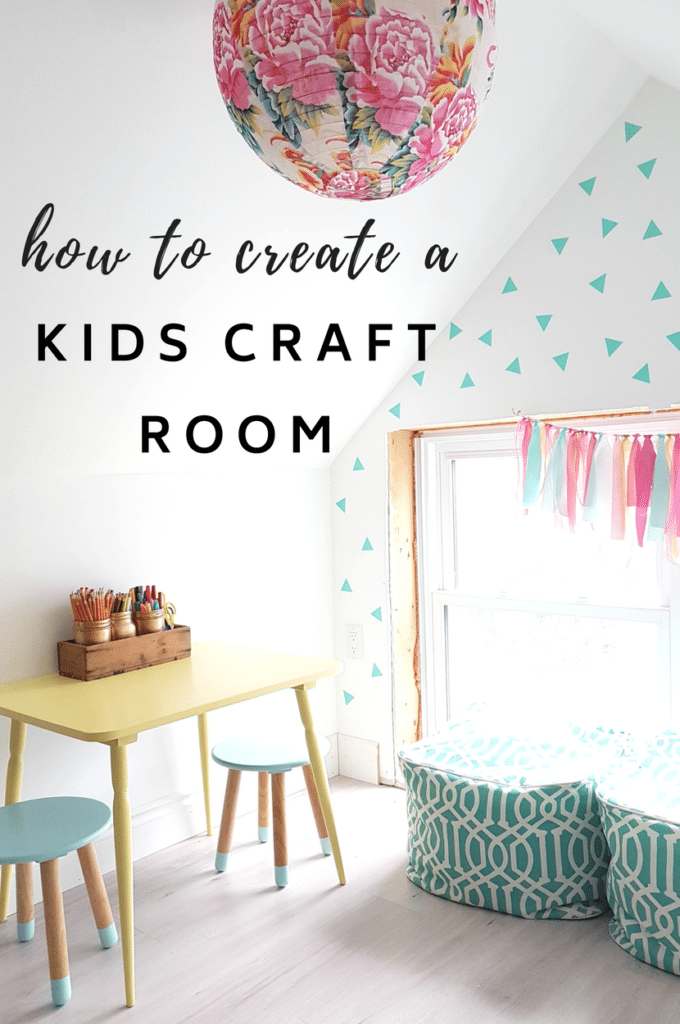 Ready for the before picture? Here goes…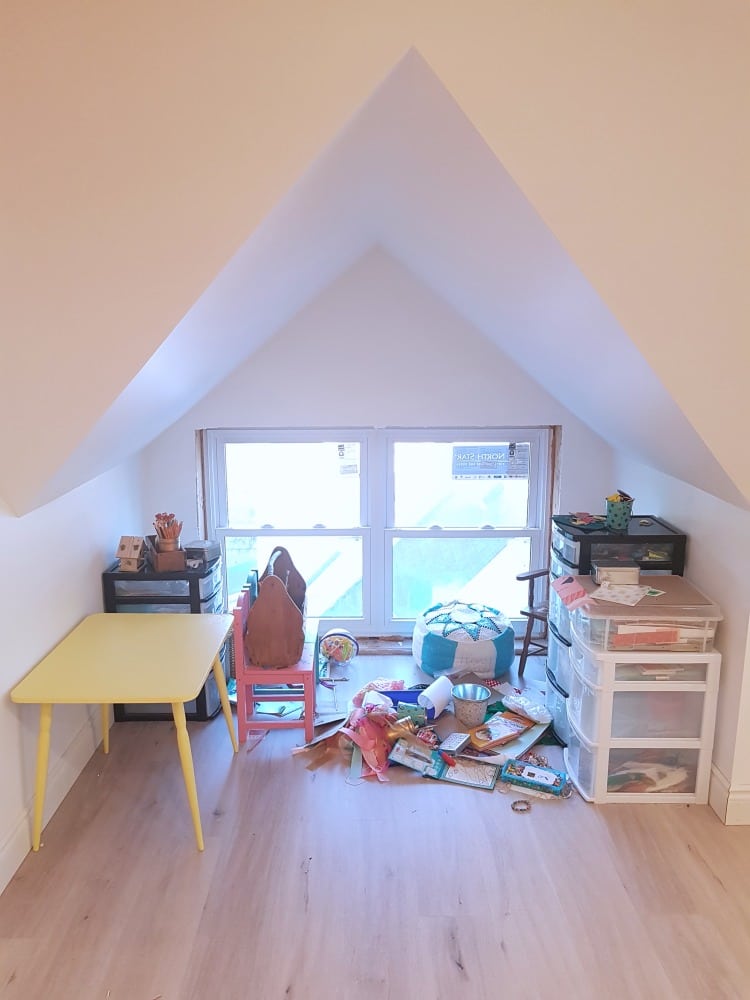 Not pretty right? At least the bones were good. White walls, nice whitewashed wood style laminate flooring. Now it was time to take this space and turn it into something cute AND practical.
How to Create a Kids Craft Room:
Step 1. Finding Inspiration
I started out with a flea market find kids table I painted yellow. I almost NEVER use yellow anywhere in our home, but for some reason that buttery hue was just calling out to me.
Since the walls are white and the floors are light, I knew I wanted some color and pattern in the space. With that yellow table as the starting point, I decided on adding some turquoise, pink, florals, and some geometric. Sounds like a mish-mash, but with kids spaces you might as well have fun!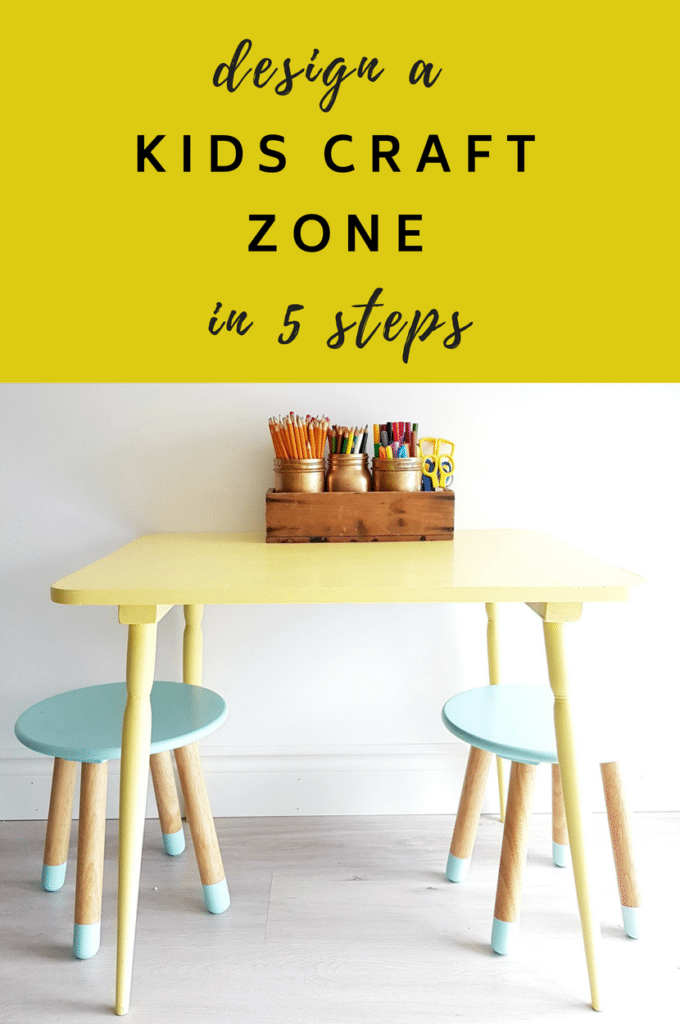 Step 2. Adding Pattern with Decals
Then I decided to add some really simple little mint triangle decals to the back wall. It needed a little bit of color and pattern. These decals from UrbanWalls were perfect and took me all of 10 minutes to apply.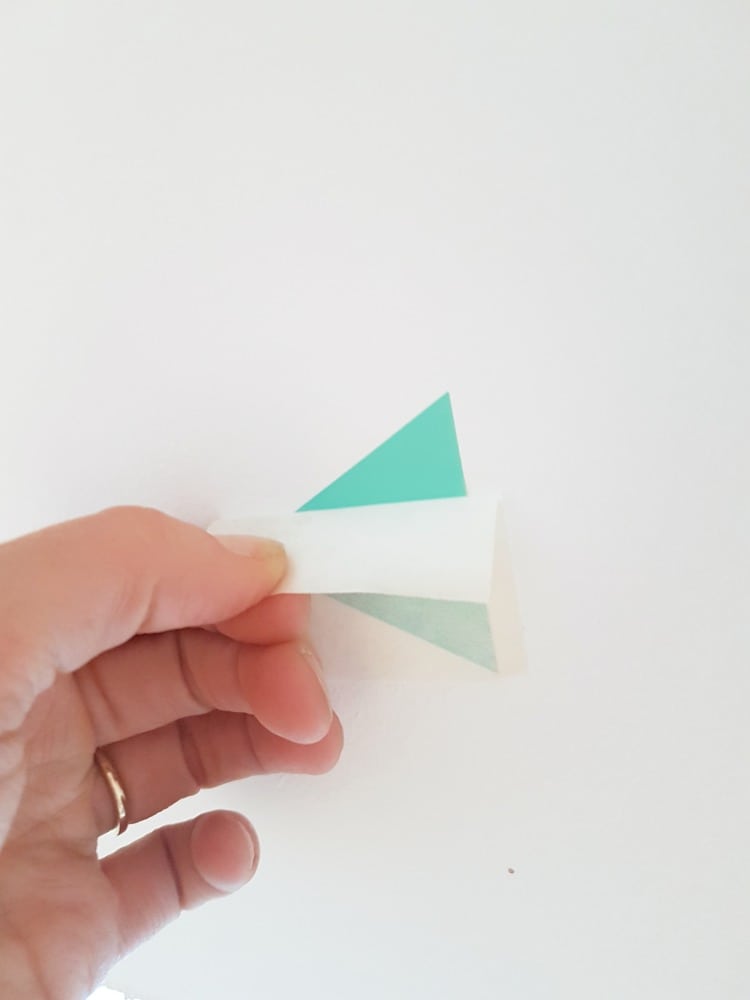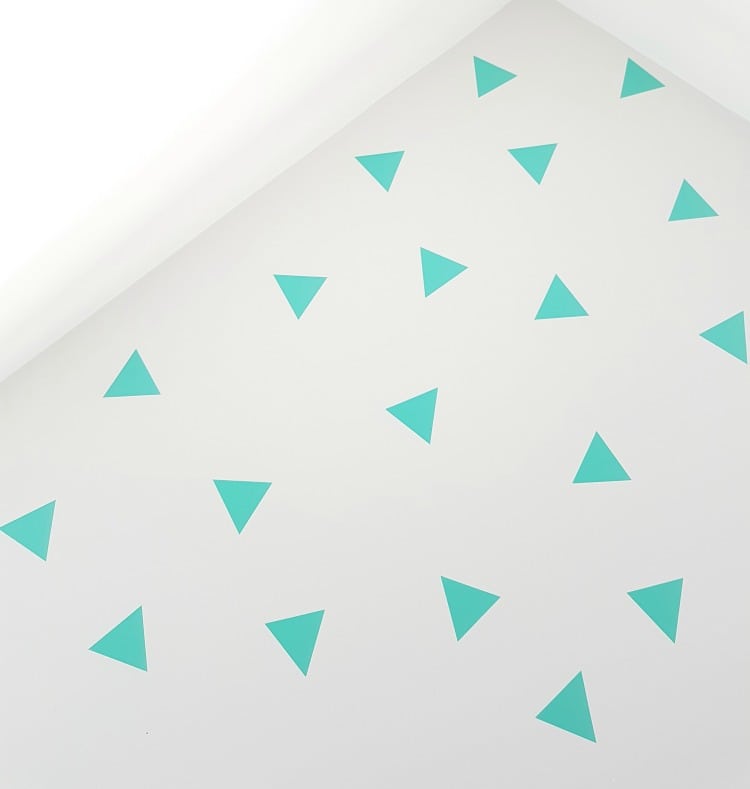 Step 3. Painting Doors & New Hardware
I wanted to add some pink into the mix. There is an interior door just beside this nook that leads into a storage area, so I knew it would be the perfect spot to have another fun bright colour.
I painted it in a warm pink by Para Paints. Seriously, painting interior doors is one of my favourite ways to get a lot of interest and impact in a space, without a big commitment (you can see the gray doors I painted in our main floor here).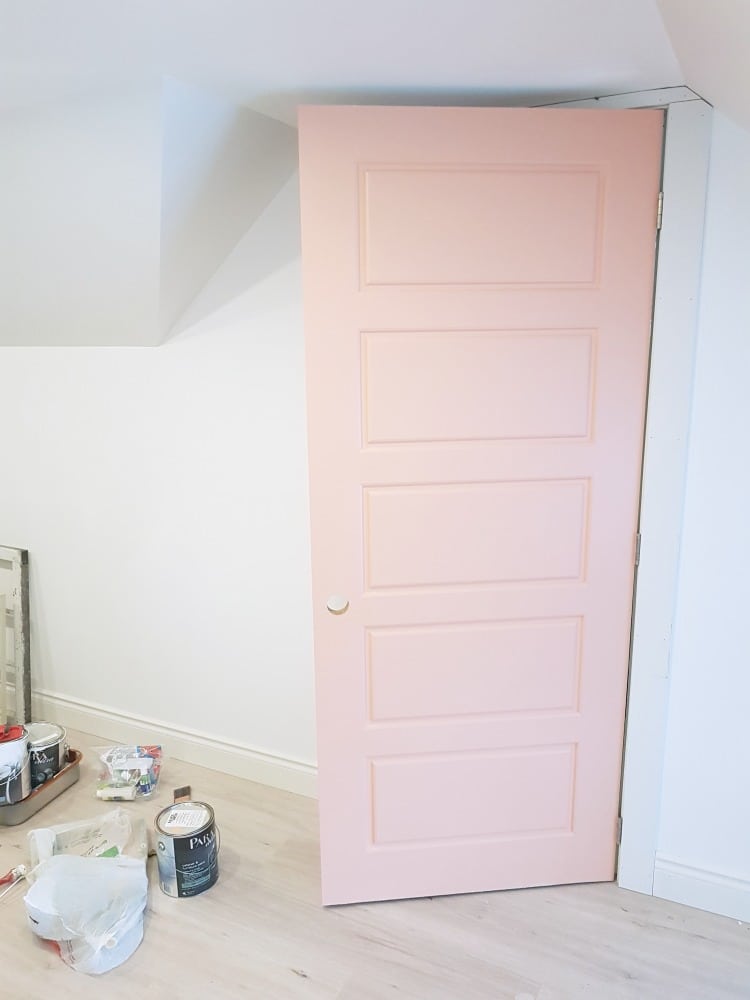 Once I had the door painted, we needed a knob. I knew that it would be the perfect spot for something with a sweet vintage vibe. When Nostalgic Warehouse wanted to partner with our Modern Handmade Home crew for our projects of the month, I knew they would have the perfect thing.
I found the Waldorf Crystal door knob on their site and knew it was the one. I LOVE the crystal and the shape is so, so pretty. You can choose from a bunch of metallic finishes, but it was an easy decision for me to go with brushed brass.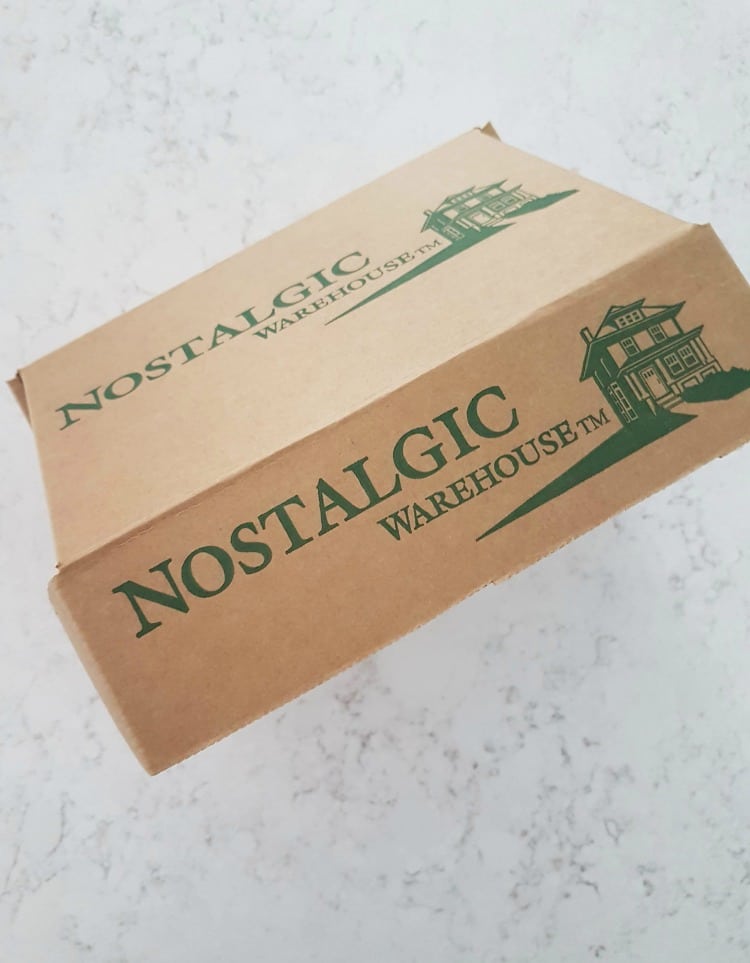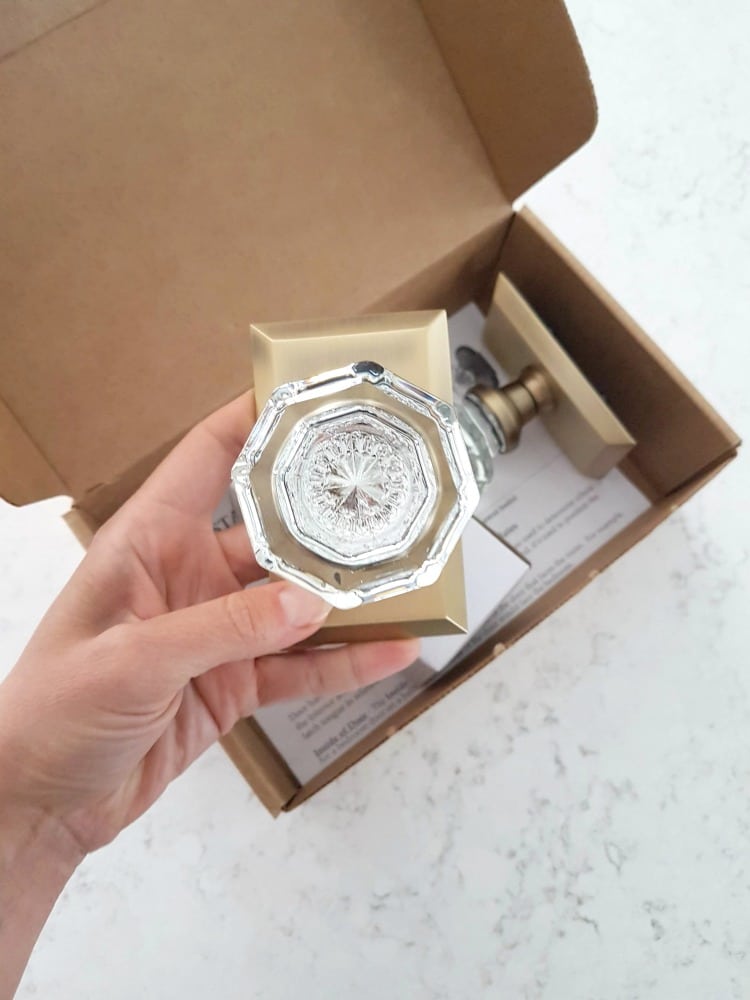 Pink + Brass = ALL the heart eyes, right?
It was super easy to install (thanks hubby!!). It's just a matter of grabbing a screwdriver and screwing in each piece.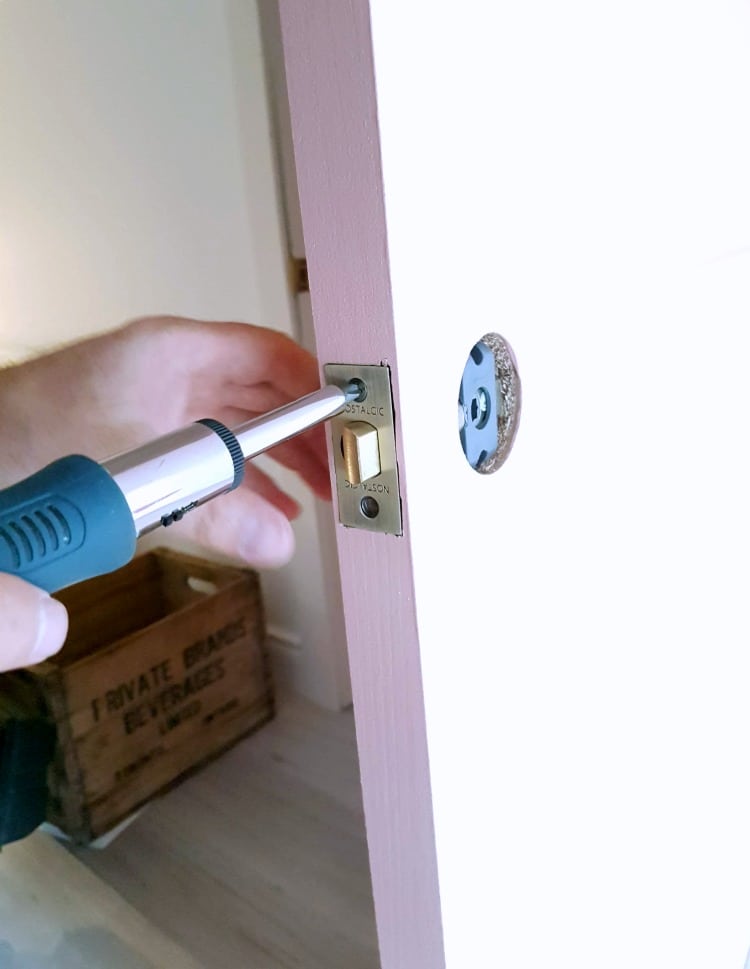 It majorly polished off that door. Doesn't it look ridiculously cute?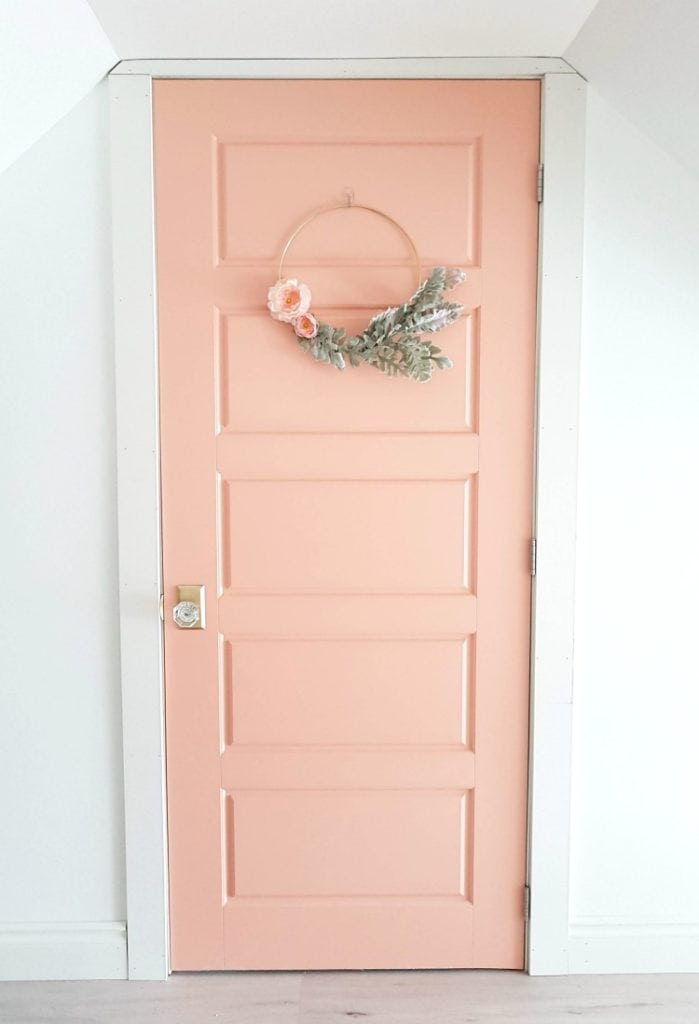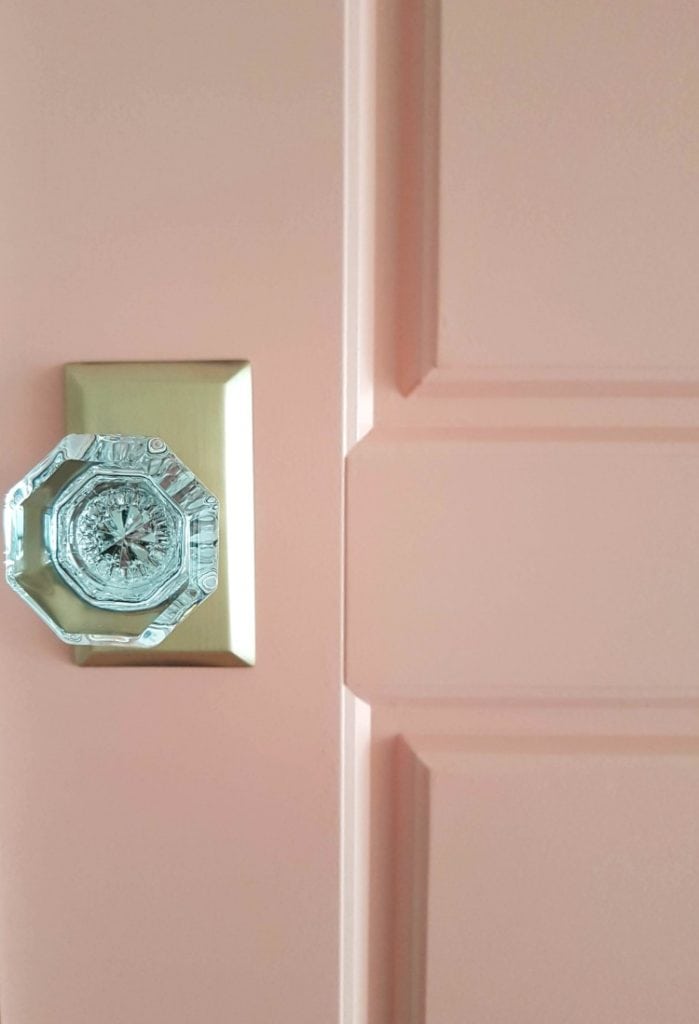 Step 4. Adding Storage
For my little kids craft zone I obviously needed a piece of furniture to store all the craft supplies.
We had this wooden dresser sitting around and it was the perfect one for the space. I painted it 'Sterling' – a very pretty light gray – by Fusion Mineral Paints and added the matching Waldorf Crystal Cabinet Knobs, again from Nostalgic Warehouse. Not only does it tie in with the pink doorknob, but the dresser is actually a perfect piece to hold all the paint, glitter, stickers and glue. So much better than the ugly plastic drawers I was planning on using.
I also tucked that basket on the side to stash all the paper. That way it's super easy for the kiddos to grab a piece and start a new creation.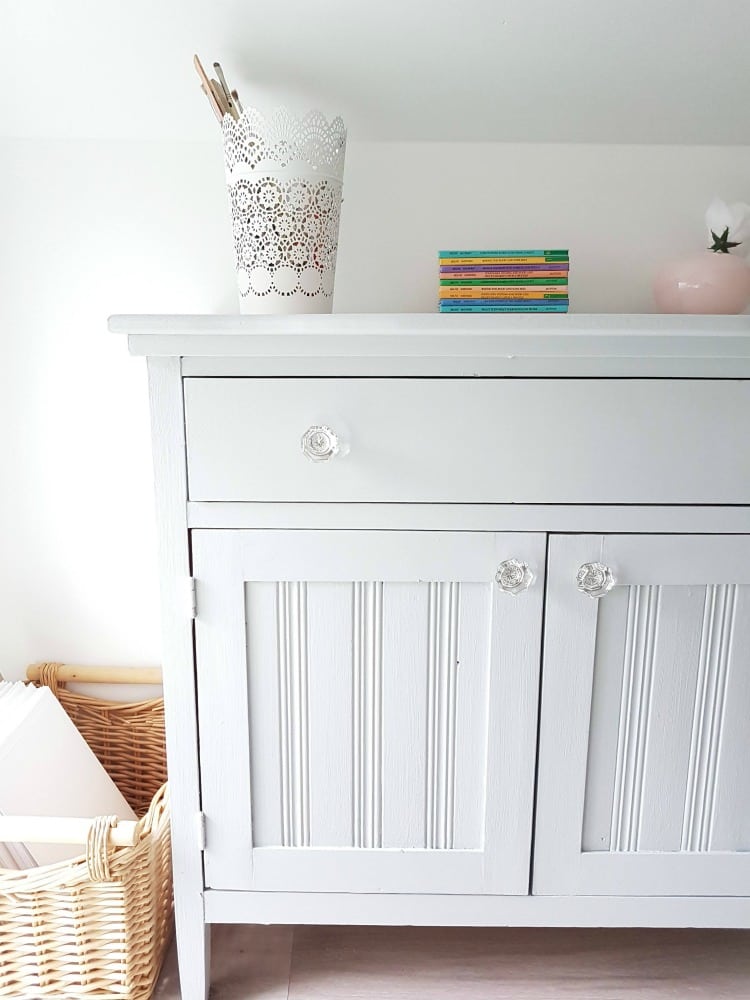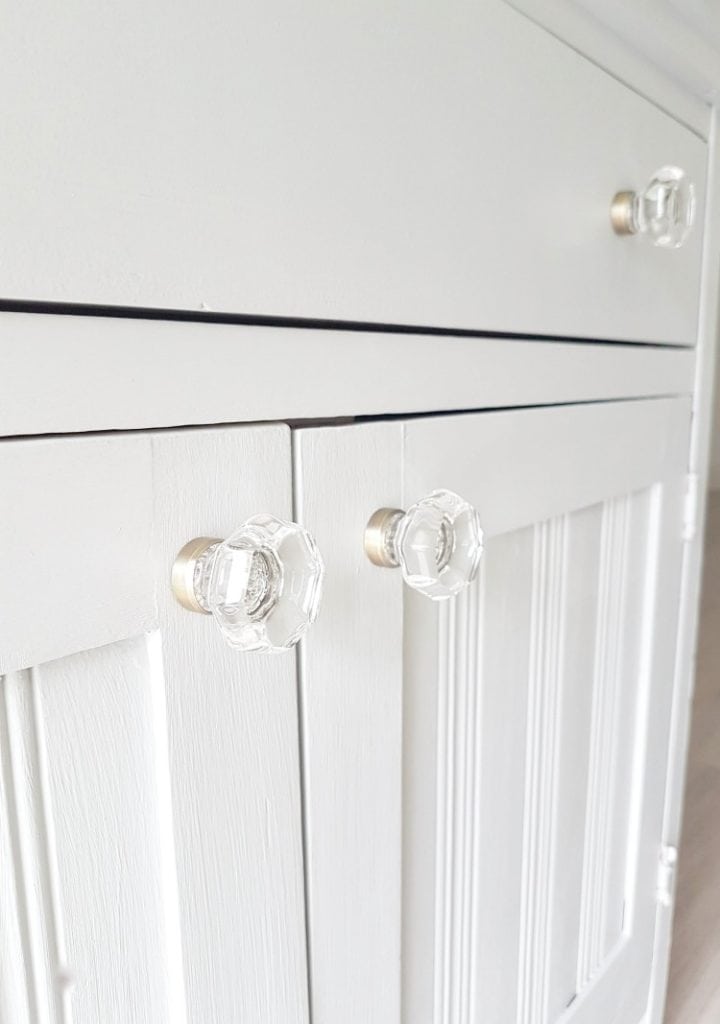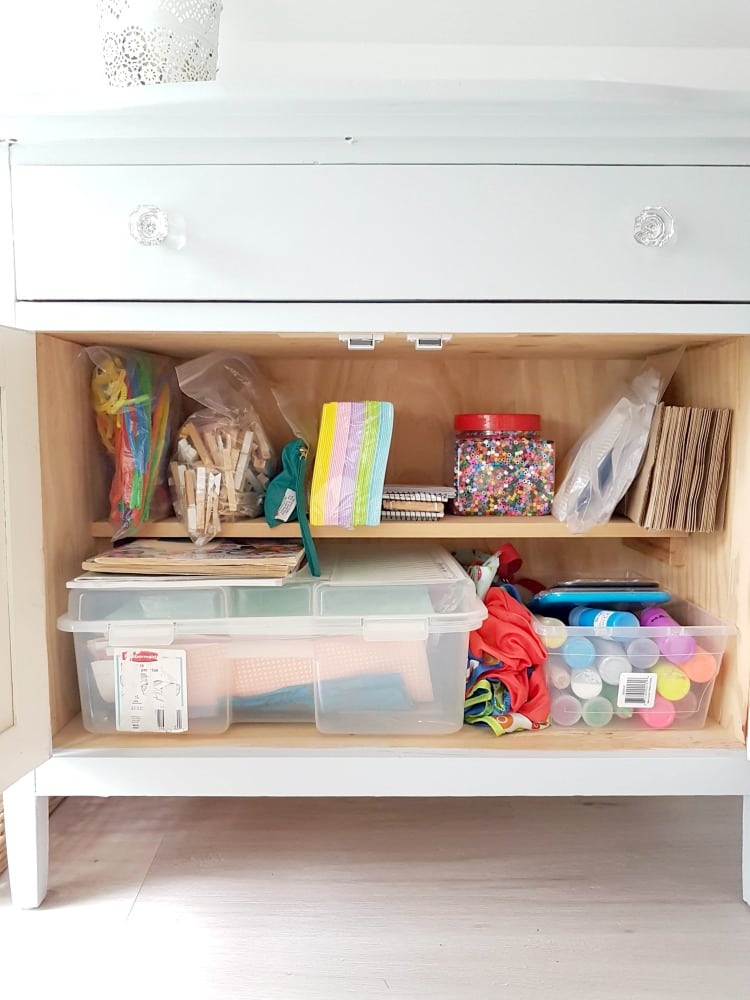 Another easy way to add storage that looks cute is to collect all the markers, pencils, and paintbrushes into containers. I found an old wooden box that perfectly fit three gold mason jars I had (they are just spray painted – super easy). Keeping these out make them easily accessible but also easy to put away. That's the key thing – you want a system that makes it easy for your kids to clean up afterwards. Here is a similar box and mason jar set that would work perfectly!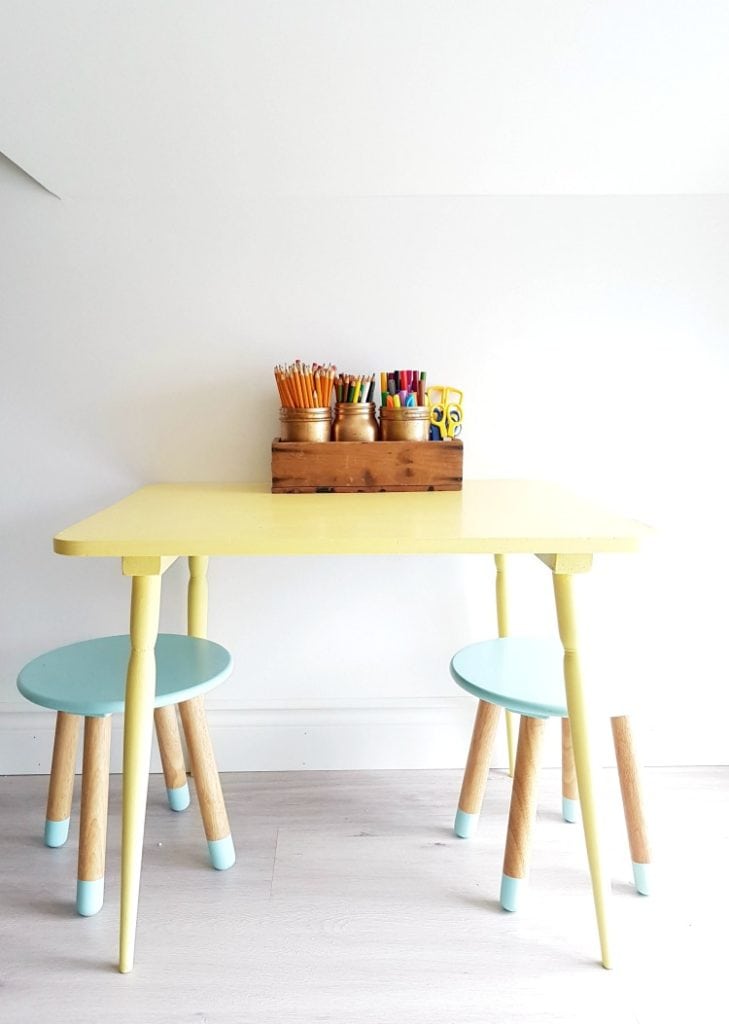 Step 5. Places to Sit
I snagged some turquoise stools from HomeSense (similar ones here, here, and here) for the table. Cute combo, right?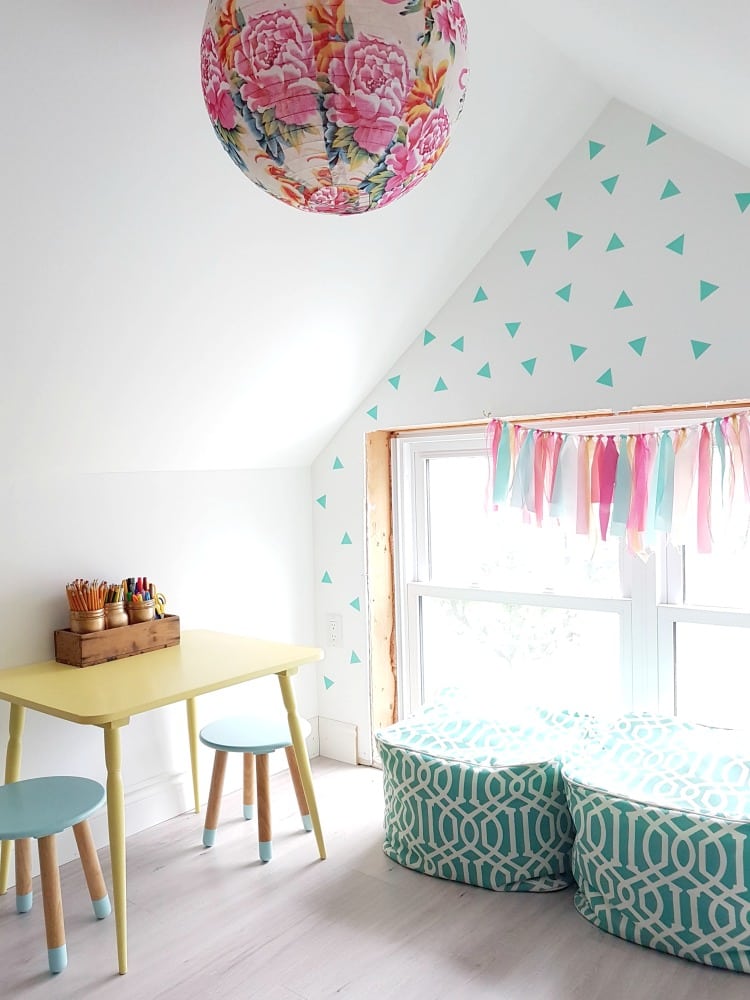 I also threw down two of these poufs (they were from Target years ago, but here are some similar bean bag chair ones that look AMAZING). They cover up the windows which we haven't actually trimmed out yet, and make the perfect spot to sit and read.
It's hard to get a picture of the whole space with the sun always shining in and weird angles, but you can see how the pink + yellow + turquoise scheme makes it such a happy little corner of our home!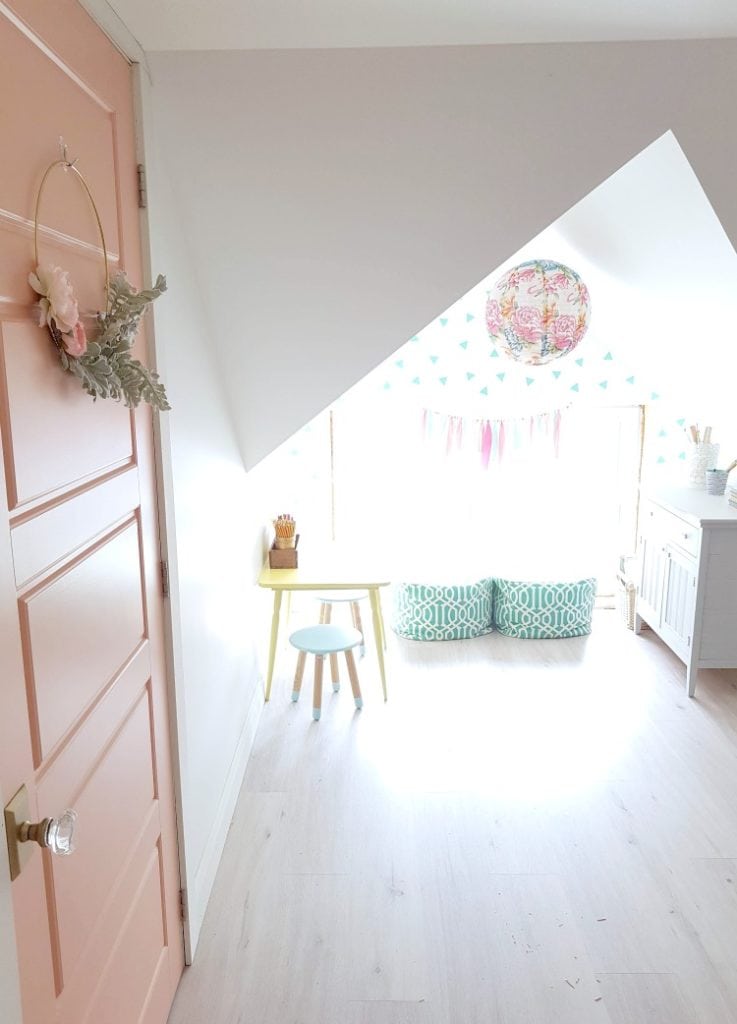 Get the Look:
Here are all the sources so you can create the same look in your own home:
Gray Dresser: Thrifted, painted 'Sterling' by Fusion Mineral Paint, added Crystal Knobs from Nostalgic Warehouse
Yellow Table: Thrifted
Turquoise Geometric Poufs: similar, similar, similar
Handmade floral wreath (DIY tutorial coming soon!)
Marker and pencil holder: similar

Modern Handmade Home Series:
Now let's see what the other ladies did for this month's project with Nostalgic Warehouse!
Lemon Thistle / The Learner Observer / Harlow & Thistle / Love Create Celebrate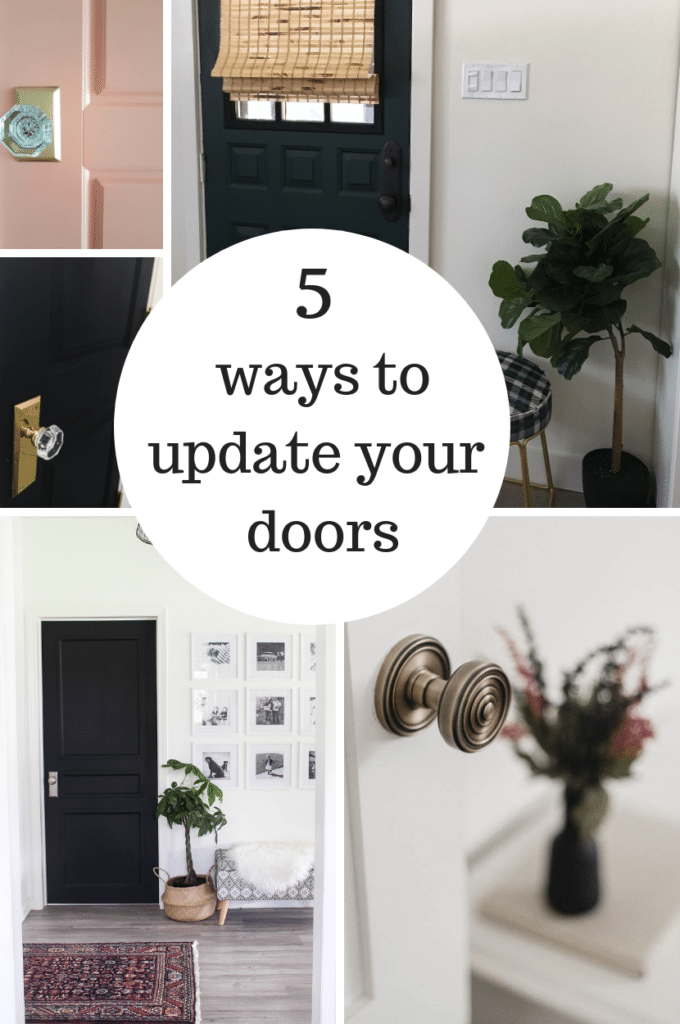 Disclosure: A big thank you to Nostalgic Warehouse who partnered with us on this month's Modern Handmade Home series post. We love working with brands whose products we love so much!