I'm all about the gold and brass and copper these days. Are you?
I have migrated over to the warmer metal tones over the last decade, and especially during these last few years when all things gold have become on-trend again.
So, it's probably no surprise that when I was choosing the finishes for our kitchen, I immediately gravitated toward gold hardware pulls.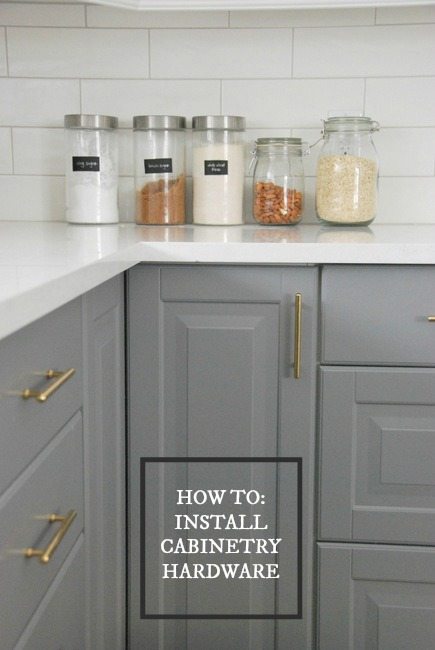 Finding the Right Hardware:
With the dominating grey and white scheme in our kitchen, I knew that bringing in a bit of gold would warm up the room and add a little bit of glam. I knew I wanted something with clean lines (nothing too ornate) and a pull style rather than knob (just a personal preference thing).
I searched around online and fell in LOVE with a few different options. These Kohler ones are GORGEOUS, and these Atlas handles have that amazing squared off profile I adore.
Ultimately though, when I was out and about at my local hardware source, Lee Valley, I came across some pulls that won me over with price AND look. It saved me having to order online and pay for shipping, or deal with the Canadian-US price conversion.
These are the ones – "J" on the far  right side (product number 00W5840). I almost passed them by as the ornate ones on the left aren't my jam… but then… there they were!
They were only $5.25 a handle since I was buying more than 10. (Pssst – I have since found these pulls online which look identical and have an unbelievably good price tag!)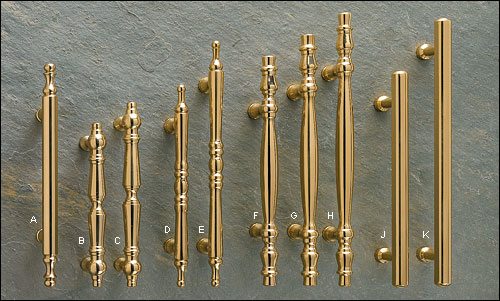 How To Install Cabinet Handles:
Step 1: Assess Placement
Figure out exactly where on your cabinet the pulls look best to you. Maybe it's perfectly centered, or up towards the top. Hold it in a few different spots and take the time to figure out what you like.
Step 2: Get out your Tools
You need to use Cabinet Hardware Mounting Kit to make it really easy for you (ie. that plastic thing with a bunch of pre-measured holes). It *really* helps make marking out the spots to drill so much easier.
I also made a template on paper that I could hold up on my cabinet and make sure I was starting out at the same spot every time.

Step 3: Measure & Drill
Your preferred placement is probably going to be different from mine, depending on your cabinets and pulls. But basically you use your measuring tool to identify the spots to drill and mark them out with a pencil.
Always measure twice (or three times!), and then drill.
Take your time. You don't want to mess this up. No pressure or anything ;)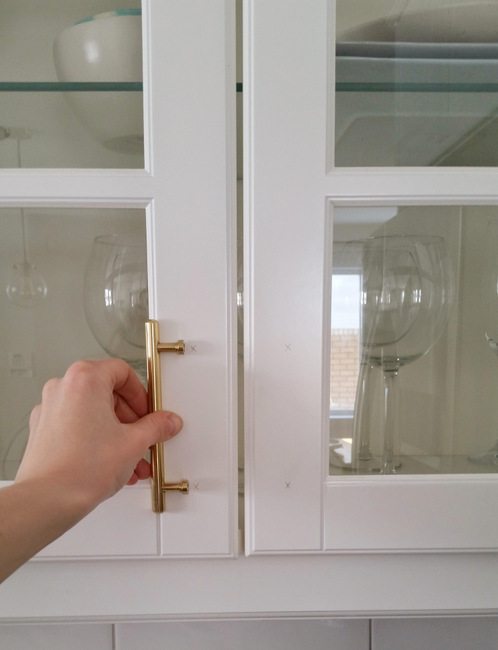 It's best to drill 3/4 of the way through from the front, and then drill that last bit from the back. That way you get a clean hole.
If you go all the way through from the front with your drill, you may have a bit of the cabinetry finish flake off the back around the hole.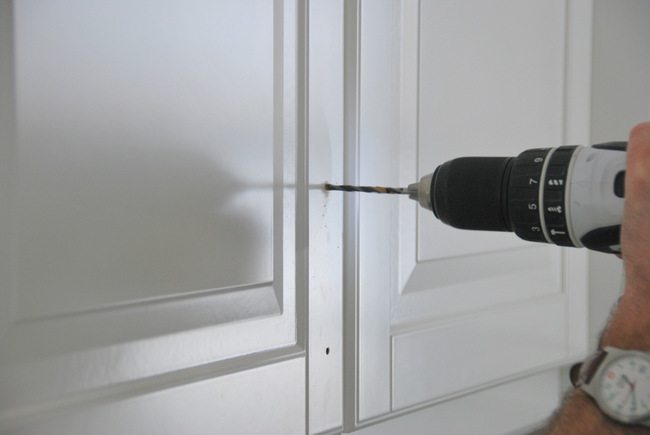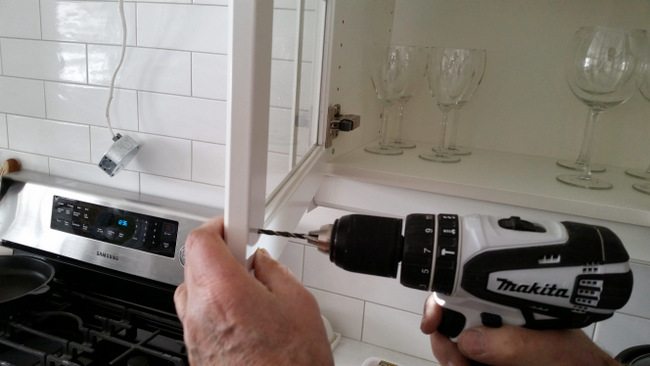 Step 4: Screw-In Pulls
Once your holes are drilled, it's just a matter of taking a screw driver and mounting the pulls.
The fun part!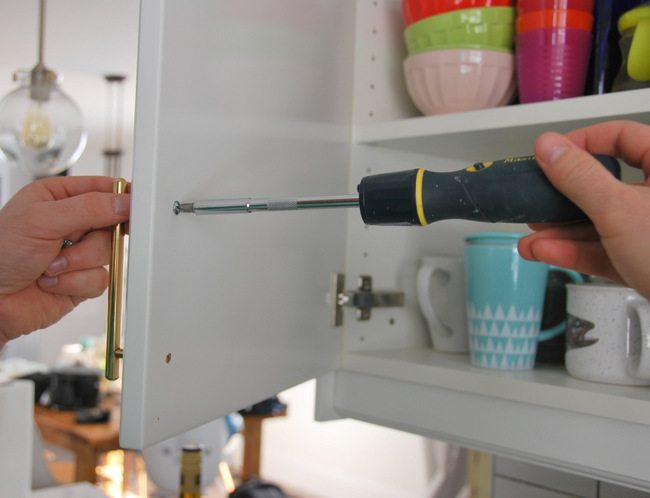 There is something about the combo of grey and gold that makes me all kinds of happy.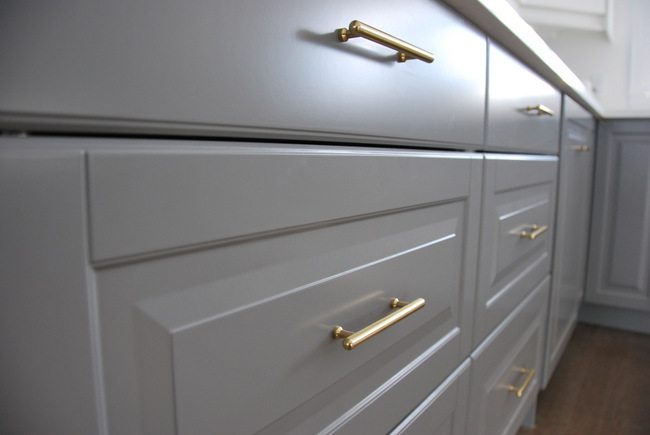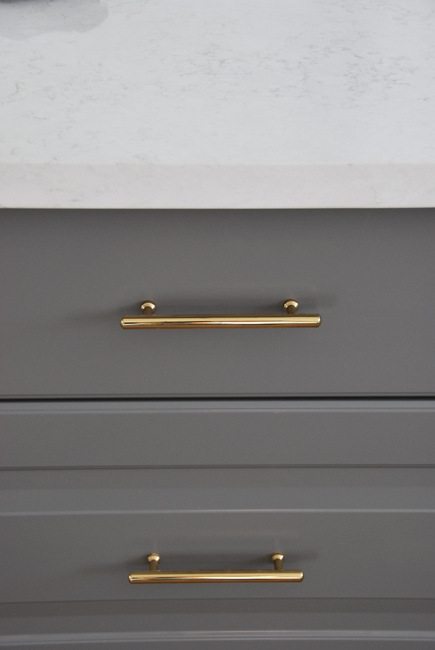 The fun thing about kitchen hardware is that it is easy to switch up over time.
If, down the road, I want to go for a more "farmhouse" kitchen look, I can put some matte black pulls in.
Or maybe I will veer back into the silver arena over time. Who knows!
The nice thing is that the big choices in this room – like cabinetry, backsplash, and countertops – are all neutral and long-lasting, and switching out the small things as tastes evolve and change over time, is do-able.
Oh, and cabinetry pulls tend to come in standard sizes, so it's fairly easy to replace pulls without having to fill and drill new holes.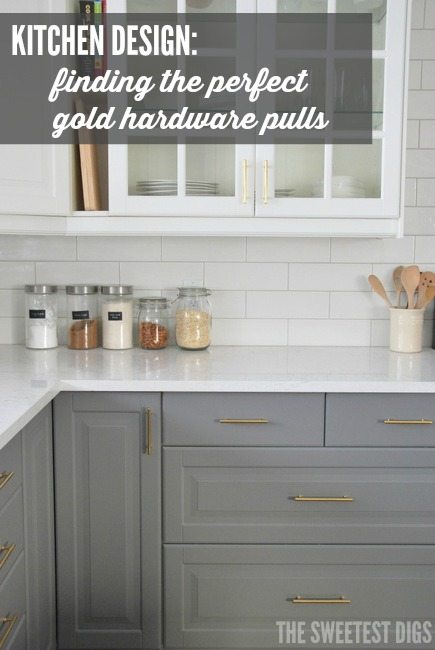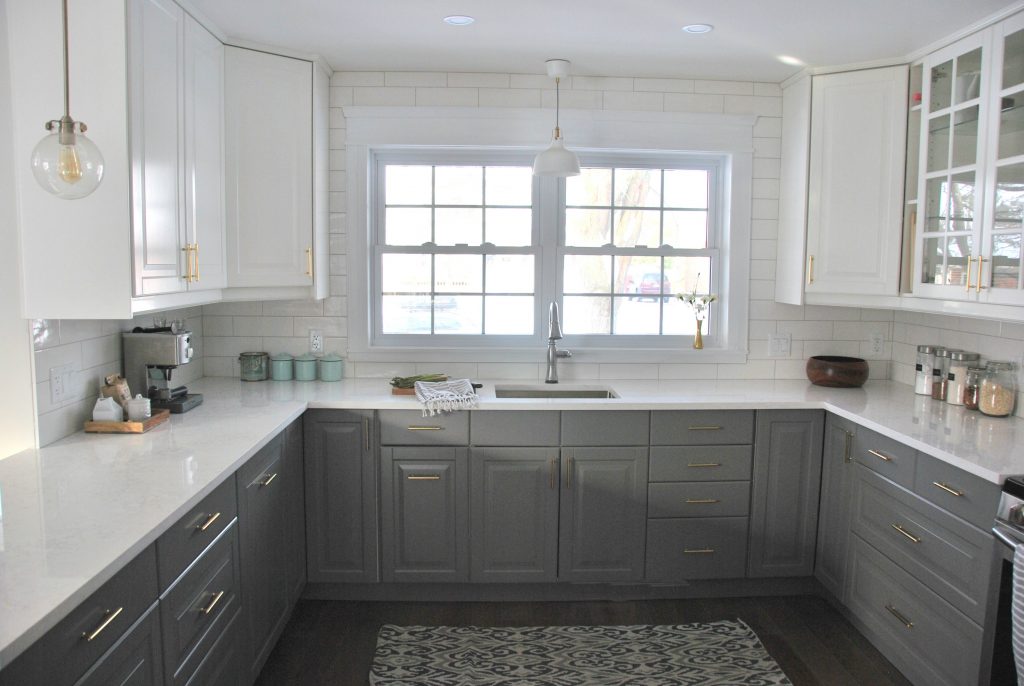 So that's how the kitchen is looking these days.
Shop the Look:
Want to see how the Kitchen turned out?
Check out the rest of the kitchen posts in this series!
Have you guys ever switched out the hardware in your kitchen? Got a favourite style or colour?