We've been making progress on decorating our living room and I wanted to fill you in on two big moves we've made recently: 1) finding some fabulous wing chairs and 2) painting our door trim black.
Let's back up a sec to what the room was looking like just a little while ago.
The layout came pretty naturally once we had the built-in's done. We used to have two sofas in our old living room, but knew that they wouldn't both work in this space as one would cover the patio door leading to the backyard. Here we are (pre-built in's), but see what I mean about the couches? Not working.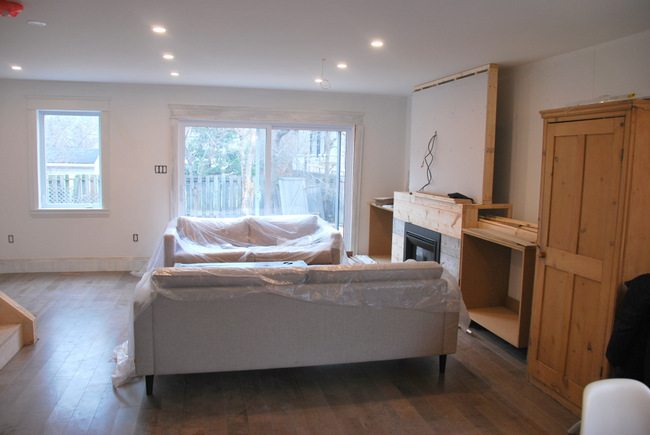 So it made sense to have our better couch stay in the space, facing the fireplace, and get two new chairs to flank it on either side.
Our chair requirements: comfort (we didn't want any "aww-sucks-that-you-got-stuck-sitting-in-the-chair" mentality in our living room), stylish, and something timeless.  I don't want to be thinking about changing these chairs in two years time because I bought something that was too trendy, you know? Budget was also a factor. We didn't have $800+ to spend per chair, which is often what they cost. I find big chairs to be quite expensive a lot of the time — like what you might pay for a couch.
We looked around at various stores and came up with a couple of options. I liked the look of the IKEA Karlstad chairs, but then figured that the squared, low profile was too similar to our couch. I wanted something a little different to add some interest to the room.
I went shopping at Structube one day and as soon as I sat in this beauty – the "Polo" – I was sold.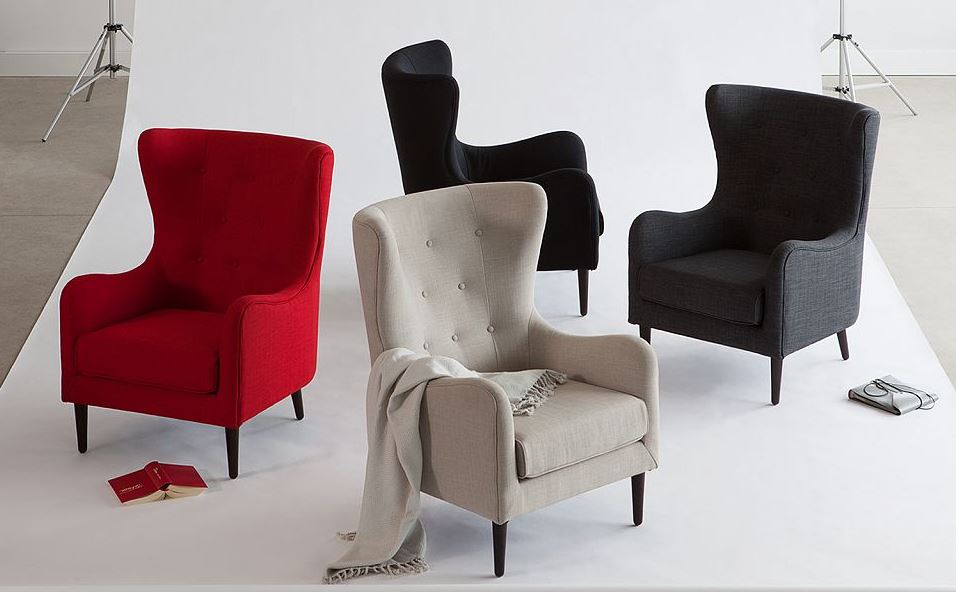 It's a modern version of the wingback chair, with a rounded back and high head rest that makes it SUPER comfy. The curved lines, tapered wood legs, and buttons on the back brought it home for me. Oh and the $399 price tag was pretty darn great, too. Especially considering they are a Canadian company and you can tell that the quality is excellent.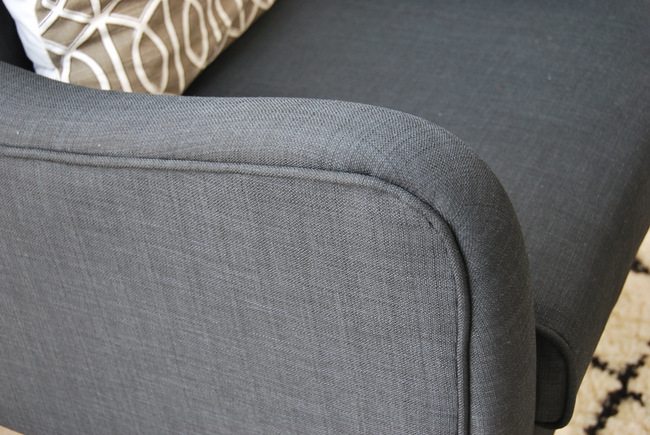 Initially I had thought the charcoal grey version would be the best option, but then changed my mind at the last minute to black. We have other black elements going on in the room and I figured these would be a great way to tie it all together.
I got in touch with Structube to tell them about my love for the chairs, and they graciously offered to collaborate with me on the living room. Please know though that although this post is in partnership with them, I was going to be getting these chairs whether they wanted to work with me or not!
I roped my Mum into helping me pick them up. Of course it was one of the coldest days of the winter – roughly minus 40 degrees Celcius – on the day that we went to get them with my parents truck. Pretty sure it took several hours for our hands to de-thaw. BUT…. it was so worth it as soon as we got them in the living room. Talk about swanky, hey?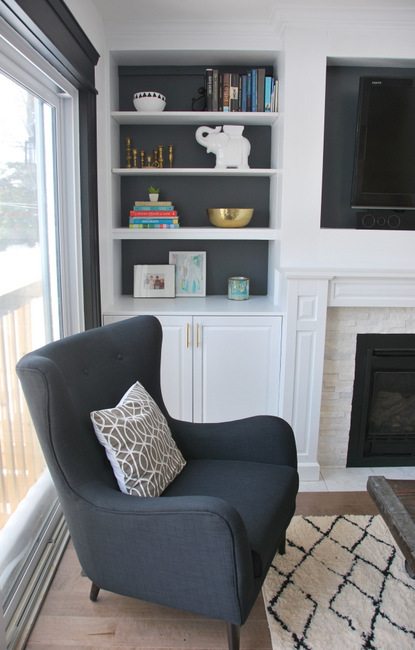 The chairs almost look grey in these photos, but in real life they definitely read as a soft black.
As I have been chipping away at painting the trim in our house (along with all the walls, doors, etc.. ugh SO MUCH PAINTING), I decided to paint the trim of the patio door black. I had initially dreamed about having a black accordian door there, but budget won out and we went with the more wallet-friendly white sliding patio door. I figured I could try and get some of the same impact by painting the trim black, and I think it kinda works?! I like the way it brings your eye there, to a view of the backyard. Of course right now the view includes a barricade as we don't have our deck built yet, but you know, you can envision a deck where we can open up the door and have an indoor-outdoor vibe going in the summer.
The paint I used was PARA Paint "Forge Black", door & trim paint, in matte finish. It was the perfect paint – the matte finish helping to cover any imperfections in the trim.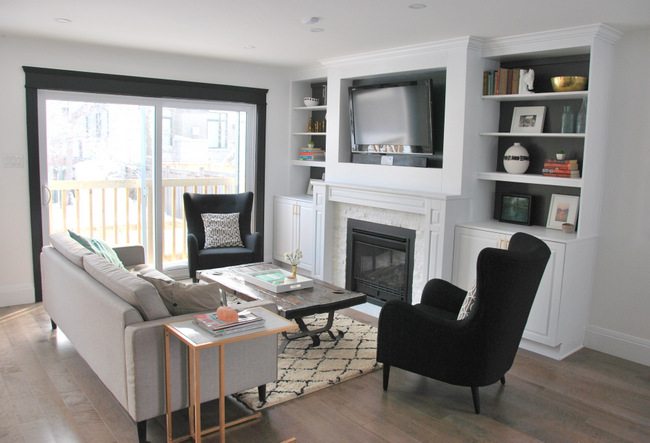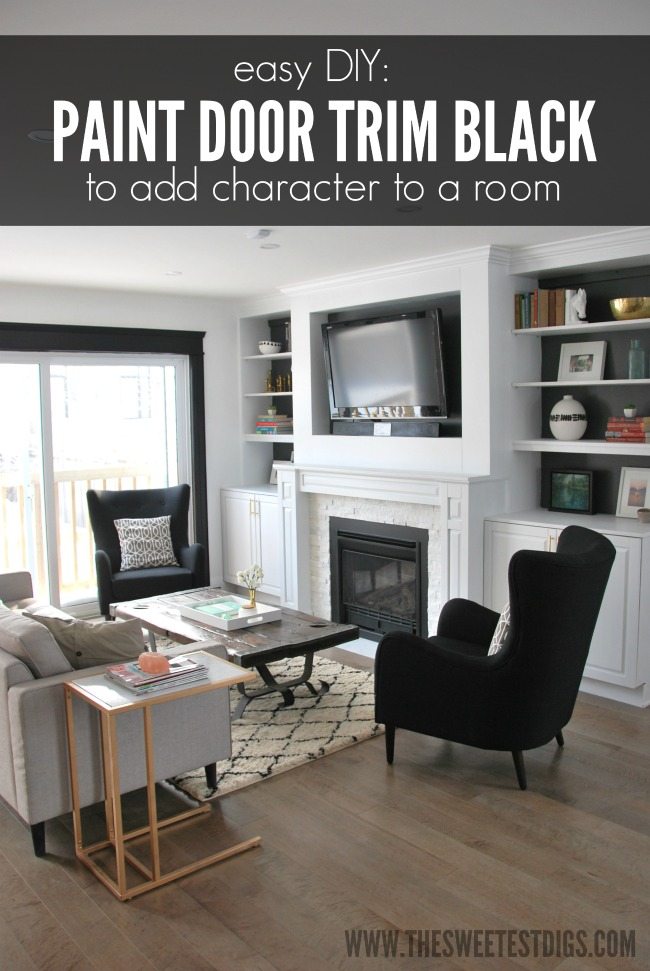 It's coming together, slowly but surely.
The built-ins have a lot going on, so I'm trying to keep it a little more "quiet" in the rest of the space. I haven't figured out the perfect pillows yet… but I'm getting there. I also think the rug is a little small for the space so eventually I'll move that one to another room and bring something else in here.
A big thank you to Structube for partnering with us on this project. Be sure to go check out their beautiful stuff! I already have my eye on a few other things for the house… !!