Time for one of those posts where I blab on about a bunch of things that have been happening around here of late. It's Friday and I don't have any project updates, but I do feel like there are a bunch of life updates… so here goes.
Things have been a bit all over the map. In terms of work, I've got a bunch of things on the go — new product lines for THE SWEETEST DIGS CO. and branching out more into retail/wholesale, a short term contract in my "day job" realm of work (public health + development), writing my 5-article series for the Globe & Mail newspaper (last article published yesterday!), doing some website and decorating work for a few clients, and (slowly) trying to chip away at finishing up more of the house (remember how I'm doing ALL of the painting myself? Yep, well… it's a lot). You should see my "to do" lists every week – you would have no idea how one thing relates to another. All that to say though, that I'm super happy on the work front. I have my hands in a bunch of different pots and I love it.
Speaking of THE SWEETEST DIGS CO., a few retailers that carry my prints here in Ottawa have been all kinds of sweet with their displays lately. Boogie + Birdie put this pic up on instagram which totally made me blush. And then when I was out and about, I came across this window at the Village Quire… Yep, there is even a big sign there (hard to see because of the glare) that says "Introducing THE SWEETEST DIGS at the Village Quire!". Totally a squeal moment for me.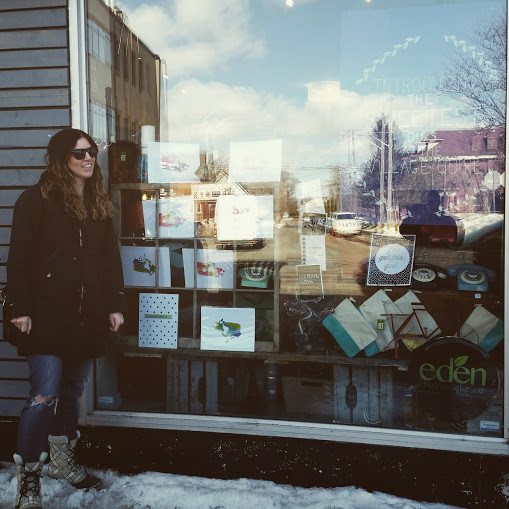 Oh and I have a million ideas for new product lines that I have been working on… one of which are pillows! My first batch came in the other day and I'm thrilled. They are made of a velveteen fabric and I basically just want to rub my face on them all day long. They'll be up for sale in the etsy shop soon – so keep your eyes peeled! Here is a sneak peak…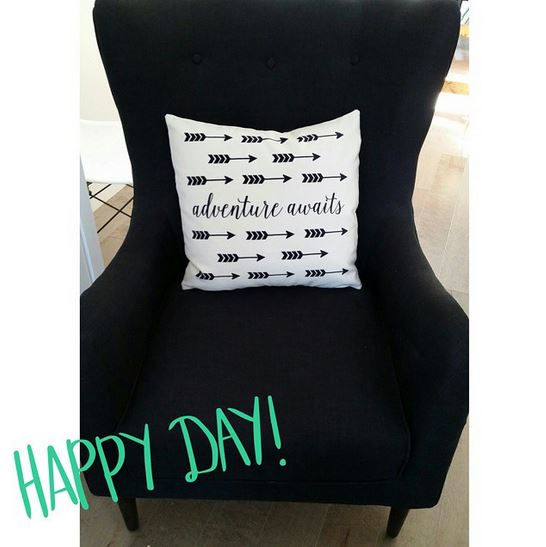 In other news, Dan has been away in Europe for work for the last two weeks, which has been.. well… long. Maya is in daycare during the weekdays so I can get work done, but even so, the whole solo parenting thing is a tough gig. I have a ridiculous amount of admiration and respect for single parents. Needless to say, we're pretty excited to have him back this weekend. It also happens to be his 35th birthday on Sunday, so I have some decorating and birthday scheming to do.
Oh, before Dan left though, we went to a really fun event that you might have seen on instagram (you can follow me here, if you don't already).
Us, pre-event and all dressed up, sitting in out new chairs…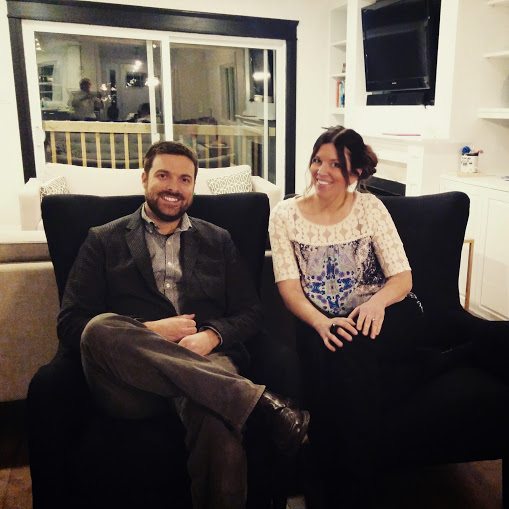 We were invited to a soiree here in Ottawa called The Secret Supper (#TheSecretSupper). I was invited because I'm a local blogger, and so in addition to other blog folks there were foodies and TV/radio personalities there. We weren't told who the sponsor was for the evening, but that we would be treated to a 5-course dinner with wine pairings, and at the end of the meal, the sponsor would be announced. Guys, the food was AMAZING. Totally gourmet, 5 star restaurant type stuff (it was held at the Ottawa's Elmdale Oyster House and Tavern). People were guessing Whole Foods was the sponsor, as they recently opened up a location in Ottawa. As you can imagine, we were all completely flabbergasted when it turned out to be Giant Tiger! Yep, good ol' GT Boutique. And they did the whole five courses for around $30 a person. Everything down the salt was from the Giant Value line. I'll admit I have been a Giant Tiger snob and haven't been into their store in years. Well, I feel pretty silly about that now. The decor in the restaurant was also using all Giant Tiger products and apparently they have a new line coming out in the fall. You bet I'll be checking it out. You can watch the video of the evening here.
Photos by Jean-Marc Desjarlais (see the whole album here)
You might have also seen on instagram that I went out and had a look at the new Urban Barn location here in Ottawa (Barrhaven, for local folks). It is massive and I drooled over just about everything in the store. Not really, no drool stains anywhere, but you know what I mean. From rugs to pillows to furniture to dishes, they have tons of really nice things.
GIVEAWAY ALERT!
I already gave away a few gift cards on instagram last week, but I have a few more… so giveaway time! For your chance at wining a $20 gift card to Urban Barn, enter by leaving a comment below telling me what you might spend your winnings on. A new throw pillow? Set of dishes? Some artwork? [Giveaway only open to Canadians only. Sorry American and international friends – next time!] I will draw the winners on Sunday March 15, 2015 at 7pm EST.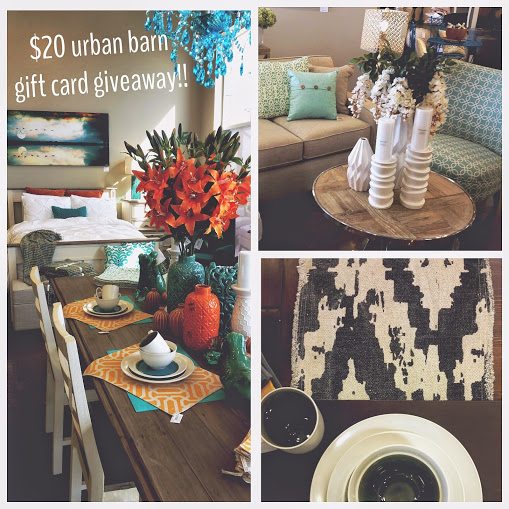 UPDATE: Winners have been randomly drawn and contacted. Congratulations!
Anyway, just a little snapshot of life lately.
How have things been going in your neck of the woods? Are you in full spring mode? The weather has been getting warmer here (FINALLY) and it has made me all bubbly and happy again. Man, that cold winter we had here this year can really bring a girl down. Here's to fresh flowers, sunshine, and flip flops… !